---
Warpstock Europe 2004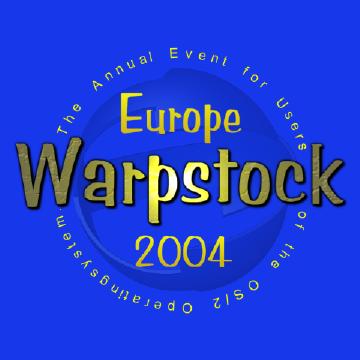 Although I have been using OS/2 (and nowadays eCs) for donkey's years, I have never got around to going to Warpstock for some reason or other. Initially, or so I told myself, it was because I could not afford to go to the States where Warpstock was held for the first time in 1997. Later on when Warpstock was also held in Europe, I still did not go. I might argue that I went this year because it was held in Arnhem in The Netherlands and was only 110Km from my home. But this is also not true as it was held in Arnhem two years ago and the Warp Weekend which was in Roermond last year, was even closer. I think it was because both my interest in OS/2 was again growing thanks to eCs, as was my frustration with Windows which for a number of reasons I also have to use.
Not knowing what to expect, I left home on Friday morning for my first ever Warpstock full of anticipation and wondering what it would really be like. Of course I had looked at the Warpstock Site and knew what was on the agenda. I also had taken directions from the same site to the Stayokay Hotel where this year's event was held.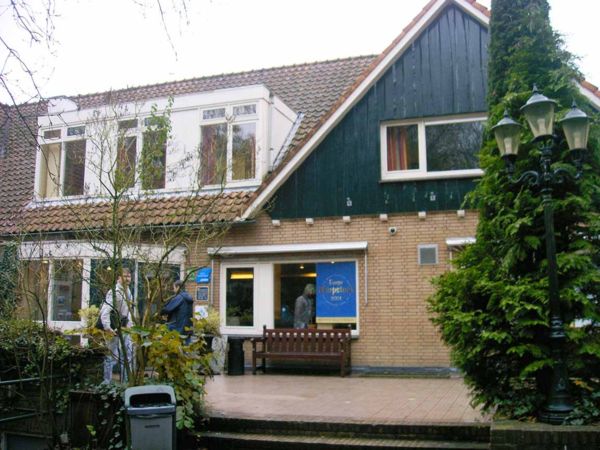 Fig 1 - Stayokay Hotel Arnhem
Although well documented on the Warpstock site, I still managed to miss the side road in Arnhem which meant that I arrived late. I had already preregistered via the Mensys site so it was just a formality at the registration desk to obtain my badge, a general info sheet and programme. Nevertheless because of my late arrival I just caught the last few words of the official opening and welcome which was being given in the largest of the three conference rooms to approximately 90 people.
Before the first session started at 11 am, I had chance to grab a cup of coffee and a quick look around. To my surprise I ran into a few old acquaintances I knew from when I was a member of HUGO (Holland User Group OS/2) and had chance to reminisce about HUGO which unfortunately ceased to exist a number of years ago. But life goes on as they say, and some of the former HUGO members are now active in the OS/2 user group of the HCC (Dutch Computer Club).
On average three presentations were given per hour in one of the three available conferencing rooms. My problem was deciding which presentations I would like least to miss! I would have preferred to attend all and even though a number of the presentations were repeated during the three days, it was still not physically possible to attend every session as I would only be attending the first two days of this three day event due to commitments at home. As the programme had already been published on the web site I had my list of what not to miss which even with the minor programme change on Friday was still valid. As can be seen below there were enough subjects to choose.
Table 1: Warpstock Europe program
Speaker

Session Title

Adrian Gschwend

Unix on OS/2: Providing a UNIX-like environment for OS/2 and eCS

Innotek LIBC is a new POSIX layer for OS/2 that can be used as base for porting applications from Unix-like systems to OS/2. The current stage of both GCC and LIBC is shown as well as where we want to go in the future. The presentation is supported by Knut St. Osmundsen, the main developer of Innotek

Jan van Wijk

Using DFSee on OS/2 or eCS, demonstration and Q&A

Sebastian Wittmeier

Running X11 Applications on the OS/2 and eCS desktop

A status review of the Everblue project which aims to integrate graphical Unix applications into your OS/2 or eComStation. Includes a live demo of a variety of X Window OS/2 and eComStation applications running directly on the desktop without the need to install a full X Window server like e.g. XFree/86 for OS/2

Dave Saville

An introduction to Perl

A basic overview of perl with details of basic data types, logic structures and an example of the power of the language

Gerrit Schoenmaker

OS/2 in the Netherlands, a funny review guided by live music!

Robert Henschel

Serenity Virtual Station Roadmap

Bart van Leeuwen

Roadmap for eComStation

Roderick Klein

Installing eComStation V1.2 quick and easy

This session shows how the current version of the new program works under the covers and how it helps to trace any problems that may occurr during installation

Jac. van Leeuwen

NLS translation issues on eCS

Joao Miguel Galvao

Injoy Firewall

Jasper de Keijzer

PmSheet image viewer

Demonstration of a freeware image viewer with thumbnails, drag & drop; includes simple functions as rotation and zooming and a slideshow of the selected images

Peter Koller

Update on Maul Publisher

Includes a sneak preview of new features in the next version

Dave Saville

The Clipview application suite

Demonstration of the application suite which enhances the text functionality of the OS/2 clipboard

Adrian Gschwend

Supporting OS/2 and eCS software with netlabs.org

A presentation on some sponsored projects and discusses the general strategy of fund raising for OS/2 and eCS

Frank van den Heuvel

Development of PHP Web applications

Frank van den Heuvel

TCP/IP for Dummies

All you want to know about IP addressees, netmasks, default gateways, domain names, DNS, DHCP, SMTP and POP

Frank van den Heuvel

TCP/IP for Gurus

Discusses TCP/IP services (for example: telnet, ftp, http, SMTP); connection of local networks in different locations over dailup lines; how to construct Virtual Private Networks including the aspects of security and control

Zsolt Kadar

Installing and using Secure Shell under OS/2 and eCS

An overview of the installation and usage of OpenSSH including detailed basic SSH principles common to all platforms. Attention is paid to the specific OS/2 or eCs areas. A demo of installing OpenSSH using a REXX script (distributed with OpenSSH) as developed by the author

Christian Langanke

The new Wireless LAN monitor Xcenter Widget

How to manage your wireless LAN device under OS/2 and eComStation demoing advanced features such as automatically configuring the TCP/IP interface of the Wireless LAN device, automatic connection scan on startup and automatic generation of WEP keys.

Onno Tabak

eCS and OS/2 networking with Windows

How to connect mixed networks ranging from simple home networks, connecting eCS with Windows XP and Windows 2003 Terminal Server with OS/2 WSeB

David van Enckevort

eCS and OS/2 Networking with Linux

Networking to Linux servers and Linux clients with OS/2 servers, including Samba, NFS and other file systems, printing with LPR, SLPR, and Samba and more.

Jeroen Besse

Filter out spam with RBLcheck

Spam and current ways to deal with it. Real-time blacklists, used by some mail servers, are brought to the client for the first time in a way that could capture more spam than ever.

Peter Koller

Maul Publisher Workshop

This workshop is the extension of the session about Maul Publisher on this years Warpstock Europe event
As always at any conference some presentations are more interesting than others, and some presenters are better than others. Nevertheless each presentation that I attended had something in it for me. Each lecture in itself was interesting to me but often as not it was those snippets of information you pick up on the side that prove to be really valuable. Little things such as a command shell that I've never heard of before, or a remark about a utility that the presenter mentions using. These are the things that add spice to this sort of event. What I also really liked were those lectures in which a program was presented by the author/developer himself (Jan van Wijk - DFSee; Jasper de Keijzer - PmSheet; Dave Saville - Clipview; Peter Koller - Maul Publisher; Christian Langanke - Wireless LAN Xcenter Widget; Sebastian Wittmeier - Everblue project). In each of these cases it was very enthralling to hear the story behind the program and sometimes the reasons why something was done in a particular way. If you check out the Warpstock Site sometime after the first week of December, copies of the sheets used in the presentations should be published on the web site.
It's not only the attendees which get something out of the lecture, but often as not the speakers themselves. I remember after Friday's presentation by Dave Saville on Clipview - which I had never consciously heard of before - when discussing it with him later, he told me that this was the first time in which he had had direct feedback from (potential) users face to face and could discuss the pros and cons. Until now feedback had only been via email. As a result of some remarks during his presentation of Clipview 1.28, a new version 1.29 was born on Saturday morning incorporating one of the ideas aired during that lecture the day before!
Saturday was busier than Friday with attendance in excess of 120 participants. There were more lectures as the programme now started at 10 am, an hour earlier than on Friday. During lunch every registered participant received a free raffle ticket for the raffle which was then held. There were some lucrative prizes donated by Mensys, Peter Koller, and a few others whose names I unfortunately don't remember (I lost my notes somewhere when rushing from one lecture to the next) with prizes which included software, software licenses and as 1st prize a HP Flatbed Scanner.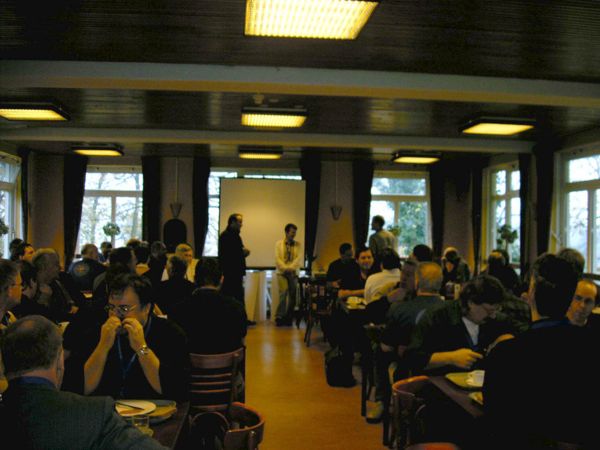 Fig 2 - Who's the lucky Winner!
Cutting the Cake
At 3.45 pm a large group started to fill the reception to witness the cutting of the cake to celebrate the 10th anniversary of the HCC OS/2 User Group. This user group was responsible for the excellent organization of Warpstock Europe 2004. It was apparent from the long queue that the hunger for knowledge was no match for a piece of this delicious cream sponge cake.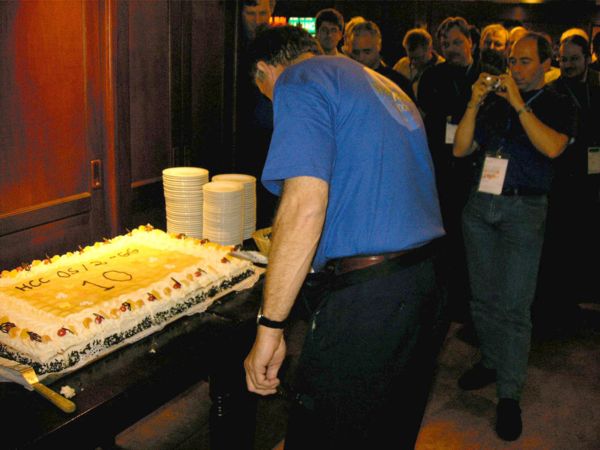 Fig 3 - Cutting the Cake
Besides the lectures and demos there was a lot more going on. Upstairs there were various OS/2 user groups demonstrating the most recent OS/2 software plus a few gadgets. I even saw someone (who shall remain nameless) using GIMP to make a caricatures of Bill Gates.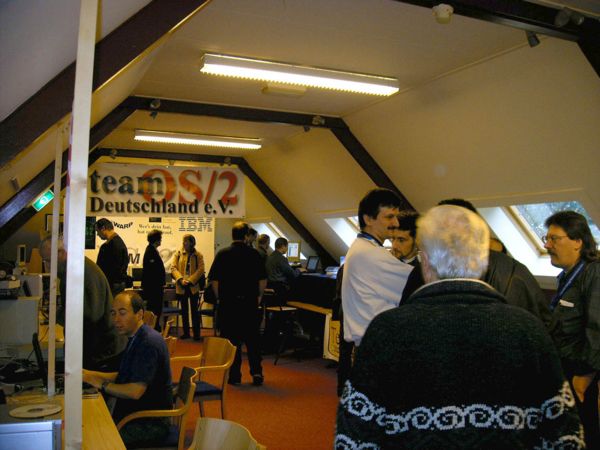 Fig4 - OS/2 User Groups Room
On the ground floor next to the main conference room Mensys was offering an assortment of OS/2 and Linux programs, books and knickknacks at very reasonable prices. Trade was fairly brisk, in some cases so brisk that while I was deciding what I wanted and could afford to buy on Friday was gone on Saturday.
Apart from the lectures it was great to just chat to other people who were attending Warpstock. During the next few days I met people from Denmark, Portugal, Spain, Germany, France, England and the US, all who had in most cases been to Warpstock before. I even saw one of my icons, Daniela Engert (the well known author of DANIS506.add, the replacement for IBMS506.add), attending a number of the sessions I was interested in. I never did get up the gumption to go and speak to her but, well, there's always next year's Warpstock, isn't there?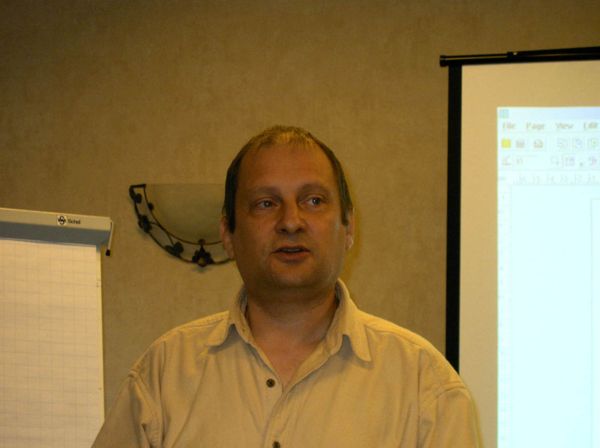 Fig 5 - Peter Koller, Author of MAUL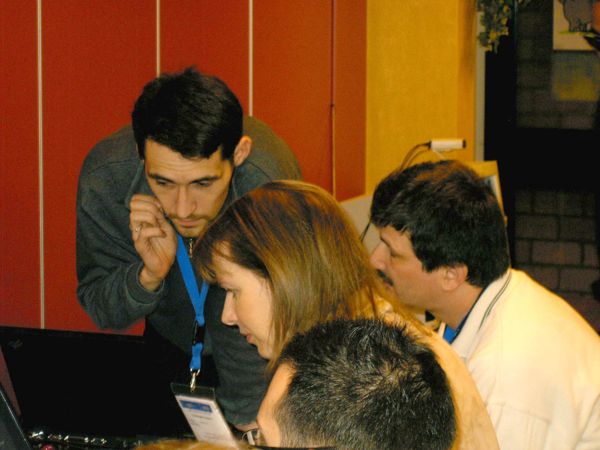 Fig 6 - Daniela Engert and friends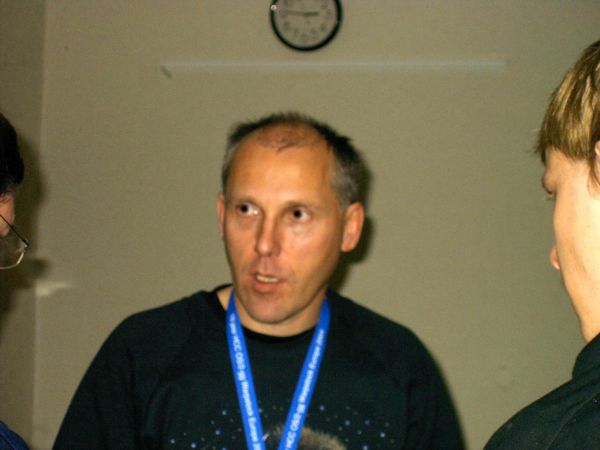 Fig 7 - Jan van Wijk, Author of DFSee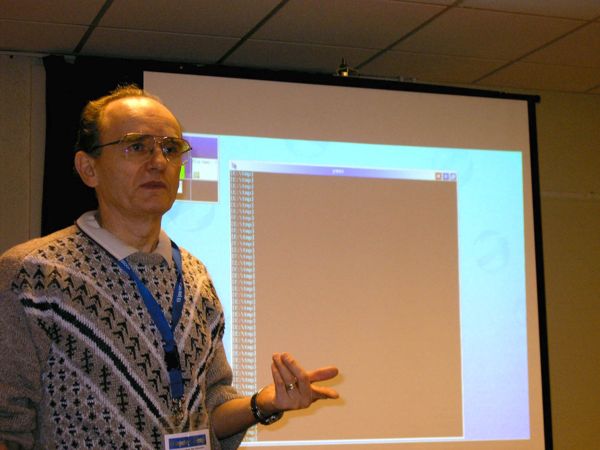 Fig 8 - Dave Saville, Author of ClipView (Playing Stones,Paper, Scissors?)

Fig 9 - Mensys Business as usual!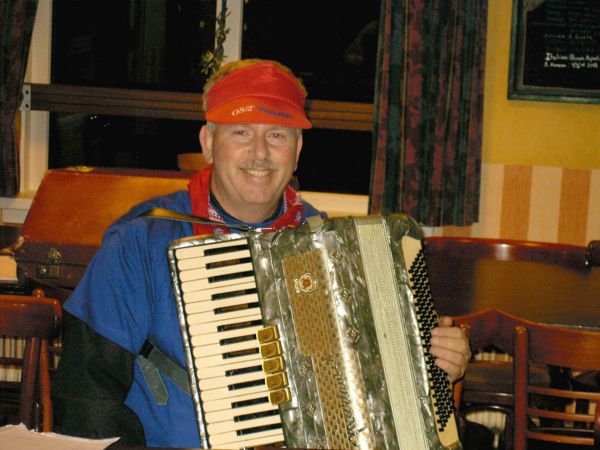 Fig 10 - The new OS/2 MIDI player!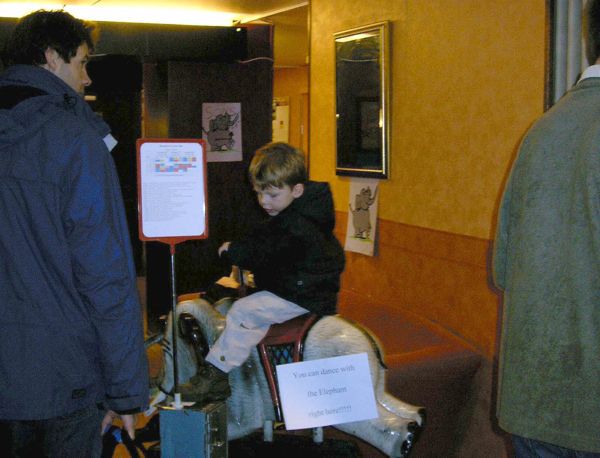 Fig 11 - Your never too young to dance with the elephant!
---
Feature Index
editor@os2voice.org
< Previous Page | Newsletter Index | Next Page >
VOICE Home Page: http://www.os2voice.org