---
Medion Multimedia Entertainment Notebook Titanium M1
Shortly before Warpstock 2002 I was looking at my local newspaper and saw an ad for a laptop computer in my local Aldi food store circular. They were advertising a "Medion MD5275" laptop for $1499USD. This was with a 15" display, P4 2.2GHz processor, 512 DDR SDRAM (Max 1024MB, but as I later found out it has already installed two 256MB DIMMs) and a DVD-CDRW drive. Other than what I saw in the advertisement, I didn't have anything else to go on, so I knew it was a gamble to purchase a computer without being sure if OS/2 (or in my case eComStation) had support for all the basic features - video, PCMCIA, and sound. I felt reasonably certain video was covered by the Scitech SNAP display driver, I had no idea on PCMCIA, and all I knew about sound was that it was "AC'97" and "Sound Blaster Compatible" which is pretty meaningless. I had promised my daughter my now 3 year old Toshiba Satellite 2545XCDT, and she was getting more vocal about it, so I was forced to do something. After several days of changing my mind back and forth on it, I finally got up the courage to plunk down $1499 + $90 sales tax in cash (Aldis doesn't accept checks or credit cards, just cash or debit cards and my debit card didn't allow for a purchase that large), and took home my newest addition. Aldis doesn't display their computers, so I had to buy it pretty much sight unseen, entirely based on the limited specs on the advertisement and on the box.
Once I got it home I booted the installed WindowsXP Home partition and tried to figure out what I had actually bought. Being in windoze reminded me why I can't stand it and why I'm happy to have my OS/2. The sound appeared to be an "ALC AC97" chipset. PCMCIA was a Texas Instruments chipset. Video was billed as a Radeon Mobility M6 chipset. Networking was a Realtek RTL8139 chipset. So I was starting to get a good feeling about this.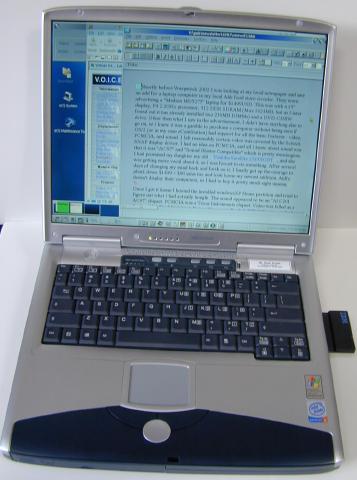 Arghhh, eCS 1.0 wouldn't install on it, hanging on the first reboot. I spent a day trying different things, before giving up. Luckily eCS CD#2 (which is actually MCP1) installed fine. I was able to run convert.exe (found on the eCS download site) to make it an eCS system and apply all the updates. An early eCS 1.1P beta installed, but that was without networking or multimedia.
Medion is a German company with very limited distribution in the US. I believe the machine is built by someone else for them. When I was searching for some information on this a while ago I found that the Premio Kaypro A1000 laptop is identical (down to the same LEDs on the display and programmable special buttons at the top). Also while searching for information on this laptop, I found an almost identical looking model at a Dutch site, the Medion MD9783, though it has a smaller screen (14.1"), and only 256MB RAM and a 20GB drive, and I see no CPU listed.
My Medion MD5275 came with XP Home (with the dreaded "Recovery CD") and OEM versions of Microsoft Works (which includes Word 2002), PowerDVD 4.0 and Nero 5 installed on it, wasting about half (19GB) of the IBM Travelstar 40GB drive. The rest was a 5GB FAT32 recovery partition and 14GB backup partition (NTFS5 I think, as was the XP boot partition) which I blew away and created a logical partition to hold a FAT volume, couple of 1.2GB eCS HPFS bootable volumes and a separate 7GB HPFS apps volume. And still lots of free space. On my list of things to do is to either blow away the XP partition or shrink it considerably with DFSee.
With eCS finally installed I was able to do some investigating using PCI.exe version 0.47vk. It showed this system has an Intel Brookdale ICH2 chipset which seems to control most of the system functions (IDE, AGP, PCI, AC'97 Audio Controller) as well as the two 82801BA/BAM USB Controllers.

Display
Video is an ATI Radeon Mobility M6 LY, 4X AGP bus with 32Meg DDR RAM. Initially I could only get this working with GenGRADD and VGA. I reported the problem with SNAP in the Scitech OS/2 support news group and tried several suggestions which didn't help. At the suggestion of Scitech support, I sent the notebook to them to try to figure out why SNAP kept hanging the system on boot. They didn't have a problem installing OS/2 Warp 4 with Fixpak16 on it. They did find a problem with the CRT out feature at the 1024x768 native resolution, which they fixed in the latest SNAP 2.1 beta. On return to me, I still had the same problem with 19 out of every 20 or so boots hanging at some point before the end of processing the CONFIG.SYS. Since Scitech could run Warp4, FP16 without a problem, I began to suspect that something at the MCP1 code level which predates FP16. Turned out once I installed Fixpak3 for eCS, the Scitech's SNAP driver began to work fine and that is what I use now. SNAP is so much faster then the GenGRADD, so I am glad I was able to finally rectify the problem.

This laptop has a TFT XGA+ 15" LCD but the native resolution is only 1024x768 :-( I can set it to a resolution of as high as 2048x1152, but then it just goes into a pan and scan mode that I really can't stand.

The SNAP driver's zoom feature works very nice though, magnifying the screen to a set resolution by depressing the selected key combination. The laptop has a TV out port, though I have no idea exactly what that is about. It appears that the Scitech SNAP driver supports TV out on the ATI chipsets, but I don't have a cable to try it. From what I read in the manual, it supports up to 800x600 on a television screen.
Audio
According to windows this laptop has an "Avance AC97 Audio". PCI.exe showed the audio as "82801BA/BAM AC'97 Audio Controller" which turned out to be a dead end. After doing some searching on the internet for "AC'97" and "OS/2", I found that AC'97 is a generic name, and one had to know the actual sound chipset to find out if there was support. There was a VIA AC'97 driver on hobbes and then the Uniaud driver released by Innotek(Available on IBM's Software Choice or the eComStation download site for eCS users), but neither of these worked. I finally contacted Medion support and asked them what it was. They sent me a very informative PDF file which listed most of the actual real hardware in the MD5275. I was finally able to identify the real audio chipset as the Realtek ALC201. With that information I was able to search the internet for a Realtek ALC201 OS/2 driver. It appears that Realtek has frequently updated drivers for their sound chipsets.

System sounds and Wave files work with the latest OS/2 Warp driver on Realtek's site, but the sound is speeded up, like playing a 33 album at 78 speed if you remember the old vinyl record days. For some reason the sound only works in Warpvision if I set it to resample to 44Khz, but again I get sound but its all speeded up. Z!, an OS/2 MP3 player, also plays all songs at the speeded up rate. I have an email into Realtek support, but they haven't responded to my earlier posts when I could get no sound at all, so who knows.

I can play Midi files with the Java app MultiShow, but these sound speeded up as well. Prior to that I tried installing TiMidity 2.10.4, but that just caused an error whenever I tried to play a Midi file.

I had thought I might try playing with VoiceType since the machine should be plenty fast enough to make that useful, but there is no builtin microphone. I had thought this was standard on laptops nowadays. So this is at the bottom of my things to play with list for now.

Considering it is billed as a "Multimedia Entertainment Notebook" I found the sound quality from the small, side mounted speakers a bit on the tinny side, even under windoze. If I had a working OS/2 driver I'd be satisfied with it for what it is, but I wouldn't rate this any where close to high fidelity sound. Hopefully Realtek will continue to update the existing OS/2 driver and fix my sound problem.
Networking/Communications
There is a Realtek RT8139 10/100 NIC builtin which works with the RTL8139 OS/2 driver. The NIC only works with the default IRQ 10, which is the same IRQ used by the sound chipset. I can change the IRQ in PROTOCOL.INI, but I always get an error on boot. I'm not even using this NIC now (I'm using an IBM PCMCIA Wireless card instead), but I still have to have it defined in MPTS. The system only boots if the RTL8139 driver is loaded and there is no way to turn off the NIC in the BIOS. Be sure to get the driver from Chuck McKinnis' NicPak website, as it is considerably newer then the one on the Realtek site.

In fact there is pretty much nothing one can configure in the BIOS on this laptop other then enable the parallel, IrDA and serial ports. There is no way to control IRQs or for that matter just about anything in the BIOS. Under windows there is considerable number of power related options one can set, but as far as I know, nothing exists under OS/2 for this. It must be related to the ACPI (Advanced Configuration and Power Interface) thing that I frequently see Daniela Engert talking about. According to the hardware pdf that Medion Support sent me, the MD5275 has ACPI 1.0b and uses a Wistron (formerly part of Acer) BIOS version F29. Hmmm, the label says it was made in the Phillipines, and Wistron has a plant there. Perhaps they are the real manufacturer.

The builtin modem is a winmodem that is unrecognized by OS/2. I didn't spend much time on this either. According to PCI.exe, this is an Ambient Technologies Creatix V.90 HaM Modem. Pretty much a waste of silicon. I have a BestData 56K PCMCIA modem that I have used quite successfully in the past with my Toshiba, but I only use it when I'm traveling, which I do very infrequently now. I will have to test this before I make my next trip though.
PCMCIA
This works fine with the latest Cardbus driver for the Thinkpad (available on IBM's Software Choice and on the eComStation site. I used the IBM2SS14.SYS socket services driver which worked with this for PCMCIA support. Daniela Engert has a driver on hobbes for the Texas Instruments cardbus controllers as well. According to PCI.exe it is a TI chipset with a device ID of AC55h, which in Daniela's TI Cardbus Driver Doc equates to a PCI1250 controller). I have only used an IBM High Rate wireless PCMCIA card and an IBM external PCMCIA hard drive. Both work fine.
Drives, ports and input
This machine is a 3 spindle model (harddrive, floppy and also a QSI brand ATAPI DVD/CDRW drive). As noted above it has a 40GB, IBM Travelstar IDE drive, which at least for now seems plenty big enough for my needs (though I still remember when I thought 30MB was a huge amount of space).

The QSI DVD/CDRW combination drive is a 8X8X24 CD writer. I had to search for this bit of information on the Web, as neither the box, the manual nor the PDF Medion support sent me listed this. RSJ 4.05 works well with the CDRW drive, though I had problems with RSJ not attaching if a DVD was in the drive. I finally got around that problem (which made it impossible to read DVD's with RSJ installed), by using DANIATAPI.FLT.

Speaking of DVD and Daniela, I can now use Warpvision (CLI and GUI) to play DVD movies, just no sound. I had problems playing encrypted DVD files until I updated my system to the latest DANIS506.ADD and DANIATAPI.FLT drivers. Now with all the DVDs I have tried, play is extremely smooth, with CPU usage running between 40-70%. There is only an occasional lag, but I haven't seen any pixilation or display breakup as I had noted previously. Note that in the desktop capture below, I had paused Warpvision, so the CPU monitor in XCenter only shows 6.2%. In addition I am using the WarpOverlay driver which enables hardware display overlay support when using the Scitech display driver (SDD or SNAP). A great big thank you to the guys at Kiev Elephant who made this possible and to Daniela Engert whose work makes our continued use of OS/2 and eComStation so much more pleasant.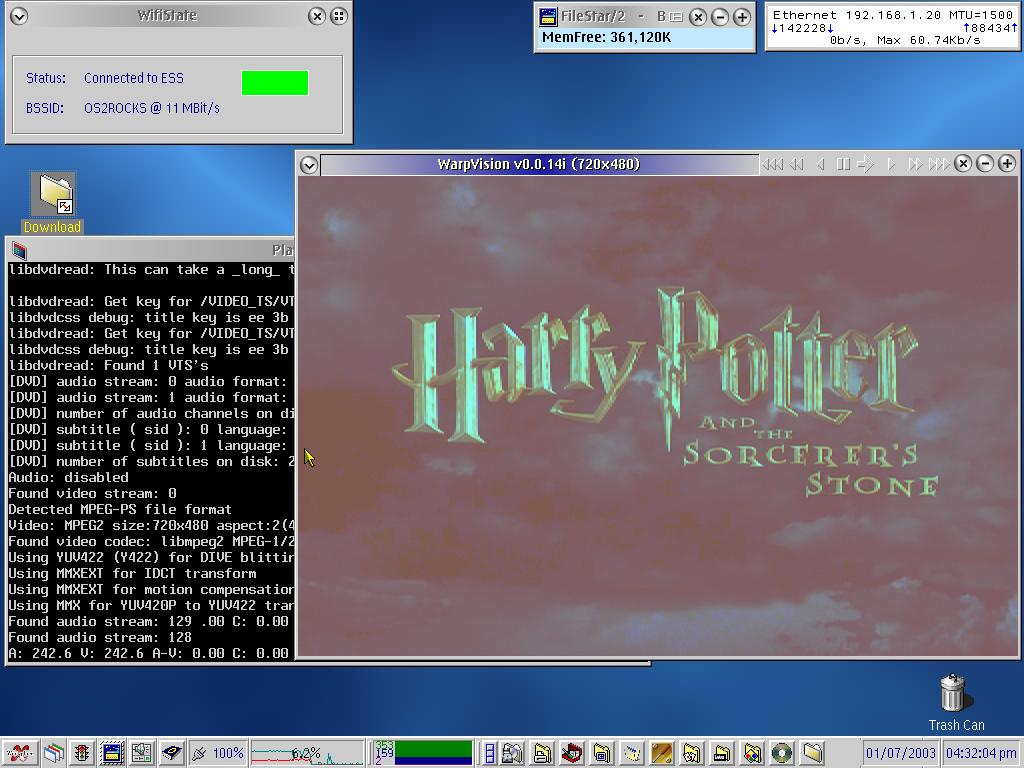 Besides having a PS/2, VGA , serial, and parallel ports, this laptop also has IrDA and firewire (PCI.exe shows it as Texas Instruments TSB43AB21 1394a-2000 OHCI PHY/link-layer Controller) ports. I haven't had a need to try any of these, and there is currently no Firewire driver for OS/2 now anyway. It has 2 USB 1.1 UCHI ports which work with the USB drivers available on the eCS site. I don't do much with USB though. Just a CF Flash reader, which doesn't seem to work well under any OS/2-eCS system I try it on. The other is my Epson Photo 820 printer, which is recognized and prints fine when I attach it.
The keyboard is the typically cramped notebook layout, without a separate keypad. Overall it has a fairly nice feel to it. Besides the usual keys, there is a [Fn] function key which transforms some of the keys to modify hardware states, like turning speakers on/off, blanking the display, putting the system in suspend mode, enabling the TV out port, Numlock and scroll lock. Unfortunately it is also used for the [Home] and [End] keys which I use frequently, so that takes some getting used to. There are 5 "Easy Launch Keys" above the [F1]-[F12] function keys. These are like the old chiclet keys, but don't seem to function at all under eCS. Under Windows they run web, mail, PowerDVD, Nero (for burning CDs), and Microsoft Works (I always get a chuckle out of that obvious oxymoron). I downloaded the W95Key program from Hobbes, which includes a key scanning utility, and none of these five keys produces an entry.
It has a Synaptics PS/2 port touchpad for a mouse, and besides the standard two mouse buttons, there is a 4way scroll button. So far I haven't been able to get that to work with the latest OS/2 mouse driver or with Amouse. I have to admit I haven't spent much time on it though.
Power
The laptop is powered by a 12 cell Li-ion (Lithium ion) battery (5880mA) that seems to hold a charge for a little over 3 hours or so. It also seems to recharge more quickly, about two hours to recharge from a fully depleted battery. Hopefully the Li-ion battery will not suffer from the progressively shorter useful charge or memory effect 1 problem that plagues the NiCad battery in my Toshiba notebook.

As previously noted, there is nothing related to power management in the system BIOS configuration. eCS' APM doesn't do much. With APM enabled I can do a powered shutdown, but suspend just causes the system to hang. Also you can turn off the display screen by holding [Fn] and pressing[F4]. Screen power comes back on by touching any key or the touchpad. Also the screen powers off when you close the cover.
Conclusion
All that being said, this brand is difficult to obtain in the US and I'm told its not widely distributed in Germany either, so I'm not sure what good this report is to you. It does appear the exact same system may be available under a different label. Anyway I thought I'd write this review just to let folks know that eCS will run on something other than a Thinkpad and how I overcame some problems getting eCS installed on it. I'm happy to be writing my article on this same machine. :-)

BTW Medion support was decidedly unhelpful once I made it known I was using something other then windowsXP. All my questions were to try to clarify what was actually under the covers of this box. They did provide timely responses to my questions but stated "We will support the Windows XP Home Operating System (which came pre-loaded on this product. Other OS's are not supported by us." .

All-in-all I'd give the machine an overall grade of B-, which is a shame because it is a solidly built, and feature rich, especially for the price. This is mostly because of the BIOS lack of configurability, lack of anything but windoze support from Medion, as well as the 15" screen only having a native resolution of 1024x768. I'm hoping newer Realtek sound drivers fix the sound problem, as Realtek has been regularly updating the driver (last one as of this writing was 10/09/2002). The BIOS/ACPI problem looks like one which will eventually have to be tackled if eCS-OS/2 has a chance to continue to be installed on new machines. The machine itself is pretty nice, and runs eCS well once I figured out some of my initial install problems.
---
Note 1: From webopedia.com: "Memory effect: The property of nickel-cadmium (NiCad) batteries that causes them to lose their capacity for full recharging if they are discharged repeatedly the same amount and then recharged without overcharge before they have fully drained. The term derives from the fact that the battery appears to have a memory for the amount of charging it can sustain."
---
[Feature Index]
editor@os2voice.org
[Previous Page] [Newsletter Index] [Next Page]
VOICE Home Page: http://www.os2voice.org