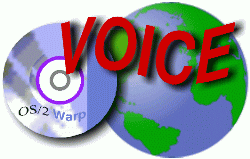 Virtual OS/2 International Consumer Education

March 1998


Features
email
Previous Page | Index | Next Page
VOICE Home Page: http://www.os2voice.org

---
Have you run across an interesting bit of information about OS/2 recently? Please share it with all our readers. Send your tips to editor@os2voice.org

---
March 12, 1998, Need help installing peer networking under OS/2? Here's some help from Frank Field posted on the TeamOS/2 Help List:


I don't know about the cards - you can check here to see what drivers IBM has on hand:
http://service.software.ibm.com/os2ddpak/index.htm


As far as the 'esoteric' - I found out that there was a fair amount to keep track of when I tried to set it up in a relatively non-esoteric environment, but I have generated a www page, including references to other www resources, that I hope would help someone in your circumstance:


http://www.mit.edu/activities/os2/peer/WARPPEER.HTM

---
March 12, 1998, Erick Andrews reports on the TeamOS/2 Help List this tip about how to paste from the clipboard into an OS/2 (VIO) Window. This tip as it turns out, is also available along with a slew of other tips on the Cincy Team OS/2 Tricks and Tips site - http://www.cincyteamos2.org/warp4undocumented.html:


This may be trivial, but something I just discovered and couldn't find any documentation on:


If you have something in the Warp4 clipboard, then open an OS/2 Window and click both mouse buttons (like you would on the Desktop to bring up the Window List) while the pointer is over the OS/2 Window, the contents of the clipboard are pasted to the Window.


Must be a feature?


Erick

---
March 11, 1998, Another tip from Perry Newhook on the OS2-L. This one on how to re-instate your peer networking after applying a bad fixpack:


I just did the same thing on my 760 laptop. Upgraded MPTS, TCP/IP and peer. The end result? No peer, no tcp/ip, trying to dial out on ppp blackscreens the system, and trying to do networking selective install fails and reboots the system. Nice piece of work.


Anyway to get it back I had to:
1) Delete TCP/IP, MPTS and PEER using networking uninstall.
2) Create the PEER, MPTS and TCP/IP diskettes from the Warp 4 CD (because selective install fails)
3) reinstall MPTS, TCP/IP and PEER in that order.
4) install the mpts fixpack W08421
5) install the latest tcpip fixpack
6) do NOT install the PEER fixpack (at least I'm not willing to try it!)


Everything is back to normal now.


Perry Newhook, P.Eng
http://webhome.idirect.com/~aquilat

---
March 11, 1998, Are you running a removable media and plan to install the new FixPack 6 for Warp 4.0? If so pay attention to this warning from Carl Brown on the TeamOS/2 Help List, as FP6 includes new support (well the GA version anyway) for removable media.


This is probably obvious to many of you, but there is nothing in the readme.* for FP6. To use a Zip drive, remove any entries in config.sys that refer to the previously required Iomega drivers. If you don't, it will mis-format disks, HPFS OR FAT, rendering them unuseable. They *can* be recovered once the problem is fixed.

---
March 11, 1998, Do you use Netscape for your mail and you wanted to filter your mail into selected folders? Here's a tip from Chuck Lackey and Bob Harman on the OS/2 Users Mail List:


Create a text file in your netscape/mail directory named sort.dat.
It needs 3 words per line, folder, header, string ie:
OS2LIST To os2user@os2ss.com
The format is: [FolderName] [FieldName] [FieldValue]
This line puts any messages "to" os2user in a mail folder called os2list.
I have several set up so far using, to cc reply-to and from.
I haven't tried body yet but i suspect it would also work.

---
March 10, 1998, Need to make MPTS disks? Here's a tip from Perry Newhook, P.Eng on the OS2-L:


There is a nice little utility that will make your MPTS diskettes or any other networking utility addon. (I really wish IBM named their utilities better!!)


Under Wap Connect 3:
Run BPIU.EXE on the root directory of the CD


Under Warp 4:
Run BPIU.EXE from \IMAGES on your CD


Select the product you wish to make disketes from and click on the "Diskettes" button.

---
March 9, 1998, If you have installed or plan to install FixPack 6 for Warp 4.0, here's a tip from Rusty Boyd on comp.os.os2.apps:


I had this problem also. (A slow down of Java as tested by Caffienemarks test suite http://www.webfayre.com/pendragon/cm3/runtest.html after installing FP6)
I unpacked LIBCM.DLL, LIBCN.DLL & LIBCS.DLL from FP6 into \os2\dll, and now
I am getting the same scores as previous to FP6. I had not allowed these
files to be serviced originally because they were reported as having more
recent dates than the FP files.


Team OS/2
http://www.nhn.ou.edu/~boyd

---
March 9, 1998, Are you trying to run the new java version of ICQ, here's some help from Duane Chamblee on the OS2-L:


Download this batch and Icon to your ICQJava directory... (hold down shift to force the save to disk)


ftp://duanec.indelible-blue.com/anonymous/wps/icqwps.cmd
ftp://duanec.indelible-blue.com/anonymous/wps/icqwps.ico


...and run icqwps.cmd.


You should have an Icon on the desktop that will start ICQ correctly.


/~~~\ http://duanec.indelible-blue.com
()-()-\ ...Internet at Warp 4
< / \ Duane Chamblee
\\// ~ Indelible Blue & TeamOS/2

---
March 8, 1998, Here's a tip on the Netscape/2 PluginPak and installing fixpacks from Brandon S. Alberry on OS2-L:


Back out the Plug-In Pak, reapply whatever FixPak you currently have installed, reinstall the Plug-In Pak. If you don't have a FixPak installed, I suggest applying at least FP1 (assuming Warp 4) --- the Plug-In Pak supposedly doesn't require any FixPak, but FP1 rearranged a few things in OS/2 multimedia and the PIP seems to work more reliably with those rearrangements.


Before applying FixPaks in the future, *remove the Plug-In Pak*. Otherwise the FixPak will destroy the Multimedia Internet Manager and quite possibly leave you with *no* sound. Reinstall the PIP after the FP has been fully installed (i.e. after the "processing locked files" reboot).

---
March 8, 1998, Do you have a Mattrox video card and are having system lockups trying to run Word Pro 96? Here's a suggestion from Rob Burton on the OS2-L:


Your Mystique is the culprit - or if you like, your drivers. Get the 2.14 drivers from IBM and it's going to be OK, or, if you can't do that right away, drop down to 65k colours or lower. It's the 16M colour level on the 2.13 driver that causes that hard hang.


I know, I have that card, too.


By the way, the Lotus Smart Suite for OS/2 Warp 2nd beta is *better* than the SS 96 product. If you can't still download the 100MB that constitutes the beta, you might at least want to consider getting the GA product at the end of the month when it's released.

---
March 8, 1998, Are you looking for an online source for IBM technical publications? Here's a couple sites from Steven Levine on OS2-l:


http://www.elink.ibmlink.ibm.com/pbl/pbl
http://www.ibm.de/go/weblib/info.html

---
March 5, 1998, Are you concerned about running your computer into the year 2000? Here's a tip from Brad Smith on the Possi Mail List:


OS/2 and other subsystems such as tcp/ip have their own Y2k fixpacks. Follow the Year 2000 Fixpack link on http://service5.boulder.ibm.com/pspfixpk.nsf/ to find all about OS/2 related fixpacks.


Brad

---
March 5, 1998, Are you installing TCP/IP 4.1 over an existing version? Here's a warning from Duane Chamblee on the OS2-L:


If you installing TCP/IP 4.1 over a previous version then the line...


route add -net ...


needs to be commented/removed from the MPTN\BIN\SETUP.CMD file. This "net" route causes
lockups. (The stack works fine without it)


/~~~\ http://duanec.indelible-blue.com
()-()-\ ...Internet at Warp 4
< / \ Duane Chamblee
\\// ~ Indelible Blue & TeamOS/2

---
March 5, 1998, If you have a laptop and you want more information on the manufacturer, here's a tip from Glenn T. Livezey on the TeamOS/2 Help Mail List:


One of the manufacturers I was lead to by your suggestions, turned out not to be the folks who made my box, BUT, in response to my questions about alternative information sources, they pointed out that the FCC ID# was the key to identifying the manufacturer and that one of their engineers remembered a partial website address, which lead me to a phone number which lead me to the FCC's database lookup for all manufacturers of equipment (including computers) registered with them.


http://www.fcc.gov/oet/info/database/ead


I entered the FCCID# and it returned a short list of information including the name and snail mail address for contact and the fact that it was registered in 1996. By reentering the manufacturers name into the search engine, it returned all other registrations by that company, including another laptop dated 1/6/98. So they are likely still in business and I will search the net for their name to continue the hunt.


I suggest that anyone who regularly searches for alternative (nonMS) driver support for devices and runs into the same brickwall that I did with my supplier would benefit from this resource, and that it should be linked to all those folks out there providing similar lookup tables for manufacturers/components/devices.


Just thought some of you might benefit from this reference as well. If its just old news to you, .............well.......as Emily Latilla used to say on Saturday Night...."never mind".


Glenn T. Livezey, Ph.D.

---
March 5, 1998, Do you have a think pad and are having problems installing Warp. Then you need the One Button Install program. Here's some help from Patrick Ash from a post on OS2-L:


Most of the information about OS/2 has disappeared from the Thinkpad pages since the re-organization at PSP. I have the obi.exe file, and will put it on my web site for a couple of weeks, for anyone who wants or needs it.


http://www.cis.upenn.edu/~pash/obi.exe


Pat

---
March 5, 1998, Having problems installing the Shockwave plugin for Netscape? Here's a tip from Brad Kell on the Team OS/2 Help Mail List:


Shockwave needs to be installed in the "plugins" dir. NOT in the one it wants to create. When you install it, tell it to install in \netscape\plugins


Brad

---
March 3, 1998, Need a new PC preloaded with OS/2? Well you do have some options. Here is a link suggested by Mark Dodel on OS2-L:


There is a list of places that will preload OS/2 at
http://www.budgetweb.com/os2/preload.html

---
March 3, 1998, Are you looking for PGP encryption for OS/2? Here's some advice from Mark Dodel on the VOICE Help Mail List:


Well you can go to http://www.gibbon.com/getpgp.phtml and get the most recent pgp 2.6.2 for OS/2.

There is a beta of pgp 5.0 available at
http://users.invweb.net/~whgiii/getpgp.html



---
Feb 27, 1998, From Vince Vielhaber on the VOICE Help List on installing the Netware OS/2 client:


It's rather involved (I'm still going thru it with an Intel EtherExpress) but here's what you wanna do.


1) Go to http://support.novell.com and get the newest, latest, greatest version of IntranetWare for OS/2.


2) Go to the Knowledge Base and find the articles on configuring it for Warp (there's a few choices for setups).


3) Your frame type is important. If you chose Ethernet_II for a frame type, go to the pharmacy and buy a couple of bottles of aspirin! The config becomes a real pain. The rest of the setup depends heavily on the frame type so I'll stop here. In the .INF that comes with the client from Novell, you'll find a section that tells you what drivers you can use depending on the frame type - certain frame types aren't compatible the easiest config method (odi2ndi). Also if you do use ODI2NDI you'll wanna run nwfixup (it's in the IBMCOM dir in Warp 4, dunno about 3).


Well that should have you sufficiently confused :) It'll also help if the version of warp 3 you have is at least warp connect, if not you may wanna consider warp 4 for that reason alone - more reasons become obvious when you use it.


Vince.

---
Feb 25, 1998, Having problems installing Peer networking on OS/2? Here is a post from Daniel M. Pomerantz, on comp.os.os2.bugs:


I posted a problem with the PEERINST program last week. With the help of others, I was able to manually install/copy the files and I created instructions for others who experience this bug. Please feel free to critisize these and to change them, as long as you note which changes were made by you, or you inform me of the changes so that I can make them and feel good about putting something out there with my name on it. I am going to upload this to hobbes, and hopefully it will sit there. Please feel free to direct others to these instructions, or to post these yourself. I hope to continually monitor this newsgroup, but if I don't, or if I miss a message on the same topic, please help others, and thank you all who helped me on my problem.


Daniel M. Pomerantz


GENERAL DISCLAIMER:
I MAKE NO GUARENTEE THAT THIS WILL WORK, OR NOT BREAK ANY COMPUTER. THIS IS WHAT I DID ON MY OS/2 WARP 4 (NO FIXPAK) COMPUTER, AND I HAVE BEEN ABLE TO USE THE PEER SERVICES ON IT WITHOUT PROBLEM. THIS PROCESS IS NOT FOR THE SQUEEMISH AND SHOULD ONLY BE PERFORMED BY SOME ONE WHO KNOWS WHAT HE/SHE IS DOING AND HIS/HER WAY AROUND AN OS/2 SYSTEM, AND ITS NETWORKING COMPONENTS. PLEASE BE CAREFUL. I MAKE NO GUARENTEES, BUT IF ANY ONE HAS ANY PROBLEMS OR QUESTIONS, FEEL FREE TO ASK. IF I KNOW THE ANSWER, I SHALL DO MY BEST TO GET IT TO YOU. ELSE, I SUGGEST YOU CONSULT ANOTHER SOURCE. ONES WHICH I HAVE FOUND USEFUL ARE THE #OS/2 AND OS/2WARP CHANNELS ON EFNET IRC, AND THE COMP.OS.OS2.NETWORKING.MISC NEWSGROUP ON USENET.


Daniel M. Pomerantz
hole@nfocomm.com


1) The first step is to unzip the files. On the WARP4 installation CD, go to the directory \CID\IMG\IBMPEER. You will find sub-directories named IBM100R? where ? is 1 through 5. Copy each of those onto a hard drive directory. I used C:\NETTEMP. Then go into each of those five directories on the hard drive and unzip EVERY zip file. There may be one coflict. error.txt, just overwrite that. After they are all unzipped, delete all of the zip files. This is not NEEDED, but will help save space. Also, in the IBM100R1 directory, delete the other files which are in the root of that directory. Again, they are not needed. When you are finished, each of the five directories will have one or more of the following sub-directories in it:


IBMLAN
MUGLIB
OS2


Consolidate all of those into one tree. There are likely to be conflicts, but from what I can tell, all of the conflicts are the exact same files and can be over written. I used a Norton Commander clone to make it easier, but you can do what you choose. I also moved instead of copiing to save time and space.


2) This step is not required, but I do suggest it. Install the latest FixPak to the new tree of files. It will pick it up as a complete installation and do what it needs.


3) If you have not already done so, install any other components of your networking, especially MPTN and the IBMCOM components which are required. With these you will install and bind the neccessary NIC drivers and bind the neccessary protocols (NetBEUI or TCPBEUI) to them. None of the files installed by these utils will need to be edited except for your config.sys.


4) Create the following directories on your Boot Partion: \IBMLAN and \MUGLIB. Copy (or move) the complete directory trees that you just made of the same name and updated to those directories (xcopy /s/e). The OS2 directory from the tree you just made will also have to be copied. It should have three subdirectories in it (DLL, HELP, and INSTALL). Simply copy the contents of those directories to the directories of the same name under \OS2 on your boot partition.


5) Make the following changes to your config.sys


Add the following paths to the beginning of your LIBPATH statement:
C:\MUGLIB\DLL;C:\IBMLAN\NETLIB


Add the following paths to your PATH statement right before any references to C:\OS2:
C:\IBMLAN\NETPROG;C:\MUGLIB


Add the following paths to your DPATH statement right before any references to C:\OS2:
C:\IBMLAN\NETPROG;C:\IBMLAN;C:\MUGLIB


Find one or more of the following statemements in your config.sys:


DEVICE=C:\IBMCOM\PROTOCOL\TCPBEUI.OS2
DEVICE=C:\IBMCOM\PROTOCOL\NETBEUI.OS2
DEVICE=C:\IBMCOM\PROTOCOL\NETBIOS.OS2


Ensure that the NETBIOS.OS2 line comes AFTER either of the other two. Add the following lines after it:


REM ********************START IBMLAN *******************************
DEVICE=C:\IBMLAN\NETPROG\RDRHELP.200
IFS=C:\IBMLAN\NETPROG\NETWKSTA.200 /I:C:\IBMLAN /N
RUN=C:\IBMLAN\NETPROG\LSDAEMON.EXE
DEVICE=C:\IBMLAN\NETPROG\VNETAPI.OS2
RUN=C:\IBMLAN\NETPROG\VNRMINIT.EXE
SET NWDBPATH=C:\IBMLAN\NETPROG
SET DLSINI=C:\IBMLAN\NETPROG\NETGUI.INI
SET INIT_FILE_NAMES=netgui
SET INIT_FILE_RANGES=200
SET WPS_COMMUNICATION=YES
REM *********************END IBMLAN**********************************


6) Create the following directories on your boot partition:


\IBMLAN\ACOUNTS
\IBMLAN\USERS


7) Copy the file \IBMLAN\INSTALL\NET.ACC to C:\IBMLAN\ACCOUNTS\NET.ACC


8) Create the file C:\IBMLAN\IBMLAN.INI or copy a previously created one. For a sample file and advice on what all the settings mean, consult the INF files.


9) Reboot the computer and it should work. Typing LOGON will start the requester service and prompt you for a logon. The default is "USERID" and "PASSWORD" Once logged on, MUGACCTS will allow you to create and change accounts (as will NET USER), and UPMCSET will need to be used in order to use long group and uid names if you have an HPFS drive. The WPS icons and other extensions will not be created, but I have not found them required. If any one is interested in creating a REXX script to create these icons/extensions, please let me know. Also, if any one is interested in a REXX script which will do this automatically, please let me know.

---
Feb 25, 1998, Looking for information about OS/2 programming and internals, here's some suggested web sites to look at from a post by Patrick Ash on the OS2-L:


THE OS/2 Programming Page:
http://www.edm2.com/common/links.html


Device Driver development Kit info available on line:
http://service.boulder.ibm.com/ddk


OS/2 Device Driver Programming faq:
http://www.wdi.co.uk/os2dd/os2dd.html


Stefan Zollner- Real-Time OS/2 page
http://femto.ssp.ameslab.gov

---
Feb. 17, 1998, A tip on the possi mail list from Lyle Wilson on how to get information on your Network Interface card:

Have you tried running os2sniff.exe from the ibminst directory? It scans for your NIC and tells you what it found, (including irq and io address).

From my system:

[C:\ibminst]os2sniff

Calling NCDListAllCards ...

NCD Defined Constant - Card Type : 8011
IRQ Level : 11
Bus Type : PCI Bus/Card
LS Supported : Yes
Card Title :Digital Semiconductor Compatible PCI Ethe
rnet Card
NIF Filename : DC21X4.NIF
Adapter Type : Ethernet
NCDListAllCards rc = 0

---
Feb. 13, 1998, Having problems with a really large IDE hard drive under OS/2? Here is some info from Norm on the TeamOS/2 Help Mail List:


The problem is that even the latest IDE driver from IBM (IBM1S506.ADD) has trouble with large drives on the secondary IDE port. The 'workaround' I've found to work is to append your IBM1S506.ADD statement in your 'config.sys' file using an undocumented form of the '/GEO' switch.


What you need to do is write down both the drive's 'real' geometry and the 'translated' (LBA) geometry (you should be able to get both of these from the BIOS settings), and they both should be in the form C,H,S (Cylinder,Heads,Sectors). After you have the geometry for both add them with the '/GEO' switch to the driver statement in 'config.sys' with the real geometry proceeding the translated one (ie. /GEO: (C,H,S),(C,H,S)). Below is a copy that's worked for me: "BASEDEV=IBM1S506.ADD /A:1 /U:0 /GEO:(2477,16,63),(619,64,63) /V"


OS/2's online help on the '/GEO' switch only mentions using the translated geometry, but this didn't work for me. After playing around a little I discovered that if I used both the 'real' and the translated geometry everything worked fine...of course YMMV.


...Cheers,


...Norm

---
Features
email
Previous Page | Index | Next Page