---
Barebone PC as router, print and file server
Introduction
In the SOHO area, networks enjoy great popularity. Most of the time, one of the desktop machines takes on server functions, or an - often older - PC is channeled into a server. In our company, this job is done by an old P133 with 32 MB of RAM, with flying colours and running OS/2, of course. This machine works as a print server (two printers are connected), as well as a file and fax server. This option, however, is not fully suitable for home use, because the server has to run all of the time, if you intend to e.g. print from a notebook that is integrated into the network. In doing so, such servers cause power consumption and noise. One solution for this problem are so-called print servers and hardware routers. Today, both kinds of devices are available at low cost, and can be configured cross-platform via web browsers. It is recommended to use devices that provide a combination of router and print server, and provide both internet access and print services to every machine on the LAN. Essentially, the use of such devices renders the use of a dedicated server machine unneccessary. Then, the network only consists of clients and the small extra devices.
But I was searching for a solution that was closer to the "classic" network structure. In particular, the solution was intended to include a file server, i.e. a central data pool. So I took a look at mini PCs.
The first machine which gave a positive impression was the OpenBrick Mini PC (http://www.openbrick.org).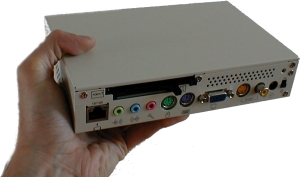 Fig.1: http://www.openbrick.org
This is a fan-less PC which has been built for use with Linux especially. The PC has a PC-compatible GEODE processor which produces considerably less heat than Intel or AMD processors. Hence, the processor does not require cooling. Unfortunately, I haven't been able to find any information regarding compatibility to OS/2 or eCS. (By the way, I think it's a pity that Mensys as world-wide eCS distributor and supporter could not make a statement here, in spite of them selling OpenBrick PCs.)
There have been similar problems with the second device, a VIA Eden Barebone.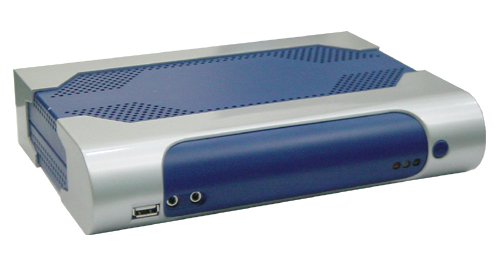 Fig.2: http://www.lex.com.tw
This very elegant device in book-format also shines with a fan-less processor (this time by VIA), and an exceptionally low power consumption, so it is ideal for use as a standby device. The external power supply is fan-less, too. Upon request, the German distributor and the Taiwanese manufacturer attested this PC not to be compatible with OS/2 or eComStation. Being the stubborn man I am, I ordered the device regardless and successfully installed eComStation 1.1 to it. The CD-ROM even included OS/2 drivers for sound and LAN.
The EPIA EDEN Barebone
Usually, barebones come without periphery like hard drives or main memory. The device I bought is an EPIA EDEN Barebone LIGHT with a 533 MHz processor from LEX SYSTEMS. These units are also available with faster processors, but this frequency constitutes the threshold for fan-less use. Faster processors do require a fan, but should still be more quiet than normal machines due to the fan-less power supply. By the way: If you are looking for a really quiet fan, pay VERAX a visit.
The device is equipped with a motherboard with a VIA chip set, a NIC chip (Realtek 8100B), and a sound chip (VIA AC97). The precise technical specifications are available at the manufacturer's home page.
The blue aluminium case can be opened without having to remove any screws. A hard disk, which has to be obtained seperately, is latched to the case via a supplied and quite intelligently done clip. Again, no tools are required. I employed a 20 GB notebook hard drive by Hitachi.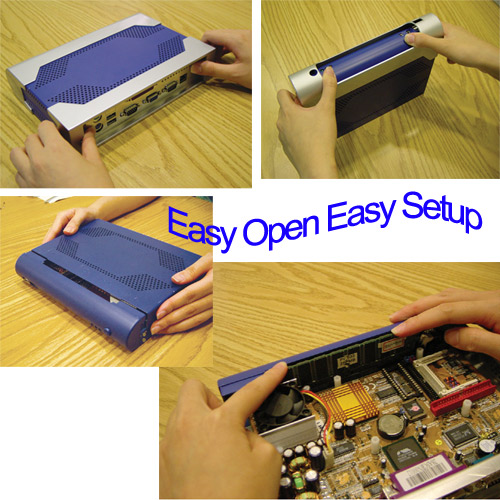 Fig.3: http://www.lex.com.tw
In addition to this connector, the barebone is also equipped with a standard IDE interface and power supply for such a drive. That way, a normal drive (hard disk, CD-ROM) can be attached for software installation. Of course, the unit cannot be closed in that state, but installation is facilitated considerably. The second power connector for the standard IDE drive is a weak point. It is only accessible after removing the RAM. I.e. each time you want to connect an external device that way, the RAM has to be removed and re-installed. The same has to be done when disconnecting the device again. But since that does not happen every day, it is easy to get over.
I decided to attach a Sony CD-ROM. There were no problems booting and installing the eComStation CD-ROM from this drive. Caution is advised when selecting RAM. The RAM's overall height must no be too large. I ordered RAM with the device; if need be, ask your dealer. I ordered Kingston RAM myself.
The graphics chip (VT8601A Integrated Trident graphics) is perfectly supported by SNAP. For network support, the Realtek driver for the RTL8139 is required (it also works with the built-in 8100B chip). To make use of the sound chip, you have to download the VIA AC97 driver. The latest version is 3.90a from the VIA web site. Although VIA has hidden the driver well, I found it in the section "The Tweakers Section - Old & Beta drivers" under "Technical Support/Drivers". The drivers on the included CD-ROM are outdated, unfortunately.
Basic features of power management (turning off and rebooting the machine via eComStation's shutdown dialog) are supported and work well.
As a software router, I installed the excellent software ISDNPM. The PPPoE driver works together with the network chip very well. The latter runs in 10 MBps mode for DSL access, but also provides data transfer on the network at the same time. This is achieved by connecting it to a simple HUB. A switch is not required, but recommended. For that purpose, the DSL modem is connected to the HUB's uplink and the remaining PCs to the other ports. Depending on the HUB, a cross-over cable (patch cable) might be required for the DSL modem. Please refer to the HUB's manual. That way, you don't need an additional network card, i.e. via a single network card of the server, you can print from a client, access files, and browse the Internet from a different machine (this is not characteristic for this device only, but also possible with other servers and network cards).
Furthermore, VIA Eden PCs are available in other configurations with several network cards in one device. If you don't want the 10 MBps DSL line to drain you high-speed network's performance, grab a device with three LAN chips.
As expected, printer installation and sharing directories for the common document pool went without problems.
Meanwhile I have also installed some applications on this machine and use them occasionally. If you intend to use non-bloated applications or such that don't cause much processor load, and they don't require a GHz machine to run, this machine makes for a usable desktop computer. With resource-sparing systems as OS/2 or eComStation, computing power is sufficient for office and internet applications anyway.
Conclusion
Do you know the feeling when you turn off the computer at the end of the work-day and you suddenly notice the silence - even though you hadn't perceived the noise of the running PC's fan any more? With the VIA Eden Barebone, this computer noise is a thing of the past, for you won't hear anything except for an occasional crack of the hard disk or the monitor's tweeting.
The device leaves a positive mark all around; it is well-crafted and also stable when running our favorite operating system. I haven't tested some of the features due to missing hardware. The unit has several USB connectors (also on the front) and a slot for Compact Flash cards, which is even bootable, for instance. I cannot promise that these interfaces work with OS/2 or eComStation.
In my opinion, the polish for this hardware would be the integration of a 5 port HUB and a second LPT port. This would make another additional device including its power supply redundant, and a second printer could be connected without problems.
To me, this machine does not seem suitable for applications that heavily rely on computing power.
Cost
The PC described above is available for approximately 260 EUR. In addition, a notebook hard disk (approximately 90 EUR, depending on size) and RAM (approximately 50 EUR depending on amount and price) are required.
---
Frank Wochatz has developed a number of programs for OS/2 and eCS. ePDF, eAccounts, and Contact/2 are probably the most popular ones.
---
Feature Index
editor@os2voice.org
< Previous Page | Newsletter Index | Next Page >
VOICE Home Page: http://www.os2voice.org