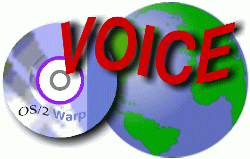 Virtual OS/2 International Consumer Education

April 1998


Features
email
Previous Page | Index | Next Page
VOICE Home Page: http://www.os2voice.org

---
Interview with an OS/2 Home User

Now we interview Peter Piper. Assistant Director of Computer Services at Shimer College and a Full-time student in his last semester of college.

VOICE> Can you please describe your current use of OS/2 at home? What kind of hardware and software are you using for OS/2? Do you run DOS/Windows apps under OS/2?

Peter Piper> My current use of OS/2 at home is: 1) creating my senior thesis via Freelance graphics (presentation on how to integrate technologies in small liberal art colleges) 2) Wordpro (wordprocessing) 3) surfing the web, 4) socks server for my other warp machine, 5) Graphics manipulation, 5) web design, 6) gaming (entrepreneur, etc.) 7) file & print sharing on my mini-net. (Object Desktop 1.5 installed)

I have this hardware on my first machine: 1) Cyrix PR 166+, plan to upgrade to the Cyrix 266+ when it is available, 2) ASUS P/I-P55T2P4 board with USB and infared support (disabled since os/2 can't use them effectively at the moment), 3) 64mb Fast Page RAM, 5) Fujitsu EIDE-AT 3.5 gb hard drive, 6) mitsumi 16X cdrom (IDE), 6) Matrox Mystique 4mb video, 7) Intel Etherexpress 16 NIC, 8) USR Robotics 33.6K internal modem, 9) Creative Labs PNP16 sound card. I have this hardware on my second machine: 1) Intel 486 DX4-100 CPU, 2) standard VLB motherboard, 3) 16mb RAM, 4) Fujitsu EIDE 2.5gb hard drive, 5) 4X Sony IDE cdrom, 6) STB 1mb VLB video card (cirrus chipset) 7) Intel Etherexpress 16 NIC, 8) DTC LBA bios card (to support large hard drive)

Yes I do run Windows and DOS apps in OS/2 and they are:....1) SimCity 2000 in Win-os2, 2) Real Audio in win-os2 (gag), 3) Encyclopedia on CDROM in win-os2, 4) Netscape Communicator in win-os/2 (back up browser to NS/2), 5) QPro 5.0 in DOS (backup to Lotus 123), 6) CDROM based movies...don't ask...runs fine in win-os/2.

VOICE> How and when did you decide to use OS/2? What features attracted you to try OS/2? What previous experience did you have with other operating systems?

Peter Piper> I was interested in OS/2 and bought ver 2.0...did dual boot with DOS and windows then completely converted with OS/2 ver 3.0. I was completely astounded when I didn't get any GPF's while running native os/2 apps..compared to running windows and native windows apps. My previous experience is primarily DOS and WFWG

VOICE> What other operating systems if any do you use and if they are networked, how well does OS/2 work with these other systems? What percentage of your time is spent running OS/2?

Peter Piper> I use WIN95/NT server/workstation at work, I use Linux, win95, os/2 at home. Both home and work are networked. OS/2 works fine with OS/2. I am having a bit of difficulty with Linux reading my networked os/2 socks server (hope to get that resolved soon). Windows and OS/2 work fine together. My boss won't let me put os/2 on any of the machines at work so I can't test it with NT. I spend 95% of my time with OS/2...at home...I spend 100% of my time with Windows products at work. I work 8 hours a day.

VOICE> Do you think you will continue to use OS/2 at home, or move to another platform in the future?

Peter Piper> I will continue to use OS/2 until I REALLY have to..which I doubt will be in the next 5 years.

VOICE> Are there any changes that you would like to see to OS/2 that would facilitate your continued use or expanded use of OS/2?

Peter Piper> Awareness to others so they will be willing to give it a try. I have a hard time trying to convince, without any luck, my peers at work to use OS/2.

VOICE> How have IBM's statements that they are targeting the medium to large business sector affected your decision to continue using OS/2?

Peter Piper> I work in a school with about 100 machines, 22 staff, and 150 students. I think that is relatively small, and I can't get anyone to seriously look at OS/2 unless they are MAC users. I can convince them when they get a GPF in windows..then they just reboot and ignore me. I feel helpless when there isn't any support other than the one I can provide. I wish IBM would back someone like me up while dealing with these people.

VOICE> If IBM licensed another company to sell the OS/2 client to home/SOHO users, would you support this product?

Peter Piper> YES.

VOICE> Have you tried to use OS/2 in your workplace? If so, what problems did >you encounter that led you to stop using OS/2 or to fail to get OS/2 running in your business?

Peter Piper> READ ABOVE.

---
Features
email
Previous Page | Index | Next Page