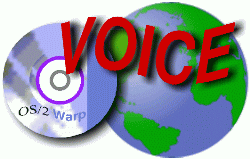 Virtual OS/2 International Consumer Education

---
May 23, 1997 - Judy McDermott, VOICE Liaison Officer, was invited to the WarpStock team meeting last night and asked to *volunteer* (Esther Schindler's favorite word) as their Volunteer Management person. Judy will work closely with the team in determining the jobs, required number of people to get the jobs done and then round up (with extreme prejudice) volunteers needed to make WarpStock a success. The event is scheduled for the weekend of October. 24, 1997 in southern California. All OS/2 users are invited to celebrate and learn about our favorite computer operating system. For more information on WarpStock check out http://www.basin.com/os2/warpstock.html



May 23, 1997 - VOICE is pleased to announce that Brad Wardell from Stardock Systems will be a guest speaker at our June 18, 1997 meeting. Per Judy McDermott, VOICE Liaison, "We'll schedule his session from 8-9pm EDT and he will contribute a registered copy of the new OS/2 golf games Links/2 as a door prize. I believe he is going to come up with a trivia question to determine who wins." So join us on WEBBnet and maybe you'll be the lucky soul who wins a copy of what looks like the next great game for OS/2. As always, for more information on VOICE and our IRC group meetings, please check out our home page http://www.os2voice.org

---
May 22, 1997 - Here is a summary of the VOICE Speak Up Meeting from May 21, 1997 as reported by Pankaj Sarin:
At VOICE's May 21 meeting, Robert Mauro, President of Cybercom, talked about AccuCount/2, a new business management and accounting software suite for OS/2. Cybercom has been writing custom apps for various PC platforms for about 8 years now, particularly business apps. Particularly, they have written accounting related software for Marine Midland Bank, Barnes & Noble, and clients in the printing industry. Therefore, they thought that an accounting application, which is sorely needed in the OS/2 market, should be their first application. Cybercom is aiming AccuCount/2 at small as well as large businesses. AccuCount/2 will come with the following modules: G/L, Inventory, Sales, Contact Manager, Banking, Reports, and Utilities and there will be a payroll upgrade and multiuser version. The program also takes advantage of OS/2's multithreading and multiprocessing support for background functions, screen updating and printing and Cybercom is actively working with the developers of FaxWorks, PMMail, and MR/2 in order to integrate AccuCount/2 with these programs.

AccuCount/2 will be released for beta testing 3 weeks after the demo; by this time, a demo should be available at
http://www3.smart.net/~cybercom/Accu.html. Pricing for AccuCount/2 is as follows: suggested retail pricing is $125, with street prices expected to be around $99-119. Currently, during the pre-beta period, special pricing is in effect (visit the Cybercom homepage http://www3.smart.net/~cybercom/ for details).

Some important questions that were asked:

*What about Year2000 issues, and also import data from legacy apps?
All dates are stored in 4 digit year format and will accept dates for any year OS/2 can handle - we have tried 2300+ with no problems.

*Is it a product specific for USA? What does this have more than other packages?
No - except for the language. We have various companies planning on helping us with translations to other languages. Most of the features just require customization for other countries (taxes, etc).

What AC/2 has that others dont...Compared to the Win market... faster database handling (instantaneous transactions with databases over 100MB), multithreading, email, fax and image support.

*Do you or will you have credit card authorization built-in and, if so, will it be able to accept data from other sources?
As of right now, no (built in). External apps... yes, we will support them.

*[I] use Simply Accounting now, and [have] Canadian taxes... will AccuCount/2 fill the gap?
Yes... both GST and PST taxes can easily be handled. We are even considering making Canadian region and postal info standard as the US info is.

*How hard will it be to get my stuff from Simply into AccuCount/2?
We had an old version of Simply, and it used standard dbf files... if that is the case still, you should have no problem. The import filters handle any dbf (or txt) files. Currently, we support txt and dbf formats and are working on finishing QuickBooks and PeachTree imports as well. Exports are to dbf and txt. MYOB users can do txt delimited exports that AC/2 can read quite easily.


---
May 21, 1997 - The voice home page is now active. Our web master Blane Boynton and our Web committee now undertake the task of updating the pages and making http://www.os2voice.org a world class source of OS/2 information, tips, and support for our favorite computer operating system.

---
May 20, 1997 - VOICE & WarpStock, as reported by Gerry Ellington.
Allies joined in a mutual cause... VOICE the premier internet organization for OS/2 users and the WarpStock committee are teaming together to bring the WarpStock event to fruition. WarpStock is progressing rapidly towards the inaugural event in LA later this fall. This collaboration was brought about when Michael Perry contacted VOICE board members about the prospects of assistance from VOICE.

VOICE along with representatives from various user groups are currently researching and organizing the video and audio broadcasting of this event through the internet. Many methods of achieving optimal results are currently being researched. At this point no possibility has been discarded. Possible methods include Video capture and broadcast, Quickcam captures posted to a website, Quickcam's used in conjunction with Intercomm, as well as other VTC equipment.

---
May 18,1997 - We will be interviewing one of the VOICE board members in each issue of the VOICE newsletter. This months interview is with VOICE Liaison officer Judy McDermott:

VOICE> How long have you used OS/2?
Judy> I've been running OS/2 Warp for about 3 years. I started out with Warp for windows, on floppy no less. Then went to Warp Fullpack. Experience is the best teacher, so I made sure I got it on CD. Then had Warp 4.0 preordered and installed it on September 25, 1996, and I've never looked back. As a matter of fact..looking forward to the next release of Warp.

VOICE> How do you currently use OS/2?
Judy> Computing is my hobby. I run a http ftp and irc server on my system. I spend quite a bit of free time maintaining my homepage, browsing the net and responding to email. When I'm not in VOICE meetings <G> I plan on setting up a LAN in the near future. Now that will be a challenge!

VOICE> What is your background in computers?
Judy> I have no background in computers. I got my first computer about 6 years ago and didn't even know how to access the A: drive. How fast we learn. I've since built my own system from the motherboard up, and also built another box from spare hardware. I must be doing something right, hubby even trusts me to install hardware on his machine now.

VOICE> How long have you been running your Judy's Warped World (http://oeonline.com/~mandie1) site and how did that get started?
Judy> I found that browsing for OS/2 information had added so many bookmarks that they were getting way out of hand. There were so many useful sites for OS/2 information that I decided that I would dedicate a homepage to OS/2 Warp that would assist OS/2 users in finding what they needed on one site instead of having to search for needed information so I created Judy's Warped World about 2 years ago.

VOICE> How did you get involved with VOICE?
Judy> David Both originally came up with the idea of forming an organization to promote OS/2. A lot of ideas and goals were tossed around in the Promote OS/2 forum, now known as the VOICE forum, at http://www.millennium-technology.com. I suggested that we have a weekly IRC session so that details could be discussed in *real time* and that has resulted in our weekly VOICE meetings. Being a home user of OS/2, I was indeed aware of the major focus being placed on the corporate market and the individual, SOHO users being left by the wayside. I wanted to be a part of an organized campaign to promote OS/2.

VOICE> What does a 'Liaison Officer' do?
Judy> I'm responsible for carrying out official correspondence and maintaining a database of contacts such as user groups, ISV's and IBM contacts. I work closely with all of the board members to assure that all significant information is communicated to the appropriate source. and grant interviews with the VOICE Newsletter reporter <G>

---
May 13, 1997 - Judy McDermott, VOICE Liaison Officer announces that InnoVal Software Solutions has graciously contributed a license for their Post Road Mailer which will be given away as a door prize at the May 28th meeting of VOICE on the WEBBnet IRC network. The meeting will start at 8PM EDT, (00:00 GMT). For more information on IRC and WEBBnet please checkout Judy's page http://oeonline.com/~mandie1/voice.htm

---
May 12, 1997 - Judy McDermott, VOICE Liaison Officer announces that on May 21, 1997 at 8PM EDT, (00:00 GMT), Robert Mauro, President of Cybercom, Inc. will be our special guest speaker in #voice on WEBBnet in our regular VOICE virtual group meeting on IRC. Mr. Mauro is one of the key developers of the forth coming AccuCount/2, an accounting package for OS/2. For more information on IRC and WEBBnet please checkout Judy's page http://oeonline.com/~mandie1/voice.html

---
May 7, 1997 - The VOICE Web Site contest has come to a close. The winning entry was submitted by Blane Boynton. His prize was a copy of Gamma Tech Utilities, provided by SofTouch Systems, Inc. and a 1 year membership to VOICE. In addition Blane will take on the responsibility of VOICE Webmaster. Mark Rudy and Dan Lonergan will also receive 1 year paid memberships for VOICE for their web site entries. We at VOICE would like to take this opportunity to thank all who submitted entries. Look for our new Web Site to be operational within the next few weeks. The URL is http://www.os2voice.org

email
Previous Page
Index
Next Page