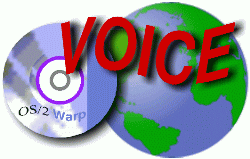 Virtual OS/2 International Consumer Education

May 1998


Features
email
Previous Page | Index | Next Page
VOICE Home Page: http://www.os2voice.org

---
View From the End (User)
Good Year Without the Blimp

By: dON k. eITNER (freiheit@tstonramp.com) http://www.tstonramp.com/~freiheit/

Anniversaries are often celebrated with champaign or cake and ice cream. Well your cake and ice cream are in the mail (just like your IRS tax return check). The VOICE newsletter celebrates one year of quality reporting this month, and to commemorate, I'm going to talk about the coming year. When we get to May of 1999, we can look back and see how each of these items turned out.

Please Sir, Can I Have More?

1998 will see twice as much Warpstock, covering twice as much of the world as did 1997. First it was announced that Warpstock '98 would be held at the IBM building in Chicago, IL from October 16 to the 18th, then it was announced that Germany would be hosting a Warpstock Europe in December (from the 18th to the 20th). Double the volunteer effort--let's hope it means more than double the exposure and message to IBM that we users are still here. If nothing else, it will once again re-invigorate OS/2's software developers. One thing we need is to invite OS/2-friendly hardware developers, as well. Give them the same sense of accomplishment and gratitude for their effort. The Warpstock '98 homepage can be seen at http://www.warpstock.org" and the Warpstock Europe page at http://www.buntspecht.de/warpstock/en/warpstock_en.html. Early registration for Warpstock has already begun, so don't delay--go check it out today!

The Hard, The Soft, And The Coffee

Speaking of OS/2-friendly hardware developers, Castlewood Systems (http://www.castlewoodsystems.com/castlewood/web/index.htm) are releasing the ORB 2.1 GB removable drive this year, and their website claims OS/2 support. Definitely something to keep your eyes on. Over the course of the next few months they'll be shipping parallel, EIDE, and Ultra SCSI versions of this remarkably inexpensive drive. It's companies like this, who start out on the right foot with regards to OS/2, that deserve our sincerest respect and support.

This will also be the year of the browser for OS/2. The port of Opera appears to be coming along nicely (compiling natively but as yet without sound support). IBM are expected to maybe, possibly consider releasing Communicator for OS/2 near the end of the year, but in the meantime the Netl@bs (http://www.netlabs.org) team are working on porting the Netscape Communicator 5.0 source to OS/2 (code-named Warpscape). Apparently they're starting with a port to XFree86-OS/2 and then working on the version for Presentation Manager. Not only is this great news for XFree86-OS/2 users, but I think it's justifiable proof that Netl@bs are porting from the Linux source rather than the Windows source. Should make for a bit tighter, faster, and more stable program.

As mentioned in a previous article, this year will also bring some new entertainment for OS/2. Hopkins FBI by PolyEx (http://www.polyex.com) is still in beta testing with an expected final release date this summer. This is the game that IBM would probably ban from OS/2 if they could, so for all those interested in shouting out OS/2's excellence as a home system, this is the game you want to get (please note I am not responsible if this is not in fact the game you want to get--if you've got better suggestions, let me know).

Multimedia? Did someone say multimedia? Well yes, OS/2 does have another new multimedia audio application--the Ceres SoundStudio. It's a multi-track WAV recorder/editor. Unfortunately I think it has some conflict with my system, so I've decided not to review it for this month. I encourage all audio enthusiasts to try it out, though, because it looks like a real winner. It's been developed cross-platform (Win95/NT, OS/2, and Linux). http://www.ceressoft.com/

And speaking of cross-platform development, I personally feel it's wonderful that so many companies are now taking the bull by the proverbial horns and branching into new markets. It's something that seems to be working out nicely for TrueSpectra (http://www.truespectra.com/), who are now developing for OS/2, Win32, and the BeOS. So long as they put their cross-platform revenue back into the system and maintain their OS/2 support on par with Windows and BeOS, no harm is done to any users and TrueSpectra widen their appeal and become a real force in the graphics market. The same can be said for SouthSoft (http://www.southsoft.com/), whose PMMail for OS/2 and for Win95/NT have begun to show great customer support.

Innoval (http://www.innoval.com/free/) of course chose to go the "other" cross-platform route--Java--and certainly their J Street Mailer looks promising. I wish them the best of luck. But my personal taste requires more integration with the OS than Java currently allows--one of the best features of OS/2 is the WPS (Workplace Shell) and so a native program which also happens to be developed natively for Windows is a more satisfying solution for me. I realize that requires additional coding, but the revenues gained in the larger Windows market should suffice to keep registration costs down.

Speaking Up

Thus far, VOICE SpeakUp sessions have been bringing in scores of interested people. As events such as Warpstock '98 draw nearer, and as more updates are made to the Win32-OS/2 converter, it's likely we will have our most popular guests back at least once before the end of the year. What we really need, though, is to hear from you, the OS/2 home and SOHO users, about people you'd like to chat with and provide feedback to on their OS/2 policy, their use of OS/2, their continued support for the OS/2 market, etc. This will ensure that we get speakers you care about and will make VOICE a much more viable resource for all OS/2 users. With membership on the rise, the chances of success in our goals are increasing by the week. Don't miss your chance to be part of OS/2's continuing vitality--join VOICE today and help shape the future.

All in all, 1998 began and is continuing on a very promising foot. Despite a year and a half having passed since the last official shrink-wrapped release of OS/2, it's still surviving quite well and continues to expand in new and wonderful ways. No I don't think it's going to become the multimedia giant that BeOS promises to become (doesn't hurt them to have Intel providing Indeo 5 video codecs) and it's not likely to become the primary force for the internet, but it's shaping up well to play a role in both areas and if it can just continue to compete respectably in a market of several respectably competitive OSes, then it will never be useless. The danger comes from above, with IBM always swaying between promoting OS/2 as a server OS and promoting NT for the short-term revenue, and Microsoft gladly eating up any marketshare abandoned by other OS developers. The trick is displaying to IBM and the rest of the world that OS/2 is still competent and deserving of respect long denied it by the corporate funded media. This is the duty of VOICE; this is the duty of every OS/2 user.

---
Features
email
Previous Page | Index | Next Page