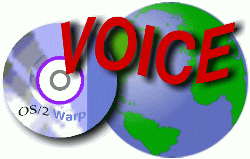 Virtual OS/2 International Consumer Education
July 1998

The OS/2 User Group News Page

email
Previous Page | Index | Next Page
VOICE Home Page: http://www.os2voice.org

---
This page is reserved for announcements from any OS/2 User Groups. If you would like your user group announcement to appear here, please send it to editor@os2voice.org

---
Dallas / Fort Worth OS/2 User's Group
Saturday July 18, 1998 at 1:00 pm
The Extreme Internet User Part II
by Mike Persell from IBM

Location: InfoMart - Main Auditorium ( Seating limited to first 500 people. ) Schedule and location provided to team up with Super Saturday - Largest User group meeting in the country. ( http://www.dfwxchange.com/dfwx.nsf/?Open )

A few changes are going to affect the group by the end of the year.

When we question how much IBM is contributing to the promotion of OS/2, we must weigh our own efforts in supporting OS/2. Are we attending all local OS/2 events and giving our support to the developers of OS/2 by registering their software? The OS/2 community is banding together tighter than ever and the seasoned developers are producing excellent software to enhance every OS/2 experience.

I know that I myself have, just within the last three months, registered a few hundred dollars worth of OS/2 wares.

Bandwidth Blowout:

Mike Persell will continue his trip through cyber space with the latest in surfing wares. Mike is in the mood for a shoot out between some of the large suites currently available.

OS/2 Making Music:

Would you like to create your own music CD's. We have the tools to allow you to mix your own tracks. CD 2 MPeg3, MP123, PM123, Unite and many more audio applications await your commands. I have over 3 Gigabytes in just MPEG3 files.

A few words about Communicator for OS/2. Yes... it is coming... hopefully Mike will be showing Communicator at the next meeting. He can explain the delay with greater technical detail than I, but it boils down to Netscape allowing OS/2 to handle the JAVA. Up until this point, all JAVA code was execute from inside the Netscape Engine. With the up and coming release of Communicator, Netscape turns the JAVA execution over to the OS/2 Kernel. Of course Communicator must still handle the JAVA execution for any MS product since MS does not support true JAVA.

! WARP STOCK ! ! ROAD TRIP ! ! WARP STOCK ! ! ROAD TRIP ! ! WARP STOCK ! ! ROAD TRIP !

I have been asked to host information about renting RV's for a road trip to Chicago the October for Warp Stock. I have found that the 5 to 6 people is about the maximum an RV and sleep comfortably. So getting the big buses is not an economical choice.

October is a slow month and many suggest reservations by September. Here is a breakdown of what I found:

Mary's RV INC : 28' Class C, 6 - 8 People, 795
Week, 500 Miles + $0.25 additional milage, 972 - 436 - 1548
North Dallas RV INC : 30' Class C, 7 People, 927 Week,
1000 Miles + $0.29 additional milage, 972 - 242 - 0404
Cruise America Motorhome : 30' Class C, 7 People, 927 Week, 1000
Miles + $0.29 additional milage, 800 - 327 - 7799
200 deduct, $125.00 per 500 Miles in advance, unlimited generator, $200.00 Refundable Security deposit.

Chicago is approximately 1000 miles from Dallas. 1000 * .29 = $290 or two 500 mile add on options would cost $250.

Look for a page on the DFWOS2 web site. We will post all of those who are signed up to take part in the trip. We also have several people who are taking their personal vehicles. I have a shop in Carrollton which is preparing Banners and window stickers for the trip.

! ROAD TRIP ! ! WARP STOCK ! ! ROAD TRIP ! ! WARP STOCK ! ! ROAD TRIP ! ! WARP STOCK !

For Sale:

Mike Persell
Bernoulli Drives--I know they're old and SCSI but they're cheap. Dual 230mb Bernoulli SCSI drive with 2 230mb disks for $35.00 STB Nitro 3d 4mb video card....$20 w/ Warp compatible S3 Virge GX chip

Rob Couch
AMD K6 233Mhz $120

We have put measures in place to gain the most value from our time at the Infomart.

Meeting time is from 1:00 pm to 3:00 pm.
An introduction to OS/2 is offered from 12:00 pm to 1:00 pm for all who are interest in an alternative True 32bit, Truly Multithreaded, Truly multitasking Operating System with the best JAVA support.

User Group Agenda:
User Group Support is priority!
Informing members about OS/2's continued development.
Advances in the latest JAVA Technology.
Promoting OS/2's JAVA JIT Compiler which is one of the fastest on the planet.
Presenting the latest in Hardware and Software advances.

Meetings will follow this format:

( These times will vary based on group input or presentation size. )
10 Mins: Latest OS/2 news and updates.
10 Mins: Introduction of any problems by group members.
10 Mins: Discussion of cool wares members have found.

30 Mins: Special Guest Speaker(s).
05 Mins: Break
45 Mins: Continued - Special Guest Speaker(s).
15 Mins: Q&A.

05 Mins: Product Raffle

Dallas / Fort Worth OS/2 User's Group supports the following:
The Java Lobby: http://www.javalobby.org
Warp Stock: http://www.warpstock.org.
Team Warp: http://www.ionet.net/~colin/rc5.html
The race to break the 64 bit key. The RSA Data Security Secret-Key Challenge

Contact Information:
Web Site: http://www.dfwos2.org
E-Mail: dfw.os2@usa.net

Rob Couch - President
rob.couch@usa.net
Gerald Meazell - Vice President
meazell@ibm.net
Mike PErsell - Forum Organizer
persell@swbell.net

or dfw.os2@usa.net for all of the above.

Group Demographics: http://www.dfwos2.org/group.html

Map to location can be found at: ( http://www.dfwos2.org/calendar.html )
Home page: ( http://www.dfwos2.org )
Group statistics: ( http://www.dfwos2.org/group.html )

---



email
Previous Page | Index | Next Page