---
OS/2 enters the living room
Preface
One of the topics discussed the most in recent PC magazines is the idea of 'multimedia PC,' especially its usage in the private living room environment.
As far as I know none of these articles contain anything about the OS/2 or eCS operating systems as a platform in that context, despite that it is (presumably) better fitted to the purpose. This article fills that gap. I am telling my own personal experience of my way to finding the optimal configuration of a multimedia home PC which meets all my requirements, i.e., that is suitable for the living room.
Objectives
In my case, "suitable for the living room" means: it has to be silent, and should satisfy demands regarding modern furniture and lifestyle so it gains a high WAF (so-called Woman's Acceptance Factor). It should play music (MP3) as well as videos (MPEG), and I would also like to view pictures (photos). Surfing the Internet from the couch would be nice, too, but this is a plan I have shelved for the moment due to a lack of network connections in my living room.
Having no computer monitor sure would be a WAF-increasing advantage, so a graphics card employing a TV-output was part of my wishlist.
Not a part of my wishlist is music or video recording because just one shelf to the side of my multimedia pc in the hifi rack there is a dedicated DVD writer with audio-recording capability. And that machine performs the task much better.
This is what my box of choice looks like. . .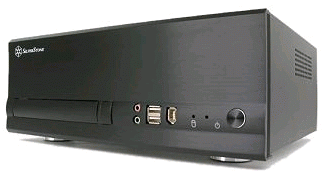 Black Beauty. It is also available in silver. The dimensions are: (WxHxD): 32 x 11.5 x 26 cm [12.6 x 4.5 x 10.2 in] (more info on the dealer's homepage).
This is a view of the final result in my living room (with a silver colored coating).

Result
Finally, after lots of recommendations and rumors about what is 'best' for home use, I made the decision for the mini-ITX mainboard technology by VIA (EPIA-boards). Because of the very small footprint of the mini-ITX form factor the cases are small and cute, ideal for the audio rack. But being small unfortunately also has a downside. There is only room for one DVD-ROM, one 3.5 inch hard disk drive and one PCI slot (which in turn may be extended by a riser card to two PCI cards). There is no chance (thank God!) for a diskette drive. Onboard is a LAN NIC, an audio processor, a VGA graphics chip, and two USB 2.0 with two front-side connectors. (I did not try the LAN.)
The hardware
Here is the complete system in detail:
Component
Price (EUR/USD)
Source
1.
PC-case SilverStone SST-LC06B (incl. external power supply)
158,00 / 190.40
IBKS, case-dept.
2.
Mainboard EPIA-M-10000 Mini-ITX, w/CPU 1 GHz
145,00 / 145.75
IBKS, mainboards-dept.
or directly at VIA
3.
RAM (DDR-512-400) 512 MiB
76,00 / 91.60
in any computer retail store (in my case Atelco)
4.
CPU cooler Verax A1-65201237-KT (part no. 0200234) (as a replacement for the onboard-cooler from EPIA, which was too loud for my taste)
60,80 / 72.80
VERAX Ventilatoren GmbH
5.
Harddisk 160 GiB (Samsung SP1604N P80, Par.ATA)
79,00 / 95.20
any computer retail store
6.
DVD-ROM Samsung
25,00 / 30.00
any computer retail store
7.
USB 2.0 Cardreader 8-in-1 (instead of a diskette drive)
19,90 / 24.00
any computer retail store
8.
Soundcard Soundblaster Live. This PCI card I mounted with the riser card, which belongs in the Silverstone case.
12,00 / 14.50
purchased at eBay
9.
Cordless keyboard/mouse (with a range of almost 3 meters)
45,00 / 54.20
any computer retail store
Total amount hardware
620,70 / 748.00
I used eComstation 1.2 as the operating system. It installed right from the CD-ROM onto the new and unformatted 160 GiB disk drive. There was no trouble at all, everything worked fine, a great improvement compared to earlier versions in my opinion. The eCS installer automatically recognized the Soundblaster Live soundcard. (Although to my surprise the board comes with a OS/2 driver for the onboard soundchip, but I decided to use an external soundcard with the expectation of a better sound quality.)
The onboard graphics chip was detected by the eCS installer and is supported up to a resolution of 1280 x 1024 at 16 million colors. There was also no problem with the onboard TV output which I regard a prerequisite for true 'lounge usage' of a multimedia PC. The Award BIOS on the EPIA mainboard lets you select the VGA output mode: CRT+LCD, CRT+TV LCD+TV, TV only. Because of the lower resolution of TV monitors, you have to reduce the WPS resolution to 800 x 600 pixels, reboot and select 'TV' in the BIOS. Afterwards you have a stable and fairly acceptable eCS desktop on your TV monitor. (A video cable ships with the mainboard.)
But operation of computer programs via a TV monitor still is an issue, mainly because of the not-so-crisp presentation of each pixel on 50 Hz [refresh frequency] TV equipment. This results in hard-to-read menus and other text with small fonts, so driving your WPS to the full extent will turn out difficult. To cope with this problem I have developed a little application called 'HOPPLA' (which stands for 'HOme Programmable Program LAuncher'), so in the end you can get along fine with the TV monitor, i.e., without a computer monitor (which we regard as having a low 'WAF').
Hard Disk
As a matter of fact the harddisk is not a critical issue for eCS. Any disk will do. But one should be aware that, first, it must be as silent as possible and, second, there is only room for one disk drive in the mini-ITX case. Which means that the disk should be chosen large enough for the next several years, and because the process of installing the disk in the mini-ITX box is a bit difficult and cumbersome.
In my case I decided for a 160 GiB, which I think will last for the next 2 - 3 years. I formatted as follows (during eCS installation):
Primary partition C: (1 GiB, boot partition, HPFS)
Logical partition D: (150 GiB, MP3s and MPGs, JFS)
Logical partition E: (9 GiB, misc. data, JFS)
CPU power
As mentioned above, the EPIA board with integrated CPU runs at 1 GHz, a clock rate that nobody would classify as a speed record nowadays. But it is more than sufficient for playing my MP3s and MPGs, and viewing digital images. On the other hand, the lower CPU speed reduces the heat production, so the effort for cooling may be kept at a reasonably low noise level (see above, VERAX cooler).
Valuation
It is mostly because of the very fast startup speed after power-on that this PC can be recommended for home (living room) use. This is due to the JFS file system, as opposed to HPFS which takes a much longer time during the boot-phase for the initial AUTOCHECK of all volumes. And in my opinion it is very important for a machine dedicated to playing music to be fast in getting going.
The second very important feature is noise: thanks to the very silent Samsung hard disk and the almost noiseless CPU cooler fan, this multimedia PC fits very well into a music-enjoying environment where you would feel disturbed by the noise of an ordinary PC while listening to music at low volume level.
Regarding the WAF: Well, everybody is free to have his own personal taste, but I believe that nobody would deny that this Silverstone case does look quite nice besides other stylish audio and video equipment and I bet most people wouldn't identify the 'PC' in the rack at first glance. You know, many traditional amplifiers are larger in size and have a more 'aggressive' look. It is only the keyboard and mouse lying on the table that let you know that there is a computer lurking around somewhere. Judge for yourself; have a look into my living room.
My very personal opinion
The box as discussed here is a home-entertainment furniture, not a PC! You simply have to keep this in mind and there won't be any problems with your spouse.
The software
Speaking of software we have to begin with the operating system. As mentioned above, I chose eComstation version 1.2. It is not only the much improved multimedia capabilites of version 1.2, but mainly the fast and versatile JFS filesystem that makes eCS 1.2 an outstanding multimedia platform. (Yes, I know, JFS was available in earlier versions too.) Besides the speed at power-on time, it is the virtually unlimited sizes of files and partitions (both in terabyte range) which deserve special acknowledgment. The system described here with its 160 GiB is operational in 40 seconds. That, of course, is slower than the power-up period of a TV or DVD player but a dramatic improvement over my previous experiences.
And it also takes 40 seconds to fluff the couch pillows and pour the wine, so the easy-listening couldn't begin earlier anyway.
Powering off the system from your armchair
Another issue of operating systems is APM (Advanced Power Management). With eComStation 1.2 this has also improved. In the case of the EPIA-mainboard (as is the case with other boards as well), shutdown with power-off is no longer a problem. Utilizing the shutdown.exe of eStylerLite, which comes with eCS 1.2, I implemented a graphical push button (with the help of the 'HOPPLA' GUI) to trigger the system shutdown with power-off by just one click of my cordless mouse. Yes, of course, this is only a minor issue, but it adds to the overall elegance of the multimedia PC, powering off the system right from your actual 'couch position.' Modern people are driven by remote control, you know.
But the operating system by itself doesn't play any music or display videos. For those tasks, you need application software. I have employed the following:
CDMagic
During the past four years, I have digitized my thousands of long play records, tapes and compact discs to the MP3 format, resulting in about 60 GiB of disk space, organized in a xBase database. For the administration of these tens of thousands of tracks and albums I use CDMagic. Because I have written this program myself, I refrain from talking about it here, instead I refer you to a review by Team OS/2 Region Trier (it's in German, but the CDMagic program has German, English, and Spanish menus and dialogues).
Note: The review is some years old, many things in CDMagic have changed since then.
These are some screenshots of the current version of CDMagic:
| Initial main menu | Track list | Album list | Cover panel |
| --- | --- | --- | --- |
| | | | |
(Click on the images for a larger view)
Talking about MP3 would be incomplete without mentioning the players WarpAmp, z!, and PM123 as well as the multimedia I/O proc MMIOMP3. CDMagic itself has no playing capability but serves as a 'shell' where the user can select one of the above playing programs as a 'plug-in'.
Hoping not to understate my personal opinion I would like to talk about the most outstanding advantage of computer-based music listening: Finding a particular track from a certain album out of a collection of thousands of volumes--regardless if the track is part of an original album from that artist or is contained on a "Best Of" compilation--and to make the track sound from the speakers within seconds. Try this with traditional techniques in a situation where your thousands of CDs, etc., are spread over your cabinets, drawers, racks, and those of your friends and neighbors.
WarpVision
The second important component in the multimedia scenario is video. I think everyone would agree that for this purpose nothing in the world of OS/2 is more suitable than WarpVision. WarpVision plays (almost) all kinds of videos (avi, mpeg, etc.). It is a Netlabs project, and it is constantly being improved.
Because it is so ubiquitous, I won't discuss the program any further here.
Image-Database 'Calydos' / PMView
Another activity that is typical for the living room is viewing photographs. Most people will remember their parents unfolding a big photo album, bound in leather, upon the lounge chair, gathering all their children or friends around them. Well, this 'old-fashioned' pleasure is hardly obsolete; only the media have changed. Instead of pictures produced on paper we nowadays enjoy their digital counterparts. And as most readers probably know, this is no problem at all for OS/2 users. This is mainly the merit of PMView, an excellent image viewer, which outperforms most of its competitors on other platforms. I have been using this program since version 2.0. The current version is PMView Pro. (Though they call it a 'new product', the transition from the predecessor 2.x to Pro is smooth and carries only minor changes; nevertheless you have to register completely anew.)
Although PMView offers a smart slideshow capability, for this functionality I use a program called Calydos. Calydos is an image database which lets you describe your pictures in a hierarchy of different terms. These terms later serve as search criteria to find an image by entering just those terms or a fragment of a term. Calydos has only limited viewing capability, so for detailed and sophisticated viewing the user has to specify an external viewer program, such as PMView, which is neatly integrated in Calydos.
Calydos comes with a Gallery feature, which may be used as a slideshow, much similar to that in PMView. So depending on actual requirements, I use the slideshow in PMView or the Gallery function in Calydos.
Because Calydos (as well as CDMagic) is written by myself I refrain from further presentation here, just show you some screenshots:
Image browser
(with preview images)
Image gallery
Database report
(Click on the images for a larger view)
HOPPLA
The term 'HOPPLA' stands for "HOme Programmable Program LAuncher." As the name suggests, HOPPLA serves as a GUI to start programs. This sounds quite trivial, and indeed, HOPPLA is just a small utility program like many others of its kind, but it meets some vital objectives:
specially designed for usage on a TV monitor (800 x 600 resolution) and
may easily be configured to meet the user's taste and requirements.
'Designed for usage on a TV monitor' means: Because of the poor readability of CRT devices a TV-friendly GUI must display text and dialogues in large fonts or, even better, as (large) icons or graphical buttons.
In HOPPLA you may configure these functions:
any background for the main window. You can create your own artwork or use a digital photo of your choice. The background image should be typically as large as the physical resolution (e.g. 800 x 600 pixels),
graphical pushbuttons, which start the associated program (if clicked on), may be dragged to any position upon the background image, wherever it may fit best,
functionality of each graphical pushbutton. Similar to a program object on the WPS, but in addition there are some special properties such as Display the WPS, Shutdown the System, or many others.
To make it clear, HOPPLA itself is not a graphics editor.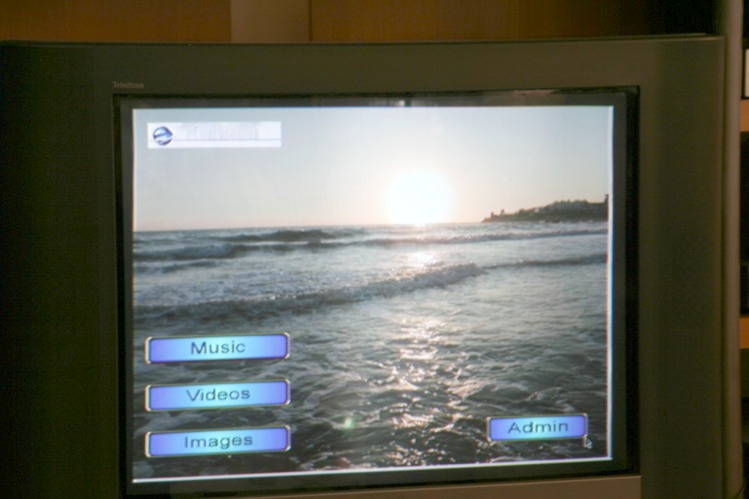 You have to create all graphical objects (background image, pushbuttons) separately and save them in BMP format. The background image should be quite easy to obtain, you simply look at the collection of digital images from your latest holidays and select the most beautiful one.
For more sophisticated graphical tasks you may use Embellish or Phototiger (or GIMP/2, if you are the fearless type. :-) ).
The main objective for HOPPLA is to create your personal user interface with large enough control elements (pushbuttons) so it may start programs--e.g., your favourite mp3 or video player--using the cordless mouse while you remain seated and without the need of a telescope to read the TV screen.
After creating your personal profile, which is called 'schema', you may place the hoppla.exe as a program object in the eCS Startup folder, specifying the name of the schema as a parameter.
Having done this your multimedia-PC behaves as follows. After power-on the PC comes up, immediately presenting you with a GUI where you may start playing your music or viewing your videos by just one click on the cordless mouse. Ah - don't forget to turn on the TV too, of course. . .
Total prospect of involved multimedia devices
Until now we have been talking mainly in terms of "PC" and "computer." However, let me remind you that our objective is "using a computer without having the look & feel of one." So, to prove we have achieved this goal, have a look into my living room: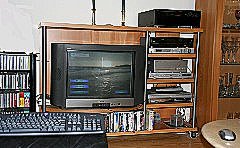 (Click on the image for a larger view)
In the foreground, you can see the cordless keyboard (left) & mouse (right). The remote control has a range of almost 3 meters, which is sufficient for program operation from my sitting position. I would say this is almost the optimal distance for watching TV (if you don't live in a cathedral or other spacious place). Operating the mouse on the marble table and sometimes pressing a key on the keyboard that rests on my knees is not conducive to performing extensive computer operations such as word processing or programming. But this is not the objective of a multimedia (home-) computer.
This TV-based manner of operating a computer is dedicated to simple things such as invoking playlists, starting a video or a slide-show. With the help of the 'HOPPLA' GUI these tasks do not require more than a few mouse clicks, so even the keyboard on my knees (or on the carpet, somewhere among the pages of my newspaper. . .) is not needed in most cases.
But now, where is it, my eComStation-Multimedia-PC?
Slowly move your mouse cursor over the image and watch the small bubble-help text strings popping up, telling you which item your mouse cursor is over. Hint: The black box on top of the cabinet is the main amplifier, not the PC!
Final conclusion
What I have presented here is not 'the biggest thing since Colossus,' nor a breathtaking new technology that brings your PC effortlessly into your living room. Instead it's a sequence of several small steps, beginning with a new mainboard design (mini-ITX), improved cooling systems, noiseless disk drives, an operating system that supports it all and--last but not least--a certain amount of programming especially dedicated to the purpose of 'lounge' or 'armchair computing.'
There are still some things that call for improvement, e.g., I would prefer a TV-like remote control, or a LCD-based TV (I'm waiting for the prices to drop), but these are minor flaws, which cannot, in my opinion, prevent the complete system from succeeding.
Talking about OS/2: What I wanted to show is that the current release of eCS is readily installed on the latest mainboard technology, with non-Intel, non-AMD CPU, and as a result is best suited to meet the challenge of an up-to-date lifestyle, at least in the field of enjoying multimedia contents at home, as opposed to the (home) office.
So, if anybody still wants to tell you that OS/2 is a computing platform for the financial industry and not for personal use, don't believe them. QED.
---
Feature Index
editor@os2voice.org
< Previous Page | Newsletter Index | Next Page >
VOICE Home Page: http://www.os2voice.org