Warpstock 2005
Warpstock 2005 is in Hershey, Pennsylvania this year. Just thinking about it I can already smell the chocolate.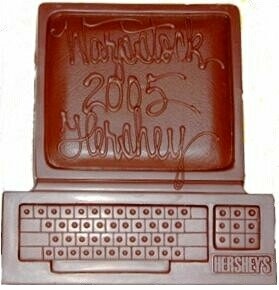 Like last year it will be four days, October 6 2005 through the 9th, with two days of classes and two days of general sessions. This scheduling format was a big hit in Denver, CO, with attendees last year so we are hoping for the same reaction this year. We had a late start in getting things together for this year's event, but the team--headed by Lewis Rosenthal--is working on building a presentation schedule.
What we have heard from attendees in the past is that most do not make the decision to come until they can see a schedule. Unfortunately it is difficult to get speakers to commit early on. This hurts us every year, but as an entirely volunteer organization there just isn't much we can do except plan the event and hope that by the show date everything has come together and people are interested enough to show up.
If you are someone who would teach a class or give an interesting presentation, please contact our speaker coordinators. You help educate your fellow OS/2 and eComStation users, get the thanks of a grateful audience, and show them what is possible to keep OS/2 and eComStation running into the future.
As of this writing we already have several sessions planned. These include one on eComStation maintenance, and several on general OS/2 and wireless networking. These are sessions on programming and on using Mesa 2 spreadsheet to run a business. Serenity Systems has promised to be there giving the current status of eComStation, but no details are available yet.
As to classes we have some planned on the use of LVM and disk partitioning; Mesa 2 scripting; using VAC++ Visual Builder; and an introduction to SQL.
This year, for something new, we are planning to have an OS/2 museum. This will probably be in the exhibit area and we hope to have as many previous versions of OS/2 as possible running on vintage hardware. We are also close to locating an original IBM PowerPC machine to run OS/2 PPC. That and several versions of OS/2 1.x, 2.x and maybe even Warp 3 and Warp Server SMP should make for an interesting look back at where we have come.
Hershey
I lived near Hershey for several years just over a decade ago. Though we have moved to different part of the state since then, we really loved the area and often talk about going back to live. This area of central Pennsylvania is marked by rolling green hills with lots of dairy farms and hard working people. There has likely been a lot of development since I lived there, but I'm sure the atmosphere is still overall the same.
In fact Hershey is not a real physical location even though it has its own postal code. There is no municipality or township or borough named "Hershey." It's actually the location of the Hershey Chocolate Company, the internationally known producer of the Hershey Candy Bar and other candy treats. But most things in the area have "Hershey" in the name.
Hershey is about 5 miles east of Harrisburg, the capital city of Pennsylvania. If you are flying in, then most likely you will arrive at Harrisburg International Airport; it is a few miles from our event location.
As to weather, October is the beginning of the cool days and nights of Fall, but too early for any snow or really cold weather. The beginning of October, though, is still too warm to see any foliage turning to Fall colors.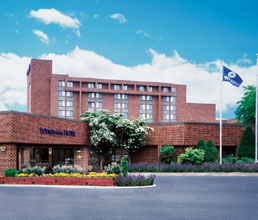 For our ninth edition of Warpstock we have chosen the Wyndham Harrisburg-Hershey hotel for meeting space and accommodations. There is a complementary shuttle bus from the airport to the hotel. If you are driving, the hotel offers free parking. Hershey is a 2 to 3 hour drive from several large metropolitan cities like Philadelphia, PA, New York City, NY, and Baltimore, MD.
The regular corporate rate for these rooms is $169 (€139) per night, while we have a $99 (€81) rate which is good for both single and double rooms. Please be aware that we only have a block of 50 rooms per night guaranteed for our attendees, so make your reservations as soon as possible to guarantee you have a room. You can do so by calling the Wyndham's toll free reservation line, 1-877-999-3223 (outside North America 1-972-915-7070), or online at the hotel's web site. For phone reservations tell them you are attending Warpstock. For the online reservations enter the Group Code 1006772TH. Otherwise you do not get the contracted rate and we cannot be credited for your stay.
Also consider joining the Wyndham By Request program to take advantage of some benefits like free in-room broadband Internet access. Joining this program is free but does require registration. It's worth the effort just for the internet connection.
Attractions for everyone
First the bad news. After scheduling the event we found out that
Hershey Park
is closed the weekend of the 8th and 9th. It reopens on the 15th of October just for weekends.
If you must do amusement parks and can't wait until the following weekend, then checkout Dutch Wonderland, about a 30 minute drive south of Hershey in Lancaster County. They are open weekend evenings beginning October 7th. Dutch Wonderland is oriented to young kids. For roller coaster fanatics and a more adult oriented amusement park there is Dorney Park which is about an hour east of Hershey in Allentown, PA.
While Hershey Park may be closed, Zoo America next door is open. Here you find 11 acres of wildlife adventure featuring more than 200 animals.
When I was a kid, you could take a tour of the factory where Hershey candy is made, but I guess that got in the way of making the candy. At some point Hershey created a virtual amusement park type ride called Chocolate World that's free to everyone. At the end you get a complimentary treat and are deposited in a large store selling all kinds of chocolate and other candy items.
See the chocolate computer in the beginning of this article for a sample of the offbeat items available at the Hershey Gifts store. (No, it isn't real. And, yes, it's a giant advertisement for the Hershey Company and it's a must-see if you are coming to the Hershey area.) It appears they have also added a show, "HERSHEY'S Really Big 3D Show." There's a charge of $4.95 for adults and $3.95 for children (3-12) to attend this 30 minute show starring the Hershey product characters.
Just a little South of Hershey is Lancaster County, Pennsylvania. This is the home of one of the largest communities of the Amish, also known as the Pennsylvania Dutch or Plain Folk. These are the folks depicted in the movie Witness (one of my wife's favorite flicks and you can even take a tour of the sites used in the film). They live pretty much as they have for the past 100 years, devoting their lives to God and their simple life without fanciful things like electricity, cars, buttons and zippers. The area is well known for its Amish-made furniture, crafts and family style restaurants (Shoo-Fly pie anyone?).
Lancaster has a ton of attractions. In fact just driving through little towns like Bird-In-Hand, Intercourse and Blueball is an attraction in itself, with Amish buggy spotting being a popular past-time. For those into trains, Lancaster is the home of the Strassburg Rail Road as well as the Railroad Museum of Pennsylvania, both in Strassburg, PA. There is also the Pennsylvania Renaissance Faire, Living the Experience: The Underground Railroad, and the Sight & Sound Millennium Theatre. There is so much to see in Lancaster County I'd have to devote an entire article to it and I'd still probably leave things out.
For a slightly offbeat attraction you can drive by the Three Mile Island Nuclear Reactor. This is the site of the worst nuclear accident in the United States. On March 29, 1979 a malfunction at the reactor control facility led to a near meltdown and resulted in closing one of the two reactors on the site. It's a few miles south of Harrisburg in the middle of the Susquehanna River across from Middletown, Pennsylvania. You can easily see it from River Road though the visitor center has been closed down. You can't get near Chernobyl, but you can at least see TMI in the distance.
If you are into American history, it is well worth the 35 mile drive south to the Gettysburg National Battlefield and National Cemetery. This was where the Confederacy made its deepest penetration into the North and is the site of the most pivotal battle of the American Civil War. Here in the beginning of July 1863, General Robert E. Lee's resolute Army of Northern Virginia finally met its match and was defeated by General U. S. Grant's Army of the Potomac. This was the site of the largest loss of life in any battle of that war. Later that same year President Abraham Lincoln delivered his famous Gettysburg Address during the dedication of the Soldiers' National Cemetery.
If you like motorcycles, be sure to take the Harley Davidson factory tour in York Pennsylvania about 15 miles southwest of Hershey.
If your interest is antique cars there is The Eastern Division National Fall Meet of Antique Automobile Club of America (AACA) held in Hershey the first week of October [Oct 3 - 8].
For more on Hershey area attractions, including shopping, see the Warpstock web site.
The Sweetest One yet
I hope you can make it to this year's Warpstock. Our all volunteer event team is working hard to make this a truly exceptional OS/2 educational event. We also hope that bringing Warpstock east of the Mississippi for the first time in 4 years will see a significant uptick in attendance. For Warpstock to continue we need your support.
Why is Warpstock worthy of your consideration? It is at Warpstock that the scattered OS/2 community comes together. Developers get to meet with other developers to help spread their knowledge and ideas. Also users get to hear first hand about how things are going and what to expect in the future. Without events like Warpstock, Warpstock Europe and Warpstock Czech Republic, there would be little of the important physical face-to-face interchange that keeps our platform alive.
To register for Warpstock 2005 please go to our registration page. Registration can be done online or by mail. The four day event costs $179 (€148) and if you can only make either the Thursday-Friday classes or the Saturday-Sunday traditional presentations, the cost is $109 (€90).