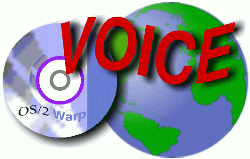 Virtual OS/2 International Consumer Education

September 1998


Features
mailto:editor@os2voice.org
Previous Page | Index | Next Page
VOICE Home Page: http://www.os2voice.org

---
An editorial view from Mark Dodel, editor of the VOICE Newsletter editor@os2voice.org

Lot's of new articles in this issue of the VOICE Newsletter. I'd like to take this opportunity to thank the folks who contribute with their time and effort to the newsletter. VOICE is an entirely volunteer endeavor and I would really like to see more folks, particularly VOICE members get involved to help lighten the work load. If there is an OS/2 application or a particular piece of hardware you would like to write about, drop me a line mailto:editor@os2voice.org Don Eitner, the assistant editor of the newsletter and my self would gladly help any budding new journalist/authors get their article in shape. If you are not quite up to writing an article, then consider helping out by sending in an OS/2 tip, or User Group meeting announcement, or volunteer to do an interview with an OS/2 user, or just a short letter of encouragement if you read an article and found it helpful in some way.

Getting back to the business at hand, this months newsletter includes a review of Power Boot, v2.1, by VOICE member Dr. Allie Martin; an article on Setting up a COM21 Cable Modem under OS/2 by Mark Klebanoff; Part 6 of Dan Casey's OS/2 Technology series on Installing Fixpaks for OS/2 Warp; Tom Nadeau's "Just What Does "Network Computing" Mean, Anyway?"; and Don Eitner reviews BubblePad v1.01 in his VIEW from the End(User) column. We also have three new interviews with OS/2 users this month. This section has actually become one of my favorites as it demonstrates OS/2's true power above and beyond the niche label IBM and the computer press have slapped on it. I hope that someone at IBM reads these and sees the sheer diversity of use their operating system is put to. Finally Wayne Swanson gives a step-by-step tutorial on using the freeware EZirc IRC client to log into VOICE meetings and join the fun in his article Getting started on IRC. Wayne has even written a script so EZirc will log onto WEBBnet and join the #voice channel automatically.

We also have an editorial piece by Seth MacFarland on the recent Usenet exchanges between some OS/2 users and the IBM Communicator for OS/2 development team which I titled "Some OS/2 users step over the line". My take on the issue of whether the Communicator for OS/2 is "too windows" or not is that all the griping and personal attacks on the development team are unproductive but expected. They come in part from the frustration of watching IBM attrit OS/2 development in their drive to shore up the Next Titanic. The facts are that IBM has pretty much stopped all native OS/2 application development, and they openly advise software developers to do the same and Communicator for OS/2 will probably be the last major OS/2 application to come out of IBM unless they come to their senses, or have to jump in the life boats to get away from the sinking goliath known as NT. Most likely though IBM will ride to the rescue and save Microsoft from it's own inept, bloated coding.

So what has this to do with COMM/2 and sniping OS/2 users? Well it sticks in people's craw that the product looks and feels like a windows application. It also doesn't help that one of the developers stated he only uses windows at home. So what we end up with is a product we OS/2 users have to work with day-in-day-out while he just has to fix the problems with it. In reality this is not a real problem since it is not at all unusual for commercial application developers to not use their own products on a daily basis. I program on mainframes and routinely develop and support applications that I only use in a test environment. As to the windows look and feel, the COMM/2 development team has stated they are doing their best to add things like OS/2 drag and drop support, but menu items are unchangeable. IBM has only committed to doing a port of the existing Netscape Communicator 4.04 and this ported version has to remain compatible with the other platform versions for any hope of continued support. So folks your options are to remain with the out-of-date Navigator for OS/2 2.02 or the now dead-end Web Explorer; use another browser such as Web Navigator, Lynx/2, or the hopefully soon to appear Opera for OS/2; do as IBM wants you to do and switch to windows; or use this port of Communicator for OS/2. Continued whining and threatening is not gonna change a thing.

After reading "The Microsoft File" by Wendy Goldman Rohm *, it has become clear to me that Microsoft is the only one that benefits from all the squabbling between us. OS/2 users should stop all the bickering amongst ourselves and join forces with the MAC users, Linux users and anyone else who sees what Microsoft is up to, and help educate the public about choice in personal computing. It turns out that the horrible things we OS/2 fanatics have been saying all along about Microsoft were not only true, but were minor compared with most of the predatory acts of sabotage, deceit and out-right theft committed by Mr. Gates and his minions. If you read only one book this year or this decade, try to read this one. Her writing style is a bit tortuous but she presents a clear case of how Microsoft destroyed it's competition including the IBM-Microsoft OS/2 effort.

If you really want to do something to help change IBM's feelings toward OS/2 try writing to the following expressing your concerns about the general lack of choice in computer operating system availability and specifically IBM's lack of non-Microsoft options to:

Joel I. Klein
Assistant Attorney General
Antitrust Division
U.S. Department of Justice
601 D Street, NW
Washington, DC 20530

The email address is antitrust@justice.usdoj.gov

If you would like to let IBM know that you want them to support OS/2 and ask them to release a new version of OS/2 send an email to:
John Stenson ssadm281@us.ibm.com
Network Computing Software

Finally if you want to let Lou Gerstner's office know how you feel you can do so by pointing your favorite web browser to http://www.ibm.com/cgi-bin/email-lvg.pl You'll probably then get a response from someone in John's office anyway, so I'm not sure what difference it makes.

Mark Dodel
Editor, VOICE Newsletter
editor@os2voice.org

---
* "The Microsoft File : The Secret Case Against Bill Gates" by Wendy Goldman Rohm, Published by Times Business and available from Amazon Books online http://www.amazon.com/exec/obidos/ASIN/0812927168/002-1741491-2800602

---
Features
mailto:editor@os2voice.org
Previous Page | Index | Next Page