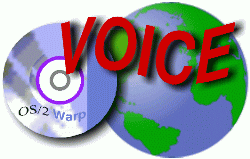 Virtual OS/2 International Consumer Education

October 1998


Features
editor@os2voice.org
Previous Page | Index | Next Page
VOICE Home Page: http://www.os2voice.org

---
The OS/2 Love Fest known as Warpstock,
Part 1

---
By: Dan Casey, dcasey@ameritech.net

If you weren't there, you don't know what you missed. Words cannot adequately describe the atmosphere at the Wyndham Northwest.

I missed the inaugural event last year in Diamond Bar, CA. But after attending Warpstock 98, and living the whole "Experience", I realize, now, just how much I missed. It was much more than Vendor Displays and Presentations. I've been to quite a few "Computer Shows", including Comdex. But none of them compare to Warpstock.

One of the reasons that this year's event was such a success was the venue. By holding the event in a hotel, the show didn't stop at 5:00 PM when the exhibit halls closed. Users met and discussed everything and anything for hours after the exhibits had closed and the last presentations had ended. Developers who seemed to be too tired to utter another word about their software at 5:00 PM were still discussing it at 11:00 PM with anyone who wanted to know what it was about, how it was developed or what features were planned for the future. people drifted in and out of the Oak Bar between lunch time and closing time (which, unfortunately was a seemingly early 1:00 AM).

Friday, October 16, 1998

I arrived at the Wyndham Northwest about 3:15 PM. I checked in and headed towards the elevator. I never made it. I ran right into a fairly large group of Warpstockers in the lobby, and quickly made new friends. After almost an hour of introductions and conversation, I headed up to my room, staying just long enough to drop my bags on the bed. Then, it was back downstairs to await the shuttle that would take us all to dinner. Due to some confusion in the arrangements with the hotel, the room we had expected to use for the Vendor Displays was not available, and the room we ended up with was not yet ready for setup. So we all just "hung out" in the lobby until the shuttle arrived.

Reservations were made for 40 - 45 people. By the time we arrived at the restaurant, the head count was 54. Final tally on Friday night's dinner was 61, but the staff of Bob Chinn's accommodated each and every one of us with no problems at all. To see some great pictures of the "Warpfeast", check out Jim Larson's website (http://www.jvlnet.com/~jwlarson/ws98faces.html). ( Editor note: for even more pictures of Warpstock 98, checkout the VOICE website - http://www.os2voice.org )The food was wonderful, and the company couldn't have been better.

By the time we arrived back at the hotel, the exhibit hall still wasn't quite ready for setup, so most of us wandered into the Oak Bar for an informal introductory session. Most of the Organizing committee was there, as well as quite a few of the Steering Committee members. A great group of people who did an outstanding job.

We finally began setup about midnight or so (although the electricians were still busy running all the power feeds to the booths). I finally called it a night about 3:30 AM.

Saturday, October 17, 1998

I was in the VOICE booth at 7:30 AM configuring my system to connect to the Warpstock Network and, through this, to the Internet. If I had to pick one problem with Warpstock 98, it would be the Internet Connection. It was plain to see from very early on, that a 128Kbps ISDN connection was not enough bandwidth to accommodate everyone. This, coupled with the "flakey" connection (either the local Telco provider or the ISP) resulted in a very unstable and intermittent Internet connection. This is the reason that the pictures were not uploaded over the weekend, and this is what prevented us from scheduling the Live Speakup sessions during the event. It's impossible to try and schedule a live event around the very busy schedule of these developers and vendors when you can't count on there even being a connection to use. I must say, though, that Jason did a great job with the network. I don't think he slept for 3 days, and he deserves a lot of credit for the work he did.


Unfortunately, even though we had several volunteers to help with the booth, I didn't see a single presentation all weekend. Of all the ones I wanted to see, the Aurora/WSOD was the one I regret missing. From all accounts, it was very positive and upbeat for all of us OS/2 users. While no official announcement has been made, or is even considered to be forthcoming from IBM, I personally feel that we'll see a new Warp Client sometime next year.


As with Friday night, the evening ended (for me) about 10:00 PM, in the Oak Bar. Apparently, quite a few people weren't ready to quit at 1:00 AM closing, so the gatherings moved to individual rooms, where conversation continued into the wee hours of the morning. It was evident from the faces on Sunday morning just how many had continued into the morning.

Sunday, October 18, 1998

Once I was sure that everything was well in hand in the VOICE booth, I set out to see everything I could. I should have started on Saturday. I couldn't possibly talk to every vendor in one day. My first visit was to "Perfect Niche", the people that distribute the label application "Smack!". After discussing a few problems I was having with the app, I headed back to the VOICE booth, where Bill Schindler met me and we went over the problems. There is nothing quite like troubleshooting a buggy app (beta) than sitting at your own machine with the developer looking over your shoulder and really seeing the problems first hand. A later demonstration of the planned next release of Smack! was very impressive.


Next stop was The Software Development Group. Unfortunately, a hard drive crash prevented a live demo of BizWiz and MoneyWiz, but Rick promised an Evaluation version would be available for download later this week(http://www.pacificnet.net/tsdg/os2/). Fully functional, it will run for 6 months before you have to register it. Now THAT'S what I call an Evaluation!


I stepped across the aisle for a quick demo of Simplicity for Java, and was sold after 5 minutes. This is an impressive program. If you have any interest in writing Java applications, but don't know the language, check this one out (http://www.datarepresentations.com/). The Warpstock Special pricing has been extended to the end of this week (October 23rd).


A short walk down the aisle brought me to Thom Davis and Centari Computers (http://204.210.207.34:5180/index2.html). A computer shop located in Canton, OH, Thom specializes in custom built systems and OS/2 Pre-Loads. Watch for his systems to start popping up in some very well known places.


Paul Hethmon has an upgrade to his FTP Server that's almost ready. Unfortunately, I missed him, and didn't get a chance to see it. Guess I'll have to wait along with the rest of you for this one.


Indelible Blue was selling Star Office 5.0. I picked up a copy, even though by the time I got to them, Star had already packed up and left (I told you I should have started on Saturday).


I did manage to find my way to Chris Graham and bought the last copy of The Graham Utilities that included the manual. A short time later, he completely sold out. I did take advantage of the special "Warpstock Only Discount to VOICE Members". I waited months for Warpstock to buy this package ... and I almost waited too long.


Brad Wardell and Kris Kwilas were in the booth right next to VOICE, and they couldn't keep products on the table. I think they completely sold out by Sunday afternoon. First copies of Object Desktop 2.0 shipped directly to Warpstock. By the way, for all of you in the "Early Experience" program, OD 2.0 began shipping Monday (October 19), so you should be seeing the final version in your mailbox real soon.


Lots of other fine software that I only briefly looked at. And a LOT of wonderful people. New friends from all across the US as well as Spain, Belgium, Germany, Canada and Australia.


Had VOICE not had a booth of our own, I would have seen it all. But I don't, for a second, regret spending so much time promoting VOICE. It was a wonderful experience and such a joy to promote something you so strongly believe in. I, along with Wayne and Judy, extend a very sincere "Thanks" to David, Mark, Greg and Zoltan for their assistance with the booth this weekend. If it hadn't been for them, I would not have seen anything at all.


I'd also like to welcome all of our newest members who signed up at the booth. Your memberships will be processed shortly (as soon as the postal service can deliver them all to our Treasurer in Canada).


To everyone involved in making Warpstock 98 the wonderful and successful experience it was, ny sincerest thanks and congratulations. A VERY fine job by all.


To all the friends I met in Chicago, I'll see you next year, at Warpstock 99.


To everyone that couldn't make it .... all I can say is "Don't miss next year!!!"

---
Dan Casey
President, V.O.I.C.E. (Virtual OS/2 International Consumer Education) VOICE: http://www.os2voice.org
Personal: http://www.ameritech.net/users/dcasey/index.html


---
Features
editor@os2voice.org

Previous Page | Index | Next Page