---
Report on the Warp Community Update Workshop
February 2002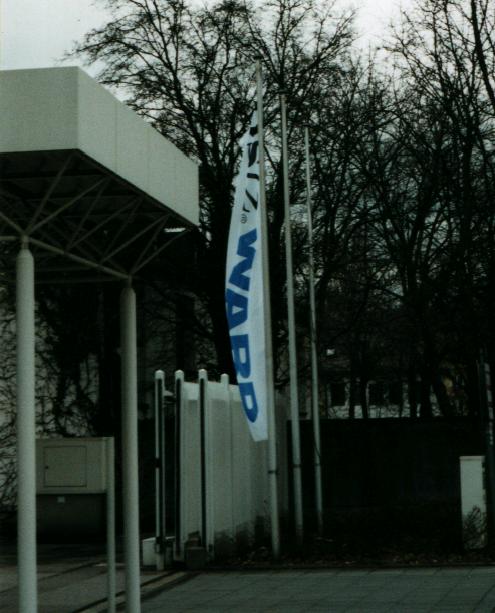 The Warp Community Update Workshop 1/2002 was held in Munich, Germany, February 25th thru March 1st, 2002. This workshop is organised by the EMEA, Enterprise Warp & Workspace services group from IBM. This group provides services to customers on a contractual basis assisting in solving OS/2 related issues and in migration either from or to versions of OS/2. This group is allowed to support customers anywhere in the world apart from in the USA where a similar group exists. This is not support for individuals but rather a commercial service for companies.
The people attending this workshop (56 registered, 48 attended), were made up of IBMers, IBM customers and OS/2 software vendors from places as wide apart as the USA, Australia and several European countries including the UK, France, Belgium, Austria and of course Germany.
The presentations given reflect the current "real world" situation where we have to support a mixture of operating systems in our networks. As you will see though, several of the needs that have been acknowledged for OS/2 for years, now have practical solutions. Issues such as handling documents in proprietary formats such as Office 2000 or Smartsuite (see ViewIteasy) and the combination of OS/2 and Windows concurrently running on one machine (see TwoOSTwo and Virtual-PC), are now addressed through these products or services.
Several of the people attending are well known in the OS/2 world - Alain Rykaert, famous for several Rexx programs and redbooks; Daniela Engert, - well known for her replacement EIDE/ATAPI drivers; Peter Koller - author of the Maul DTP program. These are all very approachable people and very interesting to talk to.
The products presented were as follows:
Convenience Pack II - improvements, extensions and more hardware support. A FP16 is in development for Warp4 however this will only be available to "service extension customers".
The presentation was given by Oliver Mark of IBM Germany.
MAUL Publisher - Not just another DTP program, but rather one that creates output in the form needed by the publishers printing presses, so removing an extra step and expense in producing books or brochures. This program is developed on and for OS/2 although a windows version is also available.
The presentation was given by Peter Koller of Maison Anglais.
Starfire Titan password coordinator - effectively an Active Directory type approach for password and security co-ordination but across several platforms - PC, Midrange and Mainframe.
The presentation was given by Richard Spurlock of Starfire USA.
AMD 64 Bit processors and their new architecture - it appears there should be no problem with running the 32 bit OS/2 on the new AMD processors, in fact AMD expect most people to use these processors in their 32 Bit mode to start with. It is likely that Intel's 64 Bit chips will also function in a 32 Bit mode. AMD have promised to supply IBM Germany with a prototype processor to check OS/2 Warp compatibility. Intel have not responded to a similar request.
The presentation was given by Ulrich Knechtel of AMD Germany.
TwoOSTwo - OS/2 running in a window on the Windows Operating System. This is a product that has already been implemented in several German financial institutions - in fact it was originally developed for one of them. It uses a semi-emulation process, converting the most common OS/2 code to native Windows instructions while interpreting the less often used instructions. Dualis have created cross-drivers for the most commonly configured OS/2 devices and are able to (for a charge) create new ones as and when required.
The presentation was given by Alex Gentzsch of Dualis.
Network & Kernel Trace for OS/2 & Trace Analyzer for Java - These are similar and powerful tools. With the demise of Dataglance there were few good Network analysis tools on the market. This Network analyzer can do all of what Dataglance did and can do it through remote agents. This means you can have a network analyzer in all of your remote locations and gather the data back to a central location. This avoids the need to send someone out to the location with an analyzer as all that is needed is an OS/2 PC in the location - as the load is low, this can be an existing local file & print server for instance.
To make analysis of the data simpler once it is returned to the central location, the Java based trace analyzer has filters and search tools. This tool can also provide a variety of outputs, charts, graphics etc. as required.
Kernel trace looks very similar to the Network trace program only it intercepts instructions going to and from the Kernel rather than analysing data on the LAN. This is a VERY powerful tool when developing applications on OS/2 as well as for fault finding in the OS itself. The demonstration showed that even a simple operation in the OS created a lot of actions, some repeating themselves, which would affect overall performance and could probably be improved. The Kernel trace program connects to a hook in the Kernel that is designed for such tools or for security extensions to OS/2.
The presentation was given by Eric Faulhaber of GoldenCode.
Java Based web reporting tools - Almost since computing started, there have been report generators that try to simplify report production and layout standardization. With so many applications now being Web based (either intra or internet) the problem becomes even greater as the report requested can be from any one of several different operating systems. This is where Jreport comes in. It is a Java based system that runs in the client's browser and takes care of ensuring that data to be printed is produced in a consistent layout whether the client is using OS/2, *nix, Mac or Windoze.
The presentation was given by Clemems Dannheim of Objective Software Consulting.
Software Distribution and inventory - This product / service offering targets one of our standard needs, that of getting initial software and updates out to workstations. Another useful part of this product is the hardware and software inventory logging functions that have been built into the system. The central database can be accessed to assist in planning of upgrades or simply to trace hardware location and control software licensing, reported using the integrated report generator functions. The product is cross platform, supporting any mix of OS/2 Linux Unix and Windows.
The presentation was given by Matthius Krantz of ASDIS Software AG.
On-Access Virus protection - We have all heard of Norton Antivirus software but how many have heard of NORMAN Anti-virus software? Norman anti-virus is a Norwegian company and produce their product across all Intel platforms. Their OS/2 version is a pure OS/2 product and is available for server or workstation as well as for Lotus Domino server (scanning inside mailboxes and databases). All versions can be run either on-demand or on file access (interactive). The product fully integrates itself into the WPS and can access system components through its use of a hook in the kernel. Configuration and distribution of the software is controlled from one central point serving all platforms and as such reducing administration work.
The presentation was given by Didrik Holst Bernsten of Norman Data Defense Systems.
Servolution logon client - The IBM version of the Warp Server logon client has not operated correctly for some time with Windows 2000 and XP. Due to this a third party company in Austria has produced and marketed one, which handles all facets of the combined OS/2 and Windows login, whether over Netbios or Tcpbeui. The client works with all versions of Windows server as well as Warp server.
This client is a lot more than simply a replacement for the faulty IBM client, it also provides a migration towards a true LDAP enterprise wide directory based security control environment. Native IP support is scheduled for version 2.1 of the client (as used in Windows 2000 networks) as well as extensions for various versions of Unix. This client will be developed into a true "single sign-on" client for multiple platforms using LDAP/Kerberos tickets and synchronisation agents.
The presentation was given by Michael Wagner of Comtarsia IT Services Austria.
Rollout Techniques - Sinius is a subsidiary of Deutsche Bank AG with around 1,000 employees. They have a great deal of experience in large system rollouts involving OS/2 clients. They have developed a multicasting based solution which enables them to install OS/2 Clients in less than 10 minutes. Their system is mainly written in Rexx and as well as being able to perform fast installs to RIPL or PXE boot-able systems, it can also perform remote hardware inventory capture and motherboard BIOS upgrades.
The presentation was given by Marc Schneider of Sinius.
ViewitEasy, server based document conversion - One of the most annoying problems that every OS/2 business gets nowadays is the receipt of a document from a customer or supplier in a non-standards compliant format. It is often in one of the 5 or 6 different versions of Microsoft Word or Excel, sometimes a Smartsuite program (WordPro, 1-2-3). The user complains because when they try to open it it displays "gibberish" or at the least it doesn't look and print as it was intended to. Up until now, the only solution has been to try to find someone with the correct version of the office application on a PC somewhere and either read and print it there or try to convert it to a readable format. Otherwise the user has to make the best they can with what is displayed on the screen and spend time trying to "fix it up" to be readable.
ViewItEasy, brings an alternative option. The appropriate Office packages are loaded on a Windows 2000 server along with scripts and java programs. When the user receives an unreadable document, they switch to this Web-based application from their OS/2 PC and the document is transferred to the server, converted into PDF or HTML and sent back to the users PC to be read and printed, in the format originally intended by the author.
The package supports about 100 different file formats, not only documents but also packed file formats and graphics formats - but the ones I have mentioned are perhaps the most problematic for most of us ! You can go to their website at www.viewiteasy.com, register and try it for free.
The presentation was given by Martin Heckert of Fileants.
Modern Communications Devices with OS/2 support - as German distributors of Qualtech, Equinox, Digi and Impact Intelligent serial communications boards and Intel, EIcon, Diva and Fenestrae CTI (Computer telephony solutions/ISDN), CommuniPORTS were eager to underline that they give full OS/2 driver and configuration support across all of their range. They are even able to have standard boards configured and electrically modified to meet customers needs. They are also now supplying the new low-profile boards needed for the latest Thin Client Netvista and other PCs.
The presentation was given by B. Schnappinger of CommuniPORTS.
Virtual PC, Co-standby, Flash 5, Security on demand(SECOND)- Virtual PC is probably the hottest piece of software for OS/2 at the moment, but before I get on to that, it's worth covering what Innotek also market. They have now released V5 of the Macromedia Flash browser plug-in - this is compiled from the same source code used by Macromedia for their Windoze version with the necessary improvements to take advantage of OS/2. This is a pure OS/2 product, not a ported product and can do everything that the windoze version can, in most cases quicker.
Co-standby Server for OS/2 Warp Server is a product that was originally produced by Vinca and this now much improved version is now owned by Innotek. Co-Standby Server is a fault tolerant solution for OS/2. Two servers are set up to maintain copies of the same data. In the original version, one server sat simply dumb, doing nothing apart from replication until the primary server failed at which point it became live and took over the role. In the current version the "2nd" server (usually a BDC with the first server a PDC) is also active all the time, so allowing for load balancing across the systems. Again should the first server breakdown, the second server takes over, not only taking over the role of PDC but also taking over the host/computer name and IP address from the first server. In this way the business can continue operating despite a catastrophic failure in the main data server.
SECOND is Security On-Demand and is Innotek's offering to improve data security. I didn't get much from this presentation, so if improved security is of interest to you, you can check out the product data on Innotek's website at www.innotek.de - where of course you will also find information and discussion forums on all of Innotek's products.
VIRTUAL-PC - two versions were demonstrated and explained. One with OS/2 as the Host OS and one with Windows as the Host OS. The concept of both of these versions (and indeed the MAC version) is the same. You can load a complete operating system in a window on the desktop. This includes a simulated bios stage and the complete boot process. You run the complete guest Operating system on top of the Host OS. Rather than just a way to run a particular application which is not available on the HOST OS platform, VIRTUAL-PC actually brings more options.
Each guest OS is self contained in a container file, stored on the hard disk, this makes it very easy to test a new version of an operating system - under control - before adopting it perhaps as the host OS. Also not only can OS/2 run on top of windows, and Windows on top of OS/2 but other OS es such as Linux can run as a Guest OS as can versions of the host OS - e.g. you can have an image of Windows 98 running on top of a windows 2000 host system, or eCs running on top of OS/2 Warp 4.52 or on top of Windows NT etc. etc. etc. The solution is very well written and about to be released as GA code (you can order direct from the Mensys website), however please take note of the hardware requirements ! If you intend running Windows 2000 Professional as a guest OS on top of OS/2, you'll need to ensure you have enough RAM ( realistically a minimum of 256 MB for this configuration) and a processor fast enough to run Windows 2000 (500 MHz plus). You are running the full second Operating System, therefore it has to get the resources it needs in addition to (and kept separate from) the Host OS/2. Also since the OS is stored as an image after (normal) installation, you'll also need enough disk space ! Without ANY windows applications, you'll need 500 MB of disk space for the Windows 2000 Image. If you want to run two Windows 2000 sessions, you need to add a further 128-256 MB of memory and at least 500 MB more disk space. Instructions executing in the guest OS are monitored, some are converted, some passed through to the hardware, this obviously has a performance hit. Depending upon which instructions an application uses, this can impact 20 - 50 % on performance.
Networking is fully supported from within the guest OS as is most hardware access. Another advantage of using VIRTUAL-PC is that the hardware environment that the Guest OS sees is constant. This means, if for instance, you run OS/2 as the Guest OS on top of Windows XP home and you decide to change your PC, you don't need to search for new drivers for OS/2 - only for the host OS (Windows XP in this example) will need them. The video and network card are preset for the guest OS and all necessary conversion of instructions between the two OS es drivers is taken care of by VIRTUAL-PC. - With the "normal" hardware we can buy nowadays I believe VIRTUAL-PC performs very well and is well worth a look if you require the flexibility it gives.
The presentation was given by Oliver Stein of Innotek .
---
[Feature Index]
editor@os2voice.org
[Previous Page] [Newsletter Index] [Next Page]
VOICE Home Page: http://www.os2voice.org