No longer being maintained, but stable and not too many bugs

---
Unless you've been hiding under a rock somewhere, surely you know that IBM Works comes with your OS/2! But much like ExCal, don't overlook it just because it's old and free. It still works, and still has plenty of capability for most people.

IBM Works is a software suite that contains more than just an organizer. There's also a word processor, a spreadsheet, charting program, database and report writer. All very nice, but for this article, I'll just focus on its capabilities as a Personal Information Manager (PIM).

If you haven't installed it already, do it now. Hey, you already have it, and the entire suite, word processor, spreadsheet and all, comes in at about 10MB of disk space, installed. Just go to "Selective Install" and select the IBM Works option from the list. (Those of you with a clean install of the Convenience Pack will not have this option. Feel free to e-mail me and I can tell you how to install IBM Works onto a clean CP installation).

Some main features
IBM Works has a bit more modules than ExCal. As you can see in the default IBM Works folder, there is an Appointment book, Notepad, Phone/Address Book, To Do List, Year Calendar and the main Planner. The Event Monitor is also related to the PIM. It's a small process that runs in the background at startup (optionally) that will monitor and notify you of any appointments and things to do without you having to start up any of IBM Works modules.


Interestingly enough, if you look at the properties for each module, you'll find that they use exactly the same 385kb executable! Each different function is simply invoked with a different command-line switch.

There are quite a few options available for you to customize. The main settings are accessed via the "PIM Preferences" notebook. You can define your own "holidays" or special events and assign your own colour codes for each one. The Phone/Address book has the usual fields, as well as user-customizable fields. You can select the default start and stop time for your work day, alarm snooze time, etc. There is even optional password protection for each module.

Each module will have further options applicable to itself. And of course, true to OS/2 form, most of the fonts and colours of each module are customizable via drag 'n drop, with a few minor exceptions. For example, the background of the Appointment book seems to only accept colours from the solid colour palette.

Planner
The Planner is the central application where all your information is gathered.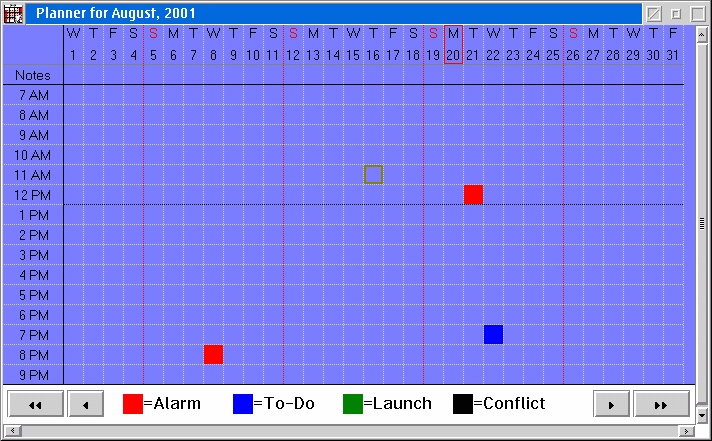 You can resize it all you want, but it seems pretty insistent on giving you an entire month's view. There's no option to view daily or weekly (though a different view of the same information is available in the "Appointments" module).

All your appointments and to-do items are colour coded. It will also show any timing conflicts you have, and, much like ExCal, has the ability to launch applications (or documents) at specified times which are also colour coded for your convenience. (Unfortunately, you cannot change the colour codes, they're fixed). Left-clicking once over any item will show you the detailed time and the description of each item. Double-click will bring up the properties of that particular item so that you can modify it as necessary.

Right-click will bring up a short menu to add or delete an item, print it or get help. Strangely enough, this only applies to the bottom portion of the screen. Doing the same thing on the top (where the days of the weeks are) will bring up a totally different menu, with a whole list of options to view another month, another year or open up any of the other modules.

Each event brings up the same dialog, whether it is an appointment, a to-do item or just a note. Checking the appropriate checkboxes will allow you to change one to another. You can, of course, set the time and date for the event, as well as optionally have an alarm reminder and/or launch an application.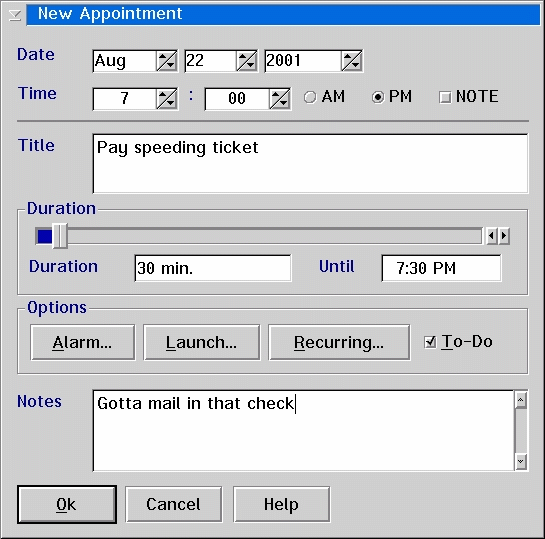 Recurring events can be handled reasonable well. There are options to repeat every day, week, month or even year (or every 2nd, 3rd, etc...). Or it can handle repetition for a particular day of the week or even something as complicated repeating 3rd Tuesday of the month, every 2nd month. While this isn't the most powerful I've seen (Relish can do better), I suspect it's certainly more than enough for most people's needs!

Any events or to-do items will be monitored by the "Event Monitor" which will pop up a dialog to remind you of the event, even if no other module is started. You can always have mark the event complete, snooze or change it or whatever you wish.

Appointments
The Appointments module is a nice weekly view of all your events. It not only lists your appointments, but also any to-do items as well. And, consistent with the Planner, it utilizes the same colour codes.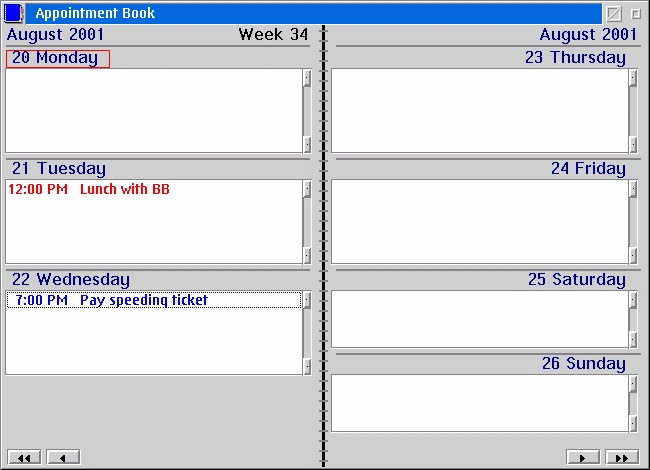 The current day is subtly highlighted with a red-box and the month for the current view is shown on top. The buttons on the bottom allow you to go back and forth 1 week or fast forward/rewind 2 weeks at a time. (Here I think it's a little bit confusing, because the Planner has the same buttons, but they move 1 month or 1 year at a time). One problem that I didn't realize till later is that the Appointment book can't seem to be resized. (You can shrink it, but it just crops the view, not a real sizing operation). I just never noticed it because, luckily, it happens to be a nice size for me. However, it could be a big annoyance for others.

To-Do List
The To-Do list is reasonably simple to use, but of course does better than ExCal's list, as it is all synchronized and coordinated with the information in the Planner module.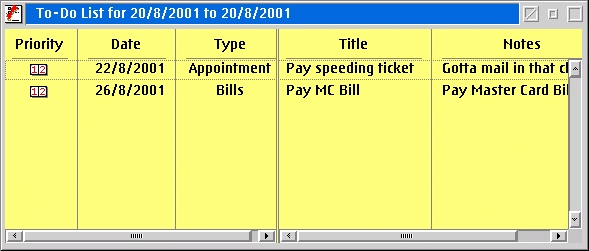 When launching the To-Do List module, it will also bring up a small window showing a 1 month calendar. Clicking on any of the days will bring you the list of things to do for that day. Strangely enough, days with events aren't highlighted in any way, thus reducing the usefulness of this feature.

The To-Do list itself shows the days items by default. You can also filter the list to include more than the current day, sort by priority or criteria or even do a search to look for a particular item. Another odd omission is the capability to save your filter options. For example, I'd find it very handy to always look at the list of things to do for the next 3 days instead of just today. I can't do that, so every time I launch the To-Do list, I have to apply the filter again. On the other hand, if it were my desktop machine, it would probably just stay up running and running and running....making it a rather moot point in this case.

Phone/Address Book
The Phone/Address Book is quite a bit more sophisticated than ExCal. By default, it lists the details of all entries, but you can also view it in "Icon View", which, similar to ExCal, can allow you to attach a thumbnail photo of each person for easy identification. (To get an idea what it looks like, just have a look at the screenshot for ExCal. It's very similar.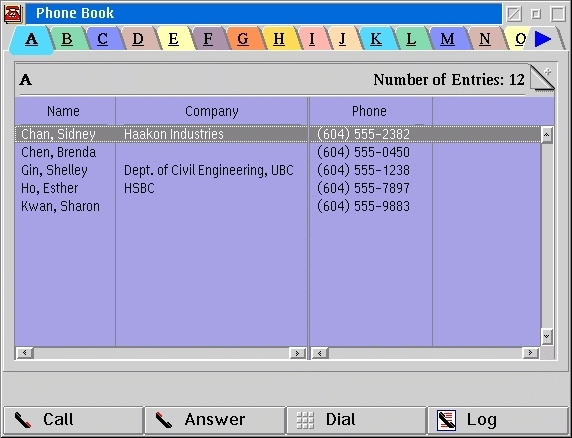 Unlike ExCal, all of the sorted phone book entries will be listed on the page, or at least as much as possible. I find this to be more convenient, but confusing at first. With ExCal, it's more logical to keep each entry on its own page, but, for example, if you have nothing in "A to C", you may wonder why your phone book is empty, when really it's just on the next page.

In addition to just keeping track of your contacts, you can select and automatically dial any one of your listed contacts or an arbitrary number (if you have a voice modem), as well as keep a log of each of your calls.

Most users will find the fields more than sufficient for their needs. There is a primary address, as well as secondary address. You can add practically unlimited list of phone/cell/pager/fax numbers. And if that weren't enough, there are 10 fully customizable fields and 12 customizable check box items in addition to a spare page for any notes. Don't tell me you keep complete bio's of all your friends! (If you do, you should probably get a serious database system setup. And while you're at it, check in with the psychiatrist). To hold all those custom fields, there are actually 2 customizable "tabs" in the phone book. By default they're just labelled "Custom 1" and "Custom 2", but you can change the name, and the activation key too.

Year Calendar
Is a very handy full year calendar. It doesn't do anything, it's just a calendar, with the holidays and any other special days highlighted in a particular colour. All customizable of course. I find it quite useful. While Organizer has one, it also only has one view, so I have to flip back and forth.

Notepad
I found the Notepad module very handy. I think even more handy than the "Notes" function in Outlook, which is supposed to serve a similar function. The first page is a Table of Contents, which is exactly just that, a list of your notepads contents.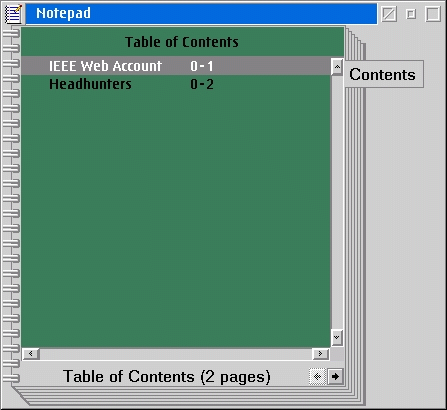 Double-clicking on the item will bring up the page for that item, which you can enter whatever text you want. You can also drag 'n drop any text file onto the page and everything will be pasted into it. (Sorry, no graphics allowed). You can also customize the content pages colours to be different from the Table of Contents, so you won't make a mistake as to what you're looking at.

Notes are easy to add, you can insert or append a note at any time via a right-click menu. Keep a lot of notes? There's a search function. Like to keep your notes secret? Don't forget, there's basic password function for the Notepad, as well as the other modules.

Notepad is a very useful module to the IBM Works PIM and the look-and-feel is similar to all the other modules. However, one thing that is different is that with Notepad, any changes that you make have to be explicitly saved. (Fortunately, it will always ask you before you exit). All the other modules automatically save all data for you.

Gripes
I've already mentioned some of my complaints above. In addition, another annoying feature is the notebook dialogs. Some of them appear to have been hardwired to certain sizes, so if a different font is used on your system (some video drivers allow this), some of the text will be chopped off.

Just a note of warning that there is an incompatibility with the X-it WPS enhancer, which may cause a WPS hang when X-it is active. Since Excal is just WPS classes there is no way to add it to X-it's exception list.
Other than that, I don't have any really big issues with IBM Works. There was some sort of Year 2000 bug (I believe it had to do with 2000 also being a leap year), but now that it's passed, it is working fine again, and should continue to do so.

In closing...
IBM Works is free with OS/2, so it's definitely worth a look. While it's no longer being maintained, it works and will continue to do so. With a decent list of features, it can definitely serve as your PIM if your needs are not too complex, but are beyond that of what can be offered by lighter packages such as ExCal. It won't synchronize with your PalmPilot and there aren't any group scheduling features. But if your needs are like mine, and you just need a stand-alone PIM, give it a test drive!
References:
IBMWorks 3.0
Developer: Comes with IBM OS/2 Warp 4 or eComStation (previous versions of IBM Works came with previous versions of Warp)
Price: Free
---
[Feature Index]
editor@os2voice.org
[Previous Page] [Newsletter Index] [Next Page]
VOICE Home Page: http://www.os2voice.org