May or may not be maintained or updated

---
Lotus Organizer is a part of Lotus Smartsuite for OS/2. The latest version is bundled with Smartsuite 1.6, though the ones from previous 1.x versions are almost the same, except for some minor bug fixes. As such, this is the most expensive PIM in this review

It also sticks out a little bit from the rest of the PIM's in that it tries to be as much like a "pen and paper" PIM as much as possible, right down to the look. This may be a good thing or a bad thing depending on your own preferences. Personally, I think the format should've been optimized for the new medium, but there are plenty of users who think otherwise.

Though you do pay a lot for Smartsuite, you do get what you pay for in Organizer, as it is very full featured. It wouldn't be possible to cram in every little feature in a short review such as this. Unfortunately, no "demo" version is available either. I can try to point out the highlights, but I'll note that I won't have covered everything!

Overview
Even though Organizer is a part of Smartsuite, it doesn't interact with any of the other components in any special way (i.e. not more than any other two OS/2 applications). However, that doesn't seem like a big loss to me. It does provide support for Netscape and WebExplorer. This is for linking to Lotus' web sites as well as for any URL's that you include in your items.

The interface seems to be that of a "mini-desktop" with a regular paper organizer. The various buttons and options are arranged around the main organizer layout. Some of the buttons are actually context-sensitive in that they will change depending on which section of Organizer you are currently using.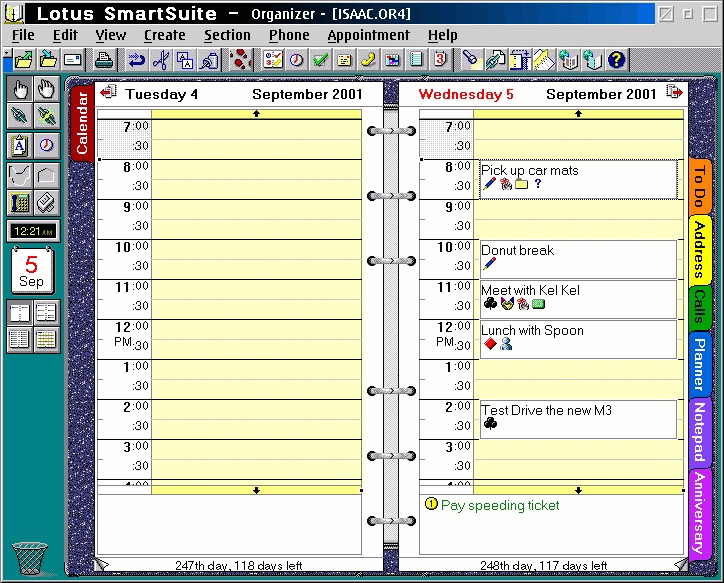 Power and flexibility usually comes at a cost of complexity and Organizer is no exception. Unlike the other PIM's, you'll probably need to spend a good while just exploring Organizer to figure what it can do and how to do it. Fortunately, it does come with an animated "Tour" to highlight the major functions, as well as a 92 page manual (.PDF format). There is also optional bubble-help, a great helper, since not all of button functions are immediately obvious. Often times, there are multiple ways to accomplish a task, via a button, a menu item or right-clicking on the background.

Upon startup, Organizer can open with a blank file, or you can set it to open a specific file by default. For a single user, this is most likely the mode you will have it in. You can, of course, password protect your file if there are multiple-users. One advantage to having separate files is the ability to load up different books (not necessarily your organizer!) as you wish. In fact, Lotus provides a free "Almanac" download. It contains a list of holidays around the world, Fodor's Restaurant Guide, time zone, telephone area code, travel information, airline, hotel and car rental phone numbers and much more!

I'll try to give at least a brief description of some of the major sections of Organizer. But one if it's strengths is the ability to customize, and you can choose to include or exclude any type of section from your view. You can choose to customize the colour of each section (very useful), but also, oddly enough, you can choose to customize the "background" of your book with various textures (e.g. granite, leather, etc), add a picture to the front or back cover (or even each section) and even type in a little cover page such as "This is My Logbook. If found, please return to Lab 213". I'll say it's odd because you don't really see these features unless you turn to the front or back page, and since they don't really add functionality in the "soft" version of an organizer book, one wonders why one would do that...

A much more obviously useful function that you can customize is the "Show Through" function, which lets you selectively "show" information from other sections in the current view. So, for example, you might like to show a mini "To-Do" list in your Calendar section. Or not. Or maybe you want to include your Calls list, or vice versa. That way, you can always have the information that you deem to be important available all on one view.

Calendar
The Calendar is the default view and it opens up to a 2 day view (which is, of course, customizable). Quick buttons on the left allow you to switch between a work week, week-per-page or month view. Clicking on the "Calendar" tab will bring you to the current year view, and clicking on any date will bring you to the view for that day. Not too hard to figure out.

What's less obvious is the tiny controls. For starters, there are little black arrows on the top and bottom of the page. These will scroll up and down the daily time, because all 24 hours on a day can't be displayed at once. On the daily view, the bottom portion of the view is actually left for "To-do" items, which is really handy. What's not obvious is that this area is actually resizable. Yup. Go back and look at the screen shot. There's a tiny black dot on the right page between the two areas that you can move up and down. Oh, go look back again. Did you notice the tiny black dot near the top of each page? It's just before 8am on the screen capture. That allows you to adjust the "start" time of each day.

Once you realize how to do it, these controls come in handy. But somewhere, there is a rule for user interface design. If something is meant to be pressed or clicked on, it should be obvious! It should look like a button!

These gripes aside, the Calendar functions are actually quite easy to operate. Double-click on a time, and it will bring up a dialog to set an appointment. Or use the menu bar. Or right-click to bring up a pop-up menu. Existing appointments can be dragged around or resized as you wish to change the time or duration. Alternately, if you click on the text on an appointment, a slider bar will pop up enabling you to drag or resize that instead.

Each appointment has the standard functions you'd come to expect by now, alarms, various repeat functions, the ability to link a file to it. Some extra features of Organizer compared with other PIM's, it has the option to "pencil in" the appointment. Not so useful at first, but it comes in handy because of another function "Find Time". One wonders why some other well-known PIM's don't have this feature, why do it manually when you can get the computer to do it faster and better? You can also select various categories for each appointment (e.g. personal, travel, meeting, etc) and a small icon will be shown on the calendar. Each appointment can be a member of any number of categories that you select, not just one. In addition to linking files, Organizer has the capability to link any piece of information with any other piece. For example, you could link a contact address with a particular meeting, or a to-do or a call or whatever you wish.

One minor advantage (or not so minor depending on the user!) is that Organizer is the only one of the PIM's that let you select the starting day of the week. StarOffice starts the week on Monday (which makes sense to me), while the rest start on Sunday. Obviously I'm not the only one who thinks Monday should be the start of the week, as I hear the next version of Relish will allow you to select between Sunday/Monday. (Meanwhile, I'm still awaiting a non-paper calendar that can handle the Lunar Calendar).

To Do
The To Do list is a nice, functional, well....to-do list. You do have the option of prioritizing tasks or categorizing them or none at all. What's really powerful is that you can set Organizer to arrange tasks by Priority, Status, Start or Due date or Category and separate page tabs will appear depending on the setting you've chosen, so that tasks are nicely organized according to what you've selected. For example, arranging by priority will show a different tab for each priority level, each tab being a new page which lists all tasks with that priority (by default, priority levels are 1,2,3 or none, but you can customize it to A,B,C or High, Medium, Low).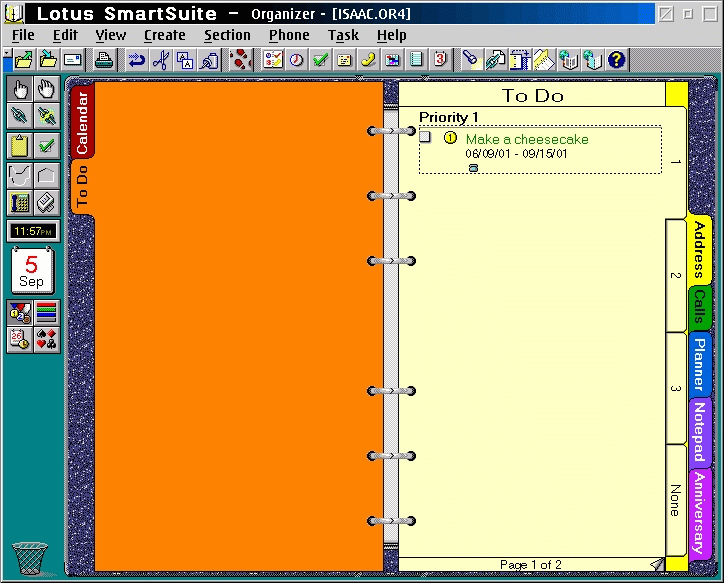 Items can be colour coded (and you can customize the colours) for completed, overdue, etc. Completed items can be checked off, but remain in the list so that you can see what is done. (Or optionally, have all completed tasks deleted). All in all, the functionality in the "To Do" section is pretty good and I think there's not much left wanting. As you should expect by now with Organizer, the various preferences and settings can be accessed via quick buttons, the top menus or right clicking to bring up a pop-up menu.

Address Book
What PIM would be complete without an Address book? Certainly not Organizer! As with the rest of the application, it's organized as one might a paper organizer, with separate tabbed pages for each letter of the alphabet.

Similar with other sections of Organizer, you can choose to view your addresses sorted many different ways, by name, or in fact, sorted by almost any other field, including e-mail or phone number! What's even more interesting, each entry can be categorized arbitrarily (so yes, you could categorize a person as an "Idea" or a "Vacation", but we won't go there...)

Otherwise, more normally, it is sorted by last name, and each entry includes a tab for Business and Home information. They are not simply a duplicate secondary page either. The Business section includes fields useful for that, such as Job Title, Company, even the name of their Assistant, whereas the Home section omits such information in favour of other tidbits such as their Birthday, Spouse, or Children. Unsurprisingly, these are merely the default settings, and you can change the name of any of the fields to your liking. Certain fields seem to be "hard-wired" in size, so you'll not likely deviate too far from the default. (You could swap the Street address and the Fax field if you want, but you'd have too much room for a fax number and not enough for the address).

While you cannot display a nice thumbnail picture of the person :), it does include instead another goodie, the ability to print the address directly to envelope in a number of customizable address formats. It's not something I personally find very useful, but I imagine a number of business or maybe even home users would think this is convenient.

Planner
The Planner tool is a nice little tool for scheduling an overview of your projects.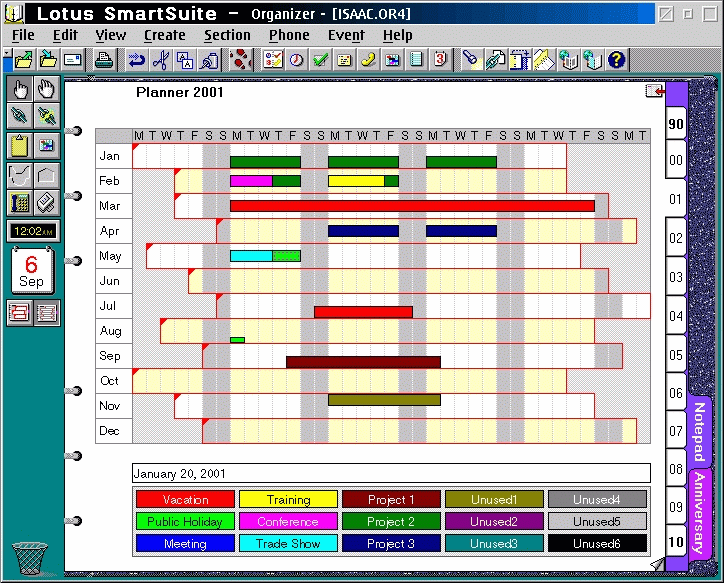 All you do is select the "project" and then just draw on the calendar to block off times for each. It's a simple concept, but useful for planning big projects, and it's a feature that none of the other PIM's seem to have. It would've been nice to be able to associate resources (other than time) for each schedule, but I suppose that's the job of a full function project planner.

Notepad
The "Notepad" function is quite useful, much like the one in IBM Works, it's a place to jot down miscellaneous notes and can display a nice index or table of contents so that you can easily access your various pieces of information.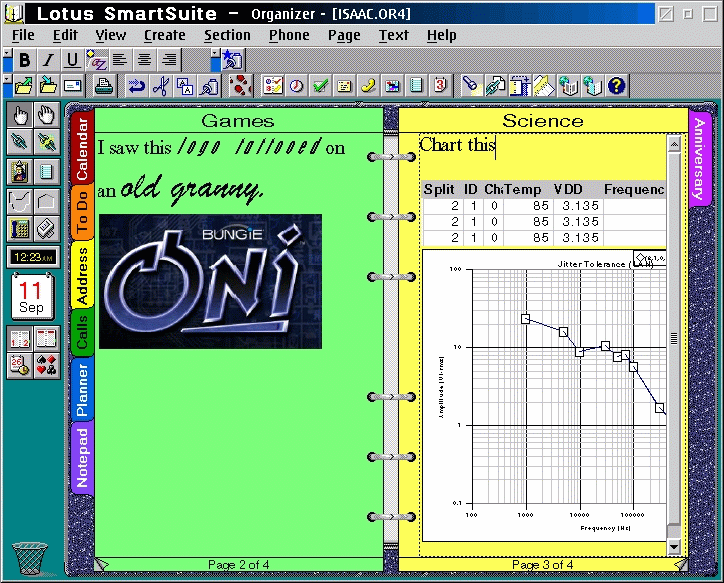 As you can see, Organizer goes a few steps better than IBM Works. Each section (the heading up top is listed in the Table of Contents) can have a different coloured page. In addition, you can change the font of each character and even include images if you wish. Check out the extra "smartbar" that popped up in this mode, you can even align your text as you wish. You can see in the screenshot that the right page contains text, a table of data from 1-2-3 and a chart as well. That's some fancy notepad! (Then again, that's how a real notepad should work, right)? Too bad Outlook doesn't do this. :-)

Calls and Anniversary.
The remaining two sections are "Calls" and "Anniversary". The "Calls" section is just to keep track of your calls. It's almost like the address book, but specifically for contacts that you call and for logging the time you spend with each one. Not sure about you, but it sounds like it's a feature hardly to be touched by a home user (unless you track your long distance calls this way, perhaps).

I'm not sure why there is a specific section for "Anniversary", but it's used to keep track of repeating items such as Anniversaries, Birthdays, etc.

Gripes
Hey, despite all its wonderful features (and in the process of reviewing it, I've come to like it more and more), Organizer doesn't get away without its share of complaints from me! If anyone from Lotus is listening, consider it constructive criticism.

For starters, it's pretty darn "heavy" in terms of computer resources required. A quick check with Theseus showed it asked for nearly 19MB of memory and chewed up close to 9MB just sitting around. While ExCal wasn't easily measurable for me (due to its rather unique design), other than StarOffice (of course), the rest of the PIM's reserved under 4MB and used only around 1MB. Just to install Organizer requires you to have at least OS/2 Warp 4 + Fixpack 5. Mind you, that's nothing compared with what Outlook chews up, but unfortunately, Organizer looks a bit chubby standing next to real OS/2 applications. All that bulk adds up to the second slowest time in starting up (again, only StarOffice loses out). Once you ignore the fact that it looks like a book, the interface otherwise doesn't seem to inhibit you from getting your task done. There are a few places, which I've mentioned earlier, that buttons and other controls could certainly be made a lot more obvious. Customizability is certainly not bad, but it doesn't "feel" very native OS/2 in that it doesn't allow for drag 'n drop customization. Well, it's true. Using a common codebase with the WinXX version has advantages and disadvantages.

Organizer also has its share of missing features. One thing I really miss is a light-weight process for monitoring tasks and appointments without having to start up the full program. Mind you, Outlook doesn't have this feature either, but we're not comparing Windows software! Another strange deficiency seems to be the "Teammail" feature, which supposedly lets you perform e-mail tasks. It's all in there, but it doesn't work. It's documented, but doesn't mention why it doesn't work (or if it should) or if it requires Lotus Notes or anything. It could certainly do with more documentation, or if it isn't implemented, remove the buttons and menus! (It's not a big loss for me. As programs are supposed to exchange data properly, I believe in "best-of-breed" programs rather than giant "all-in-one" types).

In Closing...
Organizer is a full featured PIM which seems targeted towards business users. Unless you really need the features, you may want to think twice about purchasing Lotus Smartsuite just for the PIM. However, Smartsuite itself is a decent value if you have need of a word processor, spreadsheet, database or presentation creator.

If PIM's were cities, IBM Works might be Calgary, but Organizer feels like Tokyo! That may be a good or bad thing, depending on who you are. Organizer has just got so many things going on that it is really quite overwhelming at first. Unless you read carefully through the manual, you'd probably still be discovering new functions a year from now. One way to alleviate this problem is do what big city dwellers due. Put your blinders on, focus on your task and ignore extraneous distractions, because Organizer certainly doesn't stop you from getting things done.

Lotus Organizer by itself is no slouch, it's chock full of features (the Almanac itself is a nice bonus!) and each feature seems to have about 3 ways of accomplishing it! So if you do find yourself needing some of the special features, especially if you run a business, it would be an easily justifiable cost.
---
[Feature Index]
editor@os2voice.org
[Previous Page] [Newsletter Index] [Next Page]
VOICE Home Page: http://www.os2voice.org