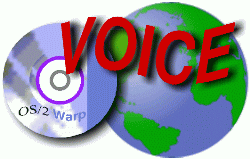 Virtual OS/2 International Consumer Education
February 1998

The News Page

email
Previous Page | Index | Next Page

---
Feb 14, 1998 - Please note that beginning in March, VOICE general meetings on IRC will be held on the first and third Monday's of the month. So for MArch the meetings are scheduled for Monday March 2 at 8PM EST (01:00 GMT) and Monday March 16, 1998 at 8PM EST (01:00 GMT).

---
Feb 13, 1998 - Just a reminder that the next VOICE general meeting will be held Wednesday, February 18th at 8PM, EST (01:00GMT) in the #voice channel on WEBBnet on IRC. Our special guest speaker will be Tim Sipples of IBM Networking fame. His last session in December was well attended and drew far more questions than could possibly be answered in the allotted time. We will try to start the speakup event promptly at 8PM to try to get in as many participants questions and Tim's answers as is humanly possible.


For more information on VOICE meetings, IRC and WEBBnet please go to http://www.os2voice.org/meetinginfo.html

---
Feb 13,1998 - IBM has released yet another new GA version of Netscape Navigator for OS/2 2.02. As before the US English version can be obtained either from IBM's Software Choice Web site at http://service.boulder.ibm.com/asd-bin/doc/en_us/ns202/f-feat.htm or via ftp at ftp://service.boulder.ibm.com/software/asd/ns202/en_us There are also several other national language versions available as well. The new version reportedly fixes a stability problem in the previous February release. The Plugin pak is the same as before.

---
Feb 10, 1998 - From a Warpcast post by Steve Wendt:


The rumors about Opera/2, Opera Software's OS/2 version of their popular web browser, being Open32-based were true. The following is from Opera's "Project Magic" web page, http://www.operasoftware.com/alt_os.html:


"OS/2: first of all, we will soon have an official announcement but I'd like to give you some 'bytes' right now. A British Columbia-based company called Binary Concepts, Inc. will be writing the port for OS/2. I spoke to Arthur Lee, of Binary Concepts, last night, and he said that the first stage is to provide an Open32-based version of Opera, which will be replaced/converted over time into a solid and native OS/2 version, and I believe that this is the right way to do it anyway. Quick results but with better prospects as the program evolves."


'Open32' is IBM's Open32 programming library, which is designed to make the job of porting a program from Windows to OS/2 much easier by providing over 700 OS/2 APIs compatible with some of the most common in Windows. Open32 has been criticized in the past for producing large and slow software (The first version of OS/2's Netscape and Lotus SmartSuite were developed using Open32), but many OS/2 developers say things have improved since then.

---
Feb. 8, 1998 - Post by Stan Goodman in comp.os.os2.apps has found the missing author of FTP Browser Jason Rushton. Anyone who needs to report any problems concerning FTP Browser can now contact the author at jrushton@rogers.wave.ca

---
Feb 7, 1998 - More Netscape news, this time from Bruce Francis on the OS/2 Discussion List. Bruce reports that a replacement for the now defunct Unofficial Netscape Navigator for OS/2 will soon be active at http://people.netscape.com/law/os2nav/index.html There appears to be a javascript error on this page, so you will have to go into Options->Security Preferences and check the Disable Javascript box.

---
Feb 7, 1998 - Netscape seems to be dominating the news these days. In a post to comp.os.os2.misc Tim Sipples of IBM said that IBM may be releasing a 128 bit encryption version of the new Netscape Navigator for OS/2 2.02 in the next few weeks. It will probably involve the purchase of a CD, and be limited to US and Canadian residents. He suggested watching comp.os.os2.announce for the announcement.

---
Feb 6, 1998 - A new Netscape Navigator for OS/2 2.02 GA has appeared on IBM's ftp and Software Choice sites. This version has built in support for Java 1.1.4. The US English version can be obtained either from IBM's Software Choice Web site at http://service.boulder.ibm.com/asd-bin/doc/en_us/ns202/f-feat.htm or via ftp at ftp://service.boulder.ibm.com/software/asd/ns202/en_us There are also several other national language versions available as well. There is also a new pluginpak available at Software Choice and ftp://service.boulder.ibm.com/software/asd/nspip102/en_us as well.

---
Jan 26, 1998 - Netscape has announced they will be releasing the source for Communicator 5.0 when it is released. According to Loren Bandierra http://www.os2ss.com/news/ there is now a secure news server group for any programmers interested in porting it snews://secnews.netscape.com/netscape.dev.client-source-code.general and from Warpcast the following information:


An organization, the Openscape Group, has formed to serve as a central point for independent Netscape development.


From their website (http://www.openscape.org/):


The Openscape Group is an organization of people and resources who will be working on the freely released Netscape client code when it is released on March 31st. Today we are in the process of setting up resources, including mailing lists, this web page, and eventually, FTP space.

---
Jan 24, 1998 - Any one looking for the newest Epson Germany printer drivers can find them on the Leo ftp site according to Martin R. Hadam. ftp://ftp.leo.org/pub/comp/os/os2/leo/drivers/printer

---
Jan 23, 1998 - According to Esther Schindler in a post to the OS/2 List, Donn Attkins has been promoted from his position as head of OS/2 and Richard Seibt, has replaced him. Mr. Seibt had been in charge of OS/2 in Germany during the successful promotion of Warp there. Hopefully things may start looking up for OS/2 SOHO users, if Mr. Seibt is given a little free reign to promote OS/2.

---
Jan 19, 1998 - Posted by Julien Pierre madbrain@IBM.NET on OS/2 List:


I have been talking to one credit card processing software vendor who is open about having their product ported to OS/2 (by me), if there are at least a couple OS/2 web masters other than me interested in it.


The product consists of an API that would let you write your own CGI payment program in C for OS/2 - as well as a "one size fits all" already compiled OS/2 CGI program if you don't program.


Here is a short description of what the product does that I got from a representative of that vendor, with the pricing that they have on the platforms they currently support (4 flavors of Unix). If we decide to go for the OS/2 port - and that depends on how many people are interested -, the pricing for the OS/2 version of the API & CGI will be the same.


The <name removed> API is basically a gateway to a transaction server. The merchant passes packets that would include name, address, phone number, etc. credit card number and expiration date. They would provide the automated internet based processing of those transactions. Additionally, they would provide a complete reporting system for each site. The cost is either a one time license fee of $995 or they charge $65 a month as an on-going lease situation. Their transaction fees are as follows (note that this is in addition to the bank fees) :


0-50 transactions per month $.99 each
51-200 $.75
201-500 $.50
501-1500 $.25
1500+ $.14


Some less informative marketing info I got from them :


"Our code is very robust and extremely easy to integrate with existing or custom made front end situations (unlike CyberCash and others which can be difficult to implement). We have a world class, 150 point fraud detection module that comes with a <> API license.


Fraud rates on sites using our service is less than 1%, which is considerably lower than any other service out there, we have a very comprehensive reporting system, that can be tied into existing systems rather than being stand alone. And our transaction fees, especially on the higher volume sites are much lower than average.


Finally, in answer to your question, our system is compatible with ALL banks and merchant accounts in the U.S. Our transaction server is tied into and we have working relationships with ALL the credit card clearinghouses in the U.S. So, any existing merchant account can be plugged into our system. For customers without merchant accounts, we have a division that deals directly with that and in getting customers set up with merchant accounts. What this all amounts to is what we feel, and all of our customers feel, is an incredibly good value. There are certainly lower cost solutions, but none that provide everything we do."


As a disclaimer, I'll say I haven't used their product, but at least from the specifications I can say it answers my needs.


If you run a web site on a native OS/2 server and are interested in this, please drop me an e-mail.

---
Jan 17, 1998 - From an announcement on WarpCast:
The Mid-Atlantic OS/2 User Group is pleased to announce the return of our BBS.


When our beloved president, Steven Grim, moved to Texas to support a gazillion Warp Servers and Warp Clients, we all were concerned that the MAOS2UG BBS that he SysOp'd would be gone forever.


Not so!


Joshua Ecklund, SysOp of Digital, Inc. Has agreed to become the official BBS of MAOS2UG. Joshua already carries plenty of OS/2 related files and lots of game info. You can use echomail to ask and answer questions, make your statement or just 'lurk.' He's in the process of adding even more OS/2 echoes and info. For instance, the Hobbes CD-ROM with thousands of OS/2 programs and info. is already online.


Here's Digital, Inc.'s description right from the SysOp himself:


"Open 24 hours a day, 7 days a week. We feature FidoNet, RaceNet, VANet, RPGNet, XpresitNet, JustaNet, MirageNet, STN, FishNet, IPNet, Sn00kNet, BlueNet, AdvNet, and local areas. We also feature over 100 online games to play, and over 2 gigs of files to download."


So, set your terminal emulator such as HyperAccess to dial up the new Mid-Atlantic OS/2 User Group BBS. It's at 757-480-0949. Joshua, Digital, Inc. and the MAOS2UG are waiting for you to call.


Rich Jacox
President, Mid-Atlantic OS/2 UG


http://www.mindspring.com/~reaper/maos2ug.html


---



email
Previous Page | Index | Next Page