---
Current Printers? One that works, the Canon PIXMA iP4000
Why do I want a new(er) printer?
This may be of interest to anyone trying to work out what current printers actually work reasonably well in an OS/2 - eCS environment. I have been using a Canon S600 Inkjet for a couple of years and was very happy with it--still would be--except that I found the omni driver support for this model was not good enough to use this printer with Innotek's offering of OpenOffice or Acrobat Reader V5.
From some email exchanges with both Innotek and Mensys I gathered that the omni driver does not support the required printing modes for those applications for this particular printer--I understand that this problem also affects some other printers that use the omni driver. Needless to say printing from OpenOffice and Acrobat Reader in a Windows environment using the supplied Canon S600 drivers the Canon S600 delivers good printed output, crisp text and clean, reasonably accurate images. Printing from the same applications in eCS using the omni driver delivers text that looks like the output from an old 9 pin printer with a jammed pin and in need of a new ribbon. Images are grainy and lacking in colour; more like the output from an old fax machine.
I have scanned in my last attempts at printing from OpenOffice using the S600. I don't think that they lost much in the scanning process--not that much there to lose to start with! I have tried to capture some text as well as images for comparison with the same section of document printed using another printer and driver setup. All images are scanned at 120dpi--hope the quality is good enough for comparisons.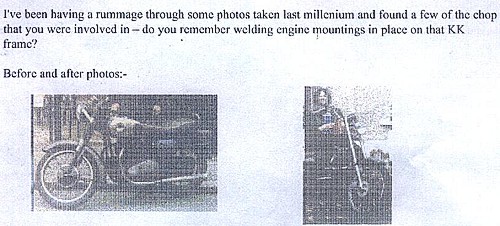 The above print was produced using the omni S600 driver with these settings
| | |
| --- | --- |
| Print Quality: | Normal |
| Print Mode: | 24 bit Black and Color |
| Color Dither: | Stucki Diffusion |
This was the best that the S600 could produce with the above image when printing from OpenOffice. Printing these images from PMView and other applications gave much better results. The above OpenOffice document got saved in StarOffice format. I then used StarOffice to print the image with much better results.
Having a slightly more than occasional need to open and print documents created with Micro$oft's latest "Bloatware Office," I was hoping that OpenOffice would be the answer--even prepared to pay for the Innotek "wrapper" that makes it work in eCS (and OS/2)--but an "Office Package" is of no use to me if it cannot deliver a reasonable quality of printed output.
As the real problem with the printed output from OpenOffice and Acrobat Reader seems to be the lack of support for the Canon S600 built into the omni driver, I started looking at the currently available printers and the level of support available for those printers. This included reading postings in newsgroups to find out what other people were using--and how well their printer worked.
I started with a certain disadvantage as I required any printer to have a parallel port as the printer will service a small network and is connected via the print server in the router which only has a parallel port. It also has to be within a constrained budget--heck, it is just after Christmas so I am a little bit short of ready money--and I wanted to avoid the cost involved in any extra adapters that would be required to connect the router to a USB only printer. No, I did not want to hang the printer off a peer's USB port and share it to make it available to the network--that relies on the peer hosting the printer to be available whenever someone wants to print which, even on a small network, is not always the case.
After a look through a useful (to UK residents) CompareStorePrices website to get an idea of what printers are available at what price, I shortlisted 2 printers that I thought would be an improvement over my current printer both for normal eCS application use and for producing reasonable output from the above Innotek offerings.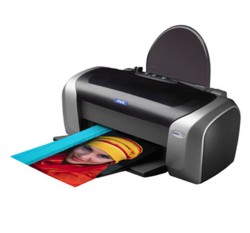 The Epson C86 (left) looked nice, has a parallel port, is supported by the C80 driver in an epomni driver pack and is well within my budget.
Details available here or as a PDF here.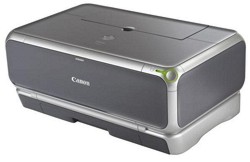 The Canon PIXMA iP4000 (right) looked, umm. . . different, has a parallel port, is supported by the i850 driver in the omni driver pack and is within my budget.
Details available here (select your language and click the Go button to get a PDF file), or here.

Both printers looked good to me and from the sales blather and specifications seemed to have an equal chance of performing reasonably well. So, to avoid making a real decision myself, I asked The Missus for "Her" Opinion. She decided that if I was going to persuade "Her" to spend money on another toy that she may use from time to time, she wanted to "go look" at the available choices in the "Real World" rather than trying to judge by pictures and specifications.
So, I found myself bundled into "Her" car and driven off to PC World--a computer supermarket full of overpriced goods with the occasional loss-leading "real deal." The most useful thing about PC World is they usually have a reasonable range of goods so it is often useful to look at products there for comparison purposes--I rarely purchase anything there due to their prices! I am sure "Her" decision was based solely on looks; I do not think that she even read the brief specifications or capabilities on either of the boxes, "That Canon--or nothing! The Epson is bloody ugly."
I didn't think the Epson looked that bad at all and she would probably have been very happy if she had chosen that one. I think PC World must have had the Canon iP4000 on offer as a "loss leader" as it was almost the cheapest that I found anywhere--there was an online store offering it for slightly less but by the time shipping was added to the price it was more than the PC World price.
So. We bought the Canon, took it home and set it up. The Canon does look a little different and if you have a look through the sales brochures you will spot a few differences in features between these printers that probably account for the slightly higher price of the Canon. Sad that some of the Canon's features just do not work in eCS but other features are selectable on the printer itself so the omission of those features from the omni driver is not so bad, just inconvenient to have to go to the printer to switch the paper source from cassette to top feed.
When setting up the printer it was necessary to hook it up to a parallel (bidirectional) or usb port on the PC, run Windows and install the Canon supplied Windows Printer drivers. This was a necessary evil to enable automatic alignment of the print head (a manual option is available), as an Alignment utility is a feature missing from the OS/2 omni driver. I also did the Windows "Print test page" to ensure that all worked OK. After resetting the Windows Printer output port to the router's parallel port I shutdown Windows.
I then connected the printer to the router's (non-bidirectional) parallel port, booted into eCS 1.2 and installed a new printer on my system. I had seen a post in the eCS newsgroups that stated that, according to Canon, the Canon PIXMA iP4000 would work with the Canon i850 drivers. The post stated that Canon have said the following PIXMA printers will work with these i Series drivers:
PIXMA iP3000 - i550 driver
PIXMA iP4000 - i850 driver
PIXMA iP5000 - i950 driver
So, I Installed the Canon i850 driver from the omni driver pack (build 30.822). I then started experimenting with settings to see if I could get a better print than that above produced by the Canon S600 from OpenOffice.
Printing from OpenOffice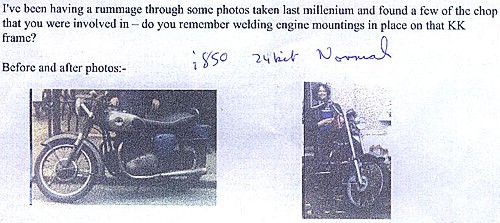 The above print was produced using the i850 driver with these settings
| | |
| --- | --- |
| Print Quality: | Normal |
| Print Mode : | 24 bit Black and Color |
| Color Dither : | Stucki Diffusion |
I think I would class the print as being more acceptable than the print produced by the S600 but I was not overly impressed. It was certainly the best print of the images that evening but I felt it should have been better. You'll have to excuse my brief notation identifying the settings used.
I'm not going to waste space by including the results of using the i850 with the "Print Mode: 8 bit" setting--there is not enough difference between that and the 24 bit output produced by the S600 (and I certainly would not bother with the 8 bit print from the S600 as that could only be described as vague and vaguely greyscale).
At around this time Herself told me "It's late. Put the new toy away and get to bed." Off I trundled to bed feeling vaguely dissatisfied with the Canon iP4000 printer's ability to print images from OpenOffice.
The sleep must have done me some good, or maybe I had a dream telling me to use the i950 driver, because the next day I decided to try the i950 driver with this printer. Why?--Evolution. Often later products have increased capabilities over earlier versions of a product--so sometimes a later, but cheaper, evolution of a product will use a driver built for an earlier, slightly more upmarket model from that range.
Anyhow, I installed a new printer object and set it up to use the i950 driver. Looking at the i950 Properties, Printer driver -> Job properties I saw that there is a difference to the i850 and S600--those have Print Quality options of Normal or Draft whereas the i950 has Print Quality options of Normal or Presentation. Of course I immediately setup the i950 with these settings
| | |
| --- | --- |
| Print Quality: | Presentation |
| Print Mode : | 24 bit Black and Color |
| Color Dither : | Stucki Diffusion |
and went back to testing OpenOffice with some interesting results.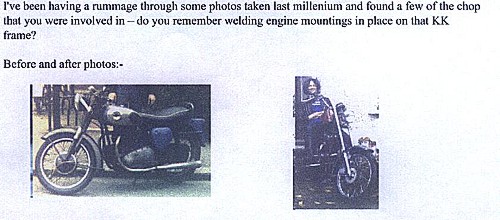 A much more acceptable result--for both text and graphics--but still not quite there.
A WARNING here: The above was printed by using the Print Preview button while in the Preview window. This actually printed at 56% of the size of the file--printing from the normal document working area by using File, Print delivers a print that is close to twice the required size regardless of the fact that A4 paper is specified; a sort of "accidental switch" to A3 paper. Do NOT use Print Quality: Presentation as a setting in the i950 driver when using it with the iP4000.
Changing the i950 driver settings to
| | |
| --- | --- |
| Print Quality: | Normal |
| Print Mode : | 24 bit Black and Color |
| Color Dither : | Stucki Diffusion |
I tried the print again.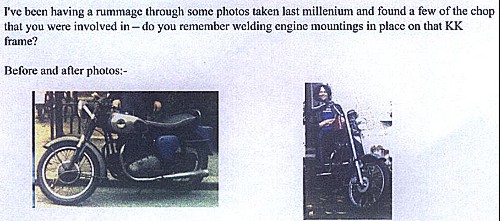 I think the above is about as good as these images get and the text is very acceptable.
Just for completeness here is the print when using the settings
| | |
| --- | --- |
| Print Quality: | Presentation |
| Print Mode : | 8 bit Black and Color |
| Color Dither : | Stucki Diffusion |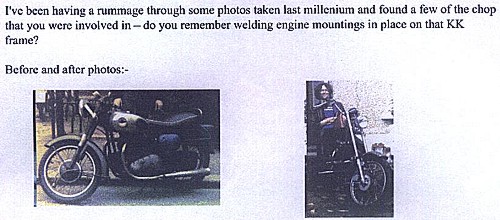 Still fairly acceptable for both text and graphics--and better than the i850
| | |
| --- | --- |
| Print Quality: | Normal |
| Print Mode : | 24 bit Black and Color |
| Color Dither : | Stucki Diffusion |
setting could produce.
As a digression: For those with any sort of interest in the motorcycle world the fairly standard looking road bike is a BSA A10 Road Rocket from 1961--the other bike is a custom built frame with the engine from the BSA shoe-horned into it. These photos are from a project of mine circa 1980 (before and after) and are a little bit faded--they do actually print better from OS/2 applications than from OpenOffice.
Printing from Acrobat Reader using the following setting (as above) was very acceptable.
| | |
| --- | --- |
| Print Quality: | Normal |
| Print Mode : | 8 bit Black and Color |
| Color Dither : | Stucki Diffusion |
So, for using the iP4000 with either OpenOffice or Acrobat Reader V5 in an OS/2 environment I strongly recommend using the i950 driver instead of the recommend i850 driver--but heed the above WARNING.
I found that the "native" OS/2 applications that I tried (StarOffice, PMView and WordPro) seemed happy to use the i850 driver and gave very acceptable text and graphics output with that driver.
Photo Printing
As Canon very kindly put a very small pack of 4" * 6" (101mm *152mm) photo paper, (Canon ref: PR-101), I decided to have a go at a bit of photo printing. I used PMView2000 to open a few files and finally had a go at printing using the i950 driver set to
| | |
| --- | --- |
| Print Quality: | Normal |
| Print Mode : | 24 bit Black and Color |
| Color Dither : | Stucki Diffusion |
Not being happy with the above I switched back to the i850 driver set to
| | |
| --- | --- |
| Print Quality: | Normal |
| Print Mode : | 24 bit Black and Color |
| Color Dither : | Stucki Diffusion |
and tried a different print which seems to be fairly acceptable--yet again there is probably some fine tweaking that could be done to improve the print.
With both of the above prints there were signs of banding with the i950 being the worst.
Then it struck me!--I had not tried the printer driver "Predefined" setting of "Photo." D'OH!
The previous WARNING applies to Photo Printing. The i950 driver switches into Print Quality: Presentation when Photo is selected and prints at twice the size.
The following were printed from PMView 2000 using the i850 driver and the Predefined -> Photo setting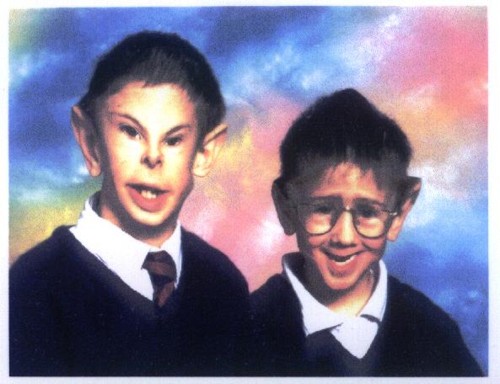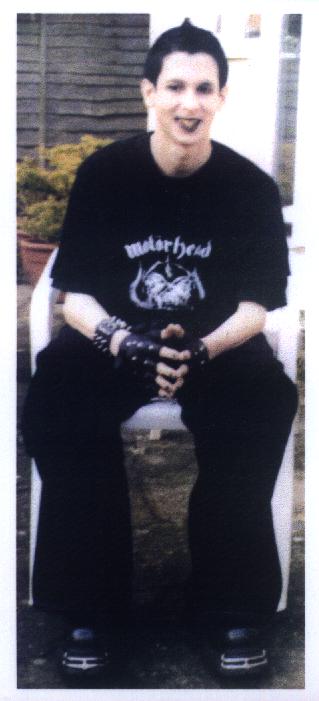 Yes, you guessed it--the taller of the 2 boys grew up to be a Goth. To produce the above prints I did need to play around in the i850 Properties, Printer driver -> Job properties to
Create a new Paper size which I called 4x6 Photo card and setup as Class: Other with these sizes: 10cm *15cm with 0.30cm margins all around--and clicked the Add button. This was necessary because the 4x6 card predefined is not adjustable and has overly large margins I think.
Create a new Connection using these selections:-

Trays : Auto Sheet Feeder
Paper Sizes : 4x6 Photo Card
Media Types : Glossy Paper

and clicked the Add button.
The above steps create an entry in the Printers Form Connections field which is selectable before printing by clicking the Properties/Options/Setup button in the Print routine of the application to display the Print Job Properties.
Sadly it looks like I may be due to replace my elderly Microtek E3 scanner as the above scans do not do full justice to the photo print quality output of the Canon PIXMA iP4000 when using the i850 drivers--not as good as the drivers Canon supplies for printing in Windows--but very acceptable, I think.
Early days yet--I've only had the printer a few days--but I would suggest that anyone using an OS/2-based system and looking for a inexpensive printer with USB and Parallel ports, top "normal" feed and bottom loading Cassette feed should have a look at this printer. If you end up purchasing this printer, I suspect that you will also find the i950 driver works much better than the i850 driver for use with OpenOffice and Acrobat Reader--but remember the WARNING: do NOT set the i950 driver to "Print Quality: Presentation" to avoid much larger printing than anticipated. For general OS/2 application use, including Photo Printing, the i850 works very well.
Of course, the only thing wrong with the i850 (and i950) drivers supplied in the omni driver pack is that they are for those models and not for the PIXMA range. This means that driver controller features are somewhat lacking: no Duplex printing, no CD/DVD label printing. This is a small list which would probably get a little bigger if I did a driver feature comparison with the Canon drivers for Windows.
Which leads me on to close with a "Wouldn't it be nice if we had the option of using all of a printers features in the OS/2 environment?" and a "Wonder if TurboPrint could be ported to the OS/2 environment?" with, finally, "Wonder if eComStation would consider that as a way forward?"
---
Feature Index
editor@os2voice.org
< Previous Page | Newsletter Index | Next Page >
VOICE Home Page: http://www.os2voice.org