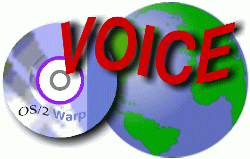 Virtual OS/2 International Consumer Education
April 1998

The News Page

email
Previous Page | Index | Next Page
VOICE Home Page: http://www.os2voice.org

---
Apr 16, 1998 - The Virtual OS/2 International Consumer Education, your VOICE in the OS/2 community, has scheduled a SpeakUp session for Warpstock '98 on April 20, 1998. Guests will include Timothy Sipples (Chairman), Illona Cowen (Program Chair), and Bill McLaughlin (Facilities Chair).


The session will be held in the #voice channel on the WEBBnet IRC network at 8pm EDT (US Eastern Daylight saving Time). For a list of current WEBBnet IRC servers please refer to http://www.suntrix.com/ibbs/server.html -- if you're unfamiliar with IRC, visit Judy's Warped World's IRC Clients page (http://www.gt-online.com/~bri/irc_clients.html). There is a list of available IRC clients, with descriptions, and a link to a chart that compares features of each.


All OS/2 users and those interested in learning more about OS/2 are invited.


Please respond to freiheit@tstonramp.com for more information or better yet check out our web site for inormation on IRC, WEBBnet and VOICE meetings - http://www.os2voice.org/meetinginfo.html

---
Apr 16, 1998 - The VOICE implementation of the OS/2 usenet FAQ in HTML format is now online. Please check: http://www.os2voice.org/FAQs.html


Other FAQs covering different topics will be added in the future, so check back often

---
Apr 16, 1998 - From Dirk Terrell the following News Flash -


I just got a message from Dick Kurtz at IBM saying that they have removed Fixpak 35 for Warp 3 because of a rather serious problem on RAID setups. I suspect most of you aren't affected, but just in case...


They should have it fixed shortly (probably by tomorrow). Apparently it's only one file- IPSRAID.SYS.


Here's what Dick had to say:


"We have pulled all versions of Warp 3 Fixpak 35. We will be re-releasing them over the next week or two.


See http://ps.boulder.ibm.com/pbin-usa-ps/getobj2.pl?/pdocs-usa/fixnews.html #fp35news for information, but basically we needed to replace IPSRAID.SYS. That is THE ONLY FILE changed except for the README.1ST which we changed to indicate the second release of FP35."

---
Apr 15, 1998 - From Warpcast: The Norwegian OS/2 User Group announcing a WorkSpace On-Demand demonstration.


Monday 27.april 98, 18.00 (6.00 PM)

Place: IBM, Rosenholmveien 25, Kolbotn, Norway

Visit http://www.os2bfn.no/seminar.html (norwegian).


For more information about the Norwegian OS/2 User Group please visit http://www.os2bfn.no


Please sign on at os2sem@online.no

---
Apr 15, 1998 - From Timur Tabi by way of Warpcast:
Version A0.02 of the Win32-OS/2 project has been released, and the web page has been updated accordingly.


http://www.os2ss.com/win32-os2/


New in A0.02:


- pmwsock dependency removed from KERNEL32 & WSOCK32
- rtmidi dependency removed from WINMM
- notepad from win95 doesn't crash anymore when reading a file
- pe2lx memory corruption bug gone
- pe2lx command line option change for self extracting exes
- console application support (not finished, so don't complain!)
- midi additions, changes & bugfixes
- several apis added (winmm/aux, unicode etc etc)
- Quake II Multiplayer working now (client & server; tested v3.13, 3.14 & CTF 1.02)

---
Apr 14, 1998 - From Fernando Cassia on the POSSI List Server:
Macromedia Tuesday announced it has opened up its Flash file format to enable other tools to output fast, streaming vector-based graphics and animation files. For the full story: http://www.infoworld.com/scoop/sc?980415nw1


Now if you're an os/2 programmer with graphics knowledge you know what to develop. :)


Regards,
Fernando

---
Apr 11, 1998 - Don Eitner has been elected to fill the vacant VOICE Board Secretary position. Good luck Don, and welcome aboard.

---
Apr 8, 1998 - From Don Eitner, assistant editor: Opera Software (http://www.operasoftware.com) have updated information on the OS/2 port of their web browser.

"OS/2: "We have everything compiling natively now. Some re-work on the Resources is still required, No sound support yet (we are working on this as it will be 100% native OS/2). Opera/2 is still a ways off but we are making great progress and will continue to plug at it."

---
Apr 8, 1998 - From Fernando Cassia in a post on Warpcast: I think your readers would like to know that Ceres Software (http://www.ceressoft.com/) has finally released Ceres Sound Studio v2.0 for OS/2 Warp. (I was a beta tester so I'm very happy to see the final version ship).


The price has also been changed from over $100 to only $69. This is a bargain for a professional audio recording and editing package comparable with Sound Forge 4.0 on the Windows world. Ceres Sound Studio is available for OS/2, Windows 3.x, Windows 95/98/NT and Linux.


So if you use your sound card once a while to do some recording or .wav editing you will find everything you need on this single package, or if you are an audio professional doing multi-track recording, Ceres Sound Studio for OS/2 is highly recommended.


Show this software vendor that has just entered the OS/2 market (despite the 'everything non-windows is dead' media hype) your support by purchasing this application.

---
Apr 6, 1998 - VOICE general meeting on IRC was held on WEBBNet in channel #voice. Next General meeting is to be held Monday April 20, 1998 at 8PM EST (00:00 GMT).


For information on VOICE meetings please check out our web site for information on IRC, WEBBnet and VOICE meetings - http://www.os2voice.org/meetinginfo.html

---
Apr 6, 1998 - From Warpcast as reported by Carsten Mueller: CompuServe's "German OS/2 Users Forum" (OS2UGER) is now accessible for non-members of CompuServe.


You can find this "GuestView" web forum at http://forumsb.csi.com/GVForums/Deu/default.asp?SRV=DeutschesOS2


(you need to use Netscape Navigator 2.02 for OS/2, because there's a need for frames and java script).


Guests are getting full access to libraries and sections 1 "Forum information" and 14 "Internet & HTML". The twenty other forum areas are provided for CompuServe members. Guests can only see the discussion thread titles and library contents.


See the first OS/2 web forum on CompuServe and use the totally free areas.

---
Apr 5, 1998 - Trevor Hemsley reports in comp.os.os2.announce: The latest version of the OS/2 benchmarking tool, Sysbench, is now available. I have uploaded it to ftp://hobbes.nmsu.edu in /pub/incoming directory. Its final destination is /pub/os2/util/benchmark and the file name is sysb094a.zip.


Sysbench includes various tests for Graphics, CPU integer and floating point, DIVE, File I/O, Memory, Disk I/O and CD-ROM I/O. The latest version includes:


1) A bug fix for the disk I/O tests which failed on disks that reported themselves as having 32 sectors/track.


2) updated PCICFG.DAT (downloadable separately) to include the Matrox Millenium II AGP and Via VP2 motherboard.


More information can be obtained from the readme.txt and changes.txt in the ZIP archive.


The Sysbench web page is now at http://warped.cswnet.com/Sysbench/index.html.

---
Apr 4, 1998 - From the OS/2 News and Rumours site - http://www.os2ss.com/news/:
IBM has updated Feature Install to v1.2.2, and it's available from Software Choice.


http://service.boulder.ibm.com/asd-bin/doc/en_us/catalog.htm


IBM's Feature Install is a browser-based installation utility that is used to install some IBM Software Choice features, such as Java 1.1.4.

---
Apr 2, 1998 - WARPSTOCK '98 HOST CITY ANNOUNCED
Tim Sipples reports:


Second Annual International Conference to Provide Comprehensive Exhibits and Seminars to Help OS/2 Warp Users


Warpstock '98 Web Site Opens at http://www.warpstock.org


CHICAGO, ILLINOIS, April 2, 1998. The Warpstock Steering Committee has chosen Chicago as the host city for Warpstock '98, the international conference for all users of IBM's OS/2 Warp software. The conference is set for the weekend of October 16-18, 1998.


Warpstock '98 will unite OS/2 Warp users who wish to learn more about OS/2 Warp applications, Java, REXX, and networking for this popular PC software. Through a series of seminars, presented by leading experts, attendees will be able to choose among a variety of topics, both technical and introductory. Tours of Chicago-area businesses using OS/2 Warp will provide additional insight into how the software plays a key role in the marketplace. And Chicago's entertainment attractions and easy access via air, rail, and highway should make Warpstock '98 a memorable destination for all guests.


REGISTER EARLY FOR MAXIMUM BENEFITS AND DISCOUNTS


To cater to the needs of both home and business users of OS/2 Warp, Warpstock '98 will hold the line on prices for exhibitors and attendees. Prices will be set at 1997 levels, and early registrants will receive additional discounts and benefits. Early registration begins April 16, 1998, and registrations will be accepted online at http://www.warpstock.org.


If you plan to register, and would like to be notified by e-mail when Warpstock '98 registration begins, please send your name and preferred e-mail address to register@warpstock.org.


CHICAGO CHOSEN AFTER RIGOROUS AND COMPETITIVE BIDDING PROCESS


Host cities were invited to bid for the rights to host Warpstock '98, and three cities submitted complete proposals by the February 28th deadline. The Steering Committee evaluated the proposals and voted in favor of Chicago's bid based on its comprehensiveness, attractiveness, and degree of advance planning.


Paul Hethmon, Chairman of the Steering Committee, noted, "Chicago's team put together an excellent bid showing thorough planning, a great organization, and a program sure to please the OS/2 Warp users. The central location is also bound to be a hit with the attendees."


The Chicago group consists of over 20 volunteers, including Timothy Sipples (Chairman), Illona Cowen (Program Chair), and Bill McLaughlin (Facilities Chair). Volunteers are welcome to join the Warpstock '98 team by sending their name, phone number, and e-mail address to volunteers@warpstock.org.


TRAVEL PLANNING INFORMATION AVAILABLE NOW


Hotel and travel planning information is available immediately through the Warpstock '98 Internet web site at http://www.warpstock.org. Airfare and hotel discounts will be most generous to those who book as early as possible.


EXHIBITORS, SPEAKERS, AND ATTENDEES SHOW EARLY ENTHUSIASM


Warpstock '98 has already attracted the enthusiastic participation of exhibitors, speakers, and prospective attendees. Buck Bohac, President of Indelible Blue, one of the premier IBM and OS/2 Warp software dealers in the world, remarks, "Indelible Blue looks forward to exhibiting at Warpstock '98 in Chicago. We enjoyed providing software, books, and other OS/2 Warp-related merchandise to last year's Warpstock attendees, and we were highly successful in reaching that well educated and select audience of customers. It's a 'must do' event." (Indelible Blue's online store is on the Internet at http://www.indelible-blue.com.)


Prices for exhibitors are also expected to be at 1997 levels. An information kit for exhibitors is available by e-mail at questions@warpstock.org. (Please include your name, company name, e-mail address, telephone number, and mailing address.) Exhibitor space will be provided on a first come, first served basis. Prospective speakers are invited to mail the same information to questions@warpstock.org.


John Franklin, a longtime OS/2 Warp enthusiast working for a major insurance company, adds, "It's great that Warpstock '98 will be held, and it's even better that it's in Chicago. As a Team OS/2er and user of OS/2 Warp at home and at work, I appreciate a show which can help me get the most out of my favorite operating system."


WEB BANNER AVAILABLE


To help spread the word about Warpstock '98 in Chicago, a web banner and logo are available immediately on the Internet at http://www.warpstock.org. We encourage all OS/2 Warp-related web sites to include this banner in their pages and to provide a link to the Warpstock '98 page.


---
Apr 2, 1998 - From a post by Timur Tabi on OS2-L:
Warpstock Europe will be held in Osnabrueck, Germany, from December 18-20. The web site is


http://134.106.120.166/warpstock/de/warpstock_de.html


Osnabrueck is located in northern Germany, west of Hannover, half-way between Dortmund and Brennen.

---
Apr 2, 1998 - From IBM's Network Computing Software (NCS) Support News Items http://ps.boulder.ibm.com/pbin-usa-ps/getobj.pl?/pdocs-usa/fixnews.html#fp6fix
Fix for Fixpak 6 for OS/2 Warp 4


A problem has been found when using Development Technologies Deskman/2 product with FP6 installed.


The problem was found after FP6 was released and is a SYS3175 in DOSCALL1.DLL that occurs when you run the DM2IMAGE program.


The fix is a replacement DOSCALL1.DLL.


DOSCALL1.TXT in the same directory has instructions for installing this fix.


The APAR for this problem is JR11774. It will be picked up in US FP7 and all FP6 National Language Versions (NLVs).


Editors note: The actual doscall1.dll replacement is located in the FP6 directory for your version of Warp 4.0. For the English version this is ftp://service.boulder.ibm.com/ps/products/os2/fixes/v4warp/english-us/xr_m006/doscall1.dll

---
Apr 2, 1998 - From William H. Geiger III via Warpcast:
Beta IV of PGP(pretty Good Privacy) 5.0 for OS/2 is now available for download from my web site.


http://users.invweb.net/~whgiii

---
Apr 1, 1998 - F/X Communications Releases Tunnel/2 Version 1.20
Denmark - April 1, 1998 -- F/X Communications announced today releasing an updated Tunnel/2. Field testing has proved the update an excellent, mission critical tool for building a secure Virtual Private Network (VPN). This release is even more perfectly suited for geographically dispersed and mobile business users.


If you are not yet up to speed on Virtual Private Networks (and how one can save your business big money in communications costs) drop by our Web site for a quick look:
http://www.fx.dk/tunnel


Tunnel/2 v1.20 IMPROVEMENTS:


. TCP/IP - Improved v4.1 support
. Security - Military grade encryption plugin
. Compression - Time proven algorithm plugin
. Packet Filtering - Full filtering capable plugin
. Optional separate routing for Tunnel and Web traffic
. A few minor bug and performance fixes
. Documentation and Web-site refreshed
. Mail list introduced


Tunnel/2 FEATURES:


. Static IP number for every Tunnel Slave
. Two-Way Dial-On-Demand
. Socket connections live through PPP served address changes
. Extensive packet buffering ensures TCP/IP connections
. Built-in trace aids setup
. RSA1024/DES56 Encryption secures business on the Internet
. Wide range of packet filtering options
. Compression available to reduce pre-encryption data size
. Custom plugin development kit available for special needs
. Famous F/X Communication's quality support
. Y2K compliant
. Low resource using Telnet controllable tools


FUTURE PLANS:


. Multiple platform support
. Landscape-like user interface for the Tunnel Master
. Meshing with still evolving Virtual Private Network standards


Bjarne Jensen,
President F/X Communications

---
Apr 1, 1998 - As reported by Esther Schindler on the OS2-L:
http://www.zdnet.com/sr/breaking/980330/980331a.html


It begins...


IBM, Sun Finally Unite On JavaOS


By Deborah Gage

After a couple of false starts, IBM Corp. and Sun Microsystems Inc. tomorrow will announce that they are codeveloping and comarketing JavaOS for Business.


The new operating system will be available to computer and component manufacturers, software vendors, enterprise customers and both the Sun and IBM channels by mid-year. IBM and Sun are also planning joint channel initiatives and training around the JavaOS for Business. ...

The press (tele)conference is in two hours. I'll be there. (Debbie and I have been exchanging a lot of email about this... I've heard rumors for the last few weeks.)

---
Mar 31, 1998 - From Warpcast:
Netscape Communications of Mountain View, California have come through with their promise to release the source code for the Communicator 5 browser and internet suite. As of today (March 31st) the source can be downloaded from the various mirror sites Netscape has arranged at:


Springing to life too are the various efforts to port this source to OS/2. The "Warpscape" team, organized by the OS/2 Netlabs, updated their page today with news on their plans:


http://www.netlabs.org/warpscape/


Online discussion is also taking place on Efnet IRC in the channel #warpscape.


The second effort, headed by Bill Law of Netscape, called "Warpzilla" has yet to update their pages as of writing, but seem just as eager to get moving as everyone else:


http://people.netscape.com/law/warpzilla/index.html


As of yet, no timeframe estimates have been given for a native, grass-roots ported version of Communicator 5 from either group.

---
Mar 30, 1998, VOICE,held it's second special Speakup session in March. This moderated session was held on IRC on the WEBBnet IRC network in the #voice channel. Our special guest was Sam Detweiler of IBM OS/2 Development, Device Driver development and Support. Sam has worked on the removable drive support for OS/2 as well as just about all other OS/2 hardware support. Lot's of OS/2 hardware questions were asked, and Sam was as open and helpful as always.


To view the log from tonight's Speakup event surf on over to - http://www.os2voice.org/transcripts.html For information on VOICE meetings please check out our web site for information on IRC, WEBBnet and VOICE meetings - http://www.os2voice.org/meetinginfo.html


---
Mar 28, 1998 - From a post by Leigh Engelhart on comp.os.os2.networking.server:
Peter Greulich just posted the following to his Mailing List:
======================================================================


Final release dates of upcoming Server SW Choice features


DDNS WIN95/NT client support Availability on the web: March 31


(Remember you only need the above support if you want a "secure" client. Warp Server has a "proxy" capability to give you Dynamic IP for any DHCP client without installing DDNS client code! This "client security code" is an IBM added value to NT/95 clients. Warp client already has it!)


Feature Installer Update (1.2.2) Availability on the web: March 31


Netfinity 5.1 Availability on the web: April 3


(yes, new systems management functionality - read the write up when available for new functionality: available with UPO)


Warp Server Backup and Recovery Outlook: April 3


(many new enhancements - like command line support - read write up when available)


Peter E. Greulich
Technical Sales Specialist
512-838-2890 (tie - 678-2890)
pgreulic@us.ibm.com
Peter Greulich\Austin\IBM

---
Mar 28, 1998 - OS/2 experience sought:
Sprint in Kansas City, has placed a nationwide search for 3rd tier OS/2 Desktop Support individuals. To work at 3 different locations in the United State, which are Minneapolis, Los Vegas, and Kansas City. Sprint still heavily uses OS/2 to support their daily functions. I am e-mailing you to ask for your assistance to find some great individuals who would like to work for Sprint. Please distribute this e-mail to your fellow users and if anyone is interested please give me a call at 1 888 549-8807 ext 3006, or send a resume via e-mail - darwalke@teksystems.com or darwalke@aerotek.com.


Respectfully
Darrol Walker

---
Mar 27, 1998 - From Warpcast:
Lotus Development is now shipping the Global English edition of SmartSuite for OS/2 Warp 4 in North America. Additional language editions are targeted to be available as follows:


- German, Global French and Danish editions in mid-April
- Global Spanish, Brazilian Portuguese, Italian, and Dutch editions in early June


SmartSuite for OS/2 Warp 4 provides a complete set of native OS/2 desktop applications, with all the tools you need to streamline everyday tasks -plus quick, easy ways to connect and collaborate with others. Whether you're creating a document, working together on a report, or communicating via the Internet, SmartSuite helps you do it faster and better.


Additional information is available at: http://www.lotus.com/smartsuiteos2

---
Mar 26, 1998 - From IBM's Network Computing Software (NCS) Support News Items http://ps.boulder.ibm.com/pbin-usa-ps/getobj.pl?/pdocs-usa/fixnews.html Year 2000 fix missing from Warp 4 FixPak 5


APAR JR11077, Y2K -> WINOS2 FILE MANAGER SHOWS DATE AS 1/1/:0, was omitted from Warp 4 FixPak 05. The fix for this APAR should have added a new module, WINFILE.EXE, to the FixPak. It is being provided as a separately downloadable file.


Please follow the instructions in the README.TXT file under the appropriate language directory for FixPak 5 (XR?M005) to install this fix.


Note: This fix is also available under the US FixPak 6 directory.

---
Mar 27, 1998 - From Warpcast:


Sydney, Australia. (25 March, 1998). Fortify for Netscape, version 1.2.1, has now been released on IBM OS/2, and is available for immediate download.


Fortify for Netscape is a system that provides world-wide, unconditional, full strength, 128-bit encryption to users of Netscape's Web browsers. If you routinely use Netscape's export grade Web browsers (i.e. the ones that are available on the net), then you need Fortify.


Normally 128-bit Netscape browsers on OS/2 are only available to U.S. and Canadian citizens, by mail order from IBM, at a cost of $US 15.00.


In comparison, Fortify is available without restriction from the Internet, and it costs nothing to download and use. Nil. Zippo. Zilch. It currently supports most, if not all, of the non-beta versions of Netscape Navigator (2.0x and 3.0x) and Communicator (4.0x), that have been released on the following platforms:-


DEC Unix (Alpha systems)
SGI Irix 5.x and 6.x (Mips systems)
Sun Solaris 2.x (Sparc systems)
Sun SunOS 4.1.3_U1 (Sparc systems)
BSD, FreeBSD and BSDI (Intel x86 systems)
Linux (Intel x86 systems)
Microsoft Win95 and WinNT (Intel x86 systems)
IBM OS/2 (Intel x86 systems) (+)


(+) On OS/2: Netscape v2.02, service levels 4 and 7 only.


Full details about availability, copyright, download sites, latest news, and an FAQ guide can all be found at the Fortify web site:- http://www.fortify.net/


---
Mar 24, 1998 - Martin R. Hadam has more news on Star Office. This is from the OS2-L:

You may be, indeed. Version 4 is on retail in Germany and if you care, you can buy the International version as well (as I was told today) from StarDivision in Hamburg (DM 498 per license, any supported language). There may be no paper-based manual with it, however. You can also purchase the Linux and Solaris version in English (the latter apparently also from Sun; I was on their booth today). Actually, Star will sell this version, although they would rather like to have all new international customers starting with v5 (that's how I understood their ideas).


Due to the new codebase, which allows for much faster porting, the various OS versions of the new StarOffice v5 are expected to appear very soon in sequence. Same is said to apply for the international versions (don't expect another beta on those).

---
Mar 23, 1998 - From Warpcast:
Various readers report that BocaSoft, the former developers and owners of the 'Wipeout' screen saver, have placed the program and soon the source code itself into the public domain. You can download the program from Hobbes; the source code is expected to be released soon.


http://hobbes.nmsu.edu/pub/os2/apps/scrnsave/wipeoutss.zip


If you are having trouble installing this, you need to be sure that you label the installation disks as "WIPEOUT20 1" and "WIPEOUT20 2".


There is now an update on Hobbes to version 2.052, which apparently is needed for Warp 4:


http://hobbes.nmsu.edu/pub/os2/apps/scrnsave/w02052.zip

---
Mar 21, 1998 - Again from Warpcast, the OS/2 news service:
A German news source (http://www.heise.de/newsticker/data/db-19.03.98-000/) is reporting that Star Division officials have announced that they hope to release StarOffice 5.0 for OS/2, Windows and Solaris in May (with a Linux version to follow shortly).


This would explain the recent disappearance of the v4.0 OS/2 beta from the Star Division web site.

---
Mar 18, 1998 - News on TeamOS/2 Ukraine posted to Warpcast:


Our OS/2 web page has been seriously updated.

http://www.noos.kiev.ua/os2page.html (English)

http://www.noos.kiev.ua/w/os2page.html (Russian)

Now Russian language support for all russian character encodings. This page was built for Ukraine Team OS/2 members and OS/2 users support. We have large FTP-archive freeware and shareware OS/2 programs.


The main strategy:
. OS/2 news, information, and rumors
. Installing, configuring, and updating OS/2 Warp
. Free software you should download right away
. Finding/Purchasing/Downloading OS/2 Warp software
. Finding/Purchasing/Installing OS/2-compatible hardware
. Creating web pages with OS/2
. Network design
. Free Software written by NOOS Ukraine employees and Ukrainian Team OS/2
members

---
Mar 16, 1998 - Please note that beginning in March, VOICE general meetings on IRC will be held on the first and third Monday's of the month. So for April the meetings are scheduled for Monday April 6 at 8PM EDT (00:00 GMT) and Monday April 20, 1998 at 8PM EST (00:00 GMT).

---



email
Previous Page | Index | Next Page