April 1999

editor@os2voice.org
---
Rover Pack v2.7

By: Mark Dodel madodel@ptd.net

---
Rover v2.7, which is a new OS/2 only package just released by Sundial Systems - http://www.sundialsystems.com and was the topic for a recent VOICE Speakup on IRC - http://www.os2voice.org/logs/V040599.LOG.html. Though it is a new application, it is based in part on some existing products from Orange Hill Software.

Rover goes for a romp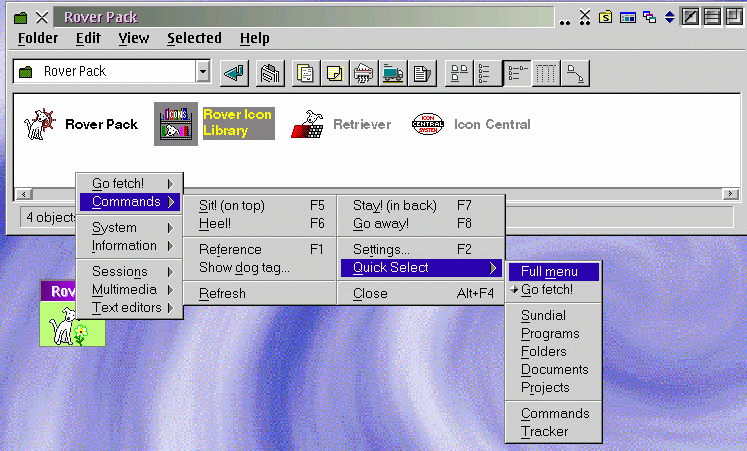 This is a nifty little system menu app, that has a useful feature. Rover will rove about the screen always moving it's small window out of the way of any other window that may open over top of it. Hence all the doggy related terminology. If you want to have Rover stay where it is you select the Stay command, Sit will have it always sit on top of any other window, Go fetch! is where you have defined menu items for folders and programs, etc. By the way Rover is the little white dog with a flower in the small window with the green background in the lower left corner of the above screen capture. The image changes based on the month and is user configurable. There is an alternative to the Rover window, called the Speedbar, which is a vertical menu bar across the bottom of the screen. Both the Speedbar and the seasonal images are part of the Extra! (registered) version of Rover Pack.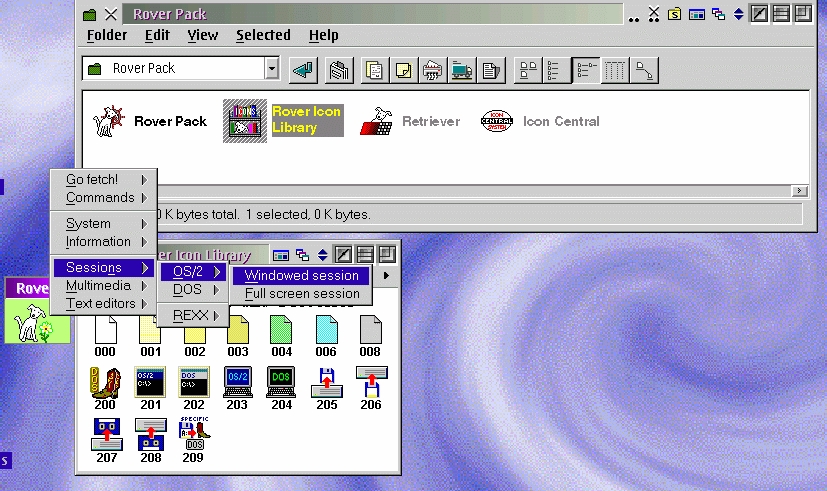 Notice how Rover has moved over to the left side when I opened the Icon Library folder window over it. :-)

You can also change the menu font from among 5 preset font/size combinations. The menus are built when Rover is started, by reading all the Workplace Shell objects on your system. Sundial stated that Rover should have no incompatibilities with WPS enhancers, since Rover doesn't actually modify the WPS, it just uses the data stored in it. I currently have it running on OS/2 Warp 4.0 / FP9 with Object Desktop 2.0 and Xit 2.51 and have experienced no problems. Works fine with OD's virtual desktops as well once I figured out to put both Rover! Task List objects in the locked window list.

You can click on it with either the left or right mouse button to get the Rover menu. The second mouse button can be configured via "Quick Select" to go to a specific menu path. Though you don't need a mouse to traverse the Rover menus(you can move about with the cursor-arrow keys), there is no hotkey combination to initiate it. I'd love that ability. I tried setting up Rover in Object Desktop's Keyboard Launch Pad, but it just tries to start a new instance of Rover rather then open the menu. You can set focus via the Task List (selecting Retriever) and then hit the Alt key to display the menu, or alternatively hit a function key to execute a specific command (like F10 to get to the Tracker window).

With the Rover Pack Extra! enabled (requires registration or the evaluation license) you get added functionality, including Tracker, which is a window which displays your previously menu selections from Retriever, as well as . The number of items is configurable, and the default is the previous 20 items. You can also narrow somewhat the items Tracker tracks, from all menus, only "Go fetch!" menus or the Standard menu.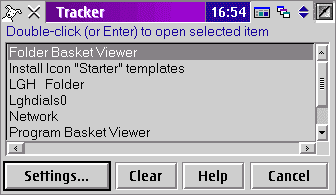 Standard Rover objects include an All Available programs object, Program Basket Viewer and Editor, a Folder Basket Viewer, Document List Editor, a Create Rover Project master. Whew, what does one do with all these things? You use them to customize the menus displayed by Rover. When Rover starts up it has predefined menu structure which includes things like Sessions (Command Prompts), System related objects, Text Editors, Information documents, and Multimedia objects.

In addition to Tracker, the seasonal images, and the Speedbar (mentioned earlier), the registered version includes enhancements to the tailoring of Rover Pack. The limit on Program and Folder baskets is increased from 2 to 20 of each type and the number of items displayed in each basket increased from 10 to 20. You can also create Project Masters. Project Masters are collections of baskets and shadows of other objects that you can control as a group, in conjunction with the Folder 'Work Area' feature of OS/2. In your Project Master you can control programs, folders, documents as well as Rover's baskets. When you minimize a Project Master, all it's components are minimized as well, so you can switch between projects in a sort of pseudo-virtual desktops.

Rover Pack Icon Library

The Rover Pack also contains an icon library which is neat as well. If you need to change a file object or folder's icon, just drop the object on the Rover Icon Library icon, and it will pop up with a selection screen. I haven't as yet figured out how to get it to work with program objects though. The documentation does say there is a way via the Program Basket Viewer.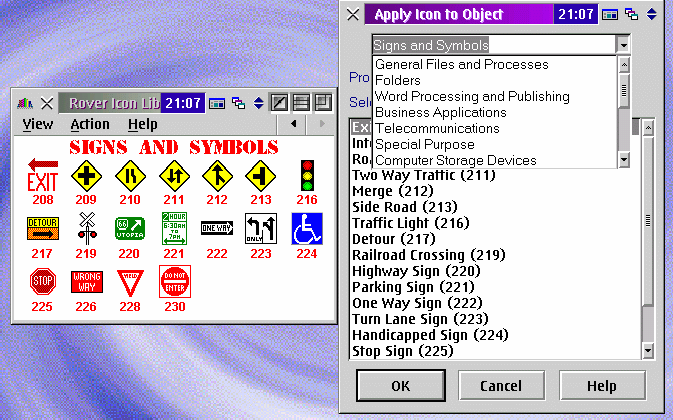 When you drop a folder or file object on the Icon Library a menu window pops up allowing you to select an icon to attach to the object. The Icon Library includes 15 sets of icons (both open and closed views and standard and small sizes), as well as the ability to build your own personal icon library. You can set up Icon Schemes, where folders, sub-folders and file objects are assigned a set of icons. You can create new icons using the existing icons as models also.

How much is that doggy in the window?

There is a myriad of documentation (5 in all) included which describes in detail how Rover and the Icon Library work. All documents are in INF format. There is no fly over help for icons in the various configuration apps, so it took some trial and error to figure out what some of the icons on the tool bars did, though most are intuitive. The install is pretty easy, no reboot is required. It would be nice if the four desktop objects created by the install were put into a folder rather then on the desktop, but that is no big deal.


I am not very big on menu systems. I despise the windows startbar (though I see the win98 startbar looks a bit like the Warpcenter now with selectable objects, not just running tasks, hmm, microsoft wouldn't be stealing OS/2's look and feel would it?), and prefer things like the Warpcenter, Warp Launchpad, OD Control Center or the OD Tab Launchpad. Rover Pack isn't for everyone, but I can see this tool being real useful, because it's always around when you need to find something, yet it stays out of your way. If you only do a few things under OS/2, then you may not see a need for this, but if you do a lot of things, it can save you a lot of time once you have it configured.


You can download a demo version today by registering at http://www.sundialsystems.com/rover/. You can also get a free time limited evaluation license which will allow you to unlock all the features. The regular retail price is $49, but there is an upgrade for anyone who currently has registered Orange Hill apps (The Workplace Solution, IControl, IControl Plus, or DESKpower) can upgrade to Rover Pack for $19, and everyone else can "Adopt Rover" until June 30th for $35. Currently pre-orders (or orders by the time you read this) are being taken only by Sundial Systems via fax or mail, but Rover should be in the window of your favorite OS/2 retailer soon.

---
[Features]
editor@os2voice.org
[Previous Page ] [Index] [Next Page ]
VOICE Home Page: http://www.os2voice.org