---
OpenOffice.org 1.1.4 update
A couple of months ago when reading January's Voice newsletter, I saw in the News Section that a new version of OpenOffice, v1.1.4, had been released and was freely available for download to customers of both the Application Pack 1.2 or OpenOffice.org for OS/2. Now I had purchased OpenOffice for OS/2 last year and had been using that version (1.1.1) on and off for a while. It seemed logical therefore to get the latest version. The OO download via Mensys is a hefty 84MiB zip file which does not include the readme and the MD5 Checksum files.
The OS/2 version is different from the Windows version in that Java, the OS/2 install routines, Innotek's font engine and Runtime are included in the zip file. This accounts for the difference in download sizes, 84MiB for OS/2 as against 65MiB for Windows. As in the previous version the Quickstart feature, Mobile Device support, Python support plus specific file dialogs have been removed from the OS/2 version of OO.
In this version of OO for OS/2 the Java version has changed from 1.4.2_04 to 1.4.2_05 and Innotek's Runtime is now build 20 (was 18 or 16 in 1.1.1) which includes a few maintenance fixes. Note that both Java 1.4.2_05 and the Innotek's Runtime build 20 are the versions supplied with eCS 1.2!
Installation
Once you have unzipped ooo114en.zip (...en.zip is the English version) into a temporary install directory you can run the installation program (INSTALL.EXE) from the root of this directory. During the preamble to installing OpenOffice, the presence of a number of items required for OS/2 is checked and, if necessary, installed.
The prerequisites are:
InnoTek Font Engine for OS/2 (650KiB)

InnoTek Runtime (2MiB)

Optionally InnoTek OS/2 kit for Java (17MiB)
This installation is almost identical to the 1.1.1 and as in that case it starts with an OS/2 window which checks if the InnoTek font engine is installed, then on the presence of the Crystal Audio Drivers (which if detected are disabled to prevent problems with the InnoTek Runtime) and then the InnoTek Runtime. (See Fig 1.)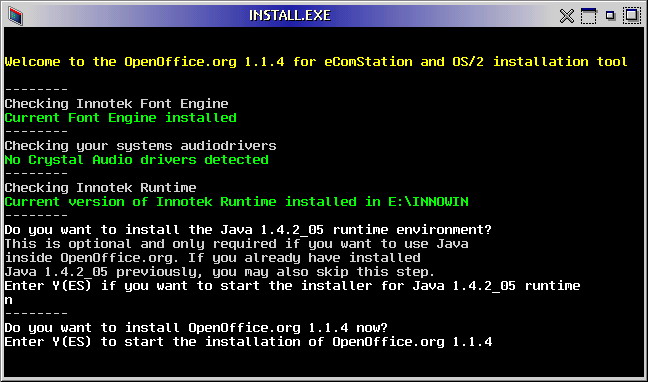 Figure 1: Pre-installation
Next you are given the opportunity to update your Java Runtime to 1.4.2_05. Now as I indicated earlier, eCS 1.2 includes the latest versions of both Java and InnoTek's Runtime so if you are upgrading on eCS 1.2 you don't have to install the updated Java version. If, however, you had previously installed OpenOffice 1.1.1. in eCS 1.1 or Warp, you most likely have an earlier Java version installed. It's only when I tried to install the latest Java version on eCS 1.1 that I received an error message telling me that this Java update could not be installed! A more recent version of InnoTek's Runtime was required! Strangely only a check on the presence of InnoTek's Runtime is executed. This meant that I had to break off the install and find a way to install the new InnoTek Runtime by hand.
It turned out to be relatively simple. You just go to your unzip directory and look in the PACKS subdirectory and then run the file RT112B20.EXE. To avoid problems installing the new Java version you can first check which InnoTek Runtime version you have installed by typing IWQUERY at an OS/2 prompt. If the number returned is less than 1.12, then your Runtime is an older version and you need to install the new version by the method indicated earlier. I would have preferred that the install program detects which InnoTek Runtime is installed, asks if I want to install the new version together with a note that this is necessary if I want to install the new Java version and only asks if I want to install anything that is not already at the latest level. Ah, Utopia.
After selecting to install Open Office 1.1.4, the installation continues further with a graphical interface. After the necessary files have been unpacked do I come across the first difference--apart from some minor textual references to 1.1.4. As shown below in Figure 1 you now have a choice on how you install this update.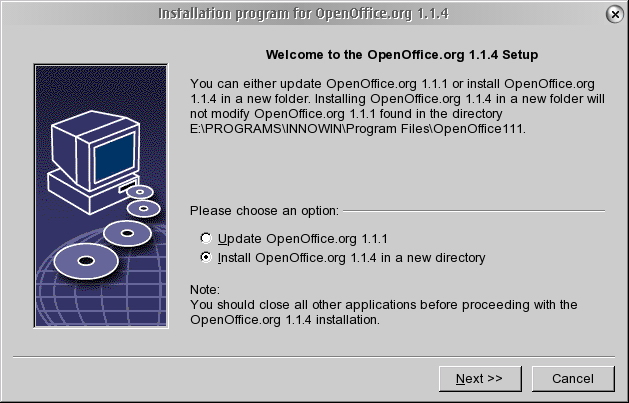 Figure 2: Installation
It can either be a clean install [into a new directory] or an upgrade. Out of curiosity I tried both methods. If you choose to do a clean install, your original installation is left intact. Again the installation continues with the well known screens from 1.1.1.
What I found annoying was that in both cases I was again asked for my registration details. This should not be necessary if OO is already installed. The easiest way to enter this data is to use the import feature when asked. If you don't have your registration details on hand you can import the data from the OOwin.ini file. This file can be found in \programs\innowin\Program Files\OpenOffice111\program.
The installation is now complete and if you are wondering after doing a clean install to a new directory where 1.1.4 is, all you have to do is to look in the OpenOffice.org 1.1.1 desktop folder. This desktop folder now contains the same well known icons but they now reference the new 1.1.4 versions. Not renaming this folder to, say, 1.1.4 is another small omission. If you still want to use 1.1.1, you need to recreate the necessary objects and a new desktop folder. Personally I would have preferred a new desktop folder when opting for a new directory and renaming the original folder when doing just an upgrade!
As I had already installed 1.1.1, I was curious to know what changes/improvements and--maybe a little cynically--new bugs were introduced in this version. Although there is no information on the changes in the documentation provided with this download, there is a detailed list of more than 60 corrections on the Open Office web site. Each item in this list is further specified, but I did not notice any of the bugs which I had run into previously. This list refers to OO114 itself and does not include any specific OS/2 issues. One small bug which I found in the previous version for both Windows and OS/2 was an occasional incorrect file name being displayed in the title bar. This bug is still there.
On the positive side after upgrading my dictionaries and all my other options which I had set in 1.1.1 were still intact! I had hopes that with this version that the Open Document dialog had been improved. It is, however, still the same. My main gripe is that there is no direct selection of a disk drive available. You still have to use the directory up icon until you reach the root of the drive you are in, or click and hold it until a menu appears and select the workplace. Only then can you select another drive. I know this is specific to OS/2 but maybe InnoTek can address this sometime.
Conclusion
Although I didn't find any new bugs I doubt, if I see some of the problems listed in the newsgroups, that this version resolves many of the existing problems, especially those related to printing. But as people say, "Your mileage may vary."
I have been hard pressed to find any differences between this and the previous version, but then with such a large program it is always a question of how you use it. Maybe a fix in this version is manna from heaven for you. My philosophy is if I don't run into any new problems, I upgrade to avoid bumping into problems that have already been solved.
I thank InnoTek and Mensys for making this update of OO, Java and the Runtime freely available to existing customers which is not always automatically done in the industry. I also hope that they make OO 2.0 available as soon as it comes out of beta.
---
Feature Index
editor@os2voice.org
< Previous Page | Newsletter Index | Next Page >
VOICE Home Page: http://www.os2voice.org