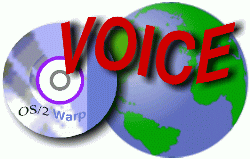 Virtual OS/2 International Consumer Education
June 1998

The News Page

email
Previous Page | Index | Next Page
VOICE Home Page: http://www.os2voice.org

---
June 15, 1998
The log of the VOICE SpeakUp session on REXX programming can be found at:

http://www.os2voice.org/logs/SpeakUp_061598.log.html

...with some information on multi-platform REXX, compiled versus interpreted REXX, and some history of the language.

---
June 13, 1998 Source: Don Eitner, VOICE Secretary


For immediate release
June 13, 1998


MEMBERSHIP HAS ITS BENEFITS


The Virtual OS/2 International Consumer Education (VOICE) is pleased to announce two additions to its Member Benefits package.


First, Stardock Systems (http://www.stardock.com/) will offer 50% off of any product offered by Stardock, with the exception of Object Desktop 2.0 Early Experience Program for OS/2, to all VOICE members.


Second, Millennium Technology, Inc. (http://www.millennium-technology.com/) is offering VOICE members a 50% discount on their popular online Warp Data Book. This offer expires 60 days from the date of membership (when funds are received by the VOICE Treasurer) or, for existing members, 60 days after the date of this announcement (June 13, 1998). If you have received your VOICE renewal notification, you must act promptly to take advantage of this special offer.


A complete list of member benefits as well as instructions for becoming a member can be found on our website at http://www.os2voice.org by following the Membership link. Here you can also find a map showing the approximate locations of all VOICE members. The "I"nternational part of our name is becoming a greater reality.


NOMINATIONS FOR VP END SOON


Nominations for the position of VOICE Vice President are still being taken through June 14, 1998. Members wishing to nominate themselves or someone else should send e-mail to voicevp@ibm.net with a short Bio that can be posted to the website. Votes will then be taken until June 21, 1998. Keep an eye on our website for candidates and other voting information.


A NIGHT WITH REXX


Just a reminder that VOICE will be holding a SpeakUp Session about REXX on Monday June 15, 1998. Guest speakers will include Wayne Swanson of PillarSoft, Dirk Terrell (author of HTML Wizard and President of Falcon.net), and Jeff Teunissen (author of the DMI script for IRC clients). The session will be held in IRC on the WEBBnet network at 8pm US Eastern time. For a list of WEBBnet servers and IRC software, please visit the Meeting Info page of our website.


VOLUNTEERS FOR WARPSTOCK '98


Volunteers are needed to take shifts at the VOICE booth at Warpstock '98. Email Peter Lazenby (plazenby@yellowhead16.net), VOICE Treasurer to volunteer.


In addition, we will be giving away a Platinum Pass and 1 night's hotel accomodations during a future SpeakUp with the Warpstock Steering Committee. Only VOICE members are eligible for the prize but all are welcome to attend the SpeakUp session. Keep a look out for more information on when the give-away will occur.

---
June 12, 1998
Millennium Computers and Communication (MC&C), today announce the launching of the ALTOS range of computer system.

The ALTOS range by MC&C consists of high spec Linux workstations, and servers. ALTOS machines can be spec'ed to the requirements of the customer, and come either preinstalled with OS/2 or a Linux distribution of the customer's choice or without OS and can be delivered anywhere in the UK.

ALTOS Systems are available now, typically configured with Pentium II and Pentium Pro processors, and are available in both single and multiprocessor models, using hardware components that work properly with Linux and OS/2.

MC&C decided to enter the Alternative Operating Systems market because the PC business is becoming a rat race.

"Microsoft / Sega's new games machine will virtually wipe out the OEM market for Home PC's, by selling Microsoft Windows systems we're just putting ourselves out of business."

With the Year 2000 less than 570 days away, Millennium Computers knows it isn't time to sell someone a system that isn't Y2K compliant.

"Why pay for bundled software when you don't want it" says Mani, owner of MC&C.

For companies without an existing in-house experience of OS/2 or Linux, MC&C has an arrangement with PowerDale IT Limited to provide commercial support, installation and networking services, including Year 2000 Consultancy for all ALTOS systems.

With the ALTOS range, MC&C can serve that market.

About MC&C
Millennium Computers and Communications Limited is an Original Equipment Manufacture, based in London, United Kingdom, selling directly to the public.

http://www.mcc-uk.com/
Telephone - 0171 610 1007
Fax - 0171 610 2088
email - sales@mcc-uk.com

For online quotations

http://www.yoursite.co.uk/os/hardware/

---
June 11, 1998 Source: Dan Porter, InnoVal Systems Solutions, Inc.


Project Kickin Butt


InnoVal has been working on a Java-based web accelerator, code named Kickin Butt. We are seriously considering a native OS/2 version, as well. Web accelerators, properly designed and coded, can provide significant performance boosts with most browsers such as Netscape Navigator, Opera, etc.


There are a few win32 web accelerators on the market. Most offer some performance improvements. Most of them (the impulse-buy-pretty-package variety for Windows 95 found at office superstores, computer stores, and car washes) are okay but claim wildly exaggerated boosts in performance. Windows 95 is in fact is a poor platform for web accelerators and the sort of results promised are not realistic. A large software producer (a client of ours) has built two web very advanced accelerators, one for NT and one for Unix. Because they are properly designed, they offer significant performance advantages. Our client reports the following sustained performance boosts with Netscape Navigator 2.0 and 4.0 running on Windows NT.


Dial in 28kbs - 2.6x
Dial in 56kbs - 2.9x
T1 Connection - 1.8x


In my own testing with a web accelerator, I have seen performance boosts ranging from 2.1x to 5.0x in 30-minute sessions with a 56kbs connection.


Web accelerators are generally implemented as client-side caching proxies. That is the easy part. The hard part is page and image chasing strategies, the many anomalies of HTTP, applets, frames, etc. Web accelerators, admittedly do waste bandwidth but it isn't burdensome if "chasing" strategies and thread priorities are properly implemented.


We hope to bring our Java version of Kickin Butt to market later this summer. The question I have for the OS/2 user community is this: Is there enough interest to build a native OS/2 version? If I can get 1,000 individual and SOHO OS/2 users to say, "I'll buy a native OS/2 version of Kickin Butt for $25.00," then InnoVal will build it and bring it to market during August. I'm not asking you for any money at this time.


This is something that I personally want to do. The Java version will work well for many of our customers, particularly in our corporate accounts that are already committed to Java and have multiple platforms in-house. I believe that there may enough interest in the OS/2 individual and SOHO market for a resource-leaner, native OS/2 version of Kickin Butt. It will require a significant cash outlay and committed resources on our part. I would love to stand up at Warpstock 98 and in front of OS/2 users groups and demonstrate Kickin Butt. I'd love, again, to bring a totally new OS/2 product to market.


Let me know if you would spend $25.00 for Kickin Butt. Send an email to kickbutt@innoval.com.


BTW: I doubt that Kickin Butt will be the final product name.

---
June 10, 1998 Source: Walter Metcalf, Mining Co. OS/2 Guide


This week's edition of Focus on OS/2 is now available online at http://os2.miningco.com. In the feature article, I discuss some of the software products, that while they maybe not indispensable, should be high on the new OS/2 user's "to buy" list. The article looks briefly at Lotus WordPro; WebOrganizer, a program to clean up your bookmark list; FileManager/2, the Cadillac of OS/2 file managers; PPPDial, a freeware program to enhance the "Other Internet Provider" with auto-redial and other features; and PMView, the popular and feature-rich image viewer. Beginning this week a link to a *free* download site will be provided for each shareware program reviewed.


In addition to the weekly feature, literally dozens of links, mainly for software products, have been added to the Focus on OS/2 site.

---
June 9, 1998 Source: Thom Davis (confed2@sssnet.com)


The OS/2 Chatroom is OPEN!


I opened it up again and it will stay up this time.


Anyone and everyone is welcome to use it, there are rooms that you can make so as to keep the screen clutter down. Private messages & Color!


It's kinda crude, but it can be a place where you can be a little bit more FREE than on The List and will also cut down on erroneous messages on The List.


So if you want to banter back and forth, TelnetPM into:


204.210.207.34
Port: 5555
Emulation: ANSI

---
June 8, 1998 Source: Colin Hildinger/WarpCast


It's hard to believe, but consumer advocate Ralph Nader is championing OS/2 as an alternative to Windows and has written a public letter to Louis Gerstner (CEO of IBM) asking that he release the OS/2 source code to the public. You can read about it in Mary Jo Foley's article at zdnet:


http://www.zdnet.com/zdnn/stories/zdnn_display/0,3440,2110597,00.html


The actual text of the letter can be seen at:


http://www.essential.org/antitrust/ms/lvgjun8.html


Now, as OS/2 users we know that IBM will not release the OS/2 source due to its use with their major customers, but perhaps a little pressure right now will change the course of OS/2's future. You can always send Mr. Gerstner your own feedback at:


http://www.ibm.com/cgi-bin/email-lvg.pl

---
June 5, 1998 Source: Duane Chamblee (duanec@INDELIBLE-BLUE.COM)


I've added a couple of "enhancements" to this page:


1. Peer RSU now works. (used SERVICE.EXE instead of FSERVICE.EXE)
2. Version check "links" for MPTN, TCP/IP, and PEER. (they'll tell you whether you need the update or not)


http://duanec.indelible-blue.com/fixes/LatestWarp4.html


...have fun...AND READ THE WARNINGS PLEASE!

---
June 5, 1998 Source: Maxim/WarpCast


I'm glad to inform you about new OS/2 non-formal support site opened recently. This site is at:


and is located in St. Petersburg, Russia. The site is developed by group of enthusiasts that can be found at any time on irc channel #os2russian (EfNet). Information on this site is in russian only at this time.

---
June 5, 1998
Lantimes published an article at:
http://www.lantimes.com/98/98may/805b001b.html

about new Warp Server (Aurora). The magazine reports that WSOD is a success and that Aurora will mean an end for OS/2 - as a brand name:

"Aurora is not another release of OS/2," said Steven King, product-development manager for IBM. "It's a new product."

---
June 4, 1998
The following is about WarpTV developments.

Well, I've been kind of quiet since setting up this list, but I can assure you that good things are happening. Within days of setting up the list, over 500 people joined. Over the next few weeks, that number grew to about 900. Most list owners don't like to share that kind of information but this is "our" project and I'd like to keep you all informed. The next question might be, "Are there enough of us to fund the WinCast/2 drivers development?" To be honest, not even close. However 900 interested people, most of whom offered to send money, or even buy multiple copies of the driver CD can not be taken lightly. Fortunately my managers agree!

I presented the list to my managers and explained that it was generated from a single Usenet posting and a mailing sent to addresses collected by Abbotsbury Software. No advertisements, no magazine articles, and no large corporate interest. Just OS/2 users who want TV on their desktops. A few weeks later Hauppauge Computer Works, Inc commisioned Abbotsbury Software to begin work on a GRADD enhanced WinCast/TV (I like to call it WinCast/2) driver. So we did it!!!!

What exactly did we do? Well, we've taken the first step. Many of you have tried the beta code from Abbotsbury. It is difficult to setup and use and even if you manage to get it working, you'll never see full motion video. I've been able to get about 10 frames per second at best on my P100. Abbotsbury will use IBM's GRADD model to take the load off the processor and allow full 30fps video. The next priority will be to make the driver installable via MMSetup or perhaps IBM's new browser based installer. After that we have to integrate the settings pages into IBM's multimedia subsystem. If all this sounds rather trivial to you, please step forward and volunteer to do the work for free:-)

All this stuff is likely to be finished around the middle of September. But there is a danger. So many OS/2 drivers "kind of work". They lack the polish and support of Windows drivers. I don't want to see this happen here. By the middle of September, Hauppauge will have an OS/2 driver that will display video from a composite or SVideo input. Tuner support "might" be there, stereo TV, SAP, FM radio and other extras will not yet be supported. Hauppauge could recover any engineering costs spent up to this time by selling cards to corporate OS/2 users who don't care about setup, TV tuners, FM radio etc, but that's not what we, the SOHO and private users(I hope I'm speaking for all of us).

This is where the financial support of the people on this list will become important. While we (the users) can't finance the complete project, we can fund part of the development and the finishing touches. I'm also working to get more customers from Germany, Italy and Japan. We could then put together the CD I mentioned in my last letter and hopefully by the time Warpstock rolls around, Hauppauge will have an OS/2 CD for existing WinCast customers, and a bundle for new customers.

Now that you know what's going on with the drivers, I'll tell you what I've learned about the programs you can use.

WarpTV - This is IBM's TV application. I've been in contact with the folks responsible for this application (thanks to our friends at Abbotsbury Software) and I'm happy to say that the person who actually coded the application is still working for IBM, though not in a multimedia group. The good news is that both he and his manager are interested in enhancing the application to work with the new drivers. The bad news is that IBM doesn't work for free. It's too early to know exactly how much work needs to be done, but there is an open dialog and I'm certain I can work something out.

I also noticed an article in the Italian e-zine JustWarp about WarpTV. If you are not familiar with the application you can at least see some screen shots. You can also translate the URL using the Altavista service at:

http://babelfish.altavista.digital.com/cgi-bin/translate

Go there and enter the URL:

http://www.mclink.it/mclink/teamos2it/justwarp/num0298/warptv.htm

You may also want to check out some independent TV software. From WarpCast:

************************************************************
Originally, my page for the StWTV program was only in German. Today I've created and unloaded an English version of this page. See:

http://home.t-online.de/home/stefan.milcke/stwtv_en.htm

MfG Stefan Milcke
************************************************************

I haven't tried Stefan's stuff, but if he's motivated to write and maintain a TV application then we might want to give it a chance. If any of you have tried the application, let me know.

Teletext - If you don't know what it is, you don't need it:-) Many of you have asked if we would support it. We don't have plans to develop a teletext application, but we will try to support such applications by providing the necessary hooks in our driver. Of course if enough people want it someone will write it, or we may contract the work out ourselves. Remember, our goal here is to supply a complete driver. I can't spend money I don't have to fund application development. But I do want to see Teletext as part of the package. If you checked the Italian WarpTV article you would have noticed a review of an OS/2 Teletext application. Use the translation mechanism mentioned above and check out:

http://www.mclink.it/mclink/teamos2it/justwarp/num0298/teletext.htm

I'm trying to contact the author to see what he needs to get this running with a WinCast.

Video Conferencing - Hey, maybe we could see each other. Everyone else is doing it! We are lucky that someone is already working on this in the form of CUSeeMe/2. This is a popular package among our Windows customers. I don't think the OS/2 version lets you talk to Win32 people but who knows, maybe that can be added. The author stopped development for a while and like most of us has a day job that inhibits the pursuit of our true passions. I believe he works on it when he can at this point. I contacted him and he thinks it will be relatively easy to make this package work with the WinCast. I'm sure he'd be delighted if two thousand OS/2 users with TV cards all of a sudden wanted to conference with each other. Check his site:

http://inet.uni-c.dk/~deckkh/index.htm

There is a guest book on the site if you want to register your interest.
FM Radio - I don't know of anyone doing this, but I'll write it if I have to! Again this is an extra I'd like to see. If it doesn't ship on the CD I'm sure it will get done by someone and be available. My job is to ensure the driver supports it. (Boy do I wish I were a PM programmer).

I encourage you to visit the sights mentioned and try to get a note of support off to the authors of these programs (except WarpTV, I don't know if it's a good idea to send unsolicited email to IBM employees). Believe me, support from the community goes a long long way. As if you don't have enough to do, you may also want to send a note along to your favorite VGA vendors asking them to support GRADD. IBM has written GRADD drivers for most of the popular cards available today, but the vendors themselves should maintain and enhance those drivers.

For a list of drivers currently available check IBM's site:

http://service.software.ibm.com/os2ddpak/html/gradd/index.htm

Here is a list of VGA chip manufactures you can contact:

ATI:
Website http://www.atitech.ca/

Product information/specifications & pricing inquiries,
sales@atitech.ca

Marketing issues such as comments and product testimonials may be directed to, marketing@atitech.ca

I have some contacts at these companies and I'm sad to say that they report demand for OS/2 drivers is down. No surprise, but those of us who are interested should let them know.

In closing, let me apologize to those who have sent questions. I wish I could talk about Warp and TV cards all day, but time has been tight. Please continue to ask questions and I'll try to post a FAQ in the next week or two. You can contact me at:

I'll do my best to either get back to you or answer your question in my FAQ.

Thanks for your support,

John Rodriguez
Software Engineer
Hauppauge Computer Works, Inc.

---
June 4, 1998 Source: Brad Wardell, Stardock Systems Inc.


Well, I've pretty much said all I have to say on the discussion with regards to not having a Fixkit #3 for Object Desktop.


I wish we could do it and believe me, if it were even remotely economically feasible, we would do it (I think the proof lies with our timely fixkits on other products like yesterday's release of a GalCiv gold update). I'm sorry we can't but what we have done is made sure that the Object Desktop 2.0 upgrade price reflects that while it contains a lot of new features, it also contains a lot of code designed to work around or address problems that users have reported over the past year or so.


If you are still unhappy with us for this, I'm sorry but there's nothing we can do about it and I think it's safe to say that comparing us to Nazi Germany (as one poster did) or making charges of being immoral or whatever are not going to inspire any change. This is my last post on that part of the discussion (i.e. I'll ignore "flame" posts but I'll try to answer legitimate queries). I think I've provided my view point pretty clearly in earlier posts on this topic.


To try to ensure that any compatibility problems are eliminated before release as well as getting input from our customers, we are launching an Early Experience program for Object Desktop 2.0.


If you have Object Desktop 1.5, you can join the EE program for $65 in which you'll get Object Desktop Professional 1.5 shipped with your 2.0 EE CD (you need OD Pro because OD 2.0 comes with most of the features of the Professional version). So technically you're buying OD Pro and the EE version.


If you already have Object Desktop Professional, you can join the EE program for $35 in which you get the 2.0 EE CD.


When the early experience program is done, you'll be sent the final version of Object Desktop 2.0.


Object Desktop 2.0 basically combines OD and OD Pro into a single product. It will have all the features of OD Pro minus the Back Up program (we're going to try to arrange an upgrade path to the new version of Back Again/2 from CDS).


The new version has some pretty huge changes to the underlying structure of Object Desktop (there are a lot more DLL's to represent the new underlying OO structure). This is also another reason why a Fixkit #3 for OD was not feasible.


It also includes a lot of code meant to address problems we've seen. Just one example, on OS/2 Warp 4, IBM's JAVA implementation doesn't respond well to message queries. Technically we feel this is an IBM issue but realistically we have to deal with it. The result was that the system would hang a lot more often if you have OS/2 Warp 4 with JAVA going and Object Desktop running so we have put in a new way of querying objects which gets around this issue. The only bad side is that we may not be able to support OS/2 2.11 with OD 2.0 (i.e. you'll need OS/2 Warp 3 or later).


From a feature perspective, it includes a lot of user interface enhancements, we hope to add a Start bar for those people who have Win95 users using their machines. You don't have to use any of these features of course. The Control Center can monitor your internet performance now if you have a modem (this is pretty cool). We've also added features to the base OS/2 folder so that you can optionally put it beyond where IE 4 is on NT. This is one of our key goals. OS/2's strength, from our view is its stability and user interface. IBM continues to release Fixpacks for OS/2 which overall improve stability. Object Desktop 2.0 will put OS/2 again a generation ahead of NT 5 in the UI department before it's released.


The Virtual Desktops have also received some major new features such as the ability to record and retrieve "lay outs" giving users the ability to have programs be launched in a particular virtual desktop. For instance, I have an Internet layout saved and when I use it, I have PMINews in one desktop, PM Mail in another, Netscape in another and a command prompt in the 4th. Now I'm ready for full web browsing power. I consider this feature to be pretty major from a productivity stand point.


There are numerous other features that we hope to put into it which included updated viewers. The filters which are the underlying part of Object Viewers are done by a third party. They have thus far been unwilling to update them for the usual reasons we, as OS/2 users, hear. But we will keep on them. If we do manage to get them to update them before the release, they'll be part of OD 2.0. If it happens after the fact, they'll be released free (it's just a matter of copying the files into the OD directory). But I can't make any promises about the viewers, they may not be updated at all. They are still extremely powerful of course and handle virtually every major program's files (from Word 95 to Autocad) but I'd like to see Word Pro and Office 97 support which is what I'm drumming on them for.


We hope to have the EE version ready to go by the end of the month but we want to make sure it's pretty solid before we send it out.


Visit http://www.stardock.com to join the Early Experience Program.

---
June 4, 1998 Source: Anthony Carter (anthony@BTSoftware.com)


VENDOR: BT Software offers OS/2 SHAREWARE Download and Registration


WHAT? ==> Registration and downloading of shareware.
WHERE? ==> In the UK, Germany, France, Belgium and the Netherlands at http://www.btsoftware.com
WHY? ==> No credit card needed. So safe and so easy.
HOW? ==> Pay by bank transfer, receive by e-mail.

---
June 4, 1998
IBM has updated the refresh files for Java 1.1.4 again. Last one was May 9, '98. The current one is May 30, '98, with the archives dated June 4, '98.

The Refresh files can be found at:

ftp.hursley.ibm.com/pub/java/fixes/os2/11/114

NOTE: These are for REFRESH only. If you don't already have Java 1.1.4 installed, you need to get the FULL Java 1.1.4 package and Feature Install 1.2.2 (if you don't have it) from Software Choice.

http://www.software.ibm.com/os/warp/swchoice/

---
June 4, 1998
There's a new driver for the Matrox Millenium and Matrox Mystique cards (version 2.20.055):

ftp://ftp.pc.ibm.com/pub/pccbbs/commercial_desktop/za1t21a.exe

The Matrox site (http://www.matrox.com) lists the latest driver as 2.13, so apparently it is (at the moment) only available at the IBM FTP site.

---
June 3, 1998 Source: WarpCast


Dear German speaking OS/2 users,


There will be a new German computer magazine which is targeted at the private OS/2 user only, accordingly it will be called "OS/2 only!". The first issue is planned to be published on August, 1st. There is an information document on some German web sites which also contains the request to send an email to the owner of the publishing company so that he can send you a form for a future reader poll. Please have a look at this URL:


http://www.os2online.de/only/only.htm


There are not many subscribers yet, please become one of them! If only a few more do, the price should drop to a more acceptable level (currently 12,80 DM).

---
June 3, 1998 Source: Judy McDermott, Acting Volunteer Coordinator for Warpstock '98


Volunteers Needed


Warpstock is a celebration of OS/2, conceived, designed, and implemented by-and-for the OS/2 end-user community. Warpstock 98 will be held in Chicago October 16, 17, 18, 1998. For complete details visit http://www.warpstock.org and don't forget to check out the early registration specials.


Warpstock is a nonprofit event that is solely managed by volunteers. The volunteers that stepped forward to make Warpstock 97 an overwhelming success, came for all over the world. Many were local to California while others came from around the world. There were OS/2 users from as far away as Portugal that attend and helped onsite! There were those that were unable to attend, yet volunteered to help with tasks that could be managed offsite. So, you don't need to be present to win. <G>


Your help is needed to make Warpstock 98 an exciting, fun and successful celebration. Visit the Warpstock 98 homepage and sign up now or email bri@gt-online.com.


Many thanks to those of you who have already volunteered. The web site will be updated shortly to reflect the current volunteers.


Thank you for supporting Warpstock 98

---
June 3, 1998
BMT Micro proudly announce the...

4th Edition of the BMT Micro OS/2 Shareware CD
==============================================

BMT Micro is proud to announce the pending release of our fourth OS/2 cdrom shareware disc. The fourth edition is scheduled to ship on or before June 17th and is even bigger and better than before.

This 4th edition features the latest versions of the 300+ OS/2 shareware products distributed by BMT Micro. If you're looking for the "Cream of the Crop" in OS/2 shareware, this is the CD for you.

Best of all, each program on the disc can be purchased from BMT Micro or with any of our resellers located around the world - and you can receive the registration information delivered directly to you soon after placing your order (in almost all cases within 24 hours).

The programs on the disc are separated by category and the entire disc can be navigated with your web browser. In addition to being separated into categories, each program has been unarchived into a separate subdirectory allowing many of the programs to be run or installed directly from the disc. Even the programs that do not lend themselves to direct installation from the disc have been unzipped allowing the user to browse the various readme files, help files, etc. Each directory has a descriptive text file that lists filenames and a brief description of the files in that directory.

We're now taking pre-orders for this disc for $7.99 each plus $2.00 shipping anywhere in the world (via US Postal Service.) This special price is good through June 17th, 1998 even if the discs are shipping well before then. As always, no charges will be made until the day the same day the disc ships.

Orders can be placed online at https://secure.falcon-net.net/BMT/order0019.html or by phone or fax at the numbers below.

As always, thanks!

---
June 3, 1998
Former members of the Chicago Organizing Committee spoke out on their recent resignations from the '98 Warpstock event. In an interview with 32 Bits Online's Ronny Ko, Tim Sipples, Gary Kopycinski and Bill McLaughlin explained their side of recent events that led to the dissolution of the Chicago Warpstock team.

See:

http://www.32bitsonline.com/Issues/june98/Chicago_Interview.shtm

for complete details.

---
June 2, 1998 Source: Opera Software (http://www.operasoftware.com)


Newsgroups created for Project Magic -- in order to provide a forum for exchange and a meeting place for those looking forward to Opera on other operating systems ('Opera Winfree' ;-)), we have created a number of newsgroups on our server. These are:


If you are interested in an information exchange with like-minded souls, you are more than welcome to participate in the discussions taking place there.

---
June 2, 1998 Source: Larry Finkelstein (larryf@CSPCORP.COM)


Warpstock 98 Event Coordinator Announced!


The Warpstock Steering Committee is delighted to announce that Stanley Sidlov, long-time OS/2 expert and advocate, is assuming Event Coordinator responsibilities for this year's Warpstock '98 conference.


According to Larry Finkelstein, president of the Warpstock Steering Committee, "We're delighted that Stan has agreed to join the team. We know that he can help us make Warpstock '98 an even bigger success than last year's event, which drew hundreds of OS/2 users from around the world.


Sidlov, an IBM Midrange developer and IST Manager for Alliance Funding, Inc. is active with the NY PC Users OS/2 SIG, professionally supports OS/2 and lends his experiences to other OS/2 users in such places as CompuServe's OS/2 forums and various mail lists.


Sidlov's selection continues the 1997 tradition of having key Warpstock organizers from outside the host City, making Warpstock a unique event in that planning is done over the Internet with the input and participation of the OS/2 community from around the world.


According to Sidlov, "I'm excited to be selected to help ensure that this year's event is a bigger success than Warpstock '97. The team of volunteers from Chicago and elsewhere have made a great start, but there's lots more to be done to make Warpstock '98 the best ever. Luckily, the Steering Committee has a number of collective years under their belts in organizing events, which should make things easier. I look forward to working closely with everyone that has volunteered to help with Warpstock '98."


For the latest information on Warpstock '98, subscribe to the Warpstock List Server by sending an email message to "warpstock-request@warpstock.org". In the body of the message, put the command "subscribe" (without the quotes).

---
June 2, 1998 Source: Larry Finkelstein (larryf@CSPCORP.COM)


On behalf of the Warpstock Steering Committee, I'd like to emphatically deny rumors that Warpstock '98 is being canceled.


Some of the people in Chicago that bid for the site weren't able to live up to the expectations of the Warpstock Steering Committee, and resigned. Last year we also had several key people that resigned, but they didn't do it so publicly. Presumably those that resigned last year had the best interests of the OS/2 community in mind. This year, those resigning have attempted to shut down the event behind them, but the Warpstock Steering Committee is taking action to ensure that this year's Warpstock can meet the high standards that we set last year.


We will be posting additional information shortly and will make every effort to keep the entire OS/2 community informed of our progress.

---
June 2, 1998 Source: POSSI Discussion List/Fernando Cassia (fcassia@theoffice.net)


How many people on this list have voice modems using the Rockwell chipset? (VoiceSURFRs from Motorola come to mind).


The idea is to encourage the german author of a nice native OS/2 voice/fax app., called FAM/2 (currently at version 1.07) to make an english translation of it.


He says that nobody from outside germany has contacted him on the last two years asking about the program. (No surprise since the program has never been uploaded to hobbes before!, today I did).


This is really bad since I think FAM/2 is a great application. It includes:

Full OS/2 Warp 4.0 support including Warp4 style notebook tabs.

The status window takes very little space on the desktop when not running minimized.

Can act as an 'answering machine' mode and as a fax document server.

Supports ISDN.

Built-in scheduler

3 user-selectable compression levels (ADPCM 2, 3, 4) for voice files.

HPFS support

Only $30 registration fee.

The developer frenki@amt.comlink.de (Frank Barwich) wrote

>There will be no english version. I've canceled the english version > with version 1.05 of FAM, cause there was no response from out of > germany in the two years before. > > > 2- How much is the registration fee > > 50 German Marks, thats 30 US-Dollar. > > The fee is very moderate, but I don't have the time to spend work > in a thing, that nobody is interested in, sorry. > > Bye > Frank

Check out the program...

http://hobbes.nmsu.edu -> fam107.zip (use the search engine).

and then if you like it e-mail frenki@amt.comlink.de (Frank Barwich)

Feel free to pass this and repost elsewhere if you think it's appropriate.

---
May 31, 1998 Source: Don Eitner, VOICE Secretary


V.O.I.C.E. REORGANIZES TO MEET INCREASED DEMAND


Due to a dramatic increase in both the size and scope of VOICE (Virtual OS/2 International Consumer Education) over the past several weeks, some changes have been made on the Board of Directors. David Both has found it necessary to resign as President due to his busy work schedule but will remain on the VOICE Board as a Technical Advisor. Dan Casey, former Vice President, will now be the President of VOICE.


The VOICE Board are now accepting nominations from VOICE members to fill the Vice Presidency position. Nominations should be e-mailed to voicevp@ibm.net and must be received no later than June 14, 1998. Nominees must be VOICE members. Self nominations are acceptable and all nominations should include a short biography by the nominee, to be posted on the VOICE website for all members to read prior to voting. Details on voting will be available on the VOICE website when the nominee biographies are posted. Voting will close on June 21, 1998.


VOICE SENDS ONE LUCKY MEMBER TO WARPSTOCK


VOICE will be giving away a Platinum Pass and 1 night's hotel accommodations during a future SpeakUp with the Warpstock Organizers. Only VOICE members are eligible for the prize, but everyone is welcome to attend the SpeakUp session.


The VOICE website: http://www.os2voice.org
The Warpstock website: http://www.warpstock.org

---
May 31, 1998
A WarpCast subscriber, after reading our post regarding the availability of Star Office 4.0 SP3, sent an email to Star Division requesting more information. This is an excerpt of the reply he received:

"We just released the English version of StarOffice 4.0 SP3. Comparing SP3 to the International Beta it offers extended functionality and patches. However, Lotus .wk? Filters are not included yet. They will be available with StarOffice 5.0 (see below).

The OS/2 version is USD 295.00. Until 08/01/98 we offer a special introductory price of USD 249.00. Competitive upgrade pricing is available only for upgrades to the Windows platform.

StarOffice 5.0 will be released later this summer and will definitely be available for OS/2. Our upgrade policy is as follows: All StarOffice 4.0 SP3 customers will get StarOffice 5.0 for FREE. Therefore there is no point in waiting:

If you are interested in purchasing StarOffice 4.0 for OS/2 please print the attached order form or send me your fax number and we will fax you an order form. You may pay by check or credit card. If you have any further questions please send an email to US-info@stardivision.com or call (510) 505-1470."

---
May 30, 1998
IBM OUTLINES ROADMAP FOR OS/2 SERVER FAMILY
Plans Include New Versions of Both OS/2 Warp Server and WorkSpace On-Demand

AUSTIN, May 5, 1998 . . . IBM today announced several enhancements for the OS/2 Warp Server family of products improving system management and back-up and recovery capabilities. In addition, IBM has outlined plans for a new version of OS/2 Warp Server and the next release of WorkSpace On-Demand, IBM's server-managed client operating system. IBM plans to introduce this next release into the OS/2 Warp Server family of products in early 1999 and will serve as IBM's entry level server platform for running e-business applications. In addition, IBM's new release of WorkSpace On-Demand is also targeted for early 1999 and will offer customers support for a broader range of hardware devices. "We continue to strengthen the OS/2 Warp Server platform as a true enterprise solution to meet our customers needs today," said Jeff Smith, director of IBM's OS/2 Business Unit. "As more companies become e-businesses, we want to offer an entry-level server platform that will provide all of the features and functionality needed to build a network computing architecture that can grow to meet customer's expanding e-business demands in the future."

New Features for Today's OS/2 Warp Server

OS/2 Warp Server systems management provides network administrators with a highly flexible tool that allows them to configure, monitor and manage local and remote systems in a heterogeneous environment. This new update offers administrators management of Windows NT 4.0 clients, expanded hardware support, and added functionality such as continuous resource monitoring, utilization reports for all servers, and report generation ranging from hourly to monthly. IBM's backup and recovery feature in OS/2 Warp Server provides users with non-stop system backup and recovery functionality through an easy-to-use graphical user interface (GUI) or a new command-line interface. This enables users to schedule backups to run with minimum intervention and allows for lost files to be restored in minutes with its unique indexing facility. New features included in OS/2 Warp Server's backup and recovery include: Large Network Administration and Backup -- In addition to the easy-to-use graphical interface, the new command-line interface now offers network administrators flexibility to automate and customize the backup process for large networks.

Dual Device Backup Set and Removable Media Support -- Administrators can now backup data on one or more different backup devices allowing for full system backups to a tape drive, with incremental backup on a quick access drive. The tape drive can be used for disaster recovery while the removable drive, such as IOMEGA JAZ and ZIP drives, can be locally available for quick recovery. This allows an administrator to take advantage of the price, capacity and speed characteristics of different storage devices, minimizing the time needed to recover an up-to-date system.

The new systems management and backup and recovery functionality that has been added to OS/2 Warp Server is available today from Software Choice, IBM's Internet software delivery site, at http://www.software.ibm.com/os2warp. Roadmap Includes New Version of OS/2 Warp Server and WorkSpace On-Demand.

The next release of OS/2 Warp Server is planned for beta availability in late 1998 and will be IBM's entry level e-business server and an ideal platform to help reduce the total cost of management with WorkSpace On-Demand. In addition to all of the feature and functionality found in today's OS/2 Warp Server, the new release will offer customers out-of-box support for Year 2000 and Eurocurrency -- two critical issues businesses are facing today. It will also include a high-performance Journaling File System offering faster performance, improved scalability, and enhanced Web serving capabilities. General availability is planned for early 1999.

The plans for the new release of WorkSpace On-Demand include support of a broader set of hardware using standard IP Protocols allowing customers to continue to build upon their existing hardware investments. IBM also plans to provide additional pre-configured machine classes for hardware that has broad appeal to today's customers. One example of the extended pre-configured machine class support, will be WorkSpace On-Demand's support for select IBM Network Stations. Additional planned enhancements will focus on continued ease-of-use for administrators by enhancing WorkSpace On-Demand's application installation and machine class creation tools. This release will also include Java 1.1.6 with support for additional releases as they become available. General availability is planned for the fourth quarter of 1998.

---
May 29, 1998
Version 1.1 of PM Fee released and uploaded to Hobbes (http://hobbes.nmsu.edu) and BMT micro (http://www.bmtmicro.com/).

PM Fee is a Presentation Manager front end for McAfee's command line program: os2scan.exe and lets you easily scan your drives for viruses. Also PM Fee lets you view the scan log file and virus list. PM Fee is shareware and costs $10 to register.

New Features

german, polish and czech implemented

drag and drop of a file or folder implemented

bitmap removed from main screen to make more space for dropping files

resize of viruslist and logfile dialog is now possible

This update is free for registered users.

PM Fee FEATURES
---------------


a.  Can scan any combination of local drives.

b.  Can scan any combination of network drives.

c.  Uses Drag and Drop to scan a single file or folder.

d.  Option to view the PMFEE.LOG log file.

e.  Option to view and search the VIRUS list.

f.  Option to specify the max log file size and directory. (only registered version).

g.  Multi language.

        Dutch       codepage 850, 437
        English     codepage 850, 437
        French      codepage 850, 437
        Swedish     codepage 850, 437
        German      codepage 850, 437
        Polish      codepage 852, 850
        Czech       codepage 852, 850

h.  Uses multimedia sounds.

i.  Written with Borland C++ for OS/2.

j.  Tested with screen sizes of 640*480, 800*600 and 1024*768.

Web site USA: http://www.os2ss.com/users/tjsteen/
Web site Europe: http://www1.tip.nl/~t207448/

---
May 29, 1998 Source: Mark Dodel, VOICE Editor


Fixpack 36 for Warp 3.0 is available at:


ftp://service.boulder.ibm.com:/ps/products/os2/fixes/v3.0warp/english-us/xr_w036


It is also available on the IBM Software Update page:


http://ps.boulder.ibm.com/pbin-usa-ps/getobj.pl?/pdocs-usa/softupd.html


For the list of APARs (fixes) in Fixpack 36, go to:


ftp://service.boulder.ibm.com:/ps/products/os2/fixes/v3.0warp/english-us/xr_w036/readme2

---
May 28, 1998
A graphical front end is available for the SANE library (Scanner Access Now Easy). It is currently in beta test, but it seems to be reliable enough for general use. It is called SANE/2.

I wrote it to replace the command line interface available with the SANE package.

SANE/2 can be downloaded from my home page:

http://www.geocities.com/SiliconValley/Peaks/4320

---
May 28, 1998 Source: Jurgen Assfalg - JustWarp! Editor - assfalg@dsi.unifi.it


Team OS/2 Italy announces that the new issue of JustWarp!, Italy's most widespread electronic magazine, is now available online at:


http://www.mclink.it/mclink/teamos2it/justwarp/index.htm


or on its mirror at:


http://volftp.tin.it/TEAMOS2/jwarp/justwarp/index.htm


This issue features:

OS/2 Security

Warp TV

Teletext

Rexx lessons

...and many others.

Team OS/2 Italia http://www.mclink.it/mclink/teamos2it/ita/index.html

---
May 28, 1998
For Immediate Release

Thursday, May 28, 1998

Contact: Alexander Antoniades
Stardock Systems, Inc.
(313) 762-0687

Atlanta GA - Stardock Systems, Inc. Announced Object Desktop 2.0 today at E3. The previous version of the advanced OS/2 desktop environment is the most popular third party OS/2 product ever created for OS/2. Previously sold as Object Desktop 1.5 Standard and Professional editions, Object Desktop 2.0 will merge the features of both editions into Object Desktop 2.0.

"With the changing OS/2 market, we decided the time was right to put our focus purely on power users and corporate desktops." Said Brad Wardell, President of Stardock Systems, Inc.

The new version boasts a completely new look over its predecessor, greatly improved performance, and increased compatibility with OS/2 Warp 4. Stardock has also added in features and improvements suggested by OS/2 users during the time between Object Desktop 1.5's release and today. New features include a revamped Control Center that includes "lay outs" for setting up virtual desktops, real-time internet performance monitoring capabilities, virtual desktop start up features (allowing users to launch a program into a particular virtual desktop). The Enhanced folder has also received some new features including a tool bar to bring OS/2Æs GUI features up and beyond what is expected to be available on Windows NT 5.

"OS/2's user interface is still state of the art but there were a few areas where the upcoming NT 5 that would have given NT some user interface advantages. With Object Desktop 2.0, weÆve nipped that in the bud and OS/2 will continue to have the world's most advanced GUI," Said Wardell.

Object Desktop 2.0 is the result of almost two years of effort by StardockÆs OS/2 development team and the culmination of StardockÆs advanced user interface technologies.

A full look at the features of Object Desktop 2.0 can be found at Stardock's website http://www.stardock.com. Object Desktop 2.0 will list for $99.95. The upgrade price for users of Object Desktop will be $55 and the upgrade price from Object Desktop Professional will be $39.

An early experience program will be available starting at the end of June for users who want to have input on the upcoming new version. Only users of Object Desktop Professional since the early experience version will only work on systems with Object Desktop Professional already installed. The early experience program costs $35 to join and includes a final version of Object Desktop 2.0 when it arrives.

Stardock expects to begin shipping Object Desktop 2.0 in early August. Users can pre-order it or join the early experience program by visiting http://www.stardock.com and clicking on the Object Desktop 2.0 link.

---
May 28, 1998
The Best of OS/2 web site is now being updated daily. The site contains headline news that should be of interest to the OS/2 community. All headlines and links to stories are collected from other sources on the web. This site contains links to other announcement facilities and news sources about OS/2. Best of OS/2 Today may be found at:

For advertising information on The Best of OS/2 web site, please call Marianne Roderus at 914-835-3838 or write to innoval@ibm.net.

---
May 28, 1998
Henk Kelder has released v0.73 of his FAT32.IFS, which allows FAT32 partitions to be accessed from OS/2. (FAT32 is Microsoft's new file system for Win95 OSR 2.x and above)

This beta is available from:

http://ourworld.compuserve.com/homepages/hkelder/

---
May 27, 1998
This site was featured on Netscape's "What's New" pages. Vote for your favorite Operating System by pledging a dollar amount to the Cystic Fibrosis Foundation. OS/2 is in the running with 50 votes. Linux is way ahead with 449 votes. And what about those millions of Windows users? Right now... 0 votes. Check it out at:

http://www.geocities.com/SiliconValley/Network/5601/

---
May 27, 1998
This site was featured on Netscape's "What's New" pages. Vote for your favorite Operating System by pledging a dollar amount to the Cystic Fibrosis Foundation. OS/2 is in the running with 50 votes. Linux is way ahead with 449 votes. And what about those millions of Windows users? Right now... 0 votes. Check it out at:

http://www.geocities.com/SiliconValley/Network/5601/

---
May 27, 1998
May 27, 1998 - Modular Dreams Incorporated today announces the release of the MD+F Marauder 3 Advanced Image Database, version 1.4 for IBM OS/2 Warp, featuring BBS and Web enhancements.

MD+F Marauder 3 is the only enterprise-level image collection tool available for home and small office use.

Features of Marauder 3 include:

Support for very large (10,000 to 1+ million) image collections.

Fast search times - Normally under 3 seconds for a sample collection of 80,000 pictures on a 150MHz Pentium.

Quick and efficient methods for examining and categorizing images.

Various display tools such as Browsers, Slideshow, and Choosers.

Advanced search using attributes of image subject (such as color of hair, age group of subject, ...), description, or file names.

Ability to create virtual directories.

Portable, multiplatform database usable under Windows 95, OS/2 Warp, and the upcoming BeOS version.

Support for named drives, devices, and media. Marauder 3 can even display contents of removable media (such as CD-ROM or ZIP disks) which are not currently inserted into the drive!

For current MD+F Marauder 3 users, the additional features in version 1.4 are:

Faster description searches. Searching using descriptions is radically faster than previous versions.

New BBS support. You can now import and export BBS description files. BBS description files are available from many Bulletin Boards and are also supported by the latest version of MD+F Blitter 1.4. (MD+F Blitter is free to Marauder 3 owners)

New Web support. Marauder 3 can now take template webpages and create complete web catalogs for you. The generated web catalogs will have the same look and layout as your other pages. For an example of this, please see the "Hubble Space Telescope" example in Marauder 3's online manual. This feature is ideal for individuals or small business wishing to display picture of items on the Internet.

Various enhancements. The new Marauder 3 has received many small enhancements to its interface and search engine and is also compatible with the upcoming PowerPC version of the product.

Very compact code. The new Marauder 3 executable is about 70% of the size of the previous version.

Marauder 3 Advanced Image Database is not for everyone. Most users only require basic image cataloging functionality and there are many applications available commercially or bundled with input devices to satisfy their needs. Marauder 3 is for the remaining few. Please download and try to decide if Marauder 3 is right for you.

You can get current information about the MD+F Marauder 3 as well as the executable(s) from Modular Dreams at their website located at http://www.modulardreams.com.

The website also contains usage information and screenshots of the product. To purchase MD+F Marauder 3 contact your favorite online dealer. The MSRP for MD+F Marauder 3 is $99.00 and the product's license allows you to use it on any platform for which it is available. This upgrade is available for free to current MD+F Marauder 3 owners. Like all MD+F products, you must register this product online before using it. A three button mouse is recommended.

Modular Dreams Inc, P.O. Box 682, Vienna, VA 22183.
Email: MDF@BIX.COM, Phone: (703)278-0280, Fax: (703)278-0281

---
May 26, 1998 Source: Damon Matthews/WarpCast


It seems that things are now underway for a UK OS/2 user group. There is already a mailing list which was working along similar lines.


I have placed a web page at:


http://www.denzil71.demon.co.uk/os2ug.html


containing the latest news on all this.


Things are still in the early stages but are moving.

---
May 25, 1998
The Virtual OS/2 International Consumer Education (VOICE) web site has been updated with a new online membership form and an extensive new FAQ called the Help Desk. The VOICE Help Desk is provided as a free service to anyone requesting help/advice regarding OS/2 Warp. The help desk is supported by VOICE members and those who have subscribed to the help mailing list on a voluntary basis.

You can find the VOICE web site at:

---
May 24, 1998 Source: Daniel Jones (dljone9@ibm.net)


Greetings;


I am working on trying to start an OS/2 User Group in San Jose, CA. Several interested parties have contacted me after a few newsgroup postings, and it appears that there may be sufficient interest in this part of Silicon Valley.


Anyone interested in taking part can contact me via e-mail at: dljone9@ibm.net.

---
May 24, 1998 Source: Don Eitner, VOICE Secretary


The Virtual OS/2 International Consumer Education (VOICE) website has been updated with a new online membership form and an extensive new FAQ called the Help Desk. The VOICE Help Desk is provided as a free service to anyone requesting help/advice regarding OS/2 Warp. The help desk is supported by VOICE members and those who have subscribed to the help mailing list on a voluntary basis.


You can find the VOICE website at http://www.os2voice.org/.

---
May 23, 1998 Source: Walter Metcalf, Mining Co. OS/2 Guide


I have just posted both the ZDNET article titled "IBM Suffocates OS/2" in which an IBM official said IBM was has stopped all but fixpak work on the OS/2 Client and was not going to develop software for the Intel's Merced chip, and the subsequent denial by Richard Seibt, General Manager, OS/2 Business Unit.


You can find them both at http://os2.miningco.com

---
May 15, 1998
Today, Lexmark International, Inc., announces OS/2 driver support for the Lexmark 5700 and other Color Jetprinters (TM).

OS/2 users are now able to take full advantage of unsurpassed quality in color printing including 1200 dpi resolution at a reasonable price.

With this announcement, Lexmark is continuing to expand its Color Jetprinter compatibility. The new OS/2 printer drivers provide unsurpassed quality color printing to OS/2 users at a reasonable price. The new Lexmark drivers provide a truly easy-to-use interface that allows OS/2 users to take full advantage of the award winning 5700 Color Jetprinter.

Full information on Color Jetprinters are available on the Lexmark Web Site

7000 and 7200 Color Jetprinters Support

OS/2 driver support will also be provided for 7200 and 7000 Color Jeprinters with the same capabilities. However, it will not include any on-line printer user's guide. (Color Jetprinters are shipped with a Quick Setup Sheet and an on-line printer user's guide for Windows only) An on-line printer user's guide for OS/2 is provided with the OS/2 driver support for 5700 Color Jetprinter.

Compatibility


Operating Systems
OS/2 2.1 and above


The custom Lexmark OS/2 driver is for use with the OS/2 operating system only. The Windows driver should be used for WIN-OS/2 printing. Tips are provided for WIN-OS/2 printing.


Attachment


The driver is for use with parallel port attached printers only.


National languages support


US English, Italian, French, Brazilian Portuguese, Spanish and German versions of the drivers are available.


This product is Year 2000 Compliant.


Convenient high quality personal printing for OS/2 users


The OS/2 driver for Lexmark 5700 Color Jetprinter provides an easy to use interface with tabs that allows users to quickly configure their document printing as well as easily manage their supplies.


Printer configuration


The driver includes an on-line printer user's guide


The driver's "setup" tab enables users to quickly set which forms (paper type and size) are available in which paper source.


For even more convenience, users can create their own form with a custom name. These forms will then be selectable the same way as predefined forms.The OS/2 driver is also providing the ability to setup default parameters for DOS and OS/2 command line printing such as copying a text file to the parallel port.


Supplies management


The 5700 Color Jetprinter can be used with any of the following combinations of cartridges:


Color and Black cartridges for High quality color and true black printing Color and Photo cartridges for photographic color printing

Black cartridge only to turn the color printer into a fast black and white printer when color is not desired. (not supported for WIN-OS/2 printing)

Color cartridge only to print even if no black cartridge is available. (not supported for WIN-OS/2 printing)


The OS/2 driver lets you take full advantage of this flexibility and provides an intuitive interface for all cartridge related operations such as installation, alignment or print head cleaning. An On-Screen cartridge display enables you to know which cartridges are installed and the quantity of ink remaining in each cartridge.


>


Document settings


The driver's paper tab provides a graphical interface that allows you to select page layout, paper type and size (including custom forms) and finishing options like collation and number of copies.


The full capability of the Color Jetprinters is supported from the OS/2 driver. Users can select at a glance the desired print mode from the fastest black and white printing up to the unsurpassed print quality that is offered by the 5700 Color Jetprinter with 1200 dpi resolution and advanced color science.Advanced quality settings are also provided to enable users to finely tune the printer and driver so they can obtain the exact desired colors. It includes halftoning function selection, brightness and contrast tuning and color mode or black only selection.


Technical Support


Technical support will be provided by the Lexmark Technical Support Center: 1-800-LEXMARK (800-539-6275).


Packaging


The Lexmark OS/2 drivers for 5700, 5000, 7000 and 7200 Color Jetprinters will be available from the following Lexmark electronic services:


Anonymous FTP through the Internet (ftp.lexmark.com)

World Wide Web (http://www.lexmark.com)

Lexmark technical support operations in local countries. A full list of technical support telephone numbers by country is available from the Lexmark home page on the World Wide Web. The U.S. technical support number is 1-800-LEXMARK (800-539-6275). Hours of operation are 9 a.m. to 9 p.m. Eastern time Monday through Friday and noon to 6 p.m. on Saturday and Sunday.)


Trademarks


Lexmark and Lexmark with diamond design are trademarks of Lexmark International, Inc., registered in the United States and/or other countries.


Color Jetprinter and Print Lexmark are trademarks of Lexmark International, Inc.


All other trademarks are the properties of their respective owners.

---



email
Previous Page | Index | Next Page