---
First Look: The IBM ThinkPad T40
Introduction
I've been using OS/2 since the release of Warp 3. Although I'm forced to use windoze at work, my wife and I have run Warp on two desktop PCs, including our current system, a DFI Pentium II 350 MHz relic, that runs OS/2 Warp 4.52 (Convenience Pack 2) very nicely. My wife has two home based businesses and we're going to be moving our family across the country soon so we decided to buy a notebook PC for the both of us to use. Of course, windoze was out of the question so my mission was to find a notebook PC that's OS/2 friendly.
To Buy or Not to Buy?
As most OS/2 users know, the list of new systems, both desktop and notebook, that support OS/2 continues to shrink. After extensive searches of OS/2 web sites (both IBM and others), we decided that we'd go with an IBM ThinkPad system. I had read that the ThinkPad T series of notebooks were our best bet; however, none of the recent ThinkPads were listed on IBM's own "PC Systems Tested for OS/2 Base and LAN Compatibility" web site which claims it was last updated on April 28, 2003!
You can easily find many detailed hardware reviews of the T40 on the web (and I spent time reading most of the ones from major PC magazines and web sites) so I won't try to duplicate those here. The focus of this article is my experience configuring a T40 with OS/2.
The Ordering Experience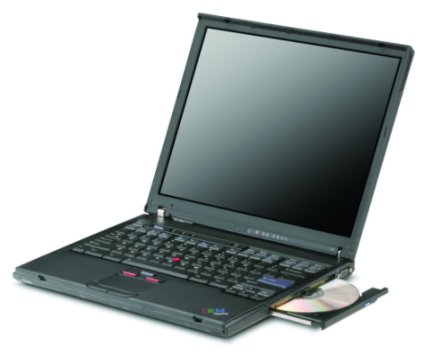 We bought one of the more economical versions of the T40, model 237319U, from the ibm.com web site. We upgraded to 512MB of RAM, but I have to admit I was somewhat hesitant to click on the "buy" button because I saw almost no reports of successful OS/2 installations on the T40 on the popular OS/2 message boards and groups.
The online catalog portion of the ibm.com web site where you review system specifications of the T40 doesn't indicate that OS/2 is a supported operating system. Fortunately, I found an official IBM downloadable T40 product brochure on the ibm.com web site dated March 2003 that indeed lists "OS/2 Warp Convenience Package" as a "Supported operating system" on page 3 with the footnote that "Level of support varies by operating system. Operating systems not preloaded on the system may not provide full feature functionality." I've included a link to the site where you can download this and other ThinkPad literature in the "References" section below.
Despite the lack of an available OS/2 preload option, the claim of the OS/2 Convenience Package being a supported operating system in the official IBM T40 flyer combined with the availability of OS/2 device drivers specifically for the T40 on the DOS/2 Device Driver Pak Online with our Software Choice subscription sealed our decision to buy it. I didn't want to spend 6 months or longer getting even minimal OS/2 capability on a new notebook PC.
I've read that the higher-end T40 systems may take a while to receive after ordering one, but I ordered our system from the ibm.com web site and our system showed as "available within 2 weeks." We live in Hawaii and received our system along with a free Targus leather case normally sold for over $100 and a travel surge protector in exactly 7 days after I ordered it via UPS (shipping charges $50.00). There have been several promotions on the ibm.com web site recently offering special sale prices and freebies, such as RAM upgrades, carrying cases, "travel packages," etc. with each purchase of a ThinkPad system.
The system I received was labeled "Made in China" which was somewhat disappointing given the price IBM charges for it. I had seen and handled a T40 higher-end model at a trade show at an IBM display that was labeled "Made in Mexico." I easily removed the eyesore windoze sticker from the system case next to the keyboard.
After I placed my order online, I was offered the opportunity to complete an online survey of my purchase experience. Given that opportunity, I officially registered my complaints over a lack of an OS/2 preload option and lukewarm support from the IBM PC company for IBM's own PC operating system, OS/2.
Configuration Tested
PCI Bus
Ultrabay Slim bay
Intel Centrino Mobile Technology:
Pentium M Processor 1.30 GHz (Enhanced Speedstep)
Intel 855 Chipset
Intel PRO/Wireless Network Connection 802.11b, 11 Mbps, Wi-Fi compliant
UltraConnect antenna built into both sides of display for enhanced wireless signal strength
30 GB ATA-100 (Enhanced IDE) Hard Disk Drive
14.1 inch TFT backlit display, 1024 x 768 maximum resolution, 16,777,216 maximum colors
2048 x 1536 maximum resolution on external display (supports simultaneous external display)
ATI Mobility RADEON 7500 graphics chipset, 32 MB video RAM
512 MB memory (PC2100 DDR SDRAM) (2 GB maximum)
CD-RW/DVD-ROM Combo optical drive
SoundMAX AD1981B AC97 audio
4 Mbps infrared port
10/100 Ethernet card with RJ-45 connector
Internal 56K V.92 Fax/Modem
6 cell Lithium-Ion battery
Additional ports: Parallel, S-Video out, AC adapter, Docking/Port Replicator, External Display,
Headphone/Line out, Microphone, 2 USB 2.0
PC Card Support: 2 Type II or 1 Type III
System Set-Up and Installing OS/2 Convenience Pack 2 (Warp 4.52)
The system was packaged extremely well for shipment with a detailed packing list. There was no damage at all to any of the components and the system had already been preregistered for warranty support since we ordered it through ibm.com.
Not having a floppy diskette drive took some getting used to. Upon receipt of the system, I immediately called IBM PC Warranty Customer Service and ordered the free Restore CD set which arrived in about 3 days, but later decided not to install windoze XP or Boot Manager because of problems I read about concerning windoze XP's and OS/2's ability to cohabitate safely on the same hard disk drive. The problem is (of course) with windoze not wanting to coexist with OS/2. After working with OS/2, I think Windoze XP "Professional" is probably the most counter-intuitive operating system I've ever tried so I'm probably not missing much.
The T40 comes with a hidden sector on the hard disk drive with windoze XP and preload application restore files, but to install OS/2, I reformatted the entire hard disk drive using the HPFS and partitioned the disk to two drives. The 30GB 4,200 rpm hard disk drive in our T40 is quite slow compared to our desktop PC's high speed Maxtor hard disk drive, but not bad for a notebook PC in my opinion (especially considering it's running on OS/2). If you want to use a notebook PC as a desktop replacement, you may wish to consider one of the higher end T40 models with a 5,400 rpm hard disk drive for intensive read/write operations.
There is a clearly marked blue "Access IBM" button which allows quick and easy access to BIOS set up and system configuration menus. The system is significantly lighter than the T30 and the magnesium alloy top cover really makes it feel rugged.
I installed OS/2 Warp Convenience Pack 2 from the Software Choice CD-ROM disks without any major problems and RSU installed Base FixPak 3 and Device Driver FixPak 3. Although I'm not an eCS user, I have no reason to believe that eCS wouldn't work, either, based on what I've read about it.
Installing Device Drivers
Before installing OS/2 on the T40, use another PC to download all of your device drivers (especially the OS/2 Device Driver Pak Online drivers, including PC Card 5.0 support) and any other critical software to a CD-ROM disk and it will make your installation a lot less painful.
You'll find the following T40 drivers available on the OS/2 Device Driver Pak Online under the "Systems" category:
Enhanced Speedstep Technology Support
Intel 855 IDE Controller Support
OSTA UDF Revision 2.01 Support (required for DVD/CD-RW Combination Drive)
PC Card 5.0 (CardBus) Card and Socket Support
USB 2.0 Support
Although not listed under the T40 section, while you're on the OS/2 Device Driver Pak Online, download TrackPoint IV support from the "Mice and Trackballs" section as well (see Pointing Devices below).

Once you can get a PCMCIA modem card to work, you can download whatever else you may need that's available from Software Choice, Hobbes, and other web sites. You may be able to get the system to recognize the PCMCIA cards using Warp 4.52 or eCS without additional PC Card drivers, but I didn't take any chances and installed the latest PC Card 5.0 support first.

The Software Choice T40 specific device drivers worked pretty much as advertised with Convenience Pack 2. The T40 support page on the IBM PC web site doesn't include the OS/2 video and sound drivers, contrary to what's stated on the T40 Systems page on Software Choice.
Sound
The T40's sound card is based on the Analog Systems' SoundMAX AD1981B AC97 codec. Despite claims on Software Choice's T40 page and the Analog Systems page for this chip, there are no available OS/2 audio drivers that I could find on the web.
I downloaded the latest SoundMAX driver v3.1.4 from Hobbes for the audio and it seems to work fine for WAV files and audio CDs. There are clearly marked volume control keys on the T40 that work fine with OS/2 installed. I used my Panasonic portable headphones to the test the audio CD sound signal quality coming of the headphone jack and it sounded very good.
The significant drawback is that you can't play MIDI files on the T40 with OS/2 using the most recent v3.1.4 SoundMAX driver on Hobbes, although I haven't tried possible work-arounds to this issue, such as TiMIDIty for OS/2. As a result, my 5-year old daughter was disappointed that I couldn't get KidStuff for OS/2 (a children's edutainment program that uses MIDI files) to properly work on it. I really hope Software Choice can produce an audio driver for this system that fully supports the AD1981B (including MIDI).
Video
I'm using Scitech SNAP Graphics 2.1.3 without any problems at all to drive the ATI Mobility RADEON 7500 video card and the T40's 1024 x 768 x 16,777,216 color, 14.1" TFT XGA display. I tested the external monitor output on an NEX MultiSync XE17 monitor and it worked fine.
Modem
As has been stated in other reviews, the built-in Lucent/Agere Systems modem in most ThinkPads won't work using OS/2. For this reason, I didn't waste any time trying to get it to work. Instead, I bought and installed a generic CompUSA store brand PCMCIA generic 56K Fax/Modem for about $45 and the T40 recognized it as COM1 without any problems as did the AT&T Global Network Dialer when using its "Auto Detect Modem" feature. The AT&T Global Network Dialer recognizes the CompUSA store brand modem as a "Generic" manufacturer, "56000 Apple" type modem, although other settings may work also. Any non-Win Modem PCMCIA card should probably work in this system.
Pointing Devices
The TrackPoint pointing device and UltraNav touch pad seem to work fine and provide basic two-button functionality with the Convenience Pack 2's mouse driver despite the fact that the System Set-Up folder indicates that the PS/2 Mouse Driver dated May 21, 2002 is "not properly installed."
Although not listed on the Software Choice T40 web page, I downloaded and installed the TrackPoint IV driver (originally intended for the T30) from Software Choice. When installed, the Mouse driver dated October 23, 2002 indicated "installed" and maintained proper 2-button TrackPoint and touch pad functionality.
System Battery Monitoring
The system battery monitor seems to work fine, both in OS/2 and Object Desktop.
Standby and Suspend Issues
Other ThinkPads have reported problems with suspend, especially when PCMCIA network cards are installed in the systems. The [Fn] - [F4] key combination, also clearly marked, puts the T40 system to "sleep" and [Fn] - [F3] "awakens" the system. Sometimes, the system will lock up, though, after being awakened from a user initiated suspended state. The system clock will freeze and the mouse buttons and touch pad won't work. I found that allowing the system to go into standby on its own and then awakening it using TouchPad worked better.
USB Zip Drive Issues
The only significant glitch was trying to interface my portable 750 MB USB 2.0 Zip Drive to the T40. On my desktop PC, I configured this USB Zip drive so it appears as a fixed disk and formatted my 750 MB Zip disks as HPFS disks. I could only get the new Software Choice USB
Mass Storage Device Driver to recognize the USB Zip drive as a large floppy drive. This limits me to using FAT formatted Zip disks on the T40.
As long as I use the Zip drive as a large removable floppy, it has been quite stable and reliable so far. When downloading mass storage device drivers from Software Choice and using the Iomega 750 MB USB Zip drive, use the "Iomega Zip-250 USB" driver and dated August 30, 2002, not the generic USB Mass Storage Device driver. Use the following switches in the CONFIG.SYS file when using the USB Zip drive as the only external storage device:
BASEDEV=USBMSD.ADD /FLOPPIES:0 /REMOVABLES:1 /REMOVABLE_AS_FLOPPY
The good news is that I can connect my USB Zip drive to the T40 even after system start-up and the T40 will recognize the Zip drive as Floppy drive E: without even having to "Refresh Removable Media". To remove the Zip disk from the drive, use the "Eject Disk" function by right clicking on the drive E: icon then selecting "Eject Disk".
Installing Applications
The T40 system advertises a free license for the Lotus SmartSuite Millennium Edition. When I called Lotus to order a copy in the OS/2 version, I was told that the company has discontinued their OS/2 version of SmartSuite. I installed a copy of SmartSuite 1.7 for OS/2 on the T40 with no problems. Other OS/2 applications I've installed so far include Object Desktop 1.5.2, StarOffice 5.1, Describe 5.0.5, IBM Web Browser 2.0, Netscape 4.61, AT&T Global Network Dialer 1.70, Adobe Acrobat Reader 3.0, Macromedia Flash Player 5, and Norton Antivirus for OS/2 5.03.72.
There is a discrepancy of about .2 GB in the remaining hard disk space reported by OS/2's hard disk drive monitor and Object Desktop 1.5.2. I suspect this is an issue with Object Desktop, or at least this version of it.
I don't have any experience using the DVD/CD-RW drive to burn CDs, just as a CD-ROM reader. I would think RSJ CD Writer would work without any problems based on reviews that I've read. I also haven't tried anything with OS/2 wireless networking and don't plan to for a while.
Networking
The only OS/2 support I could find listed on the IBM PC T40 Software and Support page was for the Ethernet Intel PRO/100/1000 LAN adapter, but I haven't had the chance to test this yet. I haven't found any OS/2 wireless networking drivers yet, either.
The Bottom Line
This notebook PC system seems to be as OS/2 friendly as they come these days, given the commonly known caveats such as lack of OS/2 support for the internal modem, sound driver MIDI issues, and suspend issues. In 6 months, I might be able to give a better appraisal, especially if I can start burning data and audio CDs with it. I'd also like to see how well Virtual PC and WarpVision work on it.
Weighing in at 4.9 pounds with the standard battery and CD-RW/DVD combination optical drive, the T40 we bought is really is light for travel. The T40 has the best feel of any notebook PC keyboards that I've ever used and it doesn't have the annoying "Windows" key, either! For those red eye airline flights, there's a very convenient "ThinkLight" that illuminates the keyboard in low light conditions and is activated and deactivated using the [Fn] - [PgUp] key.
Yes, the system is considerably pricier than other mass market notebook PC systems you'd get at a discounter, but when you consider the IBM warranty and available OS/2 device driver support, it's hard to go wrong with it. I can only imagine the countless hours it would take trying to get a unsupported notebook PC working this well with OS/2. I was able to configure my T40 with OS/2 and my applications over a weekend, although I didn't complete all of the required tasks at a single session. By the way, this is the first notebook PC that I ever installed OS/2 on and configuration of the USB Zip drive and playing MIDI files were the only really significant problems I encountered.
If you're really a power user, IBM claims the optional High Capacity Li-Ion Battery, which protrudes from the rear of the system and increases the weight of the system by about half-a-pound, can extend battery life on a single charge to as much as 7.6 hours on a single charge, a leader in the notebook PC class.
I'm still going through a "paradigm shift" of not having an internal floppy diskette drive available in a notebook PC. If you buy a T40, you'll probably want to have some sort of external storage device, and I found the USB Zip drive to be a superior replacement for a floppy diskette drive. The only downside is that the large capacity portable Zip drives need their own external power. For you diehards that still want to work with 3.5" floppy diskettes, there are external USB floppy diskette drives available, but if you're going to use a FAT formatted removable disk, I'd still go with a USB Zip drive due to the significantly greater disk capacity.
I'd like to thank the Software Choice team that wrote the device drivers for the T40 that currently are available and hope they'll be able to continue their development efforts to at least offer a MIDI compatible sound driver for the Analog Devices AD1981B AC'97 SoundMAX Codec in the T40 and a T40 ThinkPad TrackPoint device driver as a minimum in the future.
Despite the limitations I've identified, I'd still recommend the T40 to OS/2 users looking for a notebook PC. At least the T40's OS/2 driver shortcomings, such as the suspend problems, lack of OS/2 MIDI support, lack of wireless networking support, and the lack of OS/2 internal modem support, are known and predictable, unlike the unforeseen system hangs I've experienced with my windoze systems at work.
In this quick look, I didn't test the parallel port connection, but I'm looking forward to reading about the thoughts and suggestions of other OS/2 users as they configure their T40 systems.
---
Andres E. Mukk, MA, a VOICE member and an active duty Air Force officer forced to use windoze at work, has no affiliation with IBM whatsoever. He's been using OS/2 at home for 10 years since Warp 3.0 and was first introduced to OS/2 by a professor in graduate school. He has been using various brand notebook PCs for business travel since 1991.
---
[Feature Index]
editor@os2voice.org
[Previous Page] [Newsletter Index] [Next Page]
VOICE Home Page: http://www.os2voice.org