---
No Cloud On Sundial's Face
Introduction
It may be fun to create OS/2 applications, but not so much profit these days. However, one ISV (Independent Software Vendor) called Sundial Systems offers no less than six applications with the end users in mind. This company is well known among OS/2 users, so rather than creating an in-depth presentation with full reviews, this article aims to collect and update the information available from various sources.
The Company
The company is based in the Los Angeles area, USA. They have been around since 1988, and the people involved have been working with OS/2 since the beginning. Their website is at http://www.sundialsystems.com/ from which you can order their products, download files, read articles and look at photographs. There's also a NNTP-server at the same address, news://www.sundialsystems.com/sundial.clearlook.newsgroup , with one newsgroup for each of their products. The server is unfortunately not searchable through Google. A look over at the SCOUG (Southern California OS/2 User Group, http://www.scoug.com/ ), also reveals some names familiar from Sundial Systems.
Current Retail Software
The following are the products, versions, release dates and suggested retail prices of Sundial's software offerrings. They may be available cheaper from other retailers. The release dates are estimated from file dates and newsgroup messages.
Table 1: The Products

| | | | | |
| --- | --- | --- | --- | --- |
| Product | Description | Version | Date | Price USD |
| Clearlook | Word Processor | 1.7.1 | 1996-09-01 | $89.00 |
| DBExpert | Database | 2.0.9 | 2000-08-07 | $119.00 |
| Junk Spy | Anti-spam | 2.02 | 2002-10-16 | $59.00 |
| Mesa 2 | Spreadsheet | 2.3 | 2000-05-24 | $129.00 |
| Relish | Personal Information Manager | 2.23 | 1997-10-01 | $89.00 |
| Rover Pack | Desktop enhancer | 2.7 | 1999-04-07 | $49.00 |
This sums up to USD $534 for everything. Also available are Relish Net, RelishWeb and DBExpert runtime. As you may notice, four of these products together look like what is sometimes being marketed as an "Office Suite". More about that in the next section.
Some History and Development
Relish, the Personal Information Manager (PIM), has been with us for a long time, originally a 16-bit application, moved to 32-bit in 1992. There have been several new versions, and preliminary work on integration with the Palm OS handheld computers, but no promises.
In 1996-1997, Sundial was reported to be collecting productivity applications and preparing to string them together using the IBM/Apple OpenDoc ("A standard and application programming interface (API) that makes it possible to design independent programs (components) that can work together on a single document."). The first release was supposed to be "Mesa 2 for OpenDoc". This came to an end with the changing operating systems market situation and IBM's abandoning of OpenDoc in 1997.
Clearlook, the word processor, was bought from Clearlook Corporation in 1996. Version 1.7 was shipped soon thereafter, and 1.7.1 after the release of OS/2 Warp 4 later in 1996. Version 2.0 was already in the planning stage at that time. However, the last word this year (2003) from Sundial about updates is that is "highly unlikely" anytime soon.
Mesa 2, the spreadsheet, was bought from Athena Design in 1996. The version then was 2.1.1, and Sundial has since released several new versions. This program may be considered Sundial's flagship product now. Curiously, there's also a Mesa 3 for Mac OS X http://www.plsys.co.uk/products/mesa/ , that shares its roots with Mesa 2, but there's little resemblance between them, and no common file format, by now.
DBExpert, the database program, was bought from Designer Software in 1997, already in Version 2 at the time. It has been point updated several times since then (current version 2.0.9).
Sundial started to offer "service solutions" to OS/2 users in 1998, and one may assume that these have become an important field of activity for the company.
Rover Pack, the desktop enhancer, was released in 1999, a collaboration with Orange Hill Software, another OS/2 ISV. The first version was actually 2.70 to show the continuity with the Orange Hill products on which it was based. No updates since then have been released.
Junk Spy, the SPAM killer, was also released in 1999, this time also for another popular operating system, a fact that has secured the program considerable press coverage, even here in Sweden! New versions have followed. Junk Spy has its own website at http://www.junkspy.com/ .
In 2001, ClikClok, a "graphical clock of the world" program was in the works: http://www.sundialsystems.com/clikclok/clikclokpreview.html
It may seem as if the software product activity is low in certain fields, but people from Sundial do participate in the newsgroups, and it's said that their customer support is very good. Some users have even received private builds of the programs to address their specific issues. The Sundial people are vague when asked about plans for new software releases though.
Demos
All programs except DBExpert can be downloaded from Sundial as demo versions, or "working models". The files are so small that even modem users won't be discouraged. In general they are the full versions with restrained functionality. Demos of Clearlook, Mesa 2, and Relish were included on the Application Sampler CD shipped with OS/2 Warp 4.
Reviews
Many of these reviews are written some years ago, but still worth reading, since the software may have had few or no changes since then.
Review Updates or Metareviews
The following are some personal observations and updates of the other reviews. As far as I can see, all the applications still run without any problems on eComStation 1.1. I pay special attention to DBExpert, since I have a full version of it.
Clearlook


Fig. 1: Clearlook desktop icon



Fig. 2: Clearlook desktop folder
Since no new release has arrived, there is little to add to the review of 1998. The labelling "Clearlook 1.72" in the 1998 review may have been a typo. The words on the Sundial web about an upcoming version 2.0 have been denied in the newsgroup this year (2003). On the other hand, the oldest products were mentioned as being prioritized when it comes to future upgrades.
One thing that hasn't improved, although it's not Clearlook's fault, is the support of the Clearlook file format by other word processors such as Word Pro and StarOffice. You have the choice of "Clearlook Text" and "Plain Text". I'm using the latter to be able to get the text into other apps.
DBExpert
I recently obtained DBExpert 2.0.1 at a bargain price from a local retailer - seems to have been their last item in stock, since it disappeared from the list the same day! The review above used the 2.0.5 version while mine is now at 2.0.9 since Sundial offers free updates. What's new since then?
The update consists of three DLL files, and some documentation. These are mainly bug fixes, and some new features, including a "Find Next" function, OS/2 clipboard access, and report "Print and Close".
The 32 KiByte size limit of bitmap database fields is still there, and is due to the dBase ODBC driver, that shows a nonsense error message if you try to save a record with a bitmap bigger than that. However, you can add the location of the actual image file instead of keeping it in the database. The OS/2 eZine review says it's difficult to lay out a form, but the basic tools "snap to grid" and "align" are there.
There is more in the package than can be seen from the DBExpert folder on the desktop. An empty "tutorial" subfolder was created during install, meant for the database created in the "Getting Started" book tutorial. Also included is ODBC for connectivity with several databases: "INTERSOLV Q+E ODBC Pack for OS/2 2.1, Version 1.2, October 14, 1994". There are sundry files in the main folder, such as four Windows (!) bitmaps depicting Abraham Lincoln, Whoopi Goldberg, Lucille Ball, and a diagram of a database similar to the demo. There is also a file "EMPLOYEE.TXT", to be imported into the tutorial database. The application files, databases and your own work are by default stored in the same folder. This messy organisation leaves room for improvement in a future release. Meanwhile, it's a good idea to create your own subfolders for your data.
As stated in the other review, there are a 186 page "Getting Started" and a 366 page "User's Guide" in the box. The latter is roughly the same as the DBEXPERT.HLP file. The other INF and HLP files are for the ODBC setup.
Only one sample database is included, aptly named SAMPLE.DBE.
Unlike the other review, I don't think DBExpert is very similar to Microsoft Access. Sure, the way it works - forms, buttons, tables, reports - is similar, but the presentation is different. Access is an MDI (multiple document interface) application, just like Lotus Approach. I prefer the SDI (single-document interface, i.e. several windows) "approach" of DBExpert, that I originally learned while using another popular program. Last but not least, Access has its own proprietary format, that DBExpert cannot "access", while DBExpert can exchange data with Lotus Approach since both use dBase files. DBExpert's own files have the suffix .DBE (but no registered file type), while the dBase database files have .DBF.
Junk Spy
Version 1.0 was reviewed in VOICE Newsletter and 2.0 in OS/2 eZine. It has been updated to 2.02 and version 3.0 is in "early beta". Version 2.01 is a bugfix release while 2.02 has got minor functional changes and support for the Habeas Sender Warranted EmailSM (SWESM) system. There are also numerous reviews of the Windows version.
Mesa


Fig. 4: Mesa desktop folder
In version 2.3, there are numerous minor improvements, such as more file formats (such as Excel 95) that can be used (not recent 1-2-3 and StarCalc files though). Mesa 2 can still read the latest Microsoft Excel format (versions 97/2000/2002/2003 share the same file format).
There are no visible changes since the screenshots of 2.2 prerelease 6 in the review.
The main improvement, according to Sundial, is enhancements to the real-time feed. You can now include times. A feed demo is shipped with Mesa. Prudently, it gets its data from a local random number program, but it is possible to get external data - such as temperatures or things that vary quickly.
Mesa 2, like DBExpert, can be programmed using REXX. They go well together (almost as good as a Mesa/Boogie 20/20 power amp and a REXX 602 preamp :-) ¹ ).
Relish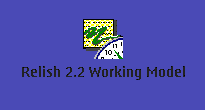 Fig. 5: Relish desktop icon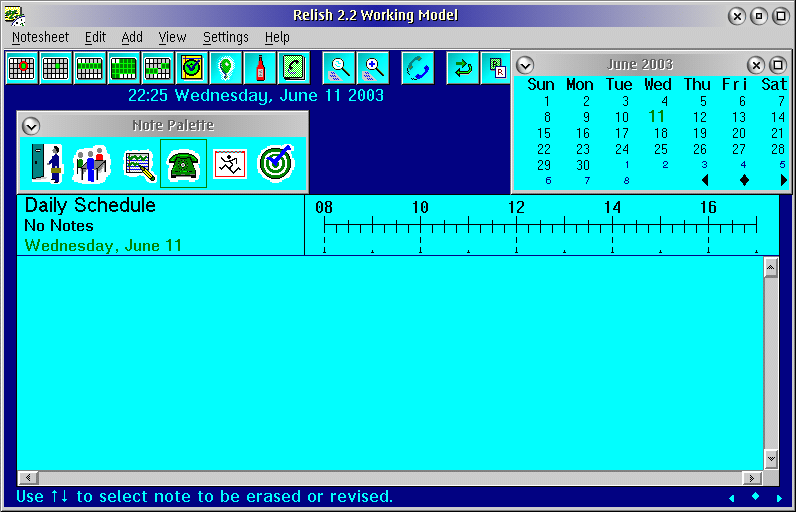 Fig. 6: Relish program
This product has not been upgraded since the reviews of OS/2 eZine and VOICE.
The screenshot above shows the default look after a reset.
The dates entered seem to be understood in US format only, June 1, 2003. ISO's date format "2003-06-01" is not understood. On the other hand, a meeting can continue past midnight, unlike appointments in Lotus Organizer, that have to be terminated at 23:55. Organizer can't be recommended to night owls!
The 2.3 version talked about in the VOICE speakup (http://www.os2voice.org/logs/V120699.LOG.html) hasn't happened yet.
Rover Pack


Fig. 7: Rover Pack desktop icons



Fig. 8: Rover Pack desktop folder
No changes since the VOICE review (1999).
Other Links
A Simple Guide to Mesa 2 (from 1999): http://www.guide.mesa2.com/guide/

SmartPack for Mesa/2 is a brand new add-on by Frank Wochatz of Subsys Solutions (March 2003). Read about it at http://www.subsys.de/SmartPak/readme.txt and get it at http://www.subsys.de/smartpak/spak11.zip
J. Daniel Kulp at Sundial also has some addins (1998) at: http://www.ccs.neu.edu/home/dkulp/index.html
A very current DBExpert files and ideas site by João Galvão is at http://www.ite.pt/dbexpert/ and ftp://ftp.ite.pt/. Write him at jgalvaoDESPAM@ite.pt to ask for a password, or read the newsgroup.
Relational Database Management Systems for OS/2 and eComStation Homepage, with DBExpert, at http://www.os2world.com/rdbms/.
SCOUG Introduction to Mesa 2 Macros:
SCOUG presentations on DBExpert:
Not to forget the many articles at http://www.sundialsystems.com/
Other Activities
Sundial was present at the Warpstocks 1997-2000, Warp Expo West 1999, and Warptech 2000. You can find photos and presentations at Sundial and the respective organization.
There have been several VOICE speakups (IRC chat sessions) with people from Sundial. Unfortunately, these have dried up lately, and the last one starring Sundial was 2001-08-06. You can view the transcripts at http://www.os2voice.org/transcripts.html.
SCOUG has a Sundial SIG (Special Interest Group) at http://www.scoug.com/sundialsig/ but it seems inactive (this starts to sound depressing...).
My Own Usage
Of the products mentioned here, database is what I'm using most, as you may guess from this text. I have made some databases using Lotus Approach, but I'm mainly interested in databases as back-ends of my own applications. I'm using spreadsheets for some bookkeeping, time planning (Relish and Organizer don't always cut it), keeping track of things such as made and planned purchases, and other tabular data.
My own financial planning was moved from a spreadsheet into an Approach database when it wouldn't fit on a spreadsheet any more (the bills are numerous); next stage will be a full-fledged accounting program. I also have the members of an association in a spreadsheet, that gets imported into a Word Pro file using Mail Merge when it's time for the annual meeting. Word Pro is also used for the annual report, in which the figures are imported from the spreadsheet using DDE. Clearlook won't do such things, but at least Mesa 2 has a DDE interface.
As for PIM, I have been an Organizer user, but since the OS/2 version can't talk to a Palm Pilot, my main PIM by now, Organizer is mainly collecting dust at this time. On the other hand, I have begun to use Windows Organizer 5 to synchronize data between the Palm Pilot and the Nokia 7650 mobile phone. Unfortunately, that version of Organizer has the file format or5 that the OS/2 version can't read, so even if I can get the Palm Pilot data into an OR5 file, I still have no use for it under OS/2. You might guess that I'd be very interested in a Palm Pilot enabled Relish.
Finally, the current SPAM onslaught forced me to look for a SPAM filter, and Junk Spy would certainly fit in. However, my usual mail program, Polarbar Mailer, added Bayesian filtering that works just fine.
I recently purchased a copy of DBExpert. Otherwise, I have used the demos of the other products, except Junk Spy. The one product that I don't have any equivalent of is Rover Pack. I think it's interesting, but it lacks a way to focus its menu window quickly from the keyboard, which is important for me. Perhaps that could be resolved somehow; I haven't done any extensive research.
Otherwise, the reason for my choice is mainly money; getting Lotus SmartSuite was much cheaper at the time, and StarOffice was free. Also, I don't really use these kinds of applications very much or in a way that would bring out the advantages of Sundial's products. That said, the ugliness and bulkiness of the competitors do play in favour of Sundial, not to mention the OS/2 desktop integration and REXX programming possibility.
Conclusion
Maybe I'm stating the obvious in this section, but my academic background won't let me get away without a conclusion.
Sundial faces an uphill battle given the cheap competition in a narrow marketplace. However, the field is somewhat levelled now that StarOffice has left the building, OpenOffice is not available (yet) in a fully functional form and SmartSuite is now again an extra cost for eComStation users, not to mention its lack of development beyond catching up with its competitor.
Of course, some users want other features than those available from the market leaders, and pay for it, and that's where Sundial has its opportunity. The trouble is the lack of major releases. Current users wanting the products bought from them long ago, and probably Sundial doesn't believe they will get the money invested back if they would make a try.
The situation illustrates the problem with proprietary software. Nothing is released if the demand isn't enough. On the other hand, as far as I know, no open source projects are going on in the fields of Sundial's applications. The best we can hope for is OpenOffice, which is an operating system independent solution, thus lacking Sundial's OS/2 desktop integration and look-and-feel (remember StarOffice).
Anyway, you can always get the demos (except DBExpert) and have a look yourself.
---
Note1: The Mesa/Boogie 20/20 power amp and REXX 602 preamp are musical equipment quite often used in combination, judging by the number of hits doing a Google search for Mesa REXX.
---
Per Johansson is a systems developer in his native Sweden. He can be found on IRC in Undernet #OS/2 and other channels as Hawklord. You can visit his home page at http://www.per.johansson.name/ where you can read more about his interests in travel, media and of course computers.
---
[Feature Index]
editor@os2voice.org
[Previous Page] [Newsletter Index] [Next Page]
VOICE Home Page: http://www.os2voice.org