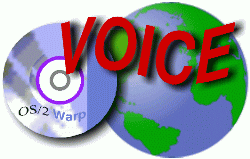 Virtual OS/2 International Consumer Education
August 1998

The OS/2 User Group News Page

email
Previous Page | Index | Next Page
VOICE Home Page: http://www.os2voice.org

---
This page is reserved for announcements from any OS/2 User Groups. If you would like your user group announcement to appear here, please send it to editor@os2voice.org.

---
July 17, 1998
SCOUG to Exhibit at Warpstock


Costa Mesa, CA - The Southern California OS/2 User Group (SCOUG) today announced that it will be exhibiting at this year's Warpstock event in Chicago. SCOUG, which hosted the premier of the event last year, is the largest local OS/2 user group in the U.S..


"Last year Warpstock defined a successful volunteer event. It was a smash, and showed the widespread SOHO support that OS/2 enjoys," said Terry Warren, SCOUG president. "This year promises to be even better, and we're excited to be a part of it once again."


SCOUG expects to finalize plans for this year's Warpstock soon, but last year the SCOUG booth included facilities for digital pictures for visitors, and was a major gathering place for event visitors. In addition to participating at SCOUG's booth, a number of SCOUG members will also give presentations as Warpstock speakers.


Questions may be directed to terry@scoug.com. (For more information on SCOUG, please visit out website at http://www.scoug.com)

---
July 17, 1998
From the Southern California OS/2 User Group:


A new monthly OS/2 column, "Download!" by Paul Wirtz, has premiered and is now online at http://www.scoug.com/os24u/1998/scoug807.2.download.html


In this new monthly column, Paul Wirtz describes the software that he feels every OS/2 user should download and install.


In Paul's own words: "There's valuable software out there you don't know about. It's easy to get and a lot of it is free. There's new stuff and old stuff, big apps and little apps, all waiting for you to try them out."


In his premier column, Paul reviews:


- a "neat little utility" that enhances your desktop and is easy to install


- a new DLL that noticeably improves the way things look on your screen


"I've always enjoyed seeking out the unknown programs that make life easier for the average OS/2 user," Paul says. "With this new column, everyone can share in the results of the hours I spend online."


Sponsored by the Southern California OS/2 User Group (http://www.scoug.com).

---
July 30, 1998
WarpUK - OS/2 UK Users Group


We are here to provide resources and feedback from a UK perspective for computer users who are using or interested in using OS/2.


You can reach us at http://www.denzil71.demon.co.uk/os2

---
August 4, 1998
In light of the recent release of Communicator for OS/2, the Atlanta OS/2 User's Group is announcing the meeting agenda for Tuesday, August 18th:


Agenda


1. Netscape tips -n- techniques
2. Demo: Netscape 4.04 !!!!!!!!
3. Borrello's Top Ten
4. Raffle: Java shirt and other stuff from IBM
5. News and Announcements


If you are in the Atlanta area, we'd love to see you there!


See our web site for directions: http://www.goldencode.com/atlos2/atlos2.html


Regards,
Roger Borrello
Atlanta OS/2 User's Group Secretary
Eddress: rfb@GoldenCode.com

---



email
Previous Page | Index | Next Page