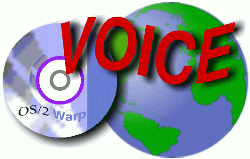 Virtual OS/2 International Consumer Education
September 1998

OS/2 Developer News Page

editor@os2voice.org
Previous Page | Index | Next Page
VOICE Home Page: http://www.os2voice.org
---
This page is reserved for announcements from any OS/2 developers. If you would like your product announcement or press release to appear here, please send it to editor@os2voice.org.

---
August 18, 1998
PRESS RELEASE

Contact: Gwen L. Veneskey, Director
Marketing/Communications
(412)488-9730 glvenes@ibm.net


FOR IMMEIDATE RELEASE
Tuesday, August 18, 1998


AVIAR ANNOUNCES the release of OS/2 CMMS software.


Pittsburgh, PA -- Aviar announced today that it has released the Oz. of Prevention System for the OS/2 and WorkSpace on Demand platforms. Oz is the first fully voice-activated and speech-driven CMMS (Computerized Maintenance Management System) available. This new product has all of the capabilities of Aviar's award-winning DOS CMMS, OOPS! The Ounce of Prevention System., which will run under OS/2, but in addition, Aviar has tapped into the wealth of cutting-edge technology available through the OS/2 operating system to make this package "software for the next millenium."


Oz, under development for almost three years, was written in Object REXX, uses DB2 and was designed specifically to utilize OS/2's built-in speech. "Oz. is 'quality software, built with quality tools, for a quality operating system. Businesses of all sizes need software which is reliable, stable, powerful, flexible, convenient and ready for real-life mission-critical application. We believe Oz. fills that need in the CMMS area." says John J. Urbaniak, Ph.D., President and founder of Aviar, Inc. "Since Oz is fully customizable and fully internationalizable, it can be used anywhere maintenance is performed to help companies, large and small, track labor, parts, costs, equipment history, downtime and more."


Oz is featured on Aviar's webpage: (http://www.ooops-web.com) and is being sold as a turnkey system directly through Aviar's Sales Department.


Aviar, Inc. was founded in 1984 by Dr. Urbaniak to provide top-quality PC software for commercial and industrial users. Aviar's OOPS! was first released more than 10 years ago and is still in use by companies around the world.


Aviar is an OS/2 shop and development by the company during the past several years has been mainly in the area of "voice-activated, speech-driven" systems. In addition to Oz. they have also developed several other voice-activated systems, including: a database query package, V Trex: Information . . . at your COMMAND!; a drug review and analysis testing package for use by MROs (Medical Review Officers) to track employee drug test recording procedures, and a billing software package for Octel-based voicemail systems. Aviar also published "Object REXX by Example" (331 pages), ISBN Number 0-9652329-0-5, a book on the object-oriented programming language, Object REXX.



---
August 24, 1998

Due to an expansion of services the following changes are planned to take place to the http://yoursite.co.uk web hierachy.

These changes will occur on or by the weekend of the 29th of this month GMT.

The Win32OS/2 resources page will be moved from http://www.yoursite.co.uk/os/2/ to http://www.yoursite.co.uk/os/2/win32os2/ And changes will be made in advance to support alpha 3

The Advanced Web Editor (AWE) pages will be moved from http://www.yoursite.co.uk/os/2/webwriter/ to http://www.yoursite.co.uk/os/2/awe/

Submission for OS/2 pages will be moved from http://www.yoursite.co.uk/os/2/index.htm to http://www.yoursite.co.uk/os/2/submission/

Also, Changes will occur to the OS/2 and Linux hardware vendors quotation system, allowing quote requests to be direct emailed to specific hardware vendors.

http://www.yoursite.co.uk/os/hardware/
(At the moment they are centrally emailed to powerdale, who distribute them manually).

Further, we are considering setting up an online database, to allow a number of suggested configurations to be added by the companies concerned and displayed with relevant prices. We would also like to hear about any other hardware vendors who are interested in joining our program (we charge a % of profit fee on the sale).

A new page will be set up http://www.yoursite.co.uk/os/2/jobs

Which will be an OS/2 and Linux employment database allowing OS/2 and Linux positions to be advertised, and CV's to be submitted for positions. It is planned that this will contain both a database of avalaible people and a database of jobs.

Of course, the resources being set up are of no use to the OS/2 community unless the community both supports them with content and actively participates / uses the services.

This email is being sent because we believe these changes may affect you, some pages on your site that refer to our resources or your users. Pointer pages will be left in directories to notify the change in location, and redirect as required.

We would greatly appreciate it if you would please try our antispam service, http://www.yoursite.co.uk/antispam

Which is a url replacement for mailto:'s which as you know are detected by spam robots and cause so much grief, by using one of our mailme url's instead, your email address is totally hidden from a spammers view.

The changes are to make way for a major overhaul of the OS/2 site to add a number of useful resources and howto information.

Any user who has useful information will be free to publish it under our os/2 web hierachy. (We have had 75,000 visitors this year).

We plan on providing a service similar to the "OS/2 Pharmacy" (sp) that was around a couple of years ago but seems to have disappeared. We also plan a databased Q&A / FAQ, allowing users to add a question, and add an answer... This may or may not be finished by the weekend, so please bear with us.

If you have any ideas for a valuable OS/2 resource that you would like avaliable, or mirrored, please email us directly and we will see if we can include it in our latest changes.

PowerDale IT Limited
OS/2 Software @ yoursite.co.uk
We try to please

---
August 30, 1998 - Source: Barry Bean
A new PMfax/FaxWorks printer driver which fixes the printing issue for Lotus 123 is now released and available on the Keller Group web site. Download the UF_30103.EXE file from http://www.kellergroup.com/doc/download.htm or install the 3.01.03 maintenance release to get the fix.


Keller Group remains committed to OS/2 fax/voice software. Customers who purchased PMfax version 3 from Keller Group continue to have access to version 3 maintenance releases using the product web page, passwords and enabling codes which were provided to them.


Customers who purchased FaxWorks Pro for OS/2 version 3 from Global Village (developed by Keller Group) can get maintenance releases and support from Keller Group by purchasing an inexpensive support plan from Keller Group. See http://www.kellergroup.com for details.


Best regards, Mark


Mark Ahlstrom
Pres., Keller Group Inc.
info@kellergroup.com
http://www.kellergroup.com

---
August 31, 1998 -
Well, with summer coming near an end, I figured now would be a good time to let OS/2 users know what Stardock is working on, has been working on, and will be working on.


For me, and in this case I can speak for everyone at Stardock, OS/2 support is a lot more than words, deeds are far more important than words and in 1998, Stardock's deeds have clearly shown that no other ISV supports OS/2 more than Stardock does.


This morning we and Southsoft released the new PMINews 2.0 beta. PMINews is a powerful news reader for OS/2 that basically takes all of the beefs we and others have had with typical news readers and try to address them. If you have PMINews 1.x, going to 2.0 is absolutely FREE. When PMINews 2.0 ships (target date is around Warpstock) we hope OS/2 users who don't already have it will look carefully at upgrading to it. We will offer a great deal of upgrade deals from other news readers.


Later today, we expect to release the first update to the Object Desktop 2.0 Early Experience Program. Hopefully most of you are familiar with Object Desktop. We release Object Desktop Professional 1.5 back just before OS/2 Warp 4's launch (1996). It's a desktop environment that integrates into OS/2 a lot of cool new features. It was inspired by the OS/2 wishlists (we essentially read the lists of new features people wanted in OS/2 and made a product ouf ot it). It's always been a very popular product. Our goal with Object Desktop 2.0 is pretty ambitious, since IBM hasn't released a new version of OS/2 since 1996 (other than Fixpacks which OS/2 detractors should be aware does constitute real support from IBM), Object Desktop 2.0 essentially acts as a third party upgrade for OS/2 users. It'll run on OS/2 Warp 3 (without Fixpacks) all the way up to Warp 4 FP7 and beyond but it adds more real features that the typical user would notice than Windows 98 added to Windows 95. You can still join the Early Experience program but we expect to close entry to it in about a week or two (you can go to http://www.stardock.com to join it). We also have a Windows version in beta right now. If you're an OS/2 user who is stuck using Windows a lot, OD comes with a WindowFX, an OS personality component that lets you make Windows look a lot like OS/2.


On Monday, Stardock will be releasing an update to Entrepreneur (v1.31). Entrepreneur is a strategy game in which you start your own company and must conquer the world. It's like a SimBillGates. :) It too runs on OS/2 and I'm proud to say that it is probably the only OS/2 game you can find at most software retailers. We also will be releasing Entrepreneur: Corporate Expansion, an expansion pack for Entrepreneur next week (go to http://www.stardock.com to order it).


In about a week, we expect to release a new beta of Stellar Frontier (with Solar Systems) which will hopefully have the new network engine in it so that anyone with a modem can play on-line with silky smooth performance. Stellar Frontier takes place in the Galactic Civilizations universe. You get to join the humans, the Torians, or the Drengin Empire. It plays a lot like Star Control Melee. More news on this will show up when the beta goes out.


And these are just the things we're doing for OS/2 in this next week. Real products that users and use (2 games, 2 apps). In 1998, we've also released Galactic Civilizations Gold, made a bundle of OS/2 Essentials V2 and Process Commander that is only $69, made the popular Links golf game available on OS/2 on the commerce server for only $20, and we have more things for OS/2 in the pipeline.


In October, Warpstock (http://www.warpstock.org) will be the place we officially launch Object Desktop 2.0. If you're on the fence about going to Warpstock, I highly recommend it. It was a total blast last year and it's really nice being around other users who enjoy using OS/2 and you don't have to defend it or make excuses why you use it. Warpstock is on October 17-18 in Chicago.


So to summarize what Stardock's doing on OS/2 just in 1998:


*NEW PRODUCTS in 1998*
PMINews 2.0 (with Southsoft)
Object Desktop 2.0
Entrepreneur 1.3
Entrepreneur Corporate Expansion
Stellar Frontier


* Existing Products that got new attention *
Links golf for online download at $20
OS/2 Essentials V2 and Process Commander bundled at $69


Not counting the existing stuff, that's 5 OS/2 products that did not exist a year ago at this time.


For users who think OS/2 has "died", OS/2 has moved into a niche existence. Users who use OS/2 today are likely to be OS/2 users who are around a year from now. The whole problem on OS/2's side is purely perception. With IBM releasing regular Fixpacks and updates for OS/2 that enhance the under pinnings of OS/2 and third parties releasing products (like Object Desktop) to address new features in OS/2, I would say OS/2's not doing too bad.


Brad
----
Brad Wardell
Stardock Systems, Inc.
http://www.stardock.com

---
September 04, 1998 -
**********************************************************************
ANNOUNCE: F/X Communications releases InJoy Version 2.0b
**********************************************************************


Denmark - September 1, 1998 -- F/X Communications announced today the release of InJoy 2.0b. InJoy is known as the ever-expanding Internet Dialer that with its mission critical appearance, anvanced options and unmatched performance brought unique connectivity features to OS/2.


For the past year we have been busy designing and coding the NEW release. To avoid the DINOSAUR SYNDROME, we have taken the time to modularize the many features of InJoy. The new design promisses continued low resource- usage, an expansion-friendly kernel, easier testing and superior module interoperability simplifying the release of new F/X products and addons.


InJoy is now available in four levels of registration and functionality. The old "Basic Client" has expired, the extended version key is still valid with 2.0b, a NEW SOHO version has been introduced and the Professional version simply embraces everything.


It is possible to upgrade one version or InJoy to another by paying the difference in price + $10.


Read more at the InJoy homepage: http://www.fx.dk/injoy


o NEW FEATURES IN VERSION 2.0b:


- F/X Firewall Plugin - F/X Packet Filter Plugin
- TCP/IP 4.1 support - New Dial On Demand
- NAT support for IRC SEND/DCC - NAT support for PING
- New Registration Scheme - New home-page design


o FEATURE RICH:


Packet Filter Plugin; F/X Firewall plugin; Dial On Demand; Re-Dial,
Re-Connect; Network Address Translation; High COM Speeds; Phone
Number List; Scripts, Auto-Learned; Connection Log; Terminal Mode;
PAP CHAP; MS-CHAP; TCP/IP v4.1 support; Trace; MUCH MORE..


o F/X FIREWALL PLUGIN:


Transform InJoy into a full featured firewall by means of:


- Rule Based Access Control - Network Address Translation
- Port and IP Redirection - Packet Filtering
- Alerts - Accounting
- Stateful Inspection - Logging


o F/X PACKET FILTER:


Selectively filter TCP/IP packets as they flow through the plugin.

Use it to fine-tune Dial On Demand, block porn, block certain
protocols or packet contents. Create powerful compound filters
literally addressing any packet characteristic down to the last bit.


o CONTACTS


Support : support@fx.dk
Mail List : http://www.fx.dk/contadd.htm

---
September 8, 1998 - The following from Klaus Staedtler stadt@ibm.net


The free config.sys editing and analyzing tool configinfo has been updated, its the old configinfo4 together with an updated cfginfo15.dat and configsort 2.01 it can be downloaded at http://www.buntspecht.de/files/cfginfo6.zip In cfginfo15.dat are all informatiuons about the config.sys I've found over the years for optimizing your config.sys and aditionally many advices, e.g. how to get multiple bootable configurations
--
Klaus Staedtler

---
editor@os2voice.org

Previous Page | Index | Next Page