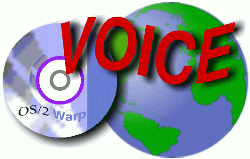 Virtual OS/2 International Consumer Education
September 1998

The OS/2 User Group News Page

editor@os2voice.org
Previous Page | Index | Next Page
VOICE Home Page: http://www.os2voice.org

---
This page is reserved for announcements from any OS/2 User Groups. If you would like your user group announcement to appear here, please send it to editor@os2voice.org.

---
September 10, 1998

WarpUK - OS/2 UK Users Group
The new UK OS/2 user group is about to have it's first meeting to be held on Saturday 26th of
September at Harwell, near Didcot in Oxfordshire, at 3pm.

Full details can be found at our website which is now at http://www.warp.in-uk.net

Lets hope everyone will be there!

We are here to provide resources and feedback from a UK perspective for computer users who are using or interested in using OS/2.

If you would like to become a member, please visit our webpage and click on the members section. You will find an online registration form.

---
September 9, 1998
Contact: Carla Hanzlik <carla@scoug.com>


FOR IMMEDIATE RELEASE


OS/2 Open House Celebration


Fifth Anniversary of the Southern California OS/2 User Group


Saturday, September 19, 1998


An OS/2 Open House Celebration of the fifth anniversary of the Southern California OS/2 User Group (SCOUG) will be held on Saturday, September 19, 1998. The event is being held at the IBM facilities in Costa Mesa from 10 a.m.(*) to 3:30 p.m.


"Last year our Open House was a huge success," said Carla Hanzlik, editor of OS/2 For You, the monthly SCOUG publication. "We had almost 200 OS/2 users in attendance for our presentations, round-table discussions and product demonstrations. We also gave away a lot of door prizes, and even served everybody a free lunch!"


This year's Open House is slated to be just as action packed.


"We've got several lecture rooms that will be running simultaneously," said event chairman Rollin White. "We're covering networking, programming, the Internet, video cards, things that OS/2 users want to hear about. In all, there will be 16 presentations, all on OS/2."


"We have Dr. Virginia Hetrick scheduled with an entire series on setting up a web site. Anyone who wants to set up their own web server should attend this excellent series."(*)


"We've also got Don Baker, the man behind the Paper, Paper, Paper story, who will show exactly how to get superb, professional results out of inexpensive color inkjet printers."


"And we'll take a look ahead with 'Coming Attractions: Speculations (and Some Facts) About the Future of OS/2', a special presentation by the ever-popular Randell Flint from Sundial Systems."


In addition to the lecture hall presentations, the main hall will be filled with demonstrations of OS/2 products. Vendors such as Sundial Systems and Perfect Niche Software will be showing their products while other areas will have demonstrations such as scanning and printing with OS/2, financial trading with OS/2, OS/2 games and exhibits, plus some new software releases that will be previewed for the first time.


"And we've got one other lecture hall that's been reserved for round-table discussions on specific OS/2 topics," added Rollin.


The presentations, exhibits and games go all day, with breaks for the free lunch and the Door Prize Bonanza.


This is _the_ OS/2 event of the year for Southern California. Every OS/2 user within driving distance should attend.


For complete details and the presentation schedule, visit the SCOUG Open House web page at http://www.scoug.com/openhouse/


The above activities are completely free to attendees. This event is sponsored and funded by the Southern California OS/2 User Group, which wants you to remember that OS/2 is very, very much alive.


(*) Special three part web site design series of presentations starts earlier at 9:00 A.M.

---
September 6, 1998 Phoenix OS/2 Society, Inc. - POSSI


On October 13, 1998 General meeting; The Graham Utilities, presented by Chris Graham, from Australia. Meeting is 7:00pm to 9:00pm. Q&A session is 6:30pm to 7:00pm. Location: Mountain Preserve Reception Center, 1431 East Dunlap, Phoenix


October 17, 1998
Phoenix OS/2 Society, Inc. - POSSI


Warpstock '98. October 17-18 in Chicago IL. See the Warpstock Web site, http://www.warpstock.org, for more information.


For more information on POSSI, visit our website at http://www.possi.org

---
September 1, 1998
The Philadelphia OS/2 SIG web site at http://www.phillyos2.org has just been updated. Stop in for these new features:


MEETING INFORMATION


A report on the August meeting featuring demos of Netscape Communicator for OS/2 (beta) and jPadHD, a Java personal database. And news on our scheduled computer build-a-thon beginning at the September meeting with a discussion about options and ending in October with members building their own systems.


COMPUTER BAZAAR


An updated listing of computer shows in the tri-state area around Philadelphia.


SPECIAL REPORT TO THE MEMBERS


SIG Leader Larry Lavins reviews recent developments and activities at the Philadelphia OS/2 SIG.


AS ALWAYS...


Our thanks to Net Access, Philadelphia's original Internet provider (www.netaxs.com), for providing a home for our web site.

---
editor@os2voice.org

Previous Page | Index | Next Page