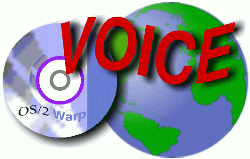 Virtual OS/2 International Consumer Education
September 1998

The News Page

editor@os2voice.org
Previous Page | Index | Next Page
VOICE Home Page: http://www.os2voice.org
---
September 15, 1998 Source: Dan Casey


The Netscape Communicator beta has expired as of today which is 15 days sooner then documented in the readme. There is a patch and instructions on how to bypass the expiration code on Judy's Warped World site: http://www.gt-online.com/~bri/. I used the instructions and they work, but I had to boot to a command prompt to copy the patched version of netscape.exe as I received a sharing violation any time I tried to delete or copy over the original netscape.exe. No word yet on when the next beta/GA version of Communicator for OS/2 will be available.

---
September 11, 1998

Warpstock '98, to be held October 17-18 in Chicago, IL, will draw OS/2 users, developers, and enthusiasts by the hundreds! Sadly, not all OS/2 users, developers, and enthusiasts will be able to attend. For these people, VOICE proudly announces that it will hold VOICE Live From Warpstock IRC sessions during the Warpstock '98 event!

VOICE will have an internet connection at Warpstock and will set up an IRC connection to the #voice channel on the WEBBnet IRC network on both days. Visitors to Warpstock will have an avenue to discuss the highlights of the event with those users remaining home. Please join us for these very special IRC sessions on October 17 and 18 to get the earliest reports of the success of this year's Warpstock event!

As always, IRC sessions are held in the #voice channel on the WEBBnet IRC network. For more information on WEBBnet servers, please visit http://www.suntrix.com/ibbs/server.html, and for more information on IRC in general and on OS/2 native IRC client software, please visit , http://www.gt-online.com/~bri/irc_clients.html. If you have any further questions or need additional assistance getting connected to WEBBnet, please feel free to contact the VOICE Secretary at freiheit@tstonramp.com.

Thank you for your support of OS/2's future!

---
September 10, 1998

VOICE is pleased to announce a SpeakUp session with SunDial Systems Support Services, Randell Flint, Rollin White, and Dan Kulp on Monday, September 21, 1998 at 8pm US Eastern Daylight time (midnight GMT as Monday becomes Tuesday). The topic for discussion will be Mesa/2 2.2.

SpeakUp sessions are held in the #voice channel on the WEBBnet IRC network. For a list of WEBBnet servers, please visit http://www.suntrix.com/ibbs/server.html. If you are unfamiliar with IRC, you can get help and information about native OS/2 client software on the Meeting Info page of the VOICE website (http://www.os2voice.org/meetinginfo.html). Sessions last approximately 2 hours, so come prepared to participate and learn!

While you're on the VOICE website, be sure to check out our Calendar of Events to see what special items are coming up for the rest of September and October, including publish dates for the VOICE Newsletter, additional SpeakUp sessions, and our planned Live From Warpstock IRC sessions!

For additional information, please contact VOICE Secretary Don Eitner at freiheit@tstonramp.com. Thank you for your interest in OS/2's future!

---
September 10, 1998 Source: Henry Ferlauto (ferlauto@mindspring.com)


Found this IBM Product Annoucement today:


AFP Font Collection for AIX, OS/400 and OS/2 Features New International Font Support
Software Announcement
September 8, 1998
Announcement Letter Number: 298-314


At a Glance


The AFP Font Collection provides a comprehensive set of fonts and utilities to enable consistent printing on AFP printers in any IBM system environment. Version 2 includes new international language capabilities to support printing in global markets:


Support for the euro currency symbol and code pages


Support for printing in Thai and Lao


Support for the New Sheqel Sign in Hebrew


Enhanced code page support for Cyrillic, Hebrew, Katakana, Latin2 and APL


Addition of "g-cedilla" to all Latin4 Core Interchange fonts


Full GBK support for Chinese, and full Hangul support for Korean with the Outline Fonts and Programs feature.
-----------------------------------------
For ordering, contact:
Your IBM representative, an IBM Business Partner, or IBM North America Sales Centers at
800-IBM-CALL Reference: YE010


Overview


The IBM AFP (TM) Font Collection provides a comprehensive set of fonts and utilities to give you consistent printed output on AFP printers at 240 or 300 dpi, or on any printer that uses AFP outline fonts. It also provides compatible Type 1 and CID keyed outlines that allow you to view your AFP documents in Windows 95, NT or OS/2 (R) systems, or via the Netscape or Internet Explorer browsers with WYSIWYG fidelity. The fonts can be installed in any IBM operating system environment.


The AFP Font Collection supports printing in approximately forty-six languages. The Type Transformer optional program enables you to acquire outline fonts in any typeface of your choice and create AFP fonts in raster format, or in AFP outline font format.


Version 2 of the AFP Font Collection includes new international language capabilities to support print requirements for global markets. Specific new functions include:


Support for the new euro currency symbol and code pages in all Latin1 Core Interchange fonts


Addition of full Core Interchange font support for Thai and Lao languages


Support for the New Sheqel Sign in all Hebrew Core Interchange fonts


Enhanced code page support for Cyrillic, Hebrew, Katakana, Latin2 (including Estonia), and APL


Addition of "g-cedilla" to all Latin4 Core Interchange fonts.


Full GBK support for Chinese (on Outline Fonts and Programs CD-ROM in CID-keyed outline font format only)


Full Hangul support for Korean (on Outline Fonts and Programs CD-ROM in CID-keyed outline font format only)


Intended Customers


AFP Font Collection is intended for any AFP customer who requires:


Consistent font support on printers with different resolutions


Print and view fidelity for AFP documents


Printed output with the new euro currency symbol


Ability to customize AFP fonts.


Key Prerequisites


AFP Font Collection can be installed in any supported IBM operating system. Media features are available for upload to OS/400 (R) from OS/2, or for direct installation in AIX (R), OS/400 or OS/2.


Planned Availability Dates


September 25, 1998 (OS/400)


December 11, 1998 (AIX, OS/2 and Outline Fonts and Programs)

---
September 10, 1998
ZDNet is looking for an alternative to Windows NT:
http://www.zdnet.com/anchordesk/story/story_2523.html

vote for OS/2!

---
September 10, 1998
CD2MP3 PM 1.01 - An Interface for CD and WAV to MP3 conversion. Featuring: CD Drive Auto-Detect, WAV file Drag and Drop, Custom Encoder and CD Grabber Configuration, Nice and Simple GUI, Super Grab,Play/Stop preview for CD, Statistic Information, and Auto deselect/removal

Fixed in 1.01:

DOH!! pointers did it again... basename wasn't functional

remove & deselect wasn't save and reloaded to its previous state

http://www.cam.org/~guardia/pm123.html
PM123 is a native OS/2 PM application for playing audio MPEG 1.0, 2.0 and 2.5 Layer I, II, and III. It does so by using (the cheap) mpg123 engine, which is still quite fast. The interface, however, is a whole new world. The player supports:

Fast Forward

Rewind

Seek Slider

Dynamic Priority Boost

Shared and Multiple sound cards

8 bit sound cards

Downmix and Mono

HTTP Streaming

Read ahead Stream Buffering

Graphic Equalizer

Filter Plug-ins (comes with a PDK, and also with a ready made Real Equalizer)

The interface also supports:

Skins (WinAmp skin converter included)

Playlists (with Shuffle support and even a Playlist Manager)

ID3 tags (with Editor)

DBCS support (only through System Fonts)

Visual Plug-ins (comes with a PDK, and also with ready made Spectrum Analyzer and Oscilloscope)

Remote Control through Pipes

And a whole lot of other widgets...
http://www.teamos2.sci.fi/pm123/

New DLL fixes this from version 1.01:

Found some Audio MPEG Header documentation. Should now work with any MP3s other players or decoders play, if not, please contact me. I've also fixed 8000Hz MP3 support, cool.

Patched possible divide by zero when loading corrupted files.

Implemented workaround for bad GUS driver DART buffer timing it jumps by 250 ms step once in a while instead of incrementing for each buffer).Makes decoderPlayingSamples() work correctly on GUS.

Finally found the proper buffers to flush. No more first buffer trash kludge and now any snap crackle and pop are REALLY only coming from your sound card alone (check the visual plugins if you don't believe me)

Faster seek by boosting priority (oops, forgot this initially :))

Audio engine now fills empty buffers with 128 value instead of 0 for 8 bit playback (removes the clicks).

---
September 10, 1998
Abbottsbury Software updated their Happauge WinCast driver to version 1.020L on 9/4/98:
http://www.wdi.co.uk/os2tv/download.htm

---
September 8, 1998
Countdown to Warpstock! http://www.warpstock.org

Warpstock October 17-18, 1998
Wyndham Northwest, Chicago, IL. USA

September has arrived, the kids are back in school, and the Warpstock '98 Team is continuing to put together this year's celebration of OS/2. It's only a little more than a month away!

If you haven't visited the Web site at http://www.warpstock.org lately, it's time to do so: we have a new look, a new logo, and most importantly, updated vendors and presentations.

Presentations Confirmed

Check out the new lists of Presentations, Events and Software Demonstrations http://www.warpstock.org/sched.html. We are updating these items as we gather information; it's been changing almost daily.

If you don't see your company, product or topic presented, we may be missing information! Just use our on-line forms to register for a software or speaker presentation for your company or yourself.

More Presentations Wanted

While we have plenty of presentations scheduled, there's always room for more. OS/2 users are anxious to learn *everything* about the operating system, after all, and the context in which OS/2 is used. If you have wisdom to share about any of the following topic areas, we'd love to hear about it.

Software development

Small business computing

Internet connectivity

IBM's products and perspectives

Home user issues

OS/2 interaction with the community

OS/2 architecture and features

Extending OS/2 applications

Remember, Warpstock is all about sharing our knowledge. You don't have to be a wizard on the topic (though we'd never turn one down), but if you've accumulated knowledge worth sharing -- or worth exploring together -- then you're probably a good candidate for speaking. Give our web page at http://www.warpstock.org/exspeak.html a visit.

Plus, software vendors have a great opportunity to demonstrate their applications at Warpstock. We hope to have continuous demonstrations of freeware, shareware, and commercial applications throughout the weekend. Just surf over to the sign-up form at http://www.warpstock.org/present_software.html and sign up! It's that easy!

While Warpstock isn't an IBM event -- not by any stretch of the imagination! -- we welcome IBM employees (and ex-employees) who are interested in talking about the company's directions, OS/2-related products, and "how it works" subjects. While the Warpstock Team is well connected, we know that many you have a lot of contacts inside the company. We urge you to encourage any IBMers you know to help out as presenters... and hey, just to attend. IBM staff who attended Warpstock last year were recharged, just as were all of us customers. Arguably, IBM's not especially good at communicating inside the company about non-IBM events, so we can't be sure how well the "Warpstock word" has gotten out, or, in. Anything you can do to let IBMers know about the event will be much appreciated, especially by those IBMers.

End of $99 Room rate at Wyndham Northwest

I want to thank everyone that has booked their rooms at the Wyndham Northwest. You have made it possible for Warpstock to meet its budget. As of September 1, and there are now less than 40 rooms left at the incredible Warpstock $99 a night rate left. This $99 rate will close out on September 16th, and after that the Wyndham will accept the room rate at their discretion. Based on their current actions of no longer giving the rate for extra nights, we believe that they will be charging their standard rate schedule. If you find that they are quoting $189 or some such figure, you can still get a somewhat discounted rate if you are a AAA member, they do have a discounted weekend rate; AARP members can also get a discount.

Job Fair

Looking for a new job? Warpstock may be able to help you! We are currently in negotiation with several recruiters who are looking for OS/2 people, and we hope to set aside an area for them to do interviews. Bring your resume! If we are unable to reach a final terms with these recruiters and companies, we will collect resumes anyway and see if we can set up a searchable OS/2 database on one of the web sites.

Special Mentions

SCOUG deserves a special mention. Not only was SCOUG a early financial backer of Warpstock, and a vendor at Warpstock; they have also been a great advertiser of Warpstock with both their Webfoot and Peter Skye's interview that was just published on the web http://www.scoug.com/os24u/1998/scoug809.2.warped.html. I have never been called a visionary before. <G> I am proud to wear the SCOUG polo shirt at my office and when I go to a OS/2 meeting. I know that I will be purchasing a new one this year.

Hethmon Brothers Software (http://www.hethmon.com/) also deserves a special mention. Hethmon Bros. purchased advertising on Warpcast for the month of August, which was almost all about Warpstock. Paul Hethmon, last year's Warpstock Chair, continues to host our email site, is on the Warpstock Executive Board, and has been great help to Warpstock'98. He and his company are truly what Warpstock is about -- helping the OS/2 Community.

Final Words

I personally, want to thank everyone who has helped us bring this new Warpstock together in such a timely fashion. It has been a real challenge for me to work with as far-flung a group as the current Warpstock '98 Team. I think that we have done a great job, considering that we have had only 3 months to do it in. Some people have questioned if this is the same Warpstock as last year. When I look at the devotion that the people helping us put this together, I am absolutely amazed. Warpstock still has the same Heart as last year. This year we are in a lovely hotel, we will have beautiful trade booths and we will look less like a 'computer flea market' than last year's Warpstock.

I know that I am looking forward to seeing all of you at Warpstock. I think that we will have some surprises for you, I know that you will find lots of new things to see, to think about and to take home with you.

Stan Sidlov
Event Chair
http://www.warpstock.org

---
September 8, 1998 Source: Alex Wyckmans (awyckma@pandora.be)


Only a few days left before we put the fire under the second Warp-O-Que, a multimedia event with this time 'networking' as the main topic.


The purpose of this day is to promote OS/2 in all its facets to everyone who is interested. There are demonstrations and technical workshops during the whole day. If you want to get the experience to be connected to a multi-platform network, come and bring your PC with you. We install temporary a network card in your PC and connect you to our network. There will be the possibility to surf on the Internet too.


You get lots of information, tips & tricks, and don't forget the tombola with his great prices.


The happening starts at 14:00 hour in the 'Kultureel Centrum DE KAM', at Wezembeek-Oppem, Belgium. In the late afternoon we put the fire under the barbecue (do you get the link now with the name of the event? :-) ).


With this invitation we also invite every firm, developer, or what so ever who is interested to participate in this event. You get the opportunity to promote your OS/2 product or service at no cost during this day. If you can't attend this event, but are willing to send flyers, brochures, gadgets, demo-stuff or even the real thing for the tombola, please don't hesitate to contact me.


For more information you can always send me an E-mail at the following address:
awyckma@pandora.be


or visit The Warped Site at:
http://users.pandora.be/luc.vanbogaert/


and follow the Warp-O-Que/2 link!


Let's hope we see you all there.

---
September 8, 1998
This is to announce that version 1.1 of the MIDI Station Sequencer has been released!

New features include:

MIDI Thru!

System Exclusive Librarian with the ability to transmit sys-ex messages!

Controllers Window - for real-time transmitting of controller messages!

Data Filter - For complete control over all editing functions

Step Recording!

Cut, Copy, Delete and Paste!

Track merging!

Track Appending!

Scrap View - To see what events have been cut or copied to the scrap buffer!

Bars View - A graphical representation of your sequence!

Ability to transmit individual events in the Sequence/Track View window!

Updated quantize module to use new data filtering!

Improved the playback/recording algorithm - Vastly improves playback precision; especially over large sequences!

Fixed problem of certain modules not being formatted correctly under various screen resolutions

Various other fixes and enhancements have been added!

MIDI Station Sequencer is a full featured multi-track sequencer for OS/2. It uses the RTMIDI (Real-Time MIDI) Subsystem along with the high resolution timer for extremely accurate MIDI processing. It requires that you have an RTMIDI compatible soundcard/driver. Many soundcards are available that will work well with RTMIDI.

Other features include:

Default of 24 tracks with the ability to add tracks as needed

MIDI Track Mixer with volume and 16 channel panning controls

Metronome with settings to use for playback and/or recording countoff

Track looping on a track-by-track basis

Endless loop option for continuous playback

Tempo Map

Meter Map - For Time Signatures

Channel, Program, and bank selection on a per-track basis

Volume setting for each track

MIDI Delay Module with full settings control

Ability to transpose sequences on a track-by-track basis

Comments window for free-form text per sequence

Sequence and track data information window

Full online and fly over help

Full color control for the track window

Ability to read and write Standard MIDI files Types 0 and 1

Ability to rechannel tracks

MIDI Station Sequencer 1.1 will be available today from the following locations:

BMT Micro - http://www.bmtmicro.com
Peter Norloff's BBS - http://www.os2bbs.com
Hobbes Archive - http://www.cdrom.com

Also for the latest information, screenshots and troubleshooting help please take a look at the MIDI Station Sequencer webpage at:
http://www.geocities.com/SiliconValley/Horizon/6780.

It will be updated by tomorrow with new information about version 1.1!

Look for an upcoming review of MIDI Station Sequencer in the OS/2 E-Zine magazine!

---
September 8, 1998 Source: Robert Deed (eyerewl@fcc.net


Hummingbird software had made a patch for eXceed 3.0 when used with tcpip 4.1 earlier this year, however this patch didn't really seem to surface and has been sitting in the upload directory of my bbs for a month or so. Anyone in need of this patch can download it off of Newterra's webpage at http://newterra.ml.org.

---
September 8, 1998
A new version of smartwin.dll is available for download at:
ftp://hobbes.nmsu.edu/pub/incoming/smwp001.zip

It will later be moved to:
ftp://hobbes.nmsu.edu/pub/os2/util/wps/smwp001.zip

The archive contains:

smartwin.dll - a new smartwin.dll
readme.txt - installation notes

This patch solves the mouse pointer hiding problems of Smart Windows v0.81 beta. Do not use it with v0.80 beta!!!

There are still some minor problems regarding applications minimized to the desktop, frame drag of windows contained within other windows (MDI applications), font settings and cancelling shutdown. A new patch to solve these problems will be released in few days.

---
September 7, 1998
There's a hints page for Hopkins:FBI at:
http://doofus.ml.org/Hopkins/

---
September 7, 1998 Source: Steve Wendt (stevew@hartnell.cc.ca.us)


I've just uploaded the new version 2.80 of "REXX Tips & Tricks" to the incoming directory of hobbes:
http://hobbes.nmsu.edu/pub/incoming/rxtt28.zip


The proposed directory is
http://hobbes.nmsu.edu/pub/os2/dev/rexx/rxtt28.zip


"REXX Tips & Tricks v2.80" is an OS/2 INF file containing useful hints and information about OS/2 REXX.


Included are information about literature for REXX, further Software for REXX, hints & tips for OS/2 commands, hints & tips for REXX commands & functions, some hints for optimizations, a lot of REXX source code (functions & complete programs) and much more.

---
September 7, 1998 Source: Steve Wendt (stevew@hartnell.cc.ca.us)


Tyra/2 Version 1.20 Config.sys Editor for Warp 3 and above.


Tyra/2 is an easy to use OS/2 config.sys file editor. All of the statements in your config.sys file are displayed logically in a notebook. You don't have to worry about the correct spelling or what parameters are available. Most commands can be set up with just a click of the mouse. For all commands, there are help pages available with a description of the command and what parameters can be used with that particular entry in your config.sys file.


New features in versioin 1.20

A page for Country and Codepage settings.

A page for the Printmonbufsize statement.

All changes you make are written to a log file and optionally as comments to your config.sys

Added a function to sort the config.sys file.

Better support for your comments.

Load time is now 4 times faster.

ftp://hobbes.nmsu.edu/pub/incoming/tyra120e.zip
The proposed directory is
ftp://hobbes.nmsu.edu/pub/os2/util/system/tyra120e.zip

And within the next days at:
http://www.bmtmicro.com/catalog/tyra2.html

---
September 7, 1998 Source: Steve Wendt (stevew@hartnell.cc.ca.us)


A new release, 4.06R8, of PowerWeb Secure Server++ for OS/2 is now available from the developer, CompuSource Pty. Ltd.
ftp://www.compusource.co.za/pub/os2www.zip


For those who don't know, PowerWeb is a secure web/ftp/smtp/pop integrated server for OS/2. The list of features is way too long to repeat here, but you can read about the details at CompuSource's web site http://www.compusource.co.za.


(NOTE: CompuSource is located in South Africa and the internet link to their site is often slow, so be prepared for a long 3MB download and sluggish web response. It's worth the wait.)


I also provide an unofficial PowerWeb Support mailing list, and you can join the list using your web browser at http://www.pdsys.com/pwutils.html.

---
September 6, 1998 Source: Juergen Dankoweit (jdankoweit@geocities.com)


"TVFS for Removable" is a PM program which is used for administrating links to TVFS-drives. Links also can be made to removable media like SyQuest, CD-ROM or ZIP. All Links are automatically updated when a media is changed. You can get from my homepage at URL:
http://www.geocities.com/SiliconValley/Way/3792

---
September 4, 1998
WPTOOL25 has been released. This set of utilities allow you to save and restore desktop INI files, check INI files for errors, restart the WPS without rebooting, and more.

New in WPTOOL25:

CHECKINI slightly modified; I noticed that the WarpCenter creates orphan objects in the Nowhere folderwhenever a tray is deleted. CHECKINI now detects and removes the orphan objects.

WPTOOLS.DLL slightly modified.

Download WPTOOL25.ZIP from:
http://www.os2ss.com/information/kelder/wptool25.zip

---
September 4, 1998
ScanIt/2, a PM interface for the SANE scanner drivers, has received a small update:
http://home.t-online.de/home/RReuters/ScIt_E2.htm
http://home.t-online.de/home/RReuters/Scn2_09a.Zip

Scan It/2 v0.9a - Refresh (98-08-30) (150KB)

Needs the "Scan It/2 v0.9 - Public beta version" from above!

This is a code refresh which will extend the beta test period of Scan It/2 v0.9. It also includes a fix for a problem when installing the application on certain machines and some minor enhancements, too. A complete new pre-release package will be available later.

---
September 4, 1998
PMConverter 0.04b has been released:
http://www.os-2.de/programme/indos2/cdencoder/

The page is German, but it's not hard to figure out.

PMConverter is an CD -> MP3 frontend with CDDB support.

---
September 4, 1998
Matrox has released an update to their BIOS upgrades. The only change in Release 3.43 over 3.42 is the addition of the MGA G200 1.3 BIOS update.
http://www.matrox.com/mga/drivers/bios/

---
September 4, 1998 Source: Alessandro Cantatore (alexcant@tin.it)


a warning note to all Smart Windows users:


If you are experiencing system hangs, SMARTWIN.EXE crashes, or any other kind of strange and unexpected behaviour then your SMARTWIN.INI file, in the installation directory, is probably corrupted. To solve the problem delete it and then reboot. During system start a new, correct SMARTWIN.INI will be created.


Do not overwrite SMARTWIN.INI with an old copy from V.0.80 installation. The files are not compatible! In a future release I'll include an INI migration routine in the installer in order to preserve the previous preferences.


If you are still using V.0.80 I suggest you to upgrade to V.0.81 as soon as possible.
ftp://hobbes.nmsu.edu/pub/os2/util/wps/smw081.zip

---
September 4, 1998
Stardock has released Entrepeneur 1.31:
http://www.stardock.com/update/update_ent.html

Changes in 1.31 over 1.3

Fixed cheat where you could get research very fast

Fixed loophole allowing people to create maps with unlimited adjacencies

Note: This is the last update for taking care of exploitations for the sake of high scores. High scores will simply be eliminated or other drastic measures if there are any further ones. Please just play the game as it was meant to be played.

---
September 4, 1998
The Focus on OS/2 site at the Mining Co. (http://os2.miningco.com/) has been updated. You will now find:

Information on partition tables

News on Warp 4 Fixpack 8

Over 50 new links

2 new link categories including OS/2 Mailing Lists

And as always there is a chat room and web-based discussion board.

---
September 4, 1998
FOR IMMEDIATE RELEASE
---------------------

Friday, September 4, 1998

Data Representations, Inc.
http://www.datarepresentations.com/

 ------------------------------------------------------
 Data Representations, Inc. to exhibit at Warpstock '98
 ------------------------------------------------------

 Data Representations, Inc. is pleased to announce that it will exhibit
 its flagship product, Simplicity for Java(TM), at Warpstock '98 in
 Chicago. (http://www.warpstock.org)

 Written completely in Java, Simplicity for Java lets developers build
 Java applications and applets interactively. Simplicity presents the
 user with a working model of the actual application that they are
 creating. All changes to the code are immediately integrated into this
 working model without the user needing to save and compile the changes.
 This dynamic execution reduces the traditional three step
 Code-Compile-Test software development process to a single step:
 Design.

 The upcoming version 1.1 builds upon Simplicity's initial release by
 adding full support for the Swing components, debugging from within the
 Simplicity Composer, full JavaBeans(tm) support, and an enhanced
 Java-aware editor.

 Simplicity features a palette of parts which can be added dynamically
 to the working application. These parts include all of the AWT
 components and layouts, the swing components, as well as a set of
 extended components that provide enhanced functionality. The user can
 also add any JavaBean to the palette.

 Simplicity also features the Code Sourcerer(TM), which interviews the
 user in order to determine what should happen in response to events and
 writes the appropriate Java source code.  This allows Simplicity for
 Java to be used by both experienced and inexperienced Java developers.

 Simplicity for Java comes with an Integrated Design Environment (IDE)
 which organizes all of the components of a project.  A project can
 include multiple applications/applets, images, sounds, Java
 source/class files, HTML files, JavaBeans, and any other data files
 related to a project. The Simplicity IDE also relieves the user from
 worrying about pathnames on both a local file system and on a web
 server.

 Simplicity for Java is written completely in Java 1.1 to run on any
 Java-enabled platform, including OS/2 Warp, Solaris, Win95/98/NT,
 HP-UX, Linux and many others. Simplicity for Java 1.0 has received 100%
 Pure Java certification from Sun Microsystems, Inc.

 A free tryout version of Simplicity for Java 1.0 is available from Data
 Representations' web site, http://www.datarepresentations.com/. A
 public beta of version 1.1 will be available in late summer, and 1.1
 will be released during the fall of 1998. Users of Simplicity for Java
 1.0 will receive a free upgrade to version 1.1. Simplicity for Java is
 priced at $89 US for a single user license. Multiple user and academic
 licensing discounts are also available.

 -------------
 Data Representations, Simplicity for Java, and Code Sourcerer are
 trademarks of Data Representations, Inc. Java, 100% Pure Java and
 JavaBeans are trademarks of Sun Microsystems, Inc. All trademarks are
 owned by their respective company.


---
September 3, 1998 Source: John LeMay (jlemay@pclansolutions.com)


Until recently I have been maintaining a web page dedicated to getting the Sound Blaster AWE64 card running under OS/2 Warp 3 and 4. Unfortunately, I no longer have the time to maintain the page and I am therefore seeking someone to take over the page and host it elsewhere. The page, located at http://www.monmouth.com/~jlemay, doesn't create much activity - it's had 2600 hits since May. If anyone is interested, please contact me at awe64@pclansolutions.com.

---
September 3, 1998
WarpNote, the sticky notes program for OS/2, gains even more user-friendlines and usability in version 1.6. Drag and Drop has been implemented to make it easier to import text from text file objects or create text file objects from notes. Instead of using the OS/2 clipboard, you can drag and drop from and to the WarpNote notes list.

WarpNote replaces the "hardware" sticky notes that many computer users still use by offering "software" sticky notes on the OS/2 desktop. The program is highly configurable, e.g. font and color settings can be set up for each note, and allows the user to take notes at any time and come back to the text written down with a single click on the mouse.

WarpNote comes with a complete set of scripting commands that allow automatic operation for almost any purpose. A birthday reminder is included as an example program.

See a review by Diane Gartner at:
http://www.trailerpark.com/moonwalk/moonwolf/wnote.html

The WarpNote website is:
http://www.geocities.com/rodeodrive/2048/warpnote.html

The WarpNote package (only 836 kilobytes) can also be downloaded at BMT Micro:
ftp.bmtmicro.com/bmtmicro/wnote16.zip.

---
September 3, 1998
MAME v0.31.4 has been released. M.A.M.E. stands for Multiple Arcade Machine Emulator, and currently runs 500+ classic (and even some not so classic) arcade games such as BombJack, 1943, and Bubble Bobble.

The port is done by Martin Amodeo, and the project is a part of the OS/2 Netlabs (http://www.netlabs.org). To get more information or download a copy see the MAME web page (http://www.netlabs.org/projects/mame.html). Matrox users should read the special page about Matrox Cards before running MAME.

---
September 3, 1998 Source: Mark Dodel, VOICE Editor


For the adventurous souls among us, dated today 09/03/98:
ftp://service.boulder.ibm.com/ps/products/os2/fixes/v4warp/english-us/xr_m008


Has not yet appeared on the OS/2 Software Update page yet.


Here is a list of APARS for FP8 from the README2 file:

 ===========================
 OS/2 Warp V4.0 fixed APARs
 FixPak Name= XR_M008
 Build level = 9.032
 ===========================

 APAR= JR10138
  SMP SYSTEM HANG WHEN USING QUECALLS AND RUNNING UNDER ICSDEBUG.

 APAR= JR10330
  ICONEDIT TRAPS IF SET TMP=DIRECTORY THAT DOES NOT EXIST.

 APAR= JR10448
  HDMON REPORTS FREESPACE MODULO 4GB.

 APAR= JR11560
  SYSTEM HANGS DURING EXECUTION OF MIGRATE.

 APAR= JR11734
  LEXMARK CURRENT PRODUCT LINE PRINTERS FAIL TO PLUG AND PLAY.

 APAR= JR11858
  MLM_SETSEL ANCHOR=CURSOR CAUSES REVERSE VIDEO PROBLEMS.

 APAR= JR11869
  CZECH (ALTGR STATE) ACCENT CHARS TRAP D IN DOS SESSION.

 APAR= JR11903
  SYS3170 ON PROCESS TERMINATION DUE TO GLOBAL TERMINATION
  ROUTINES BEING RUN TWICE.

 APAR= JR11929
  TRAP D BECAUSE 0000:0000 IS BEING USED AS THE ADDRESS OF A
  16 BIT WINDOW PROCEDURE.

 APAR= JR11930
  LOCK IN PLACE DOES NOT WORK WITH FIXPAK6.

 APAR= JR11939
  NUMLOCK LIGHT/STATE OUT OF SYNC.

 APAR= JR11941
  REXX ENVIRONMENT GETS CORRUPTED IN OBJECT REXX.

 APAR= JR11961
  FOR DBCS DATA, IF THE SIZE OF DATA IS MULTIPLE OF 1000 AND IF
  THE LAST CHAR IS CARRIDGE RETURN, INFINITE LOOP TO PRINT.

 APAR= JR11965
  DOUBLE-CLICK LOWER CASE .DRV FILE CAUSES BAD INI ENTRIES.

 APAR= JR12004
  MS OFFICE MANAGER PROBLEM WITH SMALL BUTTONS.

 APAR= JR12031
  TRAP AT SYIREADATFILE + 59.

 APAR= JR12082
  IN THE OS/2 ACCESS FEATURE IF RTRPM IS RUNNING A SETBOOT WILL
  HANG.

 APAR= JR12084
  HAS VIDEO PROBLEMS WITH THE VDM RUNNING PCAS.

 APAR= JR12100
  WARP CENTER FREE SPACE MONITOR SHOWS INCORRECT VALUE WHEN
  THERE IS MORE THAN 2GB FREE ON A PARTITION.

 APAR= JR12157
  PROCESS HANGS RATHER THAN GETTING SYS3175.

 APAR= JR12159
  ICAT DEBUGGER DOESN'T WORK IN FIXPACK 6 OR 7.

 APAR= JR12276
  POSTSCRIPT SEPARATOR PAGE JOB LEFT IN QUEUE FOR BIDI PRINTER.

 APAR= JR12277
  VDM SESSION FAILS TO CLOSE.

 APAR= JR12278
  PROCESS MAY NEVER EXIT IF A THREAD IS SUSPENDED.

 APAR= JR12279
  TRAP 0000 IN UDIVC WITH ECX NOT ZERO.

 APAR= JR12280
  NO MLS_BORDER ON MLE AFTER FIX PAK 32 ON BIDI HEBREW.

 APAR= JR12283
  BREAK REGISTERS DON'T WORK RIGHT IN SMP DEBUG KERNEL.

 APAR= JR12284
  TRAP 000E IN _SEMRELEASEWAITEDMUTEX.

 APAR= JR12285
  FP#29 PROBLEM OF HELP MANGER IN DBCS HANDLING.

 APAR= JR12286
  PANIC IN VDMMKILLVDM.

 APAR= JR12287
  TRAP IN CDFS AT FREESECTORLIST + 1E.

 APAR= JR12288
  NUMBER OF FILES COPIED MESSAGE INCORRECT FOR LARGE NUMBER
  OF FILES.


---
September 2, 1998
Product Update: InJoy

Available at: ftp://ftp.bmtmicro.com/bmtmicro/injoy2_0.zip and http://www.bmtmicro.com.

Description:
============

InJoy is a feature rich, fast, rock solid and easy to use SLIP/PPP dialer.

New in v2.0b: New Dial On Demand, Filtering, Firewall, NAT support for IRC SEND/DCC, TCP/IP 4.1 support, NAT support for PING.

Use it alone or share a dial up connection with Win3.x/Win9x/NT and Mac's on your LAN.

FEATURE RICH: Dial On Demand; Re-Dial, Re- Connect; Network Address Translation; High Speeds; Phone Number List; Scripts, Auto- Learned; Connection Log; Terminal Mode; PAP CHAP; MS-CHAP; Filter Plugin; F/X Firewall plugin; TCP/IP v4.1 support; Trace; more..

---
September 2, 1998
SouthSoft (http://www.southsoft.com/) has announced their plans for PMMail/2 v2.0. Here are some details:

We have been planning, designing and coding this major PMMail/2 upgrade for over 6 months, and are finally solidifing a feature set, cost projection, and potential release dates. We have combined almost all of the new features currently found only in PMMail 98, along with over 35 new features to create PMMail/2 2.0. From the minute checkbox options that people have been asking for, to the useability features that will make so many Inboxes so much easier to live with, to the major new features and breakthroughs, the PMMail/2 2.0 new feature list proves to be well worth checking out.

Expected to be released in the late Fall months of October or November, we are targeting PMMail/2 2.0 to cost between $20 and $30 US for an upgrade to a currently registered PMMail 1.X user. We also intend to keep the cost (MSRP) of the non-upgrade version close to the 1.X cost of $40 US.

If PMMail 1.X is purchased between now and the time 2.0 is released, you will recieve a key for both products, so your registration dollars are "grandfathered" into a 2.0 registration.

To find out about the currently planned features (too numerous to list them all here), see:
http://www.southsoft.com/news.html#twopointo.

---
September 2, 1998
Smart Windows (http://www.ghostbbs.ml.org/utenti/alcant/) v0.81 Beta has been releaed. This enhances PM windows aesthetics and functionality. Titlebar can use shades and bitmaps as background with 3D text. Any bitmap can be used for the standard window controls. Other features include window rolling, titlebar hiding, sliding focus, mouse pointer hiding, mouse double click emulation, etc. You can download a copy from:
http://hobbes.nmsu.edu/

---
September 2, 1998
NetRexx 1.142 has been released. This version is a maintenance release, primarily to support changes in the Java Development Kit (JDK) introduced for Java 1.2. Please see the User's Guide for details for additions to the class path needed to run under Java 1.2.

The other changes are:

A type on the left hand side of an operator that could be a prefix operator (+, -, or \) is now assumed to imply a cast, rather than being an error. For example: x=int -1

Improved code generation for for and to loops.

The euro character ('\u20ac') is now treated in the same way as the dollar character (that is, it may be used in the names of variables and other identifiers). Note that only UTF8-encoded source files can currently use the euro character, and a 1.1.7 (or later) version of a Java compiler is needed to generate the class files.

The arithmetic routines have slightly improved performance, and provide accurate binary floating point conversions for constants.

More robust handling of import, and import from classpath root segments generalized.

Improved error messages when an indirect property is initialized with a forward reference.

You can download a copy from:
http://www2.hursley.ibm.com/netrexx/

---
September 2, 198
There are new beta drivers (v2.40) of the Elsa ISDN card for OS2, Win9x and NT. You can download them from:
http://www.elsa.com:8001/DATACOMM/QUICKSTP/QS1000/INDEX.HTM

---
September 2, 1998
VisualAge Developer Domain subscribers can now download VisualAge for Java, Professional Edition 2.0. Existing VisualAge for Java 1.0 customers will automatically receive a copy of the new v2.0 product at no additional charge if they register their v1.0 products by 31 October. For more information see:
http://www.software.ibm.com/vadd/

---
September 2, 1998
On August 31st, Version 2.2 of Mesa 2 was released to manufacturing. The planned product availability date is September 21st, 1998 but you can download the "manufacturing reference release" of the product right now from:
http://www.sundialsystems.com/mesa/mesa22introfromhome.html

---
September 2, 1998
Priority Master II v2.4 is now available. This program allows you to increase the priority of applications, and as a result boost performance. You can find out more information from: http://www.prioritymaster.com/

---
September 2, 1998
The Abbotsbury drivers for the Hauppauge WinCast/TV card have been updated to 1.020J. They are available at:
http://www.wdi.co.uk/os2tv/download.htm.

The StW-TV application for the WinCast/TV card from Stefan Milcke has also been updated to version 1.02B / Build2217. It's available from:
http://home.t-online.de/home/stefan.milcke/stwtv_en.htm

---
September 1, 1998
The BlueCAD's Utilities Home Page has been updated!

Available for download there is a DWG filter: with that filter it is possible to read/write DWG files (compatible with AutoCAD 12).

Download it from:
http://www.geocities.com/SiliconValley/Peaks/4320

This filter is equivalent to the one supplied with BlueCAD for Windows 95, and can be run thanks to the Win32-OS2 project.

BlueCAD is a CAD product developed by CadWare srl (http://www.cadware.it), and it is ready for OS/2 Warp.

---
September 1, 1998
PU Monitor 2.02
Small yet functional system monitoring tool for OS/2 PM.

Features of PU Monitor:

CPU Usage

TCP/IP traffic

Free RAM

Uptime

POP3 mailbox checker

Connection monitor

Customizable look and feel

Requires small amount of desktop space

Unique 'Attach to Warp Center' feature.

PU Monitor 2.02 can be downloaded from:
http://hobbes.nmsu.edu/pub/incoming/pumon2.zip

and later probably will be moved to:
http://hobbes.nmsu.edu/pub/os2/util/wps/

Also, PU Monitor available for download and purchase at:
http://www.bmtmicro.com/catalog/pumonitor.html

---
September 1, 1998
If you're always searching for better ways to use TCP/IP with OS/2 Warp, IBM has two new publications which can help.

1. "Beyond DHCP: Work Your TCP/IP Internetwork with Dynamic IP" (IBM publication no. SG24-5280) is scheduled to be published in September, 1998. This new book includes extensive sections on the new IBM TCP/IP 4.1. This book also documents, for the first time, how to create a set of OS/2 Warp boot diskettes which can connect to the network using TCP/IP and DHCP; how to customize Netscape for firewall access using information provided by a DHCP server; how to integrate LAN domain information into a TCP/IP network; and much more. [Full disclosure: I'm one of the coauthors of this new book.]

Many different platforms are discussed in this new book, but Warp Server, OS/2 Warp 4, and WorkSpace On-Demand get extensive treatment. This book should be on every TCP/IP network manager's shelf, regardless of platform.
2. "A Comprehensive Guide to Virtual Private Networks, Vol.1" (IBM publication no. SG24-5201) includes extensive information on OS/2 Warp's new Virtual Private Network (VPN) capabilities. Section 9.4.7 describes how to use TCP/IP 4.1 to set up a "mini firewall."

For these (and other) IBM publications, please visit:
http://www.redbooks.ibm.com.

- - - - -
Timothy F. Sipples
IBM Network Computing Software (Chicago)
Internet: tsipple@us.ibm.com
WWW: http://www.secant.com/sipples
Sent with Lotus Notes for OS/2 Warp

---
editor@os2voice.org

Previous Page | Index | Next Page