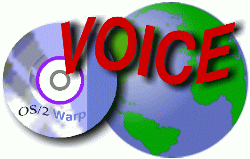 Virtual OS/2 International Consumer Education

November 1998

Features
editor@os2voice.org
[Previous Page ] [ Index] [Next Page ]

VOICE Home Page: http://www.os2voice.org
---
---
October 21, 1998

Thanks for posting the Warpstock pictures. It was fun to browse through them and put faces together with the names of people I've spoken to, heard of or corresponded with but never met.

Ralph Cohen

---
October 23, 1998

Just visited the "photo" area of Warpstock '98. As the saying goes "a picture is worth a thousand words." So nice to put a face with a name.

Thanks for sharing.
--
Pat VanHorn

---
October 28, 1998 - Robert Traynor wrote that some information in the October Tips page about using RSJ was misleading. Here is his correction below:

Hi,
I appreciate the information and intent of fellow Os/2 users to spread knowledge of os/2 and related matters. But some of the info on your site is NOT
entirely accurate or else incomplete.


An example quote from Voice web site:-


==================================================================
August 22, 1998 - From: Robert Deed (eyerewl@fcc.net)


As you all know RSJ hides the cdr drive letter from you and makes it unaccessable right? Well not quite. In an email from RSJ I was made aware of how to unhide the cdr..

. in order to do it you must do this:


If you are using RSJ CD Writer 2.59 or above you may change the CONFIG.SYS line


BASEDEV=OS2ASPI.DMD


to


BASEDEV=OS2ASPI.DMD /ALL


After booting your machine, the recorder will be usable as standard CDROM drive, and you will be nevertheless be able to attach the CD to our filesystem. But please ensure that you're not using the CDROM drive letter at the same time when the CDR is attached to RSJ's filesystem, otherwise this will result in errors.


==================================================================
Quote off.


This article is not complete as is evident from a recent email I had with RSJ Support, quoted below:-


You have to additionally rem out the LOCKCDR.FLT statement in your CONFIG.SYS. Afterwards OS/2's CDROM filesystem should be able to access the CD recorder for read purposes. After attaching the drive to our filesystem the drive gets a CDWFS drive letter. But please ensure that you don't access the drive via the CDROM drive letter as long as it is accessed to our filesystem.
Note: this will work only with SCSI recorders, not with IDE recorders.


Regards,


Stefan Beutler
RSJ Software GmbH


Regards BobT.

---
November 4, 1998 - This is Danny Goggia's initial post to the OS/2 world to request support for a new version of David Moskowitz's OS/2 Warp Uneashed book.


Hi everyone,


This is very important so listen up or pay attenssion<smile>. Read the following letter first:


Subj: Moskowitz OS/2 WARP UNLEASED-status
Date: 10/30/98 2:24:23 PM Pacific Standard Time
From: MMEEHAN/0005955361@MCIMAIL.COM (Mike Meehan Prentice Hall-PTR)
To: Dannyg0s2@aol.com (Daniel Goggia)


Hi Danny,


Your e-mail of several weeks ago regarding the possible new edition of the Moskowitz OS/2 book has founds its way to me.


I know a period of time has passed but I would like to talk with you about your ideas for a new edition if possible. Can you get back to me with a phone number,location,time zone and when it would be good to call? Hope to hear from you.


Regards,


Mike Meehan .................. end e-mail letter to me ...............


Yes, you read it correctly, and Mike has called me by phone (today), and is now contacting David Moskowitz about Prentice Hall going through with publishing OS/2 Warp 4 Unleashed.


Some things Mike Meehan wants is input from Team OS/2 and other user groups on how many persons would want the book. So if you belong to any user groups please pass the word, send in list of how many persons would want the book, if you like just send them to me, or to Mike.


Mike has also asked me to write a letter to him why I think the book would be of benefit to the OS/2 community, so if you have any ideas or input please feel free to send them to me, and thank you for your earlier support, it has gotten their attention.


Lets move on this one........


Danny=G (Team OS/2) (POSSI)

---
November 14, 1998 - here is Danny's followup message on the OS/2 Warp Unleashed project.


Hello V.O.I.C.E.,


This is Danny=G with Team OS/2, I have been trying for some time now, with help from other members of the team and some of you here, to get David Moskowitz's new updated Unleashed Book moving forward.


I am very happy to tell you that it is looking good, please pass the following letter around to other groups, lets help this move forward.


Letter from David Moskowitz:


Subject: Re: Warp 4 Unleashed Book
Date: 11/13/98 9:25 PM EST
From: <A HREF="aol://3548:PCR DavidM">PCR DavidM</A>
Message-id: <19981113212518.03045.00000776@ng68.aol.com>


Danny, you've had some success, too!


I posted the following on Warpcast and here is a copy for us!


First, a hearty, "Thank you," to everyone who asked for a revised version of "OS/2 Warp Unleashed." Your persistance may, indeed, pay off.


I'm in the middle of discussions with a publisher who believes in the project. There are some steps we must take before we can proceed. The two we're focusing on now are:
(a) develop a table of contents (ToC) and a proposal (b) put together a team to make it happen.


The publisher wanted us to develop the ToC first and then run it by the folks who responded directly to them. I told the publisher that I'd rather let it start with our readers.


So, this is your opportunity! What would you like to see in the next edition of "...Unleashed," it is WIDE open!!!


Somethings we've discussed: IBM's latest Warp Server for e-commerce (codenamed Aurora), Internet access, Java (and NetRexx), CID, FixPack installation, interoperability with other systems, client side, server side, whatever... There are NO limits!


Like past editions of the book we'll focus on what is, not what might be. We will make sure to dig beneath the surface to provde our readers with the best possible coverage of any book. That much you can assume... ;-))


This is a golden opportunity. Rarely has there been such a strong movement to revive a book. Thanks to everyone who persisted and refused to give up.


The bottom line: I have two separate and related needs...


1. Content, what you'd like to see the book cover


2. Volunteers... my other task is to put together a team to make this happen. OS/2 has not gotten smaller, it will take a team to make it happen. So, if you're interested in writing a chapter or two for the book, let me know (I also need to know your field of expertise, too ;-)).


I'm looking for experts or people willing to do the digging to become expert! People who have already discovered or willing to commit to take the time to present to readers what should have been in the manual(s).


I don't know about financial arrangements. I haven't gotten that far in my discussions with the publisher. If you have specific requirements in this area, I need to know that, too.


There it is... If you really want to see another edition of Warp Unleashed now is the time. Let me know. We can make this happen!


Please feel free to spread this note far and wide. The more people that respond the better. Don't assume that someone else requested something you want. Don't assume someone else volunteered. You do it! When you assume you make an "ass" of "u" and, "me." Do it!!!


Thank you!!!


David Moskowitz <davidm2@ibm.net>
or PCRDAVIDM@aol.com
Featured author "OS/2 Warp Unleashed"


David
End Letter
Thank you..............


Danny=G ( Registered Team OS/2 ) (POSSI)

---
Features
editor@os2voice.org
[Previous Page ] [ Index] [Next Page ]

VOICE Home Page: http://www.os2voice.org