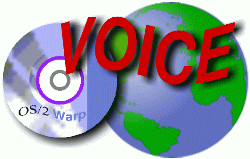 Virtual OS/2 International Consumer Education
December 1997

The News Page

---
Editor's note - We are in the process of changing the Newsletter's schedule, so there was no November issue. It is planned that a regular issue will be released on the 15th of each Month from now on.

---
Dec 17, 1997 - A transcript of last nights VOICE sponsored Speakup with Timothy Sipples of IBM's Networking Group taking questions on networking with OS/2 is now available at VOICE's web site - http://www.os2voice.org/transcripts.html


Due to a large crowd and alot of lag a number of people were unable to get in their questions to Tim. We will see if we can convince him to come back next month.


If there are any speakers you would like to hear from at VOICE speakup events please send your request to editor@os2voice.org

---
Dec 16, 1997 - From Martin R. Hadam: NEW Epson printer drivers (v1.02) have been uploaded to hobbes. ftp:hobbes.nmsu.edu/pub/incoming/epson_driver_v1020.zip


There is an html file with it to ask for a password to register. Do so in masses!!!


"You will receive an email with the password within some minutes after pressing the send button. Your Data will be stored in a database. This will only be used to show Epson that there is still enough interest in OS/2 Drivers. You will receive your Password even if you don't fill in your data. Many thanks to Detlef Schaebel (dschaebel@nordrhein.de)!"


And from Timur Tabi: Look at the readme.1st, and check out the email address they ask you to use if the form doesn't work:


"If the html-form does not work for you, email the data to mailto:Warpstock_Europe_HQ <warpstock@uni.de>"


Editor note: if you would like to write to Epson America and ask them to include the new German Epson printer driver with printers sold in North America you can write to:


Mr. Jay Shears
Epson America, Inc
Post Office Box 2842
Torrance, CA 90509-284

---
Dec 15, 1997 - TeamWarped is now solidly in 4th place in the RC5 64 bit key cracking contest. If you haven't heard about this project yet, check out http://www.ionet.net/~colin/rc5.html. Basically you download the RC5 client software and run it on your computer. It uses unused cpu cycles to check key sequences downloaded from the main RC5 site in an attempt to find the one 64 bit secret key. Why do this? It's a challenge to show that 64bit encryption is breakable. There is also a $1000 prize to the person breaking the code.

---
Dec 14, 1997 - The VOICE election results are now in. David Both (WarpGuru on IRC) will take over as President of VOICE, Dan Casey (Abraxas on IRC) will become our new Vice-president and Mark Rudy (tandy on IRC) has been elected as Secretary. Congratulations to all. Now onward to getting our organization back on track toward our goal of marketing our favorite computer operating system to endusers and IBM alike.

---
Dec 13,1997 - From a post on comp.os.os2.beta from the Lotus Smart Suite for OS/2 beta admin: If you are trying the Lotus Smart Suite for OS/2 beta and you run into any problems, even if you are not an official beta tester, here are some tips from Lotus on filing a complete beta problem report. First follow the directions in the FEEDBACK.TXT file.


Then to help make it easier for Lotus to (hopefully) determine what's up, here's a few suggestions:


1. Clearly describe the problem you experienced.


2. Mention in your message if this was a "clean" OS/2 Warp 4 system
that had never had FixPak 3 Special Edition or Beta 1 installed.


3. Note any OS/2 utilities (4OS2, Process Commander, etc.) you're using,
if any, that may hook into the OS/2 command line or the Workplace Shell.


4. Copy and paste the contents of the SSIDEBUG.TXT file placed by the
install in the root of your OS/2 boot drive (and label it SSIDEBUG.TXT
FILE CONTENTS) at the bottom of your message


5. Be sure to send the hardware information as well.


6. Attach a copy of your CONFIG.SYS file to the e-mail message (if you
don't mind doing so).


7. Include your phone number (again, if you don't mind) in case someone
from the Install team wants to speak with you personally to gather more
information on the problem.


If you're interested in downloading the Beta 2 Release it is located at ftp://hobbes.nmsu.edu/pub/ssw4beta


You can also order a Beta 2 CD-ROM from Indelible Blue - http://www.indelible-blue.com - or from the J3 Computer Technologies - http://www.os2store.com

---
Dec 11, 1997 - From BMT micro -
We're now taking pre-orders for the Warpstock CD which will begin shipping in January. The project is just now in the "wrapping up" stages.


The URL for secure ordering is:


https://secure.falcon-net.net/BMT/order1020.html


You can order by phone as well at 800-414-4268 or 910-791-7052 or via fax at 910-350-2937.


Note: Attendees do not need to order, a disc will be sent to you at no cost. Please do not order a copy of the disc if you were at Warpstock.


The price for the disc is $20 and includes presentations, demo software from presenting vendors, and some other goodies. Of course no billing will be done until we have the discs in stock.

---
Dec 10, 1997 - Please join VOICE on the WEBBnet IRC network in channel #voice on Wednesday, December 17th at * 9PM EST (02:00 12/18/97 GMT) * to hear Tim Sipples of the IBM Networking Software Group speak on using OS/2 for networking in the home/SOHO setting. This is your chance to ask an expert those burning questions you have about connecting your OS/2 boxes to one-another. The regular VOICE meeting will begin at the usual 8PM EST.


For more information on VOICE - http://www.os2voice.org/index.html VOICE
meetings - http://www.os2voice.org/meetinginfo.html
IRC clients in OS/2 - http://oeonline.com/~mandie1/irc_clients.html
WEBBnet IRC network - http://www.suntrix.com/ibbs/server.html

---
Dec 8, 1997 - From IBM's Network Computing Fix News web site - http://ps.boulder.ibm.com/pbin-usa-ps/getobj.pl?/pdocs-usa/fixnews.html
Corrective Service Facility disks


A new, hopefully easier, location for the Corrective Service Facility disks (CSF) has been setup at ftp://service.boulder.ibm.com/ps/products/os2/fixes/wkickr


Pick the country/language you need then download WKICKRxx.ZIP or the individual
diskette images.

---
Dec 1, 1997 - From IBM's Network Computing Fix News web site - http://ps.boulder.ibm.com/pbin-usa-ps/getobj.pl?/pdocs-usa/fixnews.html


Feature Installer 1.2.1


If you use Java or any of the other products available via IBM Software Choice you should update to this latest version of Feature Installer! It has been updated to better manage feature dependencies on service levels of system modules during installation and removal of various features.


Also, better support for upgrading to the latest level of Java has been added.


We recommend you upgrade to this latest level!

---
Nov 24, 1997 - Sad to report that the only US Tax program for OS/2 will not be available for 1997. here is the following post from c.o.o.apps:
BT&T Consumer Technology will stop the development for TaxDollars 1997
Final Version due to the low 1997 order. BT&T will now concentrate on
porting TaxDollars to Java for 1998 tax season.


Visit our home page at http://www.jps.net/bttech/ for latest information
and JAVA development efforts.


All 1997 orders will be refunded as follows:


1. All 1997 credit card orders has not been processed.
2. All 1997 mail-in check orders will not be cashed and will be voided.


Please e-mail us at bttech@jps.net for any questions/concerns.


Nancy Tran
Sales & Marketing

---
Nov 23,1997 - From Warp Speed Software: This may be of interest to OS/2 users. We are taking BOCHS which is an 80386+ emulator for Unix, and porting the application to Java. We would appreciate it if you could inform OS/2 users, so that we can gain more developers as well as some coverage to keep interest in the project. Thanks for your time. Please visit the sites homepage at http://www.htc.net/~nbehnken

---
Nov 21, 1997 - From IBM's PSP Support News page http://ps.boulder.ibm.com/pbin-usa-ps/getobj.pl?/pdocs-usa/fixnews.html:
Mouse problem in FixPak 5

A problem with VMOUSE.SYS has been found after FixPak 5 is installed on some systems. Mouse movement
becomes slow, feels sluggish.

To recover, restore the VMOUSE.SYS from the FixPak archive directory.

1.Rename /os2/boot/mouse.sys mouse.fp5
2.Change to your FixPak Archive directory
3.UNPACK MOUSE.SY_ C:\OS2\BOOT (C: would be your boot drive)
4.Shutdown and reboot.

This problem will be fixed in all NLV FixPak 5 and US FixPak 6 releases.


---
Nov 20, 1997 - A transcript of last nights VOICE sponsored Speakup with Timur Tabi and Peter Fitzsimmons presenting on the win32-OS/2 project is now available at VOICE's web site - http://www.os2voice.org/transcripts.html


Over 70 people joined us on WEBBnet on the #voice channel and both speakers freely discussed all questions posed.


The highlights include:


1. The final application will be available to all users FREE of charge. Though no source code will be made available. This is entirely a volunteer effort.


2. The application will convert an existing win32 .exe to a native OS/2 .exe, so there is no question of license infringement or reverse engineering. As long as you have a valid license for the win32 app, you are just making a copy that will run under OS/2.


3. This project relies heavily on IBM's OPEN32 code, but they will not be modifying any OS/2 system code. It is done with existing code and new code they are writing. Timur said that the existing code fits on a floppy.


4. Since you are running native version, not emulation, they don't expect much in the way of performance problems. According to Peter Fitzsimmons "open32 is damn good! Some open32 apps run faster on OS/2 than win95/nt."


5. They don't expect Windows98 to cause much if any problems if and when it comes out. According to Timur "until there are Win98-only apps out there, it should not be a problem."


6. They are gradually working up to larger apps, but have successfully converted smaller win32 utilities like Notepad, Freecell, etc. They plan to concentrate on non-game applications, but if there is time they will work on DirectX to help with converting games.


7. There is no current timetable, but they expect an open beta when it is ready.


If anyone has a suggestion for a future Speakup, feel free to send it to editor@os2voice.org or better yet attend our IRC meetings. For more information on VOICE and our meeting schedule - http://www.os2voice.org

---
Nov 19, 1997 - Fix Pack 5 for OS/2 Warp 4.0 is now available from the usual places.
The regular disk images are at: ftp://service.boulder.ibm.com/ps/products/os2/fixes/v4warp/english-us/xr_m005/
The Remote Service Update is available from http://ps.boulder.ibm.com/pbin-usa-ps/getobj.pl?/pdocs-usa/softupd.html
And the RSU zip files are at ftp://service.boulder.ibm.com/ps/products/os2/rsu/xr_m005/


The following is from IBM's PSP support news site:


Additional OS/2 Warp 4 function included in FixPak 5 Page


--------------------------------------
We've added some new and exciting features to OS/2 Warp 4 in out latest FixPak. We think you'll want to get these enhancements, and it is as easy as applying the latest FixPak. All are fully documented within the README.1ST included with the FixPak or an individual text file. Below are the added new features and enhanced functions.


1. PERFORMANCE CHANGES IN SUPPORT OF JAVA 1.1.1


Installing OS/2 Warp 4.0 FixPak 5 will enhance your Java Graphics Performance. These are the highlights of the enhancements:


o Improved memory allocation for graphics
o Eliminated unnecessary operating system (DosSetMem) calls
o Improved rendering of shapes
o Improved shape intersection logic
o Improved filling & drawing Round Corner Rectangles
o Improved filling & drawing full & partial ovals


2. GRAPHICS ADAPTER DEVICE DRIVERS (GRADD) ADDED


Enhancements allowing the use of 5 newly created high performance GRADD drivers reducing hardware wait times. The new drivers are for :


o Matrox Millenium, Mystique
o ATI Rage, Mach64
o S3 Trio, 864
o S3 Virge
o Chips & Technology 6555x


Updates including these GRADD drivers, and other video drivers as well, can be found via the internet at the Fix Pak Respository site. Select All Fix Packages, and then use search for "GRADD" to locate the files.


3. WARP REGISTRY COMPLETELY RE-WRITTEN AND A NEW EDITOR IS INCLUDED


The Warp Registry was completely re-written to improve performance. In addition, the Warp Registry Editor (REGEDIT2.EXE) was designed to be functionally equivalent to the Registry Editor found in Win95 and NT4.0. In addition to supporting the Open32 Registry Keys, the Warp Registry Editor also supports the standard OS/2 Profile keys and files (*.INI). This was done in a manner as to appear "seamless" to the user providing a single user interface that combines both universes on the Warp platform.


See the README.REG file on the first FixPak disk for complete details.


4. IBM Open32


This fixpak include updates to the IBM Open32 Application Programming
Interfaces (API's). These API's will be documented in the next release
of the Developer Connection.


5. NEW (IMPROVED) CHKDSK


(This function was originally released in FixPak 2)


This version of CHKDSK offers significant improvements for High
Performance File System (HPFS) drives. CHKDSK now fixes all errors
found on HPFS drives in a single pass, operating faster, and with less
memory than previous versions. It contains better error detection and
correction algorithms, and creates a log file so service personnel can
determine what errors it found and how it corrected them. Finally,
only the amount of physical memory in your system limits the size of
the largest drive CHKDSK can check at boot time (autocheck).


For more complete information, please see the README.1ST file of the
FixPak.


6. OTHER ENHANCED FUNCTIONS INCLUDED


The following have been improved in either function or useability. For
complete details of these functions, please consult the README.1ST
file on the FixPak.


o AUTOMATED TRAP SCREEN LOGGING


Whenever an application program traps, the trap information is
(now) automatically logged in the POPUPLOG.OS2 file.


o SUPPRESSPOPUPS


SUPPRESSPOPUPS=0 will restore behavior to pre-FixPak 29 behavior.
That is, to disable logging and to have trap screens displayed
unless specifically overridden by an application's use of the
DosError API.


o TRAPLOG


The TRAPLOG command allows dynamic control of trap information
logging.


o TRAPDUMP


The TRAPDUMP command allows the conditions under which a trap
will initiate a System Dump to be set dynamically. Prior to Warp
3.0 FixPak 29, the System Dump setting could only be manipulated
from CONFIG.SYS by use of the TRAPDUMP statement.


o SYSDUMP


The SYSDUMP command forces a System Dump to be initiated,
regardless of the TRAPDUMP settings.


7. ADDED README FILES


There are other README files containing information you may want to
review. The first two are found on the first FixPak disk. The last two
are found on the last FixPak disk.


File File Contents
README2 Problems fixed in each FixPak (APAR list)
README.REGExplanation of the Warp Registry Editor REGEDIT2.EXE
CID.RME Tips on installing FixPaks via CID
DEBUG.RME Tips on debugging OS/2 Warp (3.0 and 4.0)




---
Nov 5, 1997 - VOICE general meeting held.
Gerry Ellington has resigned as President. David Both is now acting president. Good luck Stryder, and don't be a stranger. A call for nominations for the position of President and the still vacant position of Secretary will go out over the mailing list.


Timur Tabi and Dan Casey (Abraxas) were invited to the next board meeting to discuss the future of VOICE and possibly merging with other user groups or IOTTA if they are interested. Judy will try to contact Esther Schindler about IOTTA. In addition it was announced that Timur Tabi will be the guest speaker at the next VOICE online meeting to be held Nov. 19th at 8PM EST(Nov 20th at 01:00 GMT). The topic will be the new WIN32-OS/2 project - http://www.io.com/~timur/win32os2.html. This is one of the most exciting real projects going on in the Warp World, so try to attend if possible. For information on VOICE and our IRC meetings: http://www.os2voice.org/meetinginfo.html

---
Nov 1, 1997 - BMT Micro and the OS/2 Supersite announce the 1st major update to our OS/2 Fixpack CD which allows the most recent Fixpacks to install directly from the disc. The following Fixpacks may be installed directly from the CD:


Warp 3.0 US English - Fixpack 32
Warp 3.0 French - Fixpack 32
Warp 3.0 German - Fixpack 32
Warp 4.0 US English - Fixpack 4
Warp 4.0 French - Fixpack 1
Warp 4.0 German - Fixpack 3


In addition the CD includes previous fixpacks for Warp 3.0 and 4.0 as well as TCP/IP and the Warp 3.0 IBM Works and IAK. The CD has an SRP of $15 + $2 shipping and can be purchased from the following vendors:


BMT Micro: http://www.bmtmicro.com
Indelible Blue: http://www.indelible.blue.com/bmtmicro
OS/2 Supersite: http://www.os2ss.com

---
email
Previous Page
Index
Next Page