---
Wireless Internet access via ISDN

This article describes the configuration of a wireless "network access" under OS/2 and eComstation by means of an ISDN Base Station supplied in Germany by Siemens AG. This product can be enhanced with a Data Adapter having a V.24 interface for cordless DECT data connection on the PC. This adapter is available in (at least) two models for connection to the computer: USB or serial. Because of the system requirements here, we have chosen the serial interface.
The wireless DECT data connection requires no cables between the computer (data adapter) and the base station within an apartment (indoor range: up to 164 feet; outdoor range: up to 984 feet). The same system is distributed under another name by Deutsche Telekom AG (DTAG). The names for my tested configuration are:
Base Station: Gigaset 3075 isdn (Siemens), or Sinus 45 isdn (DTAG)

Data adapter: "M101" (Siemens), or "data 1" (DTAG).
One can take for granted the correct installation of the hardware components - these steps are described in the system's manuals. It is important during the first operation of the system to log on with a unique wireless PC connection with the base station, that is to register. This step is comparable to that with a new hand-held unit of a telephone which also must be similarly logged onto its base station.
Both Siemens and DTAG denied that a successful operation of this combination as dial-up solution was possible with a system other than Windows. Nevertheless it works by communicating with AT commands. One must only know which commands. I discovered which ones with meticulous "trial and error," as well as with assistance from the community.
For initialization ATZ, ATE0 is required. The dial-up string is ATD and hang-up finally happens with ATH.
Other than that there is not much one can worm out of this equipment--mainly a missing echo for a command which makes testing difficult--except for OK or ERROR.
Otherwise the information above suffices very well to establish a stable connection with suitable dial-up software.
Dial-up with SafeFire
SafeFire offers in classic object-oriented WPS tradition an array of various dial-up assignments via Provider Templates. The following description and its screenshots reflect the adjustments in the Settings menu.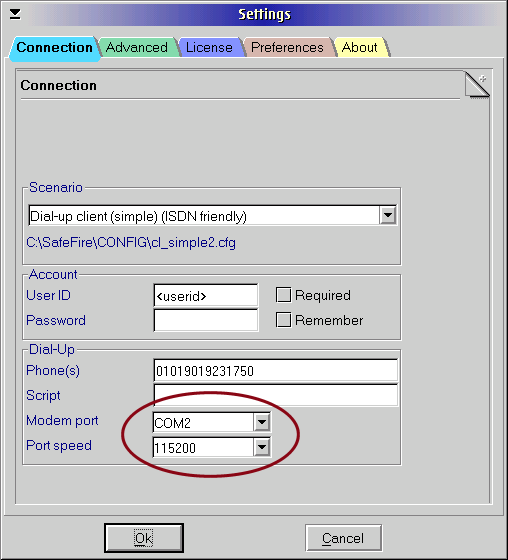 Settings notebook, Connection page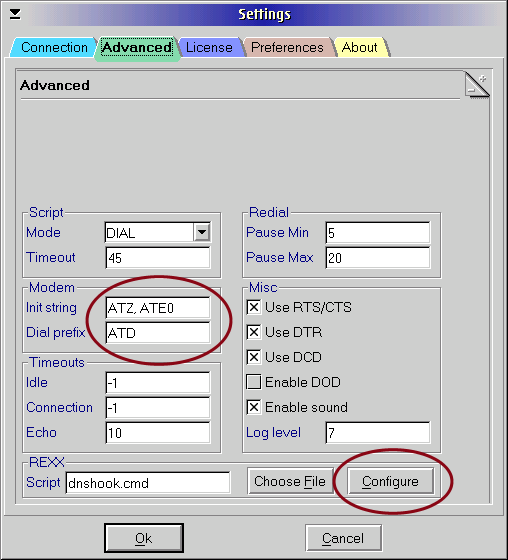 Settings notebook, Advanced page
A successful connection when dialing a provider happens with a return value of CONNECT. The dial-up software waits for this CONNECT before any log-in and password information is transmitted. Therefore, if this CONNECT return value does not come, the connection with the provider is cut after some time. The result: NO CARRIER.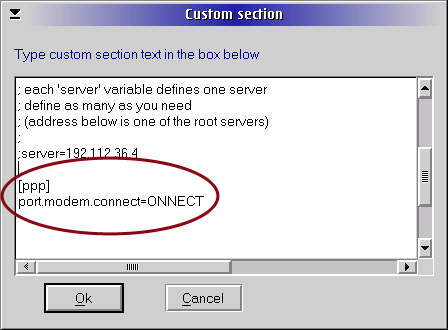 Settings, dialog Custom Section
Not sufficiently explained is a quirk (Sinus45 with data1) that happens nearly every time a connection is made (in my own experience somewhere around 90%): CONNECT is sent with C followed by ONNECT.
A small detail with a great effect for this prevents a successful connection.
One can handle the described behavior with a small trick:

[ppp]
port.modem.connect=ONNECT

If one enters the above into the configuration file, SafeFire expects only ONNECT before log-in and password data are transmitted to the provider. With that, wireless surfing begins.
In this sense: ATH ;-)
---
Der Autor möchte sich bei allen helfenden virtuellen Händen bedanken, die ihn im Usenet und per E-Mail unterstützt haben, insbesondere Chris Wohlgemuth und Harald Pollack.
---
Feature Index
editor@os2voice.org
< Previous Page | Newsletter Index | Next Page >
VOICE Home Page: http://www.os2voice.org