Active GUI element
Static GUI element
Code
WPS object
File/Path
Command line
Entry-field content
[Key combination]
Warpstock Europe 2005 in Dresden
eAMPT - the one click install of a CMS for eComStation is here!

Niels Jensen is using eComStation at home and at work on a T42p while interacting with co-workers, who are exclusively using Windows. He has been using OS/2 since version 2.1, and the Dept. of Chemical Engineering at Technical University of Denmark, where he works, has been using OS/2 for multivariable control and monitoring of a heat integrated industrial scale distillation column since the late eighties.
Warpstock Europe 2005 (WSE2005) was held in Dresden, Germany from Friday, 18 November until Sunday, 20 November 2005.
Location, Location, Location
Dresden is a major German city, the capitol of Saxony, located about 2 hours drive south of Berlin or 10 hours by car from Slangerup, Denmark, where I live. (Visit here for more information about Slangerup's beautiful 16th century church.) Host for this year's Warpstock Europe was Leibnitz-Institut für Festkörper und Werkstoffforschung Dresden (IFW). (Visit here for more information about the exciting research performed at this location.) The IFW is located next to the Technical University of Dresden, but is independent of the university.
Welcome to Our World
Mensys handled early registrations as they did last year. If you registered early, a name tag, a WSE2005 folder containing a list of presentations, and a schedule printed in color were ready for you as you walked in the door to IFW. Excellent attention to details!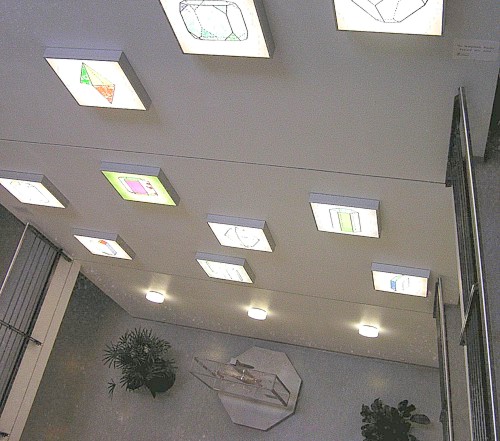 Fig. 1. The decor at IFW in Dresden reflects the research interest of the institute. [
Larger Image
]
Warpstock Europe exceeded my expectation both with respect to the quality of the content and the quality of the venue.
WSE attendees were officially welcomed to IFW Friday morning by the administrative director of IFW. Although he admitted not knowing much about OS/2 or eComStation, he told the audience that while considering hosting WSE2005 he learned that not only was OS/2 not dead and used only by a handful of enthusiasts, but it was also the embedded operating system in many key facilities in our modern society. The control of baggage handling facilities at some major airports is one of the lesser known applications. (Visit here for more information about OS/2 or eComStation in embedded systems.)
After the official welcome the chairman of the local organisers gave his welcome by mentioning some of the presentations featured in this year's program. He also discussed some practical issues such as locations of session rooms, exhibitor area, user group area and net access.
This year's WSE featured wireless access to the Internet using the HTTP and HTTPS protocols. FTP access to the WSE2005 server was also provided so that attendees could upload digital pictures and any other documents they wanted to share with others.
The Atheros mini PCI-card in my T42p quickly found the Warpstock net using the WLAN monitor and the Genmac wrapper driver, but I did have some difficulty actually getting infomation into my Firefox browser, at least on Friday.
One Click: Complete Automatic Installation of a CMS for eComStation
You have probably heard of LAMP or WAMP. Now we have something better for eComStation: eAMPT. LAMP or WAMP are packages for Linux or Windows which, in a single package, installs the Apache web-server, the MySQL database and the PHP scripting language. Now thanks to Michael Oehlhof from Team OS/2 Ruhr [Germany] and Roland Schmalenberg from Team OS/2 Köln/Bonn [Germany] eComStation and OS/2 users can do one better.
At the second session Friday morning these eCS enthusiasts showed how Typo3, the most used open source Content Management System (CMS), can be installed on eComStation. These presenters first described the changes needed to make the different packages run on eComStation (including changes to 10 different Typo3 install scripts). Then they demoed a really fresh WarpIN script which installs everything: it makes necessary configuration changes, relocates some DLL files, and even downloads the necessary software from the Internet if you have not already done so.
The WarpIN script (at least WarpIN 1.0.6 is required) installs eAMPT: Apache 1.3 webserver (with MySQL database support, PHP scripting support, phpMyAdmin administrative support for MySQL), MySQL, PHP, optionally phpMyAdmin and Typo3 on eComStation v1.1 or later. The presenters call their package AMPOS2.
If you have already downloaded the necessary packages, the installer uses those. Otherwise it uses your Internet connection to download the needed packages. The install itself complete in just a few minutes on 750 MHz laptop. Doing these installs individually and making the necessary configuration changes manually would (in my judgement based on playing around with Apache, MySQL and PHP) take more than ½ day for an experienced eCS- or OS2-user.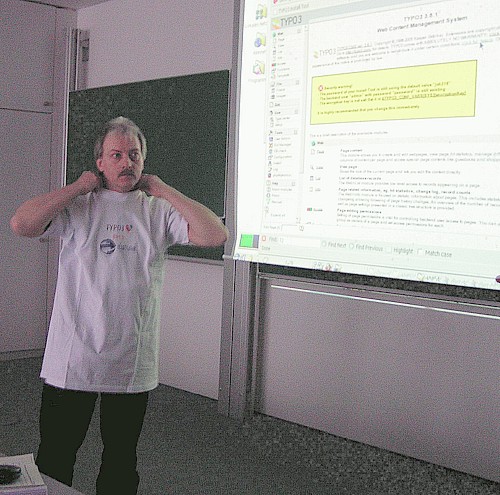 Fig. 2. Michael Oehlhof in a "Typo3 goes eComStation" T-shirt right after the live demo of his and Roland's WarpIN installation script to install a complete CMS and all necessary underlying software on eComStation in less than 3 minutes! [
Larger Image
]
The second part of the presentation gave an introduction to the features of Typo3 (whose chief maintainer Kasper Skårhøj comes from my home country: Denmark). More than 400 developers are working full time on Typo3 and more than 100.000 websites are use it (e.g. Bayer and Hamburg Soccer Club). Translation of "Typo3 goes OS/2" into English, Dutch, Polish, etc., are under way using the structure of Typo3.
For more information: Typo3 Home and Typo3 on eComStation.
Also Paul Smedley from Australia, who in the past months has migrated many programs from the Unix world to our platform, is working on getting ImageMagic to run on eComstation. All in all really good news for website developers and maintainers.
The future of our platform - codename Voyager
Europeans are not just focused on the next release of eComStation however exciting this may be. They are also bringing the best of features and concepts of our current platform to the OS for the next decade. Consider this: within the next few years OS/2 and eComStation will likely experience severe problems on new hardware due to limitations in the OS/2 Kernel.
According to one well known OS/2 expert the current kernel is limited to 4 GiB of memory. Current modern laptops often come with 1 GiB of memory and expansion capability to 2 GiB so the 4 GiB limit will be hit by some users within the next few years, and probably all of us by the end of the decade.
Currently the maximum partition size on eComStation is limited to 2048 gigabytes (2 terabytes), and and the maximum file size is 2 gigabytes. Already users who backup by using a large zip file can run into problems with this filesize limitation. [Ed. note: JFS allows much larger than 2GiB file sizes. However many program will never be rewritten to take advantage of the new capability.]
While the OS/2 API in the early 80's was very modern and attracted many knowledgeable programmers at that time, this is no longer the case.
Something drastic therefore has to happen to bring eComStation and OS/2 users into the next decade. Adrian Gschwend of netlabs.org has therefore initiated a project called Voyager, and already has experienced and knowledgeable European developers working on the project and have also created considerable interest in the project outside the current eComStation community.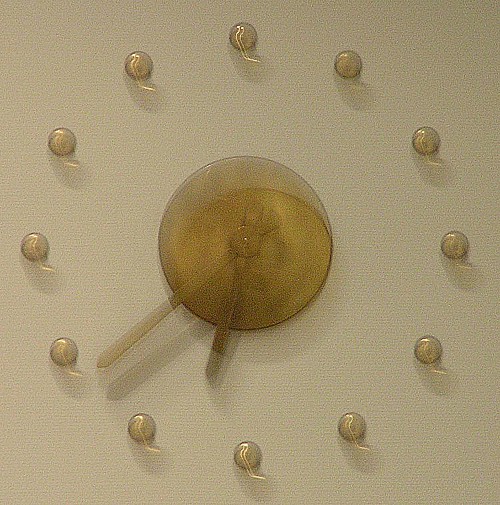 Fig. 3. While a team at Mensys is working on eComStation 2.0, other European eComStation users are realising that time is running out for their much loved operating system. Something has to happen to attract new developers to the platform. This was the background for a 2-hour session Saturday afternoon which finished with the introduction of the Voyager project. [
Larger Image
]
During a two hour presentation Adrian outlined the current state of the eComStation and OS/2 community both from a technical perspective and from a human perspective. From the technical perspective the age of the OS/2 kernel is beginning to show. Hacks are a possibility, but that avenue does not attract many new developers. From the human perspective the community is suffering from the lack of the users' ability to provide constructive feedback to developers. This has certainly already resulted in loss of good people and their products. Thus both to bring new developers to our platform and to have an OS which will exploit future hardware, dramatic changes are needed.
Adrian explained how the Scitech SNAP drivers for displays, the UNIAUD drivers for sound and the recently released Genmac drivers provide a way ahead as far as drivers are concerned. However, the key problems are with SOM, WPS and PM, which are dated and make it somewhat difficult and time consuming to support development of, e.g., Firefox and Mozilla for our platform. A key to the future is Unicode support at all levels. Another key could be the GTK+ toolkit which is already the foundation for Firefox and Mozilla. This means supporting these applications on our platform could focus on WPS integration instead of just making them run. Likewise the recent switch of Firefox and Mozilla to using the Cairo library [SVG] means new possibilities for rendering graphics on a new WPS opens up. One is direct support of Cairo by the Scitech SNAP drivers.
To read much more about this exciting project, and maybe even get involved, go to Voyager at Netlabs. Stay away if you don't believe this is exciting!
Other Presentations
Again this year the presentations at WSE were grouped into the categories: General, Application, Internet and Developer oriented. Each attendee was provided with a 3 day session overview and a descriptive list of the presentations which considerably helped in planning session attendance. I would have wished that presenter names were included in the list for all presentations, but that is a very small suggestion for next year's organiser - UK? or Sweden?
General Presentations
WSE2005 featured general presentations on eComStation beyond the current version. Base drivers to fully exploit modern hardware are missing from the current version of eComStation and OS/2. These include an ACPI driver and drivers which support video acceleration. Thanks to Eugene Gorbunov this is changing.
Eugene Gorbunov explained in his presentation on base drivers for eComStation that it is now possible to install eComStation on a JFS partition and that tools have been developed to recover from the unavoidable disk problems. Disk are, after all, mechanical systems. We also heard why a driver with the ability to support 2048 gigabytes volumes and files is key to the future of eComStation.
Eugene continued with a description of the status of the NTFS driver and its outstanding todo items before NTFS partitions can become integral elements of an eComstation installation. He even mentioned the possibility of booting from an NTFS partition. The new file system which will be introduced with Microsoft Vista is already on the eComStations developers' radar.
He gave a description of how the ACPI driver affects both the kernel, other drivers and applications, and what is needed to make this driver usable for the end user. Among the outstanding tasks are APM functionality, control of IRQs, and SMBus.
Eugene finished by outlining some of the other needs, and described a driver called Panoramo to take advantage of hardware accelerated video on certain ATI chipsets and at the same time being Warp Overlay compliant.
Of course there was also the almost traditional update on eComStation presented by Bart van Leeuwen and Joachim Benjamins from Mensys. Currently a media refresh is available to all registered eComStation 1.2 users, which include AMD Athlon64 installation support, improved USB mass storage support, improve migration, updates to minstall, bug fixes and direct installation of SMP. While the media refresh is currently limited to English and German native language version, the GA eComStation 1.2 is currently available in English, German and Dutch from the Mensys web site, while versions in Russian, Taiwanese and Italian are close to completion, and versions in Japanese, Portugese and Czech are under way.
eComStation 2.0 Beta1 is also available to software subscription users. It includes bootable JFS, ACPI driver, updated snoopers, SNAP/ENT booted from CD, disk resizing. The final GA product will include all the projects currently in the Betazone. In addition there are an updated installer, updated user interface, advanced networking including Samba, updated TCP/IP programs, and user level security.
Another general presentation was an explanation on setting up print servers under OS/2 and why an external print server is better than using your computer as a print server. An external print server usually consumes less power.
Another presentation covered how to write articles about eComStation for the computer press in general and the OS2 VOICE newsletter in particular by the editor of the VOICE Newsletter Christian Hennecke.
Application Oriented Presentations
WSE2005 featured presentations on the following applications:
Maul Publisher
ePDF
ClipView
Wireless LAN Monitor
CommuniGate PRO [mail server]
Injoy Firewall
eWPS/xWP translation
Personal Video Recording
Connecting to Palm OS devices.
The DFSee application is now so important for the future that this application was categorised as General.
Robert Henschel gave an introduction to how newer PALM devices may be connected to eComStation using Pilot Link. The different possibilities of connecting a PALM devices at the basic level to an eComStation workstation are: using infrared drivers, using a serial link, or using a USB connection. (According to the developer of the OS/2 iRDA driver it will never connect to a PALM device.) The option of a serial connection may be the right way to go for older PALM devices which comes with a serial cable and a serial connection. For newer PALM devices such as the Tungsten T5 the USB connection is the way to go.
The USB package for Pilot Link may be downloaded from Hobbes.
When you attempt to use this package, assure yourself that the basic USB and USB mass storage installation is working. Robert demoed a complete backup of his Tungsten T5 as well as a hot sync. Unfortunately Pilot Link apparently doesn't backup up the address book on the newer Trio 650, which is on my wish list for Christmas.
Frank Wochatz gave an update on ePDF which together with Ghostscript is a viable PDF distiller for eComStation. ePDF together with a hacked version of the latest postscript driver from IBM and maybe PrintMon PS is an elegant system for creating modern PDF-files for print or web usage, or even for pre-press usage. ePDF is available from Subsys.
ePDF allows you to enter information about the PDF document such as tittle, subject, author and keywords. You can either access the filename suggested by ePDF or change as well it as the location of the resulting PDF file. Among the new features in ePDF are the ability to create text based watermarks and supply user and owner passwords. With a user password others are prevented from viewing the document, while with an owner password the creator of the PDF document has some control over the usage of the document, such as e.g. printing.
From my point of view the only weak link in the current ePDF version is the creation of the bookmark file. This file is created in a semiautomatic fashion, and the process as demonstrated by Frank is prone to errors. I am certain that in the most used text processing systems on eComStation (OpenOffice.org, Describe and Wordpro) which all have some sort of macro facility, it should be possible to have a macro create the necessary bookmark file automatically - and with less errors. After all, computers are better at counting than humans!
Rüdiger Ihle gave the presentation on the EmperoarTV video tuner cards and drivers. He treated the audience to dual channel movie watching on a eComStation computer. All that is required are two EmperoarTV tuners in your system. Each tuner can then be tuned to a separate source, and you can watch two movies at the same time. If you have WarpOverlay installed you can even move the window around while the movie is playing. You could also elect to record one of them and burn it onto a DVD for later viewing. All the necessary software for making recording possible with just a few clicks are available for eComStation, and most of it is open source. For example you can go to a website with TV-programs, download the programs for your selected channels, open this schedule in a Java application, and double-click on your favourite program to record it.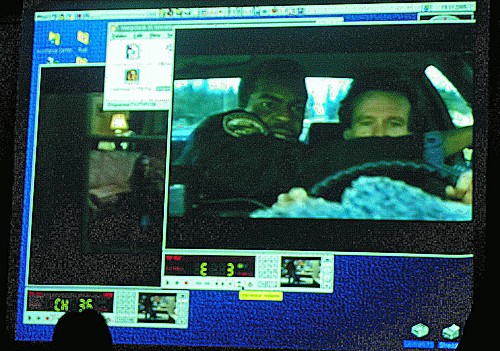 Fig. 4. Live demo of simultaneous video playback from a TV broadcast and a DVD in windows on OS/2. You can even move the window around without disturbing the video playback. Try that on a Windows machine! [
Larger Image
]
Joao Galvao showed how easy it is to install and configure CommuniGate PRO [a high end mail server] on any of the 30+ platforms on which it runs, including eComStation. CommuniGate PRO is rather expensive for personal usage, but if you can live with a demo message inserted in all outgoing emails, you can have your own private mail server with corporate performance for the cost of learning to use it.
Christian Langanke presented an update on the recently released Wireless LAN Monitor 2.0. It includes the capability to scan for any network and to switch between different wireless interfaces, e.g., your built-in mini-PCI card or your old PCMCIA card. I was staying at an Ibis Hotel near the center of Dresden and I easily picked up the Vodafone wireless network in that area. At IFW I easily picked up a connection to WSE server, and most of the time also to the available Internet connection. If you are in a area with more access points available the Wireless LAN Monitor automatically selects the one with the strongest signal. The updated Wireless LAN Monitor is available from Netlabs.
Internet Oriented Presentations
Arne Blankerts gave a presentation on tips & tricks of using the Mozilla and Firefox browsers. During the session a number of extensions available for one or both browser were demoed.
Björn Söderström from Sweden explained how you can use GnuPG and Enigmail with either the Thunderbird or Mozilla e-mail clients to encrypt sensitive e-mails. This been made possible thanks to a collaboration between the Swedish Mozilla team and knowledgeable OS/2 users in USA, who collaborated to find the few missing pieces to make these applications work on eComStation.
Developer Oriented Presentations
This year's WSE was loaded with developer-relevant information with presentations about:
Replacement of the OS/2 kernel by Yuri Proniakin
WDSibyl by Wolfgang Draxler
Perl by Dave Saville
Advanced client/server programming by Dominik Chmaj
Developing multiplatform text based programs in C by Jan van Wijk
the Qt GUI tool kit for OS/2 by Dmitry Kuminov
the Doodle Screen Saver by Peter Kocsis
How to create Mozilla driven applications using PHP and XUL by Arne Blankerts
NLS for developers of software for eComStation end users by Jacques van Leeuwen
As a normal user my interest currently is not in development, hence I only attended a few of the developer oriented sessions.
One of these was a session by David Saville, a very experienced systems programmer from the UK. He gave a presentation on using the Perl scripting language and especially the extremely powerful regular expression facility of this language.
Jan van Wijk, the author of DFSee, has now created a set of libraries which makes the development of text based applications for eComStation, Windows and Linux much easier. The libraries are called TxWindows, and may be freely downloaded from Jan's homepage and soon also from Netlabs. Jan needs and uses the libraries himself in the continuing development of DFSee. In a double presentation he first introduced the API and the calls available. Then he showed demo programs included with the package to get you started.
With this package and the OpenWatcom compiler, there really is no excuse for not starting to develop text based applications for eComStation, Windows and Linux. Just be aware the result depends on the active codepage when the program is executed. Since the package is licensed under the LGPL, nothing prevents an experienced programmer from extending the package with dynamic codepage modifications.
Another interesting developer session was Yuri Proniakin's presentation on UNICODE capability in the OS. And replacement of the Kernel with the research-oriented K42 kernel from IBM Labs.
Yuri also demonstrated an editor where he could dynamically change codepages. On the same line he showed latin, arabic, aramaic and russian letters. This kind of capability is key to the localisation needed for the large markets in Eastern Europe and the Far East, e.g., China, Japan and India.
Food and Facilities
The facilities, i.e. rooms, chairs, tables, etc., at IFW were excellent. A large improvement over last year although having presentation rooms distributed over 3 floors was a bit difficult. On all three days lunch consisted of a hot dish, a dessert and a drink from the IFW cafeteria. The Saturday evening social featured a cold buffet and pizza plus unlimited soft drinks in the IFW cafeteria.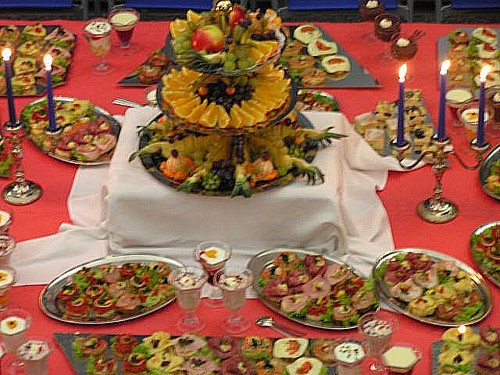 Fig. 5. At the Saturday evening social after the introduction of project Voyager the conference attendees were treated to an excellent buffet including both hot and cold food. [
Larger Image
]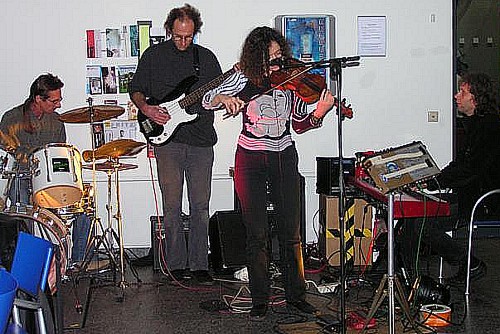 Fig. 6. During the dinner on Saturday evening this band provided nice background music for the discussions. [
Larger Image
]
This years WSE social event also had the traditional draw. I just wished the organiser focused on quality in stead of quantity, when they collect prizes. This years draw had quality items such as DFSee, Maul Publisher and Pixel licenses. Other items should be instead used to establish a flea market near the user group area.
Conclusions
This year's Warpstock Europe provided much value for the forty euros it cost. Exciting developments was announced at this years WSE, such as Typo3 running on eComStation and the Voyager project launched by Netlabs. Also updates on last year's announcements such as the bootable JFS and the ACPI driver, and a demo of eComStation booting from a JFS partition. So both for the short term, i.e. 1-3 years and for the long term, i.e. into the next decade things looks brighter than last year, even though IBM's involvement appear to be less than last year.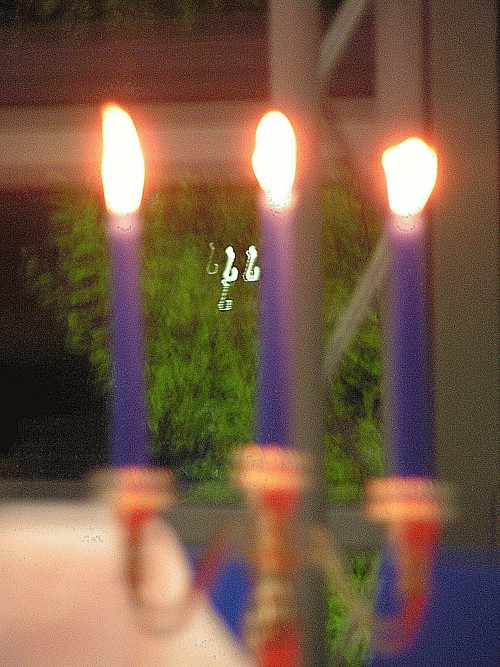 Fig. 7. With the developments of eComStation headed by Serenity Systems International with Mensys in Holland as the coordinator and many volunteers the light of our OS/2 based operating environment continues to burn. With the launch of project Voyager at Netlabs steps have been taking to keep the candle burning well into the next decade. [
Larger Image
]
Especially important for the future are the many developer oriented presentations, and the fact that a developer workshop is already planned for next spring in Switzerland.
All pictures used in this article were taken by the author using a Konica Minolta Dimage Z2. It records pictures in the JPEG format for easy transfer to a eComStation computer using a USB connection. Some pictures have been resized using PMView.
[Ed. note: The reduced images were also processed by PMView.]