August 1999
editor@os2voice.org
---
What do I use OS/2 for?

By: Herbert Anderson gsahca@newulmtel.net

---
Several years after the MS-DOS 4.00 and Microsoft Windows introduction, I became disenchanted with Microsoft products and their OS applications (I still am). I found an alternative. I have been an OS/2 user since October 1992.


One of the biggest criticisms of OS/2 has been "there are not many or even any applications"! There has been a lot truth to that and many expressed opinions for the reasons over the years. I have to agree with many of those opinions, but that is not this article's objective. To begin with, I have found many applications, especially in the past two years which increase my productivity. I enjoy using them, have fun, and get a valuable return for my investment. In addition, OS/2 is dependable, multitasking, and easy to use. The best way to promote OS/2 and program developers is to use OS/2 applications, register them, and provide feedback for improvements.


I would like to discuss some of the OS/2 applications that I use in a series of articles. They will be a sampling of what I use with OS/2 Warp 4. These are not necessarily the absolute best OS/2 software as everyone has different ideas about what serves them best.


My first in a series of articles is on my Financial applications.

In Charge!

I have used In Charge! (InC) since January 1996 for personal finances. Prior to that, I used Quicken for DOS version 8. An outstanding feature of InC is the authors' excellent support. Software development is very responsive to user inputs and problem reports. For a six-month subscription fee, users can obtain downloaded monthly version upgrades within the specified period. These upgrades are often based on user suggestions and occasional problem fixes. The latest version is 1.02.55a.


Initial program files are available on 3-1/2 in. disks, downloaded zip files, and on a CD-ROM. The install program is an OS/2 installer. Enter A:Install from a command line or click on the Install icon. The same routine is used either for an initial installation or an upgrade. The initial install requires a program serial number. An subscription upgrade requires a subscription number. Subsequent upgrades within a subscription period goes faster, since the subscription number is kept in a file accessed by the upgrade routine. You can always do an initial install with upgraded files, just enter both the program serial number and the subscription number in the proper spaces.


InC consists of 8 main systems. There are account, budget, bill, property, securities, insurance, tax, and small business management sections (Including double-entry and Invoicing, but no payroll). A comprehensive manual is included, and I advise users to read at least the first several chapters. Start with setting up something like a checking or credit card account. There are three generic accounts, which are current asset, credit liability, and credit asset. Specific accounts such as for checking, credit card, mortgage, brokerage margin, cash management accounts etc. are variations of the generic accounts. There is a great deal of flexibility on how you wish to setup an account as to its type and function. That is one of the reasons, I found it easy to leave Quicken for InC.


Multiple currencies are supported. I have had as many 6 different active currencies. I picked the US Dollar as primary and often transferred funds only between two other foreign currencies without any trouble. Many specialized reports can be customized.


The main screen has a full drop down menu at the top. A standard set of icons for frequently used features exists in the screen center. At the bottom there is a set of 10 customizable number icons. I have assigned shortcuts to each of those ten numbers. Just click on the lower left hand "information" icon button to enter the Define Picture Button screen for the short-cut setup.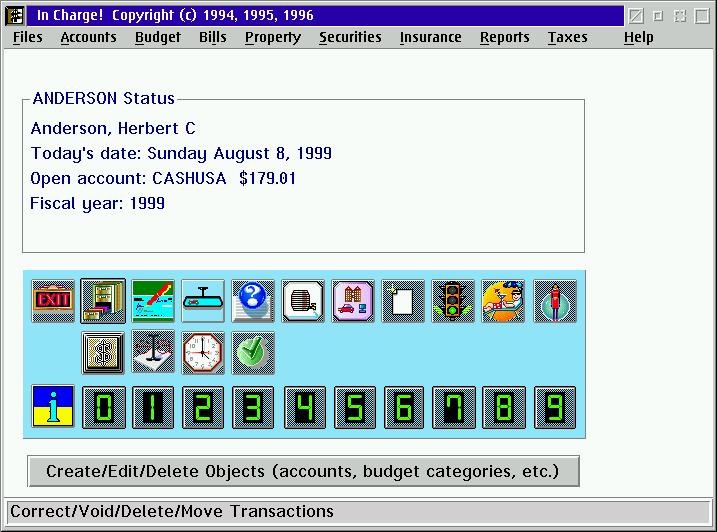 To enter an transaction, first open the account. At the main screen, click on the file drawer icon which is to the right of the EXIT icon. The Select Account window appears. I have a list of accounts in a Short List which I use most of the time. In my case, I can open the CASHUSA account by double-clicking on it or just highlighting it and clicking on the Open button. Then click on the Open Account icon which is to the right of file drawer icon. The Enter Account Transactions screen appears. Virtually all account entries are identical regardless of the account type. It does not matter which items are entered first. Any transaction posted to an account may be later edited, voided, or deleted.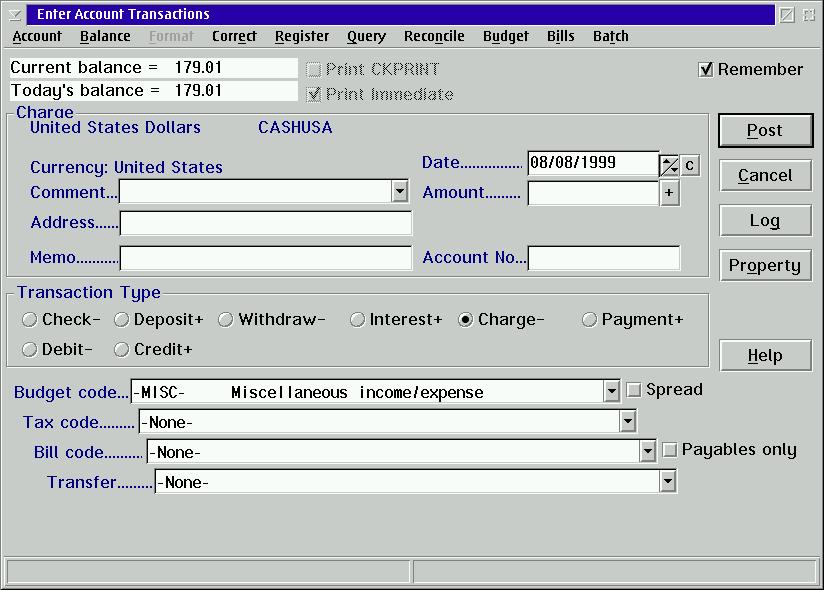 I usually prefer to work my way down from the date through the Comment section which is usually a list of Payee's, though not necessarily. The Payee list is editable from Accounts|Edit Payee List. A drop down list will pop out when you start typing in a name. Very helpful. Then I Enter the amount of the transaction. Later, I come to the Transaction Type, which is selected by clicking on the appropriate radio button. If you want to select a Budget code, you can select a budget code by typing in the first letter of the budget code, then click the drop down arrow and scroll to the desired budget code. Tax codes, Bill codes (for paying a bill), and funds transfer to another account follow. If you have multiple budgets, tax codes, bill codes, and/or account transfers check mark the Spread box and you will enter another screen after you click on Post button. That button is in the upper right hand corner of the screen. The next screen is "Spread over multiple categories". The data entry system is similar to the "Enter Account Transaction" screen, but it emphasizes being able to make multiple entries with a specific amount on one line. This screen is where the paycheck spread entry results could be manually generated.

An easier way to use "Spread over multiple categories" is a Batch Transaction. I like the Batch Transactions wherein a specific event occurs at repetitive intervals. Examples include paycheck processing. You can use Budget Code Spreads to allocate various expenses to budget and tax categories and transfer funds to other accounts such as 401(k) in one process. To setup Batch Transactions, first go to Accounts|Edit Batch Transaction. Fill out the information there. Then go to Budget|Edit Batch Spread. This is the necessary second stage in making Batch Transactions work for you.

Budget|Edit Group Codes are useful enhancements to budget reports, comparing budget items on a year-to-date basis, profit/loss, and income/expenses.

The Securities Management section is being greatly expanded with improvements. The improvements include ROI over specified time periods for any particular security. I have never used the Business Management or the Double Entry Accounting features, so I can not comment on them. Electronic bill paying services are available through CheckFree Payment Services. You enter your payment instructions into InC Then tell it to call CheckFree for payment processing. Since most of my bills are from local business, I do not use CheckFree, and instead pay in person.

InC has some very good utilities. One is the clock which can be set aside as a separate icon and stand alone program on the Desktop or in another folder. From there, I can assess a calendar, calculator, items due list, or alarms. I like the RPN calculator, although it only has two register stacks instead of 4 as in my HP41CX. A more comprehensive utility list is available within the opened InC. By clicking on both LMB & RMB. over an InC window, a menu pop up list appears. One can access an calendar, today's date, edit/schedule a note, do present/future value calc., depreciation, compound interest, annuity, regular withdrawal, exchange rates, and currency conversion.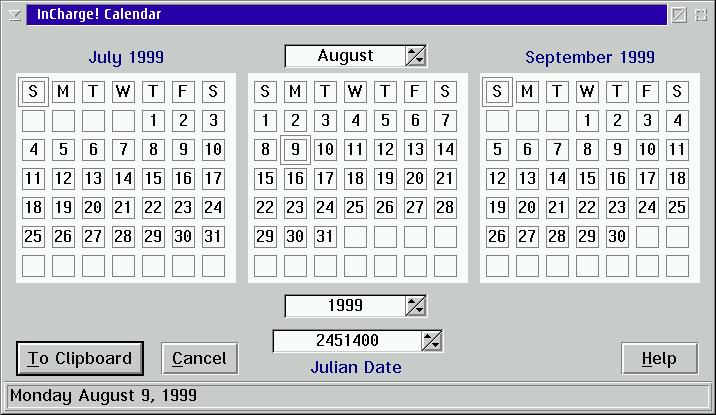 I am always looking for more improvements in security report functions. Especially, how can I display financial results in more ways with various securities and account groups. Many users have wanted to have multiple account windows open. Unfortunately, it is not possible in the OS/2 version. There is an explanation in the support forum which is accessible in the InC web site. Which brings to the point that support is given in several ways. It is given by telephone, direct E-Mail, and probably preferred in the web site support forum. In the forums, anyone can read the ongoing exchanges. By registering, you can post comments and ask questions as well.

This is an excellent and continually improving program driven in large part by its users.

Am-Tax

For Income taxes, I use Am-Tax98. This is a simple no-nonsense program in which I use the DOS version. A graphics intensive program is, I believe, not necessary for an Income tax program. I do like to manually enter data once per month throughout the year to keep current with the likely year-end tax situation. http://www.amtax.com
A review was written in January 1999 at http://www.os2voice.org/VNL/past_issues/VNL0199H/vnewsf7.htm


In future newsletters, I would like to write about my Internet, Business, Amusement/Diversions, Utilities, and Graphics/Imaging applications. There is a lot more good quality OS/2 software than what I use. The main point is that I currently do not use any Windows application except for an old Turbotax program to access back Income tax files. I would like to see more native OS/2 applications in the multimedia area especially pertaining to Web browser plug-ins and helpers.

---
Features
editor@os2voice.org
[Previous Page ] [ Index] [Next Page ]
VOICE Home Page: http://www.os2voice.org