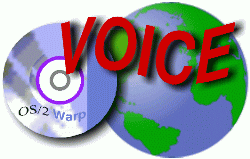 Virtual OS/2 International Consumer Education
October 1998

The News Page 4

News Index
email - secretary@os2voice.org
Previous Page | Index | Next Page
VOICE Home Page: http://www.os2voice.org

---
October 10, 1998
From http://www.scoug.com/os24u/1998/scoug810.2.graham.html

V.O.I.C.E.

Chris was a guest on a recent V.O.I.C.E "SpeakUp" session, and he had a special presentation for the unsuspecting participants. I'll let Chris tell the story.

"My most fun beta testing scenario was recently when I was on a SpeakUp with V.O.I.C.E. last July (20th). At the end I had a special surprise for them, in that I was previewing one of my upcoming PM apps, TaskMgr, which is an OS/2 version of the NT task manager but one that I plan to add a whole lot more to. It basically turned into an on-line beta test session. I was chatting in IRC in one session, cutting code in another and uploading a new build in a third (I love OS/2!). I think that the users liked it as well. All in all the session was scheduled for one hour,and it lasted well over two. I should do that more often, as it was very, very refreshing to get involved with some OS/2 zealots. Which is, after all, what WarpStock is all about, isn't it?"

---
October 10, 1998
Contact: Greg Shah, 770-475-3712 or info@goldencode.com

Bring Your Resume to Warpstock

Atlanta, GA, October 9, 1998 - Golden Code Development Corporation announced today that it will be recruiting OS/2 developers and OS/2 networking professionals at Warpstock '98. As a growing company, which focuses EXCLUSIVELY on building Network Computing solutions using OS/2 technologies, Golden Code is actively searching for experienced professionals with a solid base of OS/2 skills. If you have serious development or networking experience with OS/2 technologies, and are interested in a position on the leading edge of the Network Computing movement, then plan on visiting the Golden Code booth at Warpstock '98, in Chicago.

Candidates looking to do high-end systems integration work, or to develop system level tools and utilities, will find Golden Code an interesting and fun place to work. Knowledge of the OS/2 operating system and its related technologies is required for this position. The areas of specialization which Golden Code seeks in its' candidates include servers (LAN Server, Notes Domino, DB2, Communications Server), middleware, networking (TCP/IP, switching, routers, gateways, network design), systems management (Netfinity, NVDM/2) and development tools (Java, C/C++, REXX).

Warpstock attendees with with at least 3-4 years of professional OS/2 experience, whether as developers or networking professionals, should bring their resumes and stop by the Golden Code booth October 17-18. Qualified candidates will be provided an opportunity for an interview on the spot, schedule permitting. The Golden Code booth will be located next to the Warpstock Registration desk.

To arrange interview appointments in advance, candidates should fax their resumes to 770-475-0316 by noon, Friday, October 16. "Warpstock Interview" should be noted on the fax cover sheet, along with an e-mail address (very important) and a preferred interview date and time. Appointments will be arranged on a first come, first served basis.

About Golden Code Development Corporation

Golden Code is a small consulting company, specializing in the design and development of highly-managed, low cost-of-ownership systems. Its' clients are mostly large corporations deploying standardized systems across a large number of sites or networks. Golden Code is a one of IBM's leading Business Partners and has been heavily involved with the implementation of OS/2 and Workspace On-Demand at some of IBM's largest customers. Its' blend of serious software development skills with deep OS/2 and networking knowledge makes Golden Code unique. By leveraging its experience in the design and development of Client/Server and Network Computing PC/LAN systems, Golden Code is enabling its clients to reap the benefits of Network Computing. Golden Code is an equal opportunity employer.

More information about Golden Code can be found at:
http://www.goldencode.com.

More information about Warpstock can be found at:
http://www.warpstock.org.

---
October 9, 1998
Micq, a free text-mode ICQ client for OS/2, has been updated and uploaded to:
http://hobbes.nmsu.edu/pub/incoming/micq2.zip

You can now play wav's :-)
There are some other minor changes, too.

---
October 9, 1998 Source: Robert Deed (eyerewl@fcc.net)


It has been an idea of mine for some time to create a webpage specifically aimed at the hard task of choosing the correct hardware for an OS/2 based system which will be fully supported now and for some time to come. I have been compiling a list of personal experances and those of others and creating a very crude list. The begining of which is available online now. Please feel free to email comments and updated information about anything which is on the page. The information there is in no way intended to make people feel hopeless when looking for choice in products supported by OS/2 but to give them a good starting point.


The url is:
http://newterra.ml.org/info/os2_systems.html

---
October 8, 1998
Symbios has just updated their OS/2 drivers for their 8xx series SCSI cards to 4.09.00.
ftp.symbios.com/pub/symchips/scsi/drivers/OS2_Driver/Driver/SYM8XX/os2.zip

The Symbios 896 SCSI driver has also been updated. Instead of the SYM8XX directory, go into the SYM896 directory.

---
October 8, 1998 Source: Tom Wheeler (twh270@airmail.net)


The W3C organization has a webserver written entirely in Java, called Jigsaw. It doesn't mention OS/2 compatability, but it seems to work fine on my machine (Warp 4, latest 1.1.6 JDK).


Jigsaw has been around a while and is a stable product, and it's Open Source. You can get it at:
http://w3.org/Jigsaw

---
October 8, 1998
Dear OS/2 Enthusiast:

The Warpstock '98 Team is pleased to announce the full schedule of events on the Warpstock web site.

The page for the schedule is:
http://www.warpstock.org/schednew.html

Plan your shopping and learning time accordingly, and don't forget to leave some time in for socializing with your Warped Cyberbuddies.

The countdown is on! See you in just ten days!

---
October 8, 1998
XML Parser in Java has been updated to v1.1.4

Changes incorporated in XML4J version 1.1.4:

Support for DOM Level 1 Specification [01 Oct 1998].

Performance improvement: Runs twice as fast.

Additional support for 18 different EBCDIC encodings.

Many bug fixes since version 1.0.9.

XML Parser in Java

alphaWorks is now offering a commercial license for IBM's XML parser, Java Edition at no cost.

Extensible Mark-up Language (XML) is a data format for structured document interchange on the Web. It is extensible because it is not a fixed format like HTML. XML itself is not a single mark-up language: it's a metalanguage that lets you design your own mark-up language. XML is designed in accordance with SGML, the international standard metalanguage for mark-up languages.

XML for Java is a validating XML parser written in 100% pure Java. The package (com.ibm.xml.parser) contains classes and methods for parsing, generating, manipulating, and validating XML documents. XML for Java is believed to be the most robust XML processor currently available and conforms most closely to the XML 1.0 Recommendation.

See http://www.alphaWorks.ibm.com/formula/xml

---
October 7, 1998 Source: John Buckley (jrb568@bham.ac.uk)


Hi,


I just wanted to say a big thank you to everyone who has supported my petition to Power Quest seeking an OS/2 executable for v4 of Partition Magic.


In my opinion the response has been excellent. I have received over 400 names in support of the petition which have been forwarded to Power Quest along with your comments.


Let's hope that this, along with the other emails and requests Power Quest appear to be receiving, will change their minds!

---
October 7, 1998 Source: BMT Micro (bmt@wilmington.net)


Hi,


If you've ordered an EDM/2 CD and the html links do not work, the CD is not 'busted' and yes we checked it before we sent it. ;-) The CD was originally intended to appeal to OS/2 developers who would know the 'secret' of how to make OS/2 recognize the file format the CD is in but I clearly misjudged the wide appeal of the CD and in hindsight should have inserted a sheet on how to add support to read files in Joliet format.


FP 5 introduced this capability and *FINALLY* we can get away from the 8.3 file format when we're making CD's. You haven't lived until you try to make an OS/2 CD and work with an 8.3 file format structure. ;-)


I apologize to everyone who ran into this - my bust. Hopefully the inconvenience is offset somewhat by getting to learn something new about your system and it's something that would come up sooner or later - might as well be sooner and I'm sure glad it's with us. Thanks for your support!


Here's how to add Joliet support to your OS/2 system. I'm not a guru on this, but it works. For more info go to www.dejanews.com and search for "OS/2 and joliet".


==============================


To read the EDM/2 CD (or any CD with files in Joliet format) you must:


1. Install Fixpak 5 or higher.


2. Look for this line in your config.sys file:


IFS=D:\OS2\BOOT\CDFS.IFS /Q (of course the drive letter might be different on your system.)


3. Add a new switch: /W so you now have: IFS=D:\OS2\BOOT\CDFS.IFS /W /Q


4. Reboot

---
October 7, 1998
The RSU (Remote Software Update) installer has been updated to v1.78. This is the program that allows you to install FixPak's over the web. You can download the update from:
http://ps.software.ibm.com/pbin-usa-ps/getobj.pl?/pdocs-usa/softupd.html#newrsu

---
October 7, 1998
SouthSoft has released PMINews v2.00. If you would like to find out what in new in this release, see the version history (http://www.southsoft.com/suppmihist.html). You can download a copy from:
http://www.southsoft.com/pminews.html#download

---
October 7, 1998
Users of IBM's Web Browser Intelligence (WBI) agent software should log into http://www.software.ibm.com/ucd/wbi.html and take a few minutes to fill in the survey, IBM is conducting. Those who have never seen WBI before, can find out more information and/or download a copy for free from Alphaworks (http://www.alphaworks.ibm.com/).

---
October 7, 1998
This week's issue of Focus on OS/2 (http://os2.miningco.com/) is now online. I have written a new feature on a great little shareware product designed to improve your Internet experience. The program is called FTP Browser, and you can read all about it at http://os2.miningco.com.

---
October 7, 1998
IBM OS/2 Warp Developer Kit, Java Edition, Version 1.1.7 - Preview:

The Developer Kit provides separate, downloadable files for two Runtime packages, a Development package, and a host of features ranging from Eurocurrency support to Unicode fonts to a powerful debugging facility.
http://www.software.ibm.com/os/warp/downloads/java/index.html

---
October 6, 1998
The site that lists OS/2 compatible (and incompatible) notebooks and grades them according to compatability, located at http://www.os2ss.com/users/DrMartinus/Notebook.htm, has been updated and modified daily over the last 3 weeks since it was first announced. It lists now more than 100 Pentium and Pentium II notebooks, as well as a number of 486s.

New features:

A guide to install PCMCIA

A driver page which lists links to drivers (only for notebook computers)

A form to submit details about your notebook running OS/2

It is up to you to make this page a real success, by checking out links and information provided there, and by telling others about it. If you have a notebook computer, please compare your experiences with what is given on the site. Check out the links for drivers etc. and let me know if anything does not work properly or is incorrect.

---
October 5, 1998
This is to announce that Xitami version 2.4a is now available from http://www.imatix.com. This alpha release should not be used for production sites except after rigourous testing. It corrects a number of bugs in 2.3d and adds new functionality. Note that config files for 2.3d may need changed for 2.4a.

---
October 5, 1998
Under the spotlight of Communicator/2 going GA, Sun has released HotJava 1.1.5. It requires at least Java 1.1.6 so if anyone wants to toy around with it...
ftp://ftp.javasoft.com/pub/hotjava/8987675/hjb115-generic.zip

---
October 5, 1998
SouthSoft has released PMMail/2 v2.0. Here is their announcement:

We have been planning, designing and coding this major PMMail/2 upgrade for over 9 months, and have finally finished it! We have combined almost all of the new features currently found only in PMMail 98, along with over 65 new features to create PMMail/2 2.0. From the minute checkbox options that people have been asking for, to the useability features that will make so many Inboxes so much easier to live with!

You can download a copy from http://www.southsoft.com/pmmailos2dl.html. Also available is the Full Feature List (http://www.southsoft.com/suppmmos2hist.html) and pricing information (http://www.southsoft.com/pmmailos2.html#price).

---
New Dialog Enhancer pack files at:
http://www-student.lboro.ac.uk/~mcrsc/de/beta_dl.html

Global Installer v1.80
Pack File v5.05

Changes to the Installer since v1.70

# 1.80 Beta/Gamma release

NEW : Dialog Enhancer now handles error conditions itself. CAD is no longer required.
NEW : Redundant resources removed from installer executable.
NEW : Dialog Enhancer now handles locked files better.
FIX : Uninstallation routine wrote garbage to the uninstall log file.
FIX : Uninstaller now does a few more checks on file locations before proceeding.

Changes to the Pack file since v5.00

# 5.02 Beta release of pack

NEW : Added Netscape 2.02 support after breakthrough in getting modifications to work.

# 5.05 Beta release of pack

NEW : Updated internal compilers.
FIX : Window controls slightly corrupted when small icon patch applied.

---
October 4, 1998
GIMP (an XFree86-OS/2 based graphics application similar to Photoshop) has been updated to 1.0.1 and uploaded to Hobbes. It is currently sitting in /pub/incoming as gimp101bin.zip.

You can also get gimp10dataex.zip, which is extra gradients, brushes, etc.

---
News Index
email - secretary@os2voice.org
Previous Page | Index | Next Page
VOICE Home Page: http://www.os2voice.org