Active GUI element
Static GUI element
Code
WPS object
File/Path
Command line
Entry-field content
[Key combination]
A report on Warpstock 2005
Mark Dodel is the founding editor of the VOICE Newsletter and is the current moderator of the VOICE News mailing list http://www.os2voice.org. Mark is a past president of Warpstock, the annual OS/2-eComStation user conference in North America and continues as an advisor to the board of directors of Warpstock, Inc. He has worked for many years as a computer comsultant for clinical hospital systems development.
The 9th Annual Warpstock OS/2-eComStation Users Conference was held this year in Hershey, Pennsylvania Thursday through Sunday, October 5-9.
It's a Hit!
After the success of last year's four day format we again had two days of 4 hour classes on Thursday and Friday and had the traditional 90 minute sessions on Saturday and Sunday. According to our end of show survey this format was again preferred by the majority of attendees (81%). Unfortunately we only had survey responses from about half the attendees. We plan on having an online survey to get feedback on what people would like to see at next year's event. Over the 4 days we had 70 attendees, with 20% coming just for the Saturday-Sunday sessions.
Looking at the survey results, everyone was satisfied with the hotel with only very few minor complaints about the cost of the restaurant, some power problems in the room, and the lack of wireless Internet in the meeting rooms.
Exhibitions and Sessions
In this year's exhibition area we had tables for FinnSoft, Hautspot, Rosenthal & Rosenthal, LLC, Netlabs.org, REXXLA, and OS/2-eCS.org. Derek Keoughan of Finnegan Software (FinnSoft) had a couple of newly built systems for sale running eComStation 1.2 including a dual core Athlon64 tower system. Hautspot is a wireless networking hardware/software service provider. Rosenthal & Rosenthal, LLC is an accounting and PC network consulting firm. Netlabs.org was represented again this year by Arne Blankerts. REXXLA was fronted by their president, Chip Davis. Jeramie Samphere and Tom Lee Mullins set up a booth for OS/2-eCS.org for Saturday and Sunday.
Over the course of the four days people attended 12 different four hour classes, and 23 ninety minute sessions on various topics related to OS/2, eComStation and open source. These ranged from programming in C, C++, PHP and REXX, various networking sessions, advocacy sessions, general usage sessions and product demos. I myself only attended two sessions this year which is on par with my previous experience.
Saturday morning's keynote session was presented by Mike Kaply on The past, present and future of Warpzilla.
Mike talked about his experiences with OS/2 web browsers starting with Netscape 2.02 through 4.04, 4.61 and on to the open source Mozilla project which he now leads.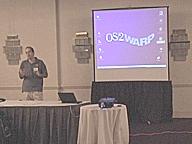 Fig. 1: Mike Kaply [
Larger Image
]
Mike discussed the issues getting IBM (and especially the lawyers) to accept the open source model. But with OS/2's really low profile now he can stay under the radar and get things accomplished. Mike ended the session with the news that with the porting of the Cairo libraries [for SVG rendering] to OS/2, we will see continued versions of Mozilla based applications for as long as there is a demand. I videotaped the entire session, but as of this writing there is only a QuickTime version available online, and an AVI version.
The other session I attended was Robert Henschel's presentation on Connecting eComStation and Palm OS Devices. Using the latest release of PilotLink/2 which now has USB syncing support, you can backup a Palm based PDA to your OS/2 or eCS machine. Finally, after a number of years of trying, I can backup and sync my Garmin iQue 3600 [PDA + GPS] to my eCS system. And it really works!
The many programming sessions on C/C++, REXX, PHP, and XML were well received.
There were advocacy sessions on OS/2 and eComStation as well as sessions demonstrating products like DFSee, UpdCD, eComStation update, and CSSDir. And as last year all the networking sessions (on wireless, wired and Samba) were well attended. Chuck McKinnis' session on the eCS Maintenance Tool was enlightening as usual.
At the eComStation Update session attendees received a copy of the new eComStation 1.2 Demo CD. This should prove handy as not only a marketing tool, but also an easy means of testing out new hardware in stores. There have been rumors of these CDs being left in store demo machines booted to eComStation so customers can see an alternative to the mediocrity of the lowest common denominator. A sort of commando marketing tactic. You can download your own copy here.
The Wayback Machine
For something a bit different we put together a small museum of vintage hardware running different versions of OS/2 from the past. We tried to get as many different versions - from OS/2 1.0 through the last official commercially available release, OS/2 Warp Server eBusiness. The hardware and software was either donated or acquired from eBay. We had the following running systems at the OS/2 Museum at Warpstock:
Fig. 2: PS/2 model 50Z [

Larger Image

]

An IBM PS/2 Model 50Z with OS/2 1.0 Extended Edition from 1987.

An IBM PS/2 L40SX laptop with OS/2 1.31 Standard Edition from 1990.
Another L40SX PS/2 laptop with 2.0 from 1991.
Aron Eisenpress brought a PS/2 model 57slc Multimedia PC running OS/2 2.0. The videos played on this were extremely vibrant considering it was on a VGA monitor and the hardware was from 15 years ago.

Fig. 3: PS/2 TV [

Larger Image

]

Aron also brought a PS/2 TV unit to Warpstock along with rabbit ears antenna. It was incredible that this product was available almost 15 years ago and works so well even today. The unit was attached between the computer and the monitor via the VGA and keyboard cables to an IBM PS/2 model 70 with OS/2 1.3 Standard Edition installed. It showed PIP (Picture In Picture) or full screen broadcast TV overlayed on a VGA monitor.

Other hardware included an IBM PC 300GL with Warp Beta II on it.
Our keynote speaker, Mike Kaply of IBM, brought a bunch of Warp Beta II CDs which had Prepare to go to Warp Speed on them which were never released because Paramount Studios sent IBM a letter to stop using the term Warp to mean speed. The CDs were put up in a silent auction with other neat stuff in memory of James Taylor who died about a year ago. James was one of the main developers of the WorkPlaceShell, the first truly object oriented computer desktop for the Intel compatible platform.
A Netfinity 3500 tower system with Warp Server 4.0 on it and a dual Pentium Pro 200MHz Toshiba Equium with Warp Server for eBusiness. Warp Server for eBusiness supports up to 64 concurrent processors out of the box.

Fig. 4: OS/2 on PPC [

Larger Image

]

The prize of the collection was a Power Series PC model 830 with OS/2 PowerPC Edition on it. A big thanks to: Tero Kaarlela for helping us get that machine, Hollis Blanchard of penguinppc.org for donating it, Vicci Conway of IBM for shipping it to us, and Michal Necasek and Oliver Mark as well for locating software to run on the PowerPC.

Unfortunately we heard from Mike Kaply that just a few weeks before our event IBM destroyed several thousand copies of OS/2 PowerPC edition that they had in storage for over ten years. So for our museum we only had burned images of the OS/2 PowerPC software.
Some people contributed some additional items they brought with them to the museum as well. Besides Aron's PS/2 TV unit, they included a shrink wrapped OEM copy of Microsoft OS/2 1.0 for Amdek computers and a few more items including videos.
Other treasures displayed included Microsoft Multiplan for OS/2 (a pre-Excel, 16 bit text based spreadsheet from Microsoft, a DOS/OS/2 family mode application), as well as Microsoft Word for OS/2, the original Lotus Smart Suite for OS/2 and a large collection of IBM OS/2 related videos which we played in the exhibit area.
I never did get a PS/2 model 55SX that I had bought on eBay to run OS/2 2.1. Aron spent quite a bit of time taking that and two dead model 70s apart to see if he could get them working.
The OS/2 Museum was appreciated by quite a few attendees. People were playing with the running machines, some for the first time and others who had run these same machines over a decade ago and were reliving a little bit of the past. The plan is that this collection will find a more permanent home as a small part of the new MidAtlantic Vintage Computer Museum being formed at the InfoAge.org site in Wall, NJ. InfoAge is a tech center being created by the State of New Jersey and private interests out of the remains of a recently closed military base (Camp Evans).
Closing Ceremonies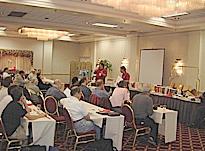 Fig. 5: The Raffle [
Larger Image
]
The closing ceremony on Sunday was very well attended as we had a pizza buffet for lunch followed by a really huge give-away session. There were over 170 items given away to attendees including a 2.5 pounds of Hershey's chocolate in the shape of a computer, a Thinkpad A22m (courtesy of Rosenthal & Rosenthal, LLC), and an Athlon64 3000+ PC desktop system from one of our exhibitors (Derek Keoughan of Finnegan Software). The Athlon64 system was paid for by an anonymous Warpstock attendee. Wow, what a great contribution to the cause!
In addition Jan van Wijk donated 5 licensed copies of the bootable DFSee CD. We changed the giveaway format so people had a better chance to get items that would interest them. Instead of picking items and then calling out ticket numbers as in the past, we gave each attendee 10 tickets and as numbers were called the winner could pick any item they wanted off the tables.
I wish I could report more but between setting up the OS/2 Museum, checking on administrative issues of the event, meeting with the Warpstock board, and having to drive home on Saturday to deal with a small flood in my basement (turned out to be a very minor problem and I returned on Sunday) I didn't get to many sessions.
And a Board Meeting
At our annual Warpstock board of directors meeting we accomplished a great deal though. This event serves as the only real opportunity for the board members to meet in person. The rest of the year everything is done online. At this year's meeting Stan Sidlov, Eric Erickson, Oliver Mark and myself all resigned after having spent four or more years on the board.
New members have joined the board so we hope to see a lot of innovative and positive changes for the future. The new board members are Douglas Clark, Andy Willis, Chuck McKinnis and Lewis Rosenthal. They joined John Edwards, Robert Kuropkat and Sam Little who remain from the old board. John Edwards was elected president of the board, Andy Willis the vice-president, Douglas Clark the secretary, and Lewis Rosenthal the treasurer.