Active GUI element
Static GUI element
Code
WPS object
File/Path
Command line
Entry-field content
[Key combination]
Warpstock Europe 2006
Report from Cologne

Christian Hennecke is the Editor in Chief of the VOICE Newsletter. While being a geographer originally, he runs an IT consulting and service company.
The 2006 edition of the annual European conference for OS/2 and eComStation users took place from November 17 to 19 in Cologne, Germany. Located in a large youth hostel, it provided an all-in-one facility for users and developers to get together while an extensive selection of presentations and workshops offered a wealth of information.
Location
Warpstock Europe 2006 was held in Cologne, Germany from November 17 to 19 in one of Germany's largest youth hostels, the Jugendherberge Köln-Riehl.
The Youth Hostel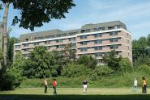 Figure 1. The youth hostel
Located on the meadows of the river Rhine's west bank, it provided more than 300 beds and nearly a dozen conference rooms, something that made it rather competitive with hotels than other youth hostels. During a guided tour with the hostel's staff, the on-site orginazation crew became convinced that the hostel, while maintaining a more cordial kind of hospitality than hotels, provided Warpstock Europe with facilities that could compete with more sophisticated and professional sites.
From the 11 meeting rooms at the youth hostel, five had been reserved for Warpstock Europe. The two largest ones hosted the user groups and commercial exhibitors as well as the most popular presentations. Three smaller ones, which still had enough space for the audience, served as presentation and workshop rooms as well, with one being available on Saturday and Sunday only.
The youth hostel had recently upgraded its internet access to a DSL connection. Unfortunately, this was still only a small bandwith connection of around 1 Mbit—which caused a few headaches regarding the usual requirements for Warpstock. But at least all rooms had a socket to plug in a network switch. They were using DHCP on their router. There were some problems because somebody in the exhibition room had attached their own router with an active DHCP server but hadn't thought of adapting it to the local network. Naturally, the addresses obtained there couldn't get through to the Internet.
Both the youth hostel itself as well as its reception desk were open 24 hours a day. So nobody had to worry about check-in times if they arrived in the middle of the night.
Registration was only 10 Euros a day, not including lunch or dinner. This flat fee model sure made things easier. They would have been even more easy if the registration page at Mensys had been less complicated. As it was, it did not allow for choosing all possible combinations of days and meals, which caused quite some confusion and some visitors had to have their registration corrected at the registration desk. Booking a room or bed at the youth hostel also prooved to be more complicated than neccessary due to the hostel's payment requirements. That and a few other problems, e.g., the catering, annoyed the organizers quite a bit.
The bar was open until midnight at least, so there was plenty of opportunity to have a drink and chat.
The Town

Figure 2. The Cologne cathedral at dusk
With a population of approximately 1 million, Cologne, called "Köln" in German, is the 4th largest German city. It is located in western Germany at the river Rhine and has its roots in a Roman colony. It's best known for the cathedral, which has been given World Cultural Heritage status by the UNESCO, the local street carnival, a local kind of beer, and a dialect that non-citizens sometimes have trouble understanding (but don't worry, most people could also speak standard German and English).
Thomas Klein of the event team put it this way:
Cologne is a vibrant yet cool city. Of course we have the same problems that exist in all large cities. What makes Cologne special is the way people deal with it. We don't take life too seriously. Except for some ridiculous details in sports or politics that might vary from time to time…

Due to its history, the town of Cologne has been a "melting pot of cultures" for almost the last 2000 years. And is still today. If there is one thing that we people of Cologne are proud of today, it surely is the fact that we have 20% of citizens that come from countries all around the world, making up a genuine mixture of cultures, forming an uncomparable climate of tolerance and breeding a very unique lifestyle.
There were many sights to see, a large number of museums, and many other cultural offerings, e.g., the Cologne Zoo, which is located near to the youth hostel, the German Sports and Olympics museum and—for those who either didn't get to visit Warpstock in Hershey or just couldn't get enough—the Chocolate museum.
Travelling
Cologne is a traffic nexus for all kinds of transportation. It has an own airport called Köln-Bonn (code CGN), and there are numerous train connections to other parts of Germany, France, Belgium, the Netherlands, Luxembourg, Switzerland, and Austria, for instance. It can also be easily reached by car but some visitors got stuck on the highways around Cologne which are notorious for traffic jams. Public transportation was available 24 hours so there should have been no problems getting back and forth to the youth hostel. Excellent and detailed information for all kinds of travelling can be found at the event web site. The organizers had also placed some signs in the vicinity.
The Event
Even though some planning stages got somewhat delayed, the organizers had managed to assemble an impressive list of 32 presentations and workshops, which covered all kinds of areas from advocacy and community-related matters over applications (and using them) and networking to development and system management. The list of exhibitors showed the well-known names of Mensys, C&L Verlag, and several user groups. And, of course, there were many people to talk to. So there was something interesting for everybody, be it normal end-user, power-user, or developer.
Program
Adrian Gschwend provided information about the current status of Voyager and also talked about community issues. Your Editor-in-Chief gave an overview of things to take into account when Writing for the IP press with a focus on OS/2 media, including the specifics of different types of articles.
Several developers introduced new features of their applications. Among those were Maul (Peter Koller) and Clipview (David Saville). Andreas Schnellbacher talked about the long-awaited second release of the Netlabs EPM Distribution, which is yet to come but will add a number of very interesting features, like better syntax highlighting. Christian Langanke not only presented WPA encryption with the latest version of the Wireless LAN Monitor, but also showed mostly unknown techniques for creating powerful scripts, e.g., for the WPS. Alex Taylor had crossed the big pond and demonstrated DVD Video Authoring, including the creation of menus, titles, and title sets.
The DFSee sessions had to be cancelled because, unfortunately, Jan van Wijk had broken his leg while taking a walk. Thankfully things didn't turn out worse.
Peter Weilbacher, well-known for his extended ports of Mozilla applications, explained a different world of development and communication in Mozilla Development Explained or How Do I Report Bugs in Firefox? Reportedly, he even fixed a bug during his session so his audience got a live experience.
Others sessions covered aspects of developing OS/2 applications including Programming with the OS/2 Unicode APIs (Alex Taylor) and Programming in PASCAL using WDSibyl (Michael Oehlhof). The Translation in action workshop by Jacques van Leeuwen and Jan van der Heide went over three slots. They had quite a few things to say about translation in general and translating eComStation specifically. With the help of the IBM Translation Manager, this should get a lot easier in the future.
There also were several sessions about Internet technology. They started with setting up web servers, etc., and others took those further to dealing with web development using Java or PHP, or the Typo3 Content Management System. And, of course, several Mensys employees informed the OS/2 community about the status and future of eComStation and other products, including eCUPS: The Future of Printing on eComStation (Bart van Leeuwen) and Open Office 2.0 for eComStation (Roderick Klein). Chuck McKinnis even crossed the big pond to talk about OS/2 Problem Determination and Resolution and the eComStation Maintenance Tool.
Finally, Jan Lauer and Wolfram Schmidt presented a new PBX solution based on OS/2 technology.
Warpstock Europe 2006 maintained the tradition of holding each presentation twice where possible, so people didn't have to miss a presentation to see another. The lunch break had been extended to give people more opportunities for exchange, and one room even remained open in the evening in case anybody wanted to do a hacking session.
Exhibitors
Regarding exhibitors, Mensys was there to meet your software and related information needs while C&L Verlag offered a selection of interesting books. If you had any problems with OS/2, the user groups were happy to help you, including several local groups from Germany. You could also meet several shareware and freeware developers like Daniela Engert, Peter Koller, Jan van Wijk, and even Chris Wohlgemuth.
Social Event
As in Arnhem, there was no explicit social event. Instead, the all-in-one nature of the youth hostel including accomodation, food, and the bar provided the framework for the visitors to mingle and have a good time.
Captain's Log
In spite of Scitech's announcement to sell their SNAP technology only a few days before the event, the atmosphere was good and rather relaxed. You could always see people standing or sitting together in small groups and chatting or hacking away on their laptops (mostly ThinkPads), even in the evening. Apparently, some visitors who had come to Warpstock Europe only reluctantly were quite pleased with it and said that they would return next time.
I arrived on Thursday evening and found a bunch of familiar faces in the dining room. After a cold dinner, Thomas Klein helped me to check in and get my room that I shared with the other head organizer, Roland Schmalenberg. The room was better than what I have come to expect at a youth hostel and not too smallish. Better than that in the hotel I had booked for Warpstock Europe 2000 in Karlsruhe. Later we met in the bar and had a fun evening with lots of Kölsch. Or maybe I should say night, because it ended at 3 AM. I had a hard time getting out of bed only 4.5 hours later but thankfully no headache. As Peter Koller put it, Could you please remind me not to do that again?
On Friday, I attended Bart van Leeuwen's session about eCUPS. The printer driver situation hasn't been very good for a while. Postscript printers are supported well, but if you want to use a current inkjet printer, your only choice is to try if it works with drivers for older models, which of course means that you are stuck with the limitations of those. To remedy the situation, Paul Smedley and others have started to port CUPS. Some things are already working but a lot remains to do, including decent WPS integration. eCUPS is also intended to be included in Voyager.
At lunch, Thomas got pretty upset because the youth hostel's catering department had apparently made some mistakes calculating the amount of food. But after his intervention, new bowls popped up—now it was much too much.
After lunch, Robert Henschel introduced the audience to the OS/2 news system at os2news.com/ecomstationnews.com. There was some discussion about censorship and why OS/2 World.com had refused to join. Kim Haverblad, who also attended that session, explained that they were migrating OS/2 World.com to a new CMS and that it wouldn't make sense to join the news system until the relaunch, which he expected to happen in February or so.
Roderick Klein talked about eComStation 2.0. He explained why development was taking so long and put a strong emphasis on the fact that ACPI support turned out to be much trickier than expected. Well, judging from my own experiences with a new machine, ACPI support still has a long way to go, and I don't even have dual core CPUs.
Then it was my turn to present. Together with Roland Schmalenberg, I demonstrated that setting up a web site in Typo3 is not that hard. We had chosen the Warpstock Europe design as an example. Just as we were showing how to install extensions, i.e., plug-ins that add functionality, the demo machine crashed with a black TRAP screen. And to add to the fun, its drives were formatted with HPFS. D'oh!
Well, that evening was a good deal more quiet.
I spent the whole Saturday morning at the Translation in action session that had three slots assigned but I didn't get bored for a second. Jan van der Heide had created some tools to extract text from code for easier editing and others for re-inserting the translations. The main topic was the IBM Translation Manager, though, a tool that builds a memory from dictionaries and already translated text and then offers suitable translations for new text. I expect this to make work on eCS translations quite a bit easier.
After lunch, Roland and I repeated our presentation about Typo3. No crash this time. :-)
Then, I visited Adrian Gschwend's The crux with the community session. Adrian told about the planned switch to a new server and CMS, and lined out possibilities for users to help netlabs.org, e.g., maintaining project web sites or writing and proof-reading documentation. He also mentioned a kind of netlabs.org membership and creating the possibility for people to sponsor specific projects so they know where their money goes. An essential statement was that OS/2 users shouldn't think of themselves and netlabs.org in terms of "we" and "they." It's not like users were the mere mortals and netlabs.org developers were the gods.
Later it was my turn again. Funnily enough, all attendees of my Writing for the IT press session were native German speakers and per request I held the presentation in German. By the way: Where are the articles, guys? Hm?
That evening, we decided that we needed something completely different to eat. Thomas Klein, Peter Koller, Robert Henschel, and I went to a restaurant Thomas knew. It was crammed with young people and we had to wait a bit before we got a table. The pizza was as great as Thomas had told us. The music, however, became louder and louder and nobody seemed to be interested in our complaints. An interesting business model: Turn up the volume so high that people leave soon after they have finished their meal. We returned to the youth hostel, fetched some drinks and chose a quiet place to sit and talk.
On Sunday, I attended Christian Langanke's scripting session. He explained how to use external command processors in batch files with the help of the extproc command and showed some areas of application, e.g., WPS scripting. It seems that few people are aware of this feature. It does have a few problems, especially regarding the working directory, but is certainly very helpful.
After lunch, I repeated my session about writing articles to a smaller audience. Thomas Klein presented me with a special Warpstock Europe 2006 mug and certificate afterwards.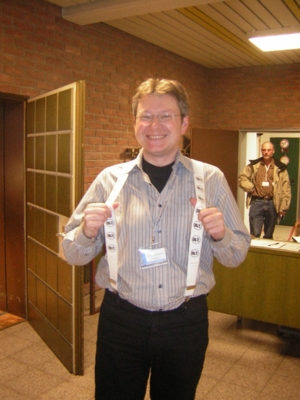 Figure 3. Me with Chuck's bracelets
And Roland gave away lots for the upcoming raffle. Chuck McKinnis had donated his OS/2 bracelets for use as a challange cup and there were other things like licenses and Kensington locks. Then I found out that I had actually won something: 1 year of Chuck's bracelets! :-)
In the last session, Adrian Gschwend gave an update about the status of Voyager. Most importantly, he addressed the concerns of those feeling uncomfortable with the Voyager project, the main messages being We do not want to take away your OS/2 from you and that new developments for Voyager would also find their way into eComStation. He also pointed out that a number of his students at the University of Biel were quite interested in the project. Also, a Slashdot article seems to have generated interest.
In the closing session, Thomas Klein and Roland got ovations for their work. Thomas explained a few things regarding organization and encouraged others to create a future Warpstock.
Peter, Steven, Chuck, Delphi, me, and some other guys went to a near restaurant that turned out quite nicely. Thomas had gone to see Jan van Wijk and to hand over the list with "get-well-wishes" signed by the majority of visitors. We had a good time. I tried to pay via credit card. There was a problem with the payment machine and the waitress really panicked because her boss wasn't there and she didn't know what to do. Well, in the end everything turned out well. We returned to the hostel and joined the Mensys guys who entertained us with insider stories.
Conclusion
Another successful Warpstock event is over, and it was certainly worth the time. Again, I got to see some new faces. It was also good to meet some old companions again and have a chat. Actually, this is the part I like most about Warpstock and the OS/2 community, I guess. The good thing is that you can meet decent people who are no freaks and you can also talk with them about other things than computers. See you at the next Warpstock Europe!