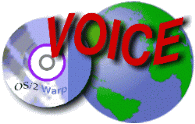 Help Desk Guide
Please note that we are still in the process of updating this information so you some information you find here will be old. We are working as fast as possible to bring everything up to date.

The VOICE Help Desk is provided as a free service to anyone requesting help/advice regarding OS/2 Warp. The help desk is supported by VOICE members and those who have subscribed to the help mailing list on a voluntary basis. We will attempt to respond to your queries as expediently as possible. Take a few minutes before emailing the Help Desk and look below for a possible solution to your problem. We have compiled a database of some common problems/inquiries and provided information that may possibly solve your problem without you having to wait for a reply.
Happy Warping!!
help@os2voice.org
---
CDROM
Q: I am trying to install OS2 Warpv3 (Warpv4 probably too) but it doesn't recognize my CD-ROM. I have a SoundBlaster AWE32, Pro, etc. MM kit. The CD-ROM is running off of the sound card. How do I get OS2 to recognize this?


Q: I have had a problem installing OS/2 WARP 3.0 and 4.0. The system would not recognize the cdrom when doing an advanced install. Note that this was not a problem with the original hardware configuration: System was a 486 dx4/100, AWARD 4.50G bios, adaptec 1542cf, HP 4C scanner, nec 6x cdrom, Iomega ZIP (external scsi) and JAZ (internal) drives.


The system was then upgraded: P133, adaptec 2940UW, 64M ram,
SoundBlaster AWE32 PNP, JAZ and ZIP, HP 4C scanner, NEC 6x, AWARD 4.51PG
PNP v. 1.0a 2a59gv79 bios 8-23-96.
SCSI ID         Device          Revision ID
2               NEC 502         2.3
3               HP4C            3503
4               JAZ             G.54
5               ZIP             L.27
7               2940UW


Q: I just got Creative Lab's Discover set which comes with a SoundBlaster 32 PnP and a 8x SamSung IDE CDROM. I'm in the process of struggling with the SB32 PnP and would appreciate any suggestions. But since nobody seems to have any complaint about installing the card, I assume it would also work on my machine eventually. My real problem is with the 8X CDROM. I'm a so called all-SCSI guy and I haven't touched any IDE stuff in three years. The result is typical: I didn't know what to do so I did something with the "Selective Install" but nothing worked. I connected the CDROM with the IDE controller on my mortherboard (there was of course nothing on it) just because once I came across some email suggesting it. I have no idea what's the right way to do it. Please help!

Top
---
Desktop\Workplace Shell
Q: I have an icon that became a green circle with a ? in the middle. This icon is a choice on my Warp Connect launchpad. Originally, it was something else, but now there are no settings for it, nor can you delete it, nor can you launch it. How do I get rid of it. I thought of booting up with bootdisks, but then how do you get to the Launchpad? If it was a normal icon inside a folder, I could do that. Any suggestions?

Top
---
Developers
Top
---
Fixpacks
Top
---
Install
Q: Some time ago I used to run OS/2 Warp, then, maybe foolishly I downgraded to Windows 95, a rather large mistake in my opinion. Anyway a friend in New York and myself want to revert mostly back to OS/2. I do run some Windows 3.11 apps, and a lot of Windows 95 apps, not much DOS stuff to speak of and we have both got the version which supports Win3.1. What I would like to know is, are we likely to run into any major problems with having 95 installed as well? I personally cannot see any real problems, but it is always possible. We both have a spare hard drive, my friends is a second drive, and mine will be a third drive on the secondary port. Also, would it be possible to set up the OS/2 boot manager to boot either at startup? I'm sorry if there are a few questions, but I have been away from OS/2 for far too long and do really want to go back to using, what I think, is a far superior operating system.

Top
---
Internet Access Kit
Q: Need help installing TCP/IP Modem support after installing Warp 4.0? ,- or -
if you have a failed install start here with instruction #4. Here's some contributed information.

Top
---
Misc
Top
---
Modems
Top
---
Networking
Q: I'm just setting my home system up, running Merlin. Have two machines connected with 3COM etherlink 3 cards. Want to be able to use IPX for Quake etc, but the only way that I can determine to get it running is to use the Netware setup. This creates a small problem when the software fails to find any servers (I just need peer-to-peer).


Q: I just bought OS/2 Warp 4 and I love it, but I can't figure out how to get it to connect to my network. I'm on a peer-to-peer windows95 network and, although Warp sees my network card and seems to initialize just fine, it can't see the network and the network can't see me. Are there any settings I should use or 3rd party software I need (I did not see any client for microsoft networks, only novell). Any help would be appreciated. Thanx.


Q: Can I connect a GSM cellular phone to a IBM ThinkPad OS/2 client and remotely access a corporate token ring LAN over an OS/2 server?
What do I need on the OS/2 ThinkPad side?
What do I need on the OS/2 server?
What is the IBM dialer program on both sites?
What PCMCIA data/fax modem card is needed?

Top
---
Sound
Q: I have recently installed Warp 4 with the Voice Talk. I have an ambra pentium computer with a ProAudio Spectrum 16 sound card. I cannot seem to get the digital audio to record from the microphone. When I record a wave file it only creates a flat line. I have tried to record with the moniter on and off. I would appreciate any suggestions you might have

Top
---
System
Top
---
Video
Top
---
Win-OS/2
Top
---
---